Nine ladies at Cottingham Parks Golf Club are celebrating significant birthdays this year, totalling 650 years! Editor Emma Ballard went along to the celebrations...
On Saturday, I headed to a special celebration that was being held by the Ladies' section at Cottingham Parks Golf and Leisure Club in Cottingham, East Yorkshire. I was looking forward to the day and hoped they wouldn't mind me gate-crashing the party!
My trip to Yorkshire came about after receiving an email in March from current Lady Captain Sally Los. In it, she explained that nine of the section were celebrating a 'significant' birthday this year. Two were turning 50, two hitting 70, four who would be 80 and one 90-year-old! All very active members of the club and who regularly play on a weekly basis.
Sally's hope had been that Women & Golf would cover the story as it was quite unique. Of course, I would have done this anyway but with my own significant birthday and a 40 by 40 challenge to complete, this seemed like a perfect opportunity to get Cottingham Parks involved whilst covering their special celebration.
Now, that's enough about me, I'll blog about my experience at a later date. This is all about Nicky, Jo, Kris, Carol, Jean, Margaret P, Elise, Margaret E and Dorothy. The women all born in a year that ends in 3 and all used to making golf headlines after a similar celebration took place 10 years ago!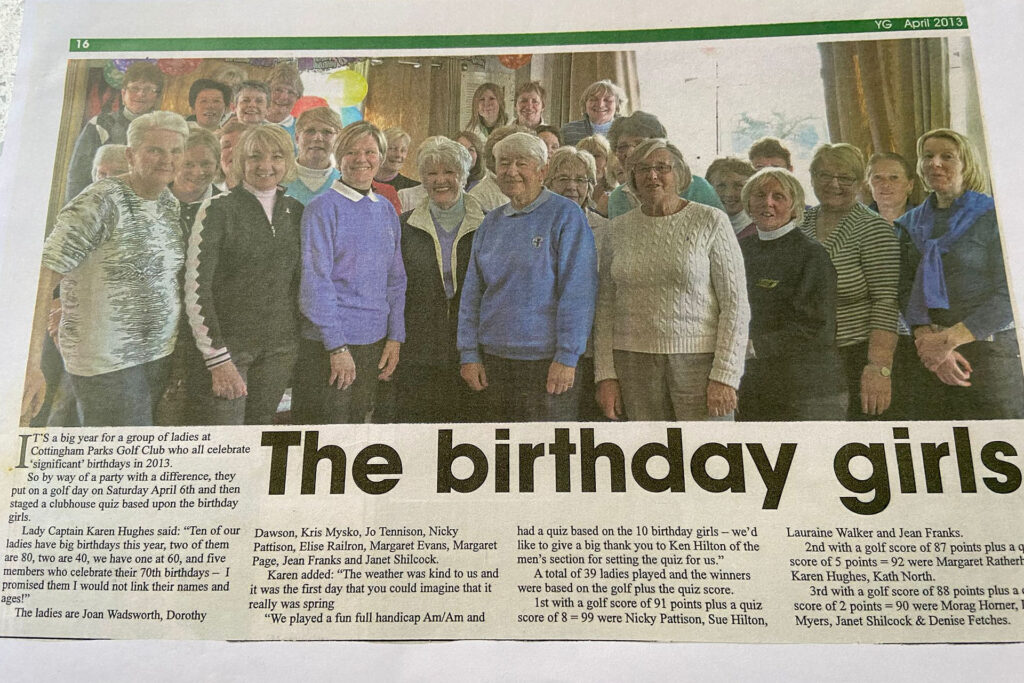 Celebrating 650 years at Cottingham Parks!
As explained to me by Lady Captain Sally, the day was all about having fun with a Stableford competition with each "birthday girl" being a Team Captain for the day (plus the Captains would get double points on holes 5, 7, 8 and 9).
I joined Sally, handicap secretary Annette and twice past Lady Captain Carol in the first group out. If I had thought 40 by 40 was a challenge, I heard about how Carol played 60 courses in her 60th year!
The weather was cloudy but warm and we all made good time to get into the clubhouse for a post-round drink, whilst we waited for the special afternoon tea. It was during the tea, which was a delicious spread open sandwiches, quiches, scotch eggs and salads, that I got to speak to some of the birthday girls…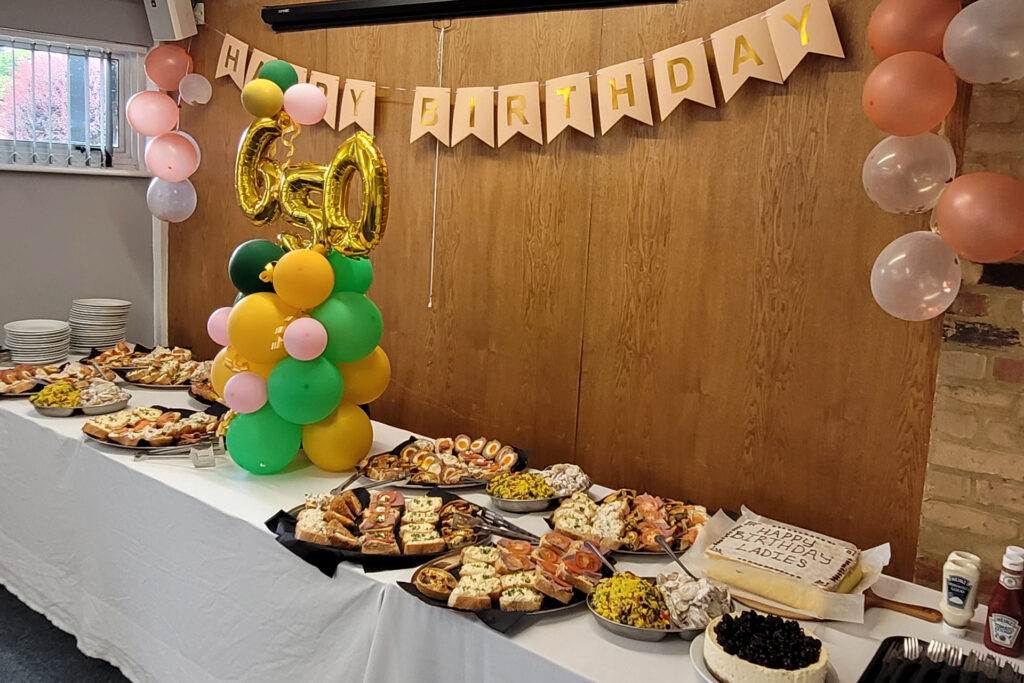 The social side often means more than the golf
Elise, who started playing golf in 2000 after retiring and was Lady Captain in 2009, emphasised how friendly the ladies section is:
"We're all friends together, you don't have to be with one set person and we play with everyone. At the end of the day, golf is a bit of a by-product, really."
I could see for myself that the section enjoys the social side of being a member of the club. The relaxed atmosphere, loud chatter and extremely welcoming group made it very easy for me to slot into the day.
Dorothy hopefully won't mind me saying that she is the 90-year-old of the group. She has played golf for nearly 30 years and joined Cottingham Parks in January 1995, only a few months after it opened.
She started playing golf in retirement, initially to replace the company that she had gained from her work colleagues. As she lives on her own, she enjoys people's company first and foremost but also the fresh air and exercise that golf gives her.
I asked her whether it was golf that helped to keep her young, she agreed but added:
"I've always maintained age is just a number. It's how you feel and I've never admitted to being old."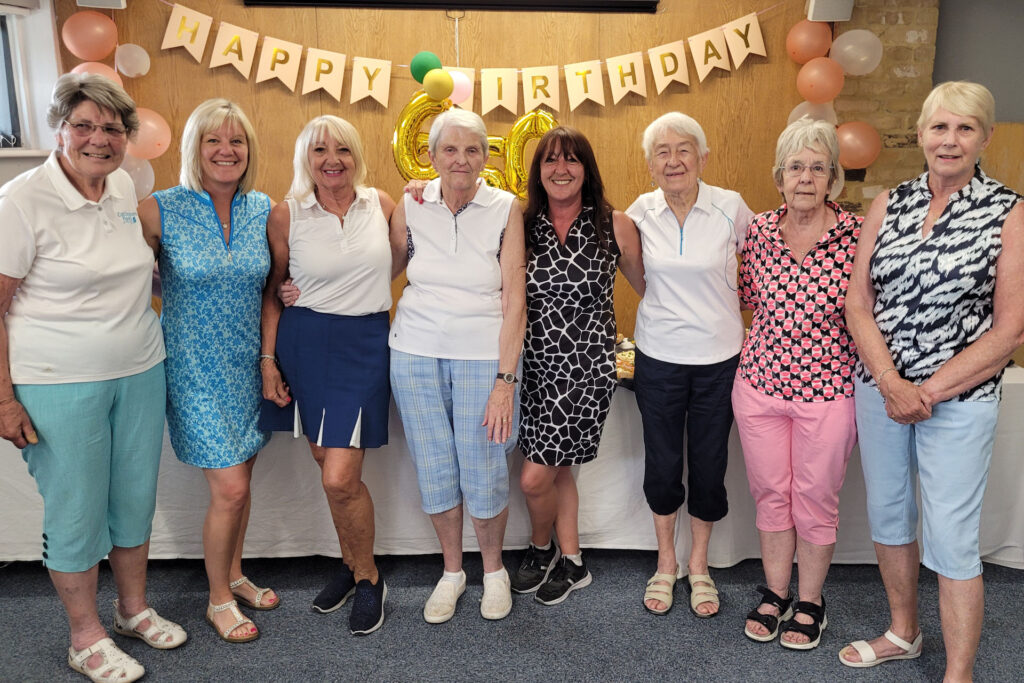 Playing golf as a family
Just over twenty years ago Kris was famous for saying "you're never going to catch me playing golf, I couldn't think of anything worse", but in the end it was if you can't beat them, then join them. She started playing more for the social side than anything else.
Not long after joining the club she was diagnosed with breast cancer. She tells me that by then she was hooked on golf and it was the thought of getting back on the fairways with her friends and family which really helped her to get through the six months after surgery.
Transitioning from other competitive sports can also be a reason to take up golf and keen hockey and badminton player Margaret E, started playing 40 years ago. As a competitive sportswoman, she set the target of getting to single figures, which she achieved, playing off 8. She now plays off 25.
Her love of golf has extended to her family and she loves to visit her son in Majorca and play a round or two.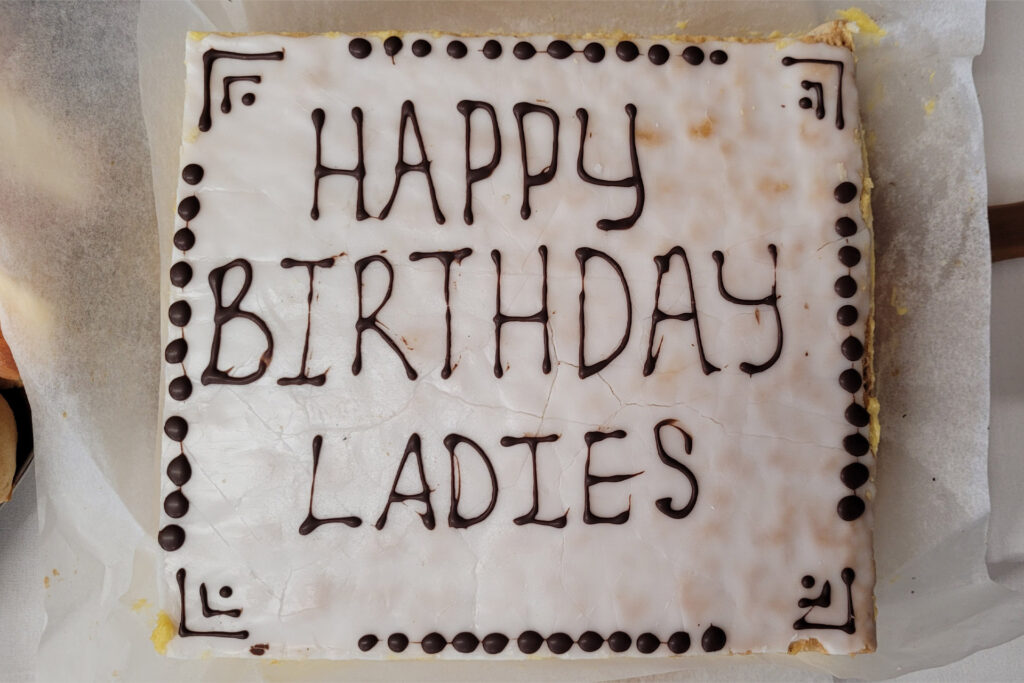 A desire to always improve
As the special vanilla custard cake was cut and the champagne cork was popped, Margaret P and Nicky, said a couple of things about golf that I think we can all relate to.
Margaret keeps coming back to play because one day she'll get it right and Nicky, who has been a member of the club for 24 years, is always striving to do better than her last game.
I didn't ask whether the game had been better than last time but it was certainly enough for Nicky and her team to take home the team prize. Part of her team included one of the newest members who had taken up golf recently and put in her cards especially so she could take part in the celebrations.
My day spent at Cottingham Parks was fantastic from start to finish and it was lovely to be so warmly welcomed into this women's golf community. If I am still Editor in 10 years' time, I'll definitely be inviting myself along again to join in the party!
Find out more about Cottingham Parks Golf and Leisure Club here.
Are you a regular at Cottingham Parks? Then leave a golf course review...