Women & Golf, the UK's leading media platform in female golf, is delighted to support the 2023 tournament.
Celebrating its 20th anniversary in 2023, the Royal Deeside Golf Week ("RDGW") proved to be it's most successful in terms of female participation. The RDGW tournament is very popular event and fills up very quickly every year. I had the privilege of being one of 112 female players participating this year.
The format
Established in 2003, the RDGW is hosted by four clubs (Aboyne, Ballater, Banchory, and Braemar) spread along a 40-mile corridor on the beautiful Royal Deeside, Scotland. The event normally takes places at the end of July and visitors play each course in a 72-hole stableford tournament which is open to both male and female golfers of varying abilities.
Competitions are held daily, with prizes awarded across three divisions (divisions are split by handicap) together with the overall female and male champion of the week. Play is in 3-balls by gender. One of the nice things about the week is that you get to play with different people but your travelling partners will all play the same course on the same day albeit in adjoining tee times by gender. A logistical minefield if you ask me but the Committee do a brilliant job bringing everything together.
Unfortunately, due to the split venues, size of field and international travellers needing to leave early, a closing ceremony for prize presentation doesn't work.
Nevertheless. overall female and male winners do get a mini presentation and photo opportunity with their respective trophies.
CONGRATULATIONS to 2023 Womens Champion, Karina Matson from Pumpherston Golf Club with a score of 150 points.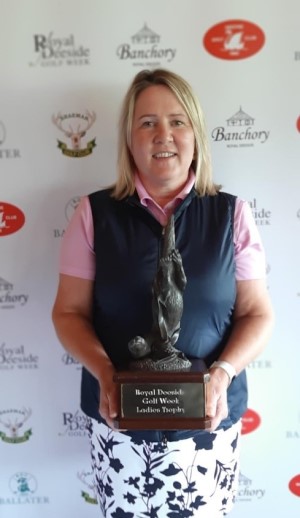 Welcome Reception
Throughout the week the RDGW Committee host a number of social events (quiz, music night) and the pre-tournament reception allows everyone to get together and say hello. And have a few drinks!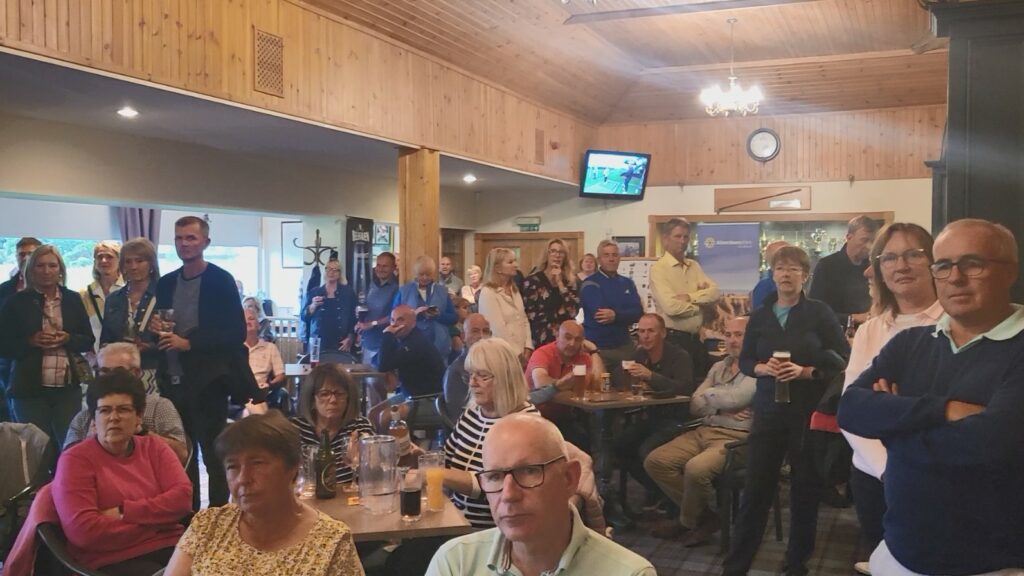 It also gives the Committee a chance to explain arrangements for the week and play a few impromptu games of heads and tails to get the competitive juices flowing! Great to see over 200 competitors at the evening.
My playing partners at Royal Deeside Golf Week
Tee times for each day were shared a couple of days before so you had a chance to have a look for your playing partners at the reception. Otherwise, you found them on the 1st tee waiting for you. A quick hello and then we were off.
Day One - Aboyne Golf Club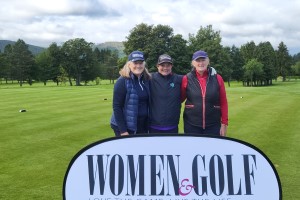 Aboyne Golf Club is the oldest golf course in Royal Deeside.
My playing partners were Marielle from the Netherlands and Helen from Glasgow.
What started out as a gentle parkland game of golf in tree-lined fairways on the front 9 soon took at turn upwards after the halfway house onto heathland terrain with danger everywhere on the back nine.
A testing course where mature trees and water come into play on many holes particularly the 9th & 10th alongside the Loch of Aboyne.
Favourite hole: Par 3 (148 yd) 12th - tricky, tight, beware of trees on right.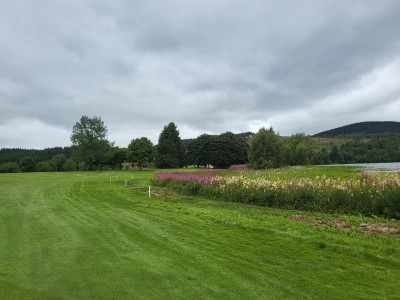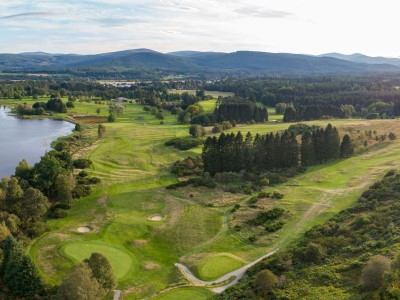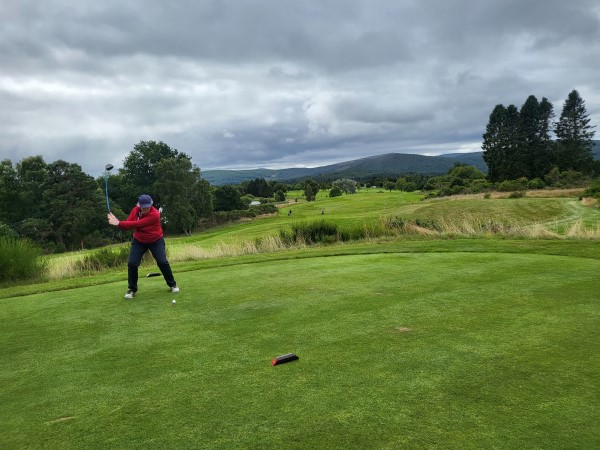 Day Two -Banchory Golf Club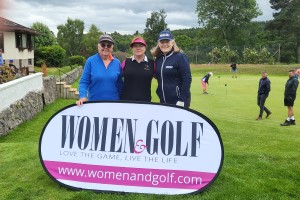 Paul Lawrie's hometown club.
My playing partners were both from Scotland, Ella from Elgin in Moray & Patricia from Ayr Dalmilling Ladies.
A short course by modern standards but situated in beautiful parkland above the River Dee. The par 3 16th named the "Doo'cot" is a played blind to an elevated green that sits left of an old pigeon loft.
Favourite hole: Par 4 (255 yds) 8th - a dog-leg right fairway plays up to a shallow green in the hillside. Beware the shortcut right over the trees. I didn't and came a cropper!
But any of the holes by the side of the River Dee were magical.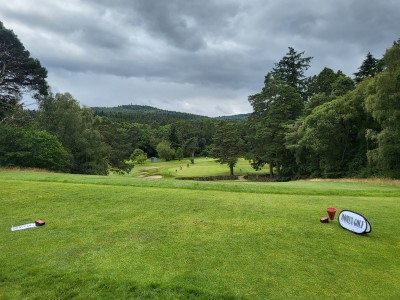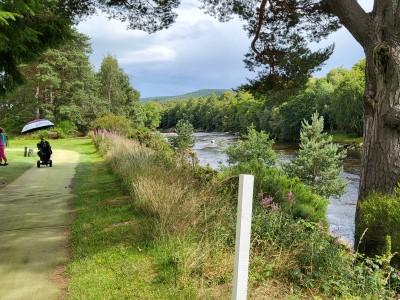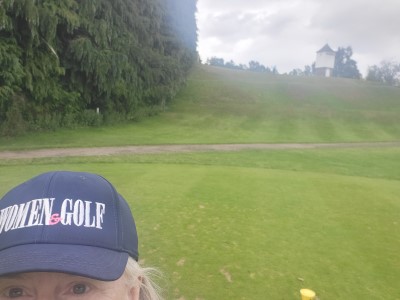 Day Three - Braemar Golf Club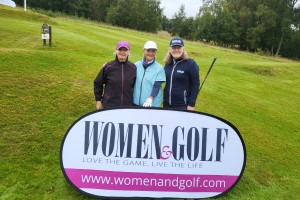 The highest 18-hole golf course in the UK.
My playing partners were Kaye from Innerleithen Golf Club (Peebles) in Scotland and Mary from the Netherlands.
Nestled in the foothills of the Cairngorm mountains this relatively short but challenging course is beautifully maintained with an interesting mix of parkland and heathland - many visitors describe it as a tranquil piece of golfing heaven.
After some treacherous holes on the front nine (2nd, 3rd spring to mind) and more than a drop of excessive rain I came away with a paltry 23 points - my worst round of the week.
Can't decide if I want to go back and try again.
Favourite hole: Par 5 (347 yds) 15th. Tee shot over the brook, lay up in front of 2nd brook. Tight shot onto a green partially hidden by a large tree.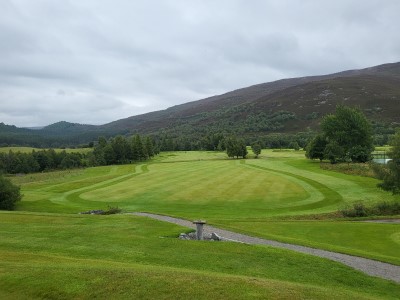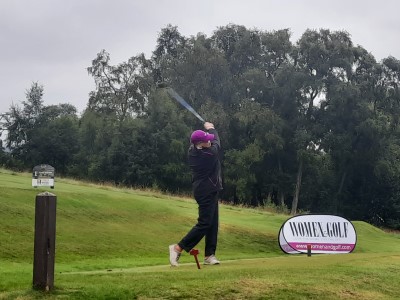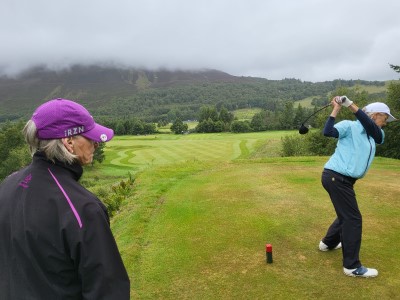 An interesting fact about Braemar: Jessie Valentine MBE (1915-2006) was the daughter of Joe Anderson, Braemar Club professional during the 1920s and 1930s. She spent her childhood summers in Braemar becoming so proficient on the golf course that she won the British Girls' Championship in 1933 and became the world's no.1 female golfer in 1937. Her record includes 3-times British Ladies Champion, 6-times Scottish Ladies Champion, French Champion in 1936, New Zealand Champion in 1935 and 7 appearances in the Curtis Cup team. She turned professional in 1960.
Day Four - Ballater Golf Club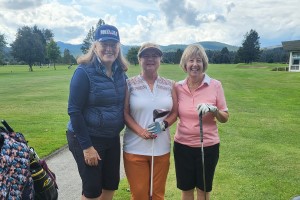 Situated in one of the most beautiful parts of Upper Deeside.
My playing partners were Patricia from Ayr Dalmilling Ladies and Lorna from Innerleithen Golf Club (Peebles) in Scotland.
Originally a 9-hole course. It was extended to 18 in 1905 and James Braid played Harry Vardon in an exhibition match to mark the occasion.
Situated in the heart of Royal Deeside, Balmoral Castle is only minutes away. From the 6th tee you can see Birkhall (King Charles' summer retreat) hidden in the wooded hillside.
The course boasts magnificent scenery. It's a mix of heathland and parkland with the river running along many holes.
It's a real treat for Par 3 enthusiasts with a number of testing short holes - all very different. Some might even take driver!
Favourite hole: For picturesque-ness, it's got to be Par 4 (275 yds) 6th - tree-lined fairway, beautiful mountain backdrop and River Dee to your left.
My nearly birdie moment came on Par 4 (269 yds) 14th when an errant tee shot to the right left me behind the trees. A lofted 9-iron into a green in a hollow left me a 20ft putt. I missed - gutted as RDGW Committee member Nigel Bradburn was watching!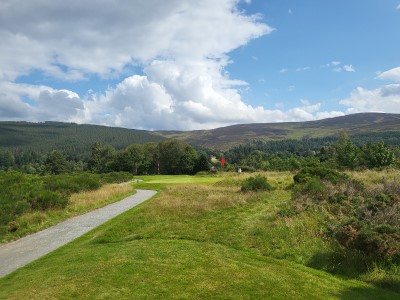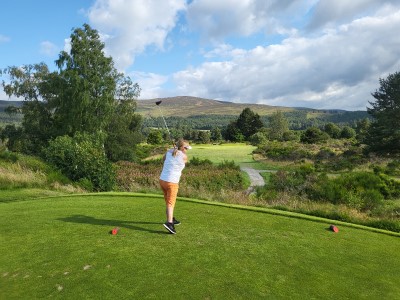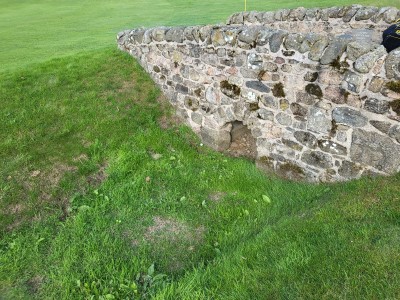 An interesting fact about Ballater: There are no Par 5s for the red tees. That doesn't make it easier though.
Final Thoughts
My words and pictures do not do justice to the four courses we played. It's a fantastic part of the world and the four clubs are extremely welcoming and the courses in excellent condition. My golf was a little substandard but it was great to meet fellow golfers and play with different people across the week.
There's numerous social events to keep you occupied outside of the golf and the area is well set up accommodation-wise. Lots of hotels, b&bs and lodges to choose from and a number of players came in their motorhomes!
The Royal Deeside Golf Week Committee do an immense amount of work to put the event together and If you are looking for a golf holiday it's a perfect event. The format allows individuals aswell as pairs and groups to take part.
The area also boasts a host of activities for the non-golfer, including: castles, distilleries, lochs, & walking. There's numerous historical venues including Balmoral Castle & Estate.
We stayed in Ballater which is a lovely town with numerous pubs and restaurants. There's a great butchers (HM Sheridan) and bakery (Byron Bakery). Plus some lovely gift shops.
I will definitely be visiting again in the future! Hope you do too.
Women & Golf Members in attendance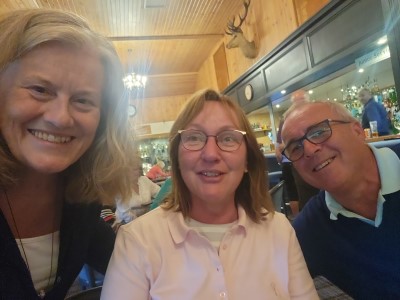 Lovely to see a few W&G Members play in the RDGW. Thanks to Lindsay Horwood, Vanessa Moulton & Ju van der Waal for making the trip.
Lindsay & her husband Nick are veterans. This was their 3rd year of competing! They love it and would highly recommend to give it a try! "It's a beautiful part of the world".
The cost for Royal Deeside Golf Week 2024 is £180 per player. Places will be allocated on a 'first come, first served' basis although previous participants do get first refusal.
For more information visit royaldeesidegolfweek.co.uk