The inaugural English Women's Champion Club at St Ives (Hunts) Golf Club saw records broken and set
Surrey's Walton Heath Golf Club were crowned as the first-ever winners of the English Women's Champion Club at St Ives (Hunts) Golf Club on Sunday, in a remarkable weekend of golf.
Nicola Taylor and 14-year-old twins Annabel Peaford and Emily Peaford helped their team win the event by a whopping 14 shots ahead of Ganton Golf Club (Yorkshire).
But it was a particularly extraordinary tournament because of the course record being broken not just once, but three times over the two days!
First it was Walton Heath's Annabel Peaford with a 70 (-2) on day one, before Ganton's Amy Staveley made 69 (-3) on the second day. However, Annabel's twin sister Emily broke the record just two hours later, with an eagle and four birdies on her way to 67 (-5).
Emily's astonishing eagle included a stunning 257-yard drive on the par-4 13th hole, which finished just a foot from the pin for a tap-in! She said: "I was excited because I knew I could try and drive it but on the first round I hit into a bush! The second day I was just thinking to get it to the green for a birdie or par and it ended up a foot away from the flag. It was amazing!
"I've never had a hole-in-one and I know quite a few who have, including my sister, so hopefully I'll have one in the future!"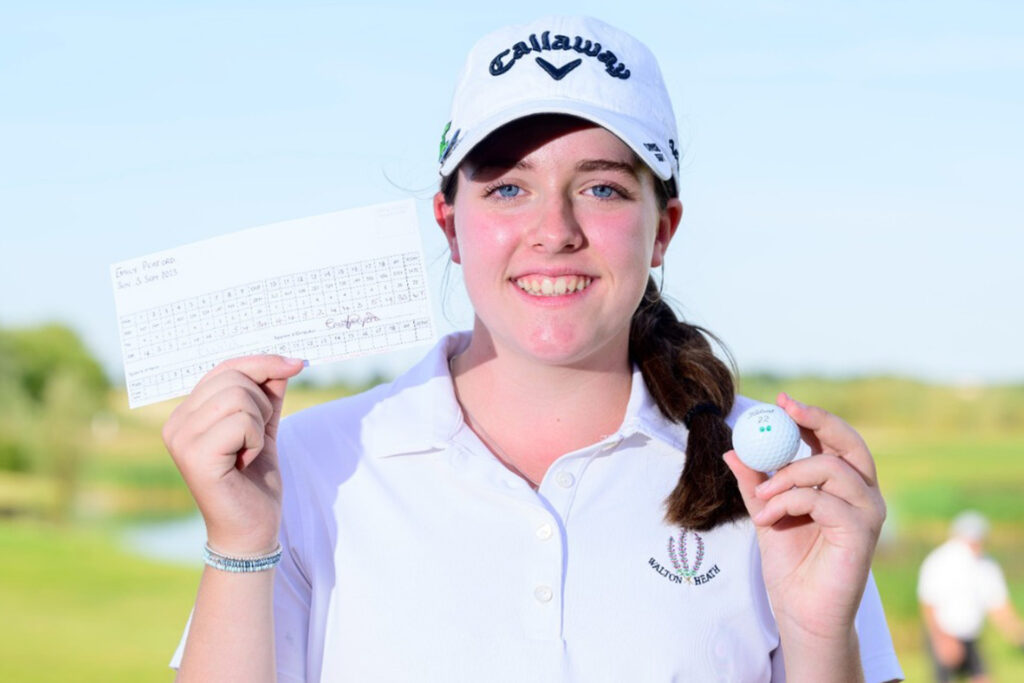 Emily and Annabel weren't aware of Annabel's course record on the Saturday until they arrived for the final day of action. Emily continued: "It was strange, we didn't realise it was the course record on Saturday, it was only when we got to the course on the second day.
"Nobody had told me, so afterwards when people said I had taken the record away from my sister, it was quite pleasing. She's had a really good season and overtaken me, so it was nice to get back at her with that one!"
Two different course records broken in a week!
Even more remarkably, Emily has now broken two course records in a week, with a stunning -9 at North Hants Golf Club just five days before her St Ives success. She admitted: "It was a Justin Rose Daily Telegraph Qualifier on the Tuesday morning and I didn't play too well so I didn't qualify, but in the afternoon it was a stableford competition, so I tried to play freely.
"I birdied the first three holes, before an eagle on the 4th and another birdie on the 5th. I was six-under through five but one bogey on 7 brought me down to earth before a nice eagle on the 18th! I finished with 45 points to win it which, off scratch, I wasn't expecting!
"One of the eagles was a par-4, where I drove it over the back of the green and chipped in! There has obviously been some wind helping but I've definitely gained some distance in the last few months."
Back to school
After a busy summer of golf, Emily and Annabel were both back at school on Monday after Sunday's success at the Women's Champion Club event. And Emily admitted: "I have played golf most days over the holidays. It's nice to be back at school to see my friends but it is hard to get back into the routine. I'd probably rather be out at Walton Heath in this weather though!"
Emily now hopes to take her golf to the international stage in the coming months. She added: "(City of London Freemen's) School is good at helping with my golf. I'd like to win a competition with school as my sister and I are both here, while I'd also like to play in the England Girls' matches over the next year.
"My sister played in the England v Switzerland match earlier this year and I'd like to play in the ones coming up. Representing England is my goal."
English Women's Champion Club to return in 2024
Commenting on the inaugural Women's Champion Club event, Emily, said:
"We all worked really hard and there's always such a good atmosphere at Walton Heath so to bring a team together to not just play in the first year of the Women's Champion Club, but to win it, was amazing! The event was great as was the club, the course and the atmosphere."
18 clubs represented each of their counties at the first annual Women's Champion Club, with three players from each club playing 18 holes on each of Saturday and Sunday, and the two best scores from three players on each day counting.
Emily's 74 and 67, along with sister Annabel's pair of 70s across both days, helped them to a comfortable victory. In second place was Ganton's Staveley, Sara Gilmore and Heather Butcher with Northamptonshire County's Hattie Billson, Lila Bissett and Olivia Holioak Church in third place.
The 2024 Women's Champion Club competition takes place at Hessle Golf Club, Yorkshire from August 31–September 1.