Coulter a double Champion as Cafferky crowned in Boys' Close, whilst Murray and Smith are the 2022 Irish Senior Men's and Women's Amateur Close
Tom Cafferky (Ballinasloe) and Beth Coulter (Kirkistown) are the 2022 Irish Boys' and Girls' Amateur Close Champions.
After 36 holes of Stroke Play and four rounds of Match Play, 2 Championship and 2 Plate winners were crowned at Kilkeel Golf Club.
Having beaten Matthew Lynch (Greenore) in this morning's semi-final, Cafferky was up against Charlie Kelly (Athlone) in the final and went ahead early in the match. Kelly initiated the beginning of a comeback with a birdie on the 14th but a 3-putt bogey on the 15th meant he was 3 down with 3 to play and Cafferky duly finished the match on the next green.
"I knew what I was doing,' said Cafferky. 'I just hit fairways and greens and tried to make pars because, Charlie is good and will make a few birdies, but you'll win holes with pars as well."
Cafferky took up the game just four years ago and is completely self-taught.
"I don't really have a coach," he said. "I just do it myself and plug away at it. If I'm not playing well then, I just go to the range and figure it out.
"It's a bit ridiculous to be honest to think I'm Irish Boys' Champion, even making the top 16 would have been an achievement, I didn't think I was good enough to get this far."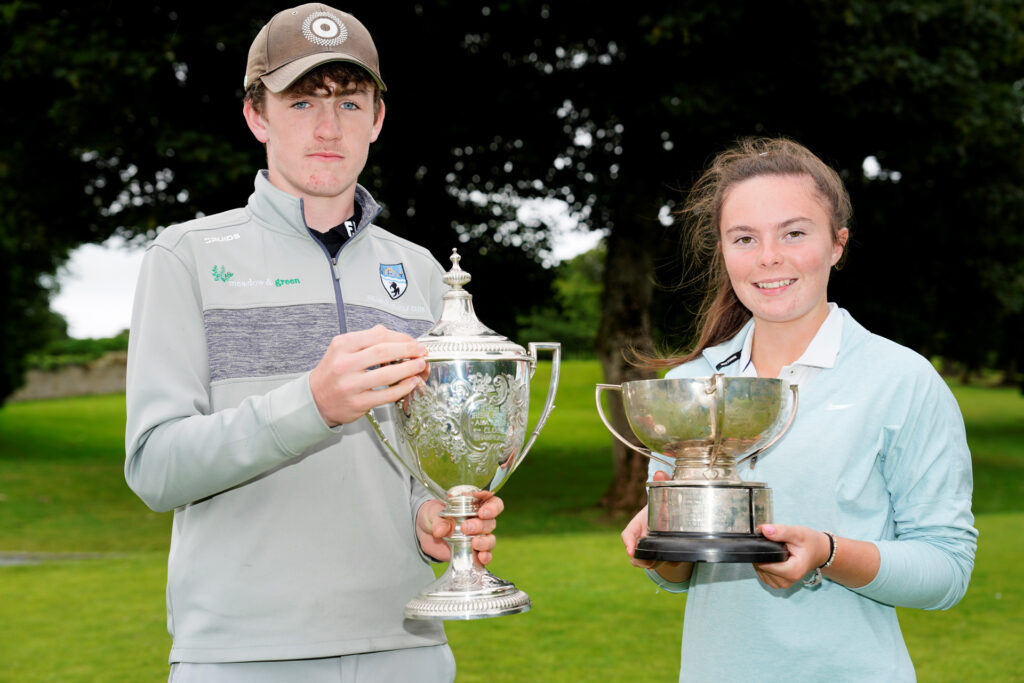 Coulter makes history
Meanwhile, Beth Coulter makes history as the first person in the 62-year history of the event to hold both the Irish Women's and Girls' Close Championships in the same year and is the first to win three in-a-row in the Girls'.
Her final against Katie Poots (Knock) couldn't have been closer, with the tie needing 2 sudden death holes and an eagle from Coulter to decide a Champion.
"I suppose last year when I won it in Tramore, Dad looked at the trophy and said that nobody had ever won it three times in-a- row," explained the 18-year-old. "So that was a big goal at the start of this year to come back and to win it."
Coulter will travel to the European Women's Team Championships in Wales with Ireland tomorrow and, in her final year under 18, feels like the elder player with everything to lose.
"It's just about taking one match at a time. You can't underestimate anyone. They're going out with no fear and all the pressures on me. It's just about getting up and staying up and I was delighted to get through in the end."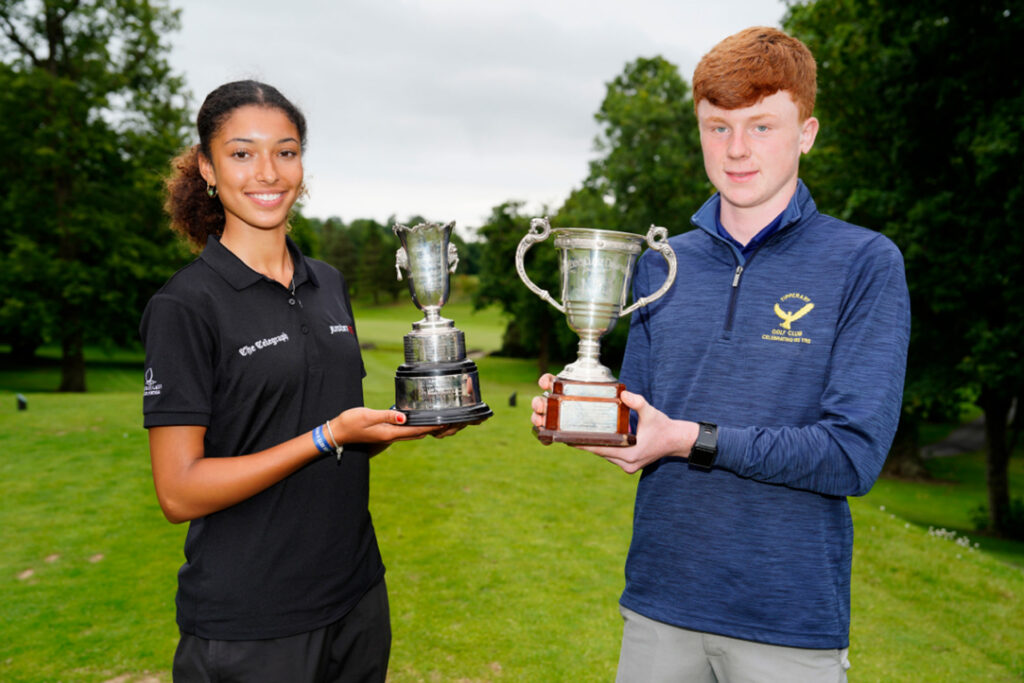 Roisin Scanlon (Woburn) was the winner of the Irish Girls' Amateur Close Plate while Donnacha Cleary (Tipperary) won the Boys' Plate. Ellen O'Shaugnessy (Co. Louth) and Calum Duane (Naas) were runners-up.
Smith and Murray win Irish Senior Close titles in Thurles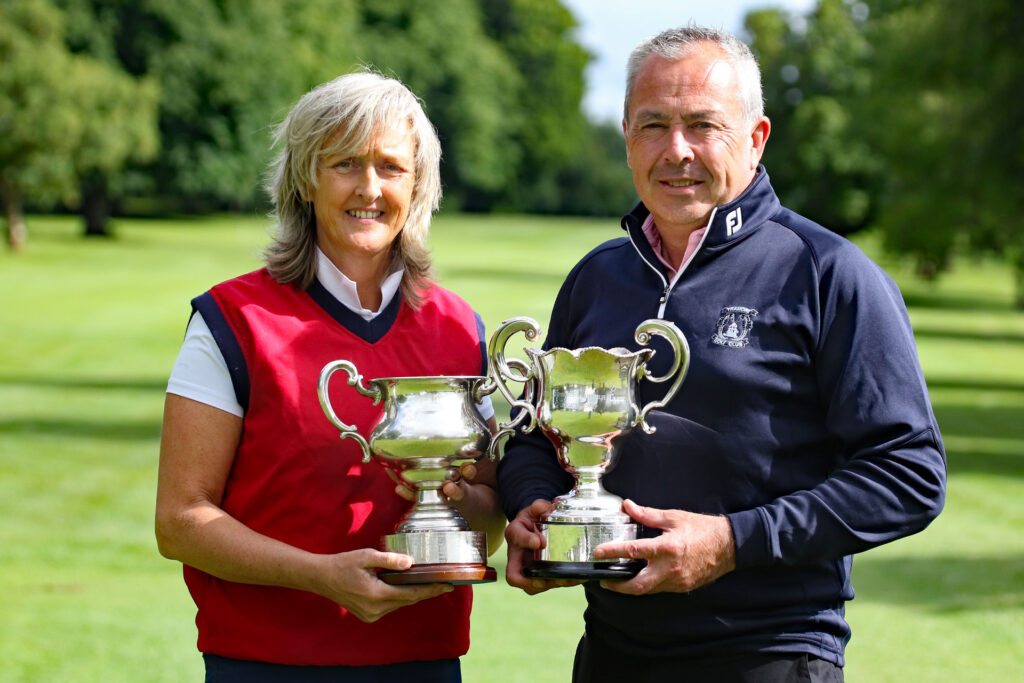 Pat Murray and Deirdre Smith are the 2022 Irish Senior Men's and Women's Amateur Close champions at Thurles Golf Club.
Both players added their first Senior close titles to the Men's and Women's Closes they won in  2009 and 2004 respectively.
50-year-old Murray defeated Mount Juliet's John Reynolds 4&2 to win the title on home soil.
Now based in Tramore, the Tipperary native was delighted to win the title at the first time of asking, at a club where he is an Honorary Member.
"It's brilliant. To have the simple local knowledge around the golf course, and to know on certain holes that a ball, that an odd ball can bounce here or there. It was great to have that.
"Enniscrone [2009 win] was a long time ago. To follow it about a few years later with the South of Ireland was great too. I've been waiting my turn for Seniors' golf."
After coming up short in last year's Final, Deirdre Smith added her name to the Women's Senior Close roll of honour defeating 2014 champion Laura Webb 4&3 in the Final.
"I played my best golf of the week in the Final", Smith said after her win. "I was a bit slow in the first two days. I found something yesterday afternoon in my swing and brought it into today.
Smith took the lead on the third, and only lost one hole in the final, winning on the 15th green.
"I grew in confidence when the shots came. I knew I had to play really well to beat Laura because she is a really good player. It's not often you play your best golf in the Final but I'm delighted I did."
Ann Moynihan-Rudden won the Plate in the Senior Women's Close.
Despite being 2-down at the turn, a brilliant back nine saw the Killarney golfer defeat Castletroy's Shirley Real 2&1.
Irish Senior Women's Amateur Close Championship
Semi-Finals
Tracy Eakin lost to Laura Webb 19th hole
Deirdre Smith beat Sheena McElroy 3&2
Final
Laura Webb lost to Deirdre Smith 4&3
Irish Senior Men's Amateur Close Championship
Semi-Finals
Karl Bornemann lost to John Reynolds 1 hole
Pat Murray beat John O'Brien 3&2

Final
John Reynolds lost to Pat Murray 4&2

Irish Senior Women's Amateur Close Championship - Plate
Semi-Finals
Paula Murray lost to Ann Moynihan-Rudden 1 hole
Catherine Reilly lost to Shirley Real 6&4

Final
Ann Moynihan-Rudden beat Shirley Real 2&1
Find out more via the Golf Ireland website here.