The concluding day of the PING Junior Solheim Cup at La Zagaleta. Editor Emma Ballard was on the ground to watch Team Europe retain the trophy
As the curtain-raiser to the Solheim Cup, the PING Junior Solheim Cup is a fantastic opportunity to whet the appetite of the golf fans. However, it seems to fly under the radar considering it is an integral part of the biennial team event played by its older sisters.
This year, I was able to attend the final day of the PING Junior Solheim Cup. It's the first time I have covered the event on the ground for Women & Golf since I started here two years ago.
The PING Junior Solheim Cup is a version of the Solheim Cup for female amateurs who are 18 years old and younger. The event features the top 12 European juniors versus their American counterparts. Since 2002, the aim of the competition has been to give juniors from both sides of the Atlantic to gain international match play experience as well as the chance to meet and learn from their professional elders who will be playing in The Solheim Cup.
Charley Hull who played in the PING Junior Solheim Cup in 2011 said:
"The PING Junior Solheim Cup prepares you for what it is like to be a professional. It gives you a taste of the Solheim Cup and representing your country and Europe. It teaches you core values that you carry through the rest of your career."
Ahead of this week, two time PING Junior Solheim and six time Solheim Cup player Carlota Ciganda added:
"I really enjoyed my years as an amateur playing for Spain and the PING Junior Solheim Cup and I can't wait for the Solheim Cup and PING Junior Solheim Cup to be played in my home country. It is such an amazing experience for Spain."
2023 PING Junior Solheim Cup
The competition was played across two days with Foursomes and Fourballs on day one and singles on day two.
Club de Campo La Zagaleta was the host of the two day event. Set in the municipality of Benahavis, it has stunning views of the Alboran Sea, Africa and Gibraltar. There is no denying that this location is an unbelievable setting for the event but due to its location in a highly exclusive gated community, with large amounts of security, its accessibility to spectators was limited. I'll address that later, let's get back to the golf.
Day one saw Team Europe take control with 5.5 to 0.5 points lead after the morning foursomes, with the score 8.5 – 3.5 after the afternoon fourballs. Coming into the final day, Europe just required four points to retain the PING Junior Solheim Cup trophy. The first time that Europe would have been able to do this since its inception.
PING Junior Solheim Cup - Singles
The home side, led by captain Gwladys Nocera and vice-captain Nora Angehrn completed the job winning six matches and drawing one to hoist the trophy once again.
Captain Nocera said: "Being a captain is easy when you have a team like this! We really loved the course but I think it was due to a really good preparation. These girls know how to do it and they work really hard. I have to congratulate them for all the work they have put in during the season and over these two days of completion."
With 12.5 points the target on day two, USA came out fighting as Jasmine Koo defeated Andrea Revuelta (Spain) 2&1 in the opening match.
In match two, Francesca Fiorellini (Italy) made it three wins from three as she beat Anna Davis 5&3 thanks to some incredible iron play.
Team Europe added another shortly after as Nora Sundberg (Sweden) won 4&2 against Gianna Clemente.
Despite needing just two more points to defend their title, a wave of red soon emerged on the scoreboard – Yana Wilson defeated Yana Beeli (Switzerland) on the final hole, Kathryn Ha came from three down to edge past Anna Canado (Spain) with a birdie on the last, and Leigh Chien beat Josefin Widal (Sweden) 3&2.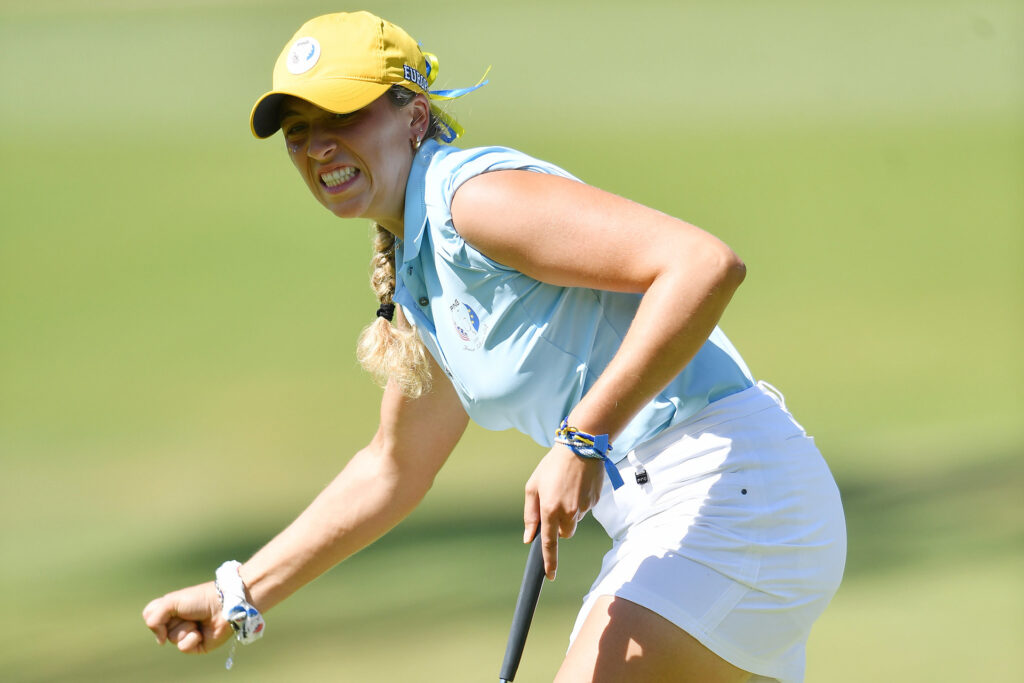 But with Savannah De Bock (Belgium) continuing her fine form to win 4&3 against Megan Meng, Cloe Amion (Spain) – 1UP on Elizabeth Rudisill coming down the last – was able to two putt for victory to seal the 2023 PING Junior Solheim Cup.
"This is a dream come true," Amion said. "Just being here is great but to win is amazing. I didn't know Savannah had won her match so didn't realise it was the winning putt! But just getting it in brought so much satisfaction and happiness."
In the concluding matches, Meja Örtengren found her best form to beat Irene Kim 4&3. Denisa Vodickova won her third match of the week beating Anna Song 2&1.
Helen Briem (Germany) was narrowly defeated by Ryleigh Knaub 1UP, while Rocio Tojedo, the star of yesterday's foursomes, halved her match against Asterisk Talley.
A winner in 2021, Briem said:
"The first time was special because it was in America, but this one was way better. To win two times in a row is indescribable.
"I think it's just so cool because we're all so different. We're from different countries but fight together. We have so many personalities which is so cool. We were really focused the last few days and the fun part is still to come. I'm really looking forward to the Solheim Cup. It's going to be a really cool four days."
While Sundberg added:
"I can't describe this week. It's been so much fun. It's unbelievable how good this team is and how good all the people are personality wise. It's been an incredible experience. We were thinking about jumping into the pool with our clothes on so we'll see!"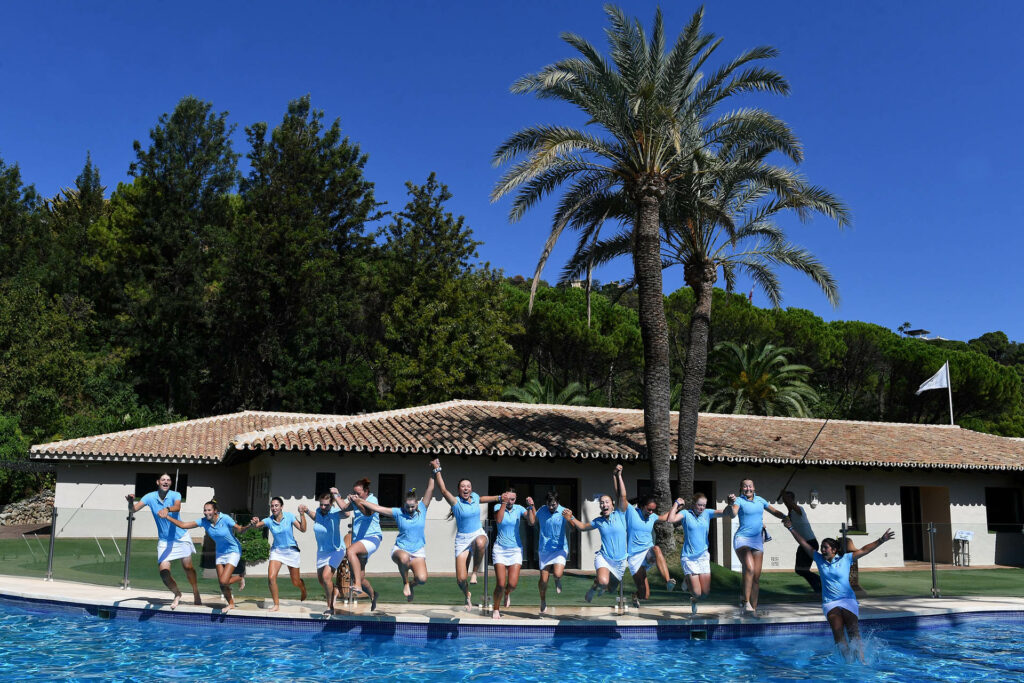 And jump in the pool they did, making history as the first European side to win the PING Junior Solheim Cup in back-to-back editions.
Golf is more alive than ever - let's show the world
I have nothing but praise for La Zagaleta for the tournament that they have hosted, the quality of the course, the hospitality and the stage that they produced for some of the world's best amateur golfers. It is one of the most beautiful courses I have had the pleasure of playing.
However, for women's golf to really grow, we need to get more eyeballs on the incredible talent on show. Hosting a junior golf event at a club that had so much security the general public could not attend, is not the way to do this. I didn't see one girl in the crowd of around 350 spectators today - what a missed opportunity to inspire the next generation of Spanish junior golfers.
As the Mayor of Benahavis, Jose Antonio Mena Castilla, said at the closing ceremony: "Golf is more alive than ever". It really is and watching these players I felt exactly the same.
The Hall of Fame was a theme for the closing ceremony. The players walked into The Script's Hall of Fame where the lyrics aptly say:
"Standing in the hall of fame, and the world's going to know your name. 'Cause you burn with the brightest flame."
Whilst, the USA Team Captain and five time Major Champion Amy Alcott added:
"I've done a lot of things in my career. I was just thinking of the many things that I've done in my career. This would be right up there, probably number two, other than being inducted into the World Golf Hall of Fame."
Like its professional counterpart, it's time to elevate the PING Junior Solheim Cup to be the pinnacle of a young woman's amateur career. Let's not put it behind closed doors, and as The Script say;
"Yeah, do it for your people, do it for your pride. How're you ever gonna know if you never try? Do it for your country, do it for your name. 'Cause there's gonna be a day when you're standing in the hall of fame."
And we all need to know their names.
More information can be found in the PING Junior Solheim Cup section of www.solheimcup2023.eu, and follow the Instagram account of the European PJSC Team @jrsolheimcupeurope.