Women & Golf Member Jayne Garfield-Field reviews the Forelson Stow Sleeveless Polo
Review by Jayne Garfield-Field - Redlibbets Golf Club
My name is Jayne Garfield-Field and I have been playing golf for about five years. I had lots of friends who played golf so went along to my local driving range who were offering free 6-week courses to get more people into golf. That was it I was hooked and haven't looked back since. I play regularly at least twice a week and love golf holidays abroad. Over the years, I have been lucky to have played in Turkey, Spain, Portugal, South Africa and on a small course in Fiji.
I was very honoured to be asked to be Vice Captain and Lady Captain at Redlibbets in 2022/3. It was a great couple of years and I thoroughly enjoyed my captaincy, especially as lots of charity money was raised for a local riding school for the disabled and Breast Cancer Now.
I love golf clothes and my wardrobes are bursting with outfits in many colours, although pink seems a firm favourite!
Initial Thoughts
I was delighted to be asked to test the Forelson Stow sleeveless top. I was so excited when it arrived as the colour was lovely and bright and it looked great quality …not flimsy and see through at all.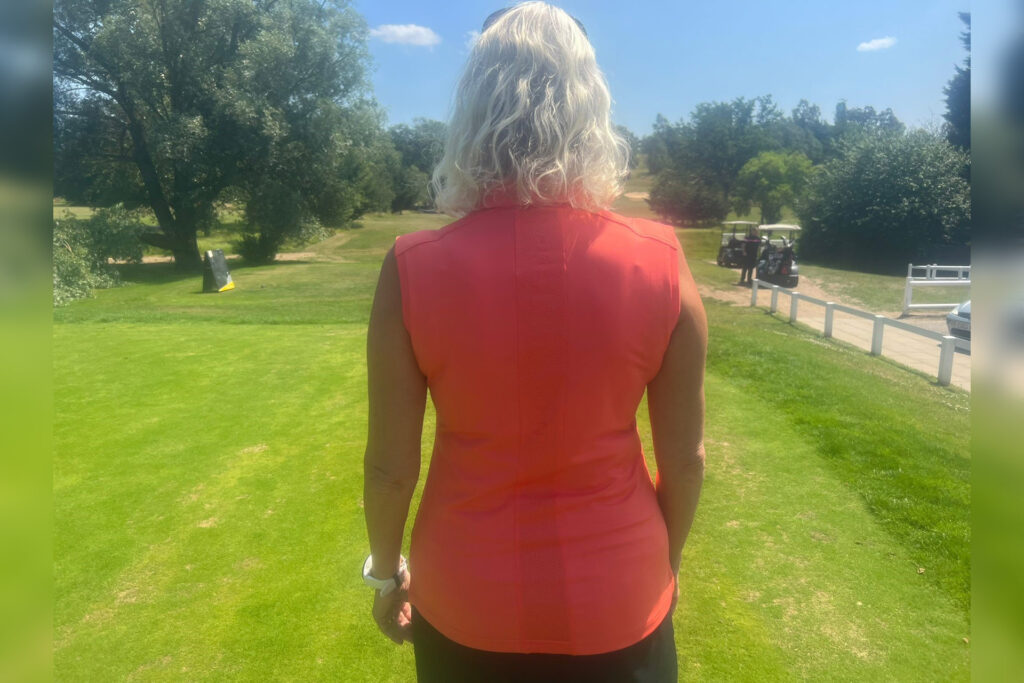 The test
I have worn the top on two occasions at my local golf club. The weather was warm the first time and it was very hot on the second occasion.
Verdict - Forelson Stow Sleeveless Polo
The top is a great design, I particularly liked the detailed stripe running down the back. The style of the top is great as it didn't ride up when I hit the ball and is a good length for me, I am 5ft 10.
I tested the large and am a 14-16 normally. For me, the arm holes are a little big and tried different bras to see if it improved the fit and it was better depending on the bra shape.
I was a little worried as I get very hot playing golf but didn't feel too hot on either test run despite the material being quite thick. This may be because of the small air holes (not sure if that's the technical name) around the arm holes and in the stripe running down the back.
The top is a lovely coral/orange colour which is very on trend and lovely for the summer. It goes very well with navy, black or white. It washed very well on a cool wash and dried quite fast without needing ironing, which is always a bonus.
I would recommend the Forelson sleeveless top, as I found the top to be great quality and value for money. It is versatile as it goes with all the basic colours most lady golfers would have in their golf wardrobe.
The Forelson Stow Sleeveless Polo is available in three colours, sizes XS-XL and priced £50.00 - find out more via the Forelson website.
Complete the Forelson outfit with a pair of Southrop Shorts - find out what Women & Golf Member Alison Stacey thought via her review here.