Women & Golf Member Alison Stacey reviews the Forelson Southrop Shorts
Review by Alison Stacey - Erewash Valley GC
I am certainly not the "average sized female golfer" – if there is such a thing. I am very tall, have longer than average legs and have usually found that the "regular" length of trousers, cut-offs, shorts and skorts is far too short. Even the "longer length" can be found wanting. Also, where the waistband sits can be less than comfortable if they are particularly low rise.
With these factors in mind, I was very pleased to be asked to try the Forelson "Southrop" shorts. I asked for the navy shorts with coral trim.
Initial Thoughts
First impressions were extremely favourable – the colour was a vibrant, rich navy with a stylish coral trim on the right-hand front pocket. Apart from the pleasing colour the feel of the fabric was a real bonus. It just shouted out "quality."
The stretch in the fabric – in all directions – was great, but what really impressed me, was that it held its shape so well whilst fitting to, and moving with, the body. Also, the front right-hand pocket had an external zip, as well as a normal pocket – what a great idea.
The length was also great – just below mid-thigh and the waistband fitted like a dream.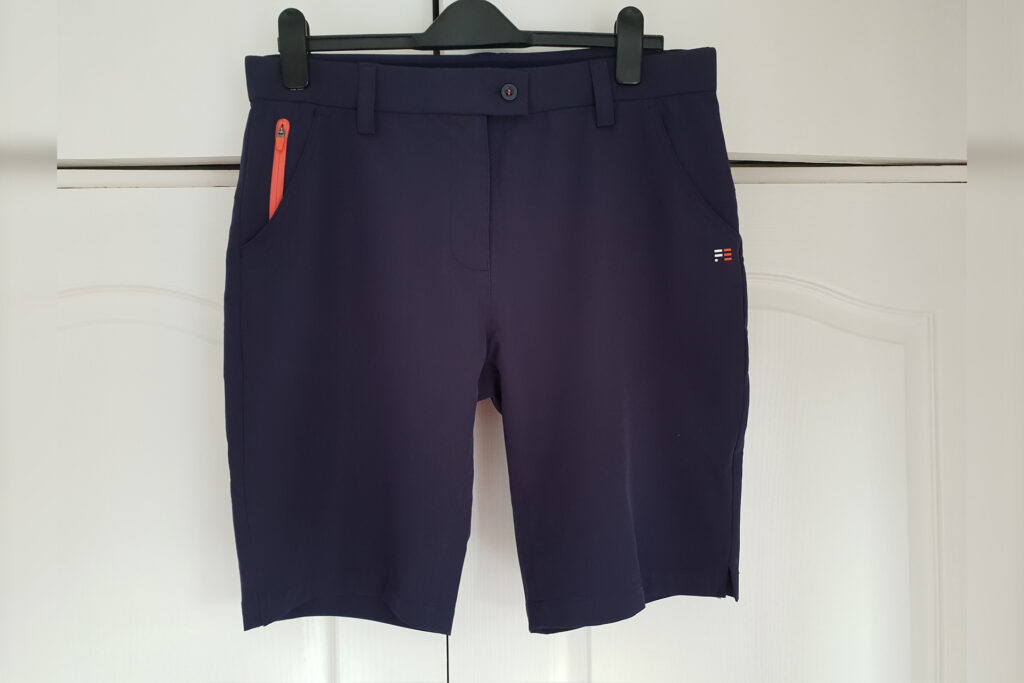 The test
It took quite a few weeks to test the shorts, as the weather was so cold and wet in the spring. However, eventually, I played four full rounds in the shorts and was not, in any way, disappointed.
They are a pleasure to wear. They look great, but more importantly, they move with you and feel like a garment that has been designed well and made well. Had some light rain, during one of the rounds, and they were fine. They are not described as "waterproof" but certainly the light rain just brushed off.
I chose the navy / coral trim combination as Derbyshire's County colours are navy bottoms – hence I have a lot of other clothing that they go with. They look good with a range of colours and prints and are certainly versatile with respect to teaming them up with existing golf clothing. They have washed so well that I think that they will keep their colour longer than much of my existing golfing wardrobe.
Verdict - Forelson Southrop Shorts
They are on the more expensive part of the pricing scale but the design and material are worth it. It is quite clear, when you wear them, that a lot of time and effort has been put into the design, the choice of the material and the construction of the garment.
Size wise – I am a size 16 and therefore had the largest that they do – an XL. They are true to size and fit very well. The waistband is where it should be and comfortable and they do not ride up, but keep their shape – on and off the course.
It is a 10/10 from me – I have no hesitation in recommending them.
The Forelson Southrop shorts are available in two colours, sizes XS-XL and priced £65.00 - find out more via the Forelson website.