Emma reviews the Ben Sayers Lithium Electric Trolley - can a trolley that's under £400 really be any good?
The popularity of electric golf trolleys has increased exponentially in recent years, especially over the last 18 months where more golfers are taking to the course as we have navigated our way through Covid restrictions and lockdowns.
The electric golf trolley was often thought of as the trolley of choice for the older golfer, due mainly in part to the cost of owning one. But nowadays the electric trolley has evolved into an essential golf item. This has been helped by the advances in technology which have meant that any reliability issues with batteries are pretty much a thing of the past. We also all know the health benefits to be gained from walking the course and why using a trolley, whether electric or push, is better for our backs.
I have to confess to being someone who prefers to carry my bag, I just like the convenience of being able to walk to where I want to. That's really it. I own a push trolley which I use from time to time but ultimately, I like to put my clubs in the car, get to the course and go. I don't like to faff.
Ben Sayers Electric Trolley Review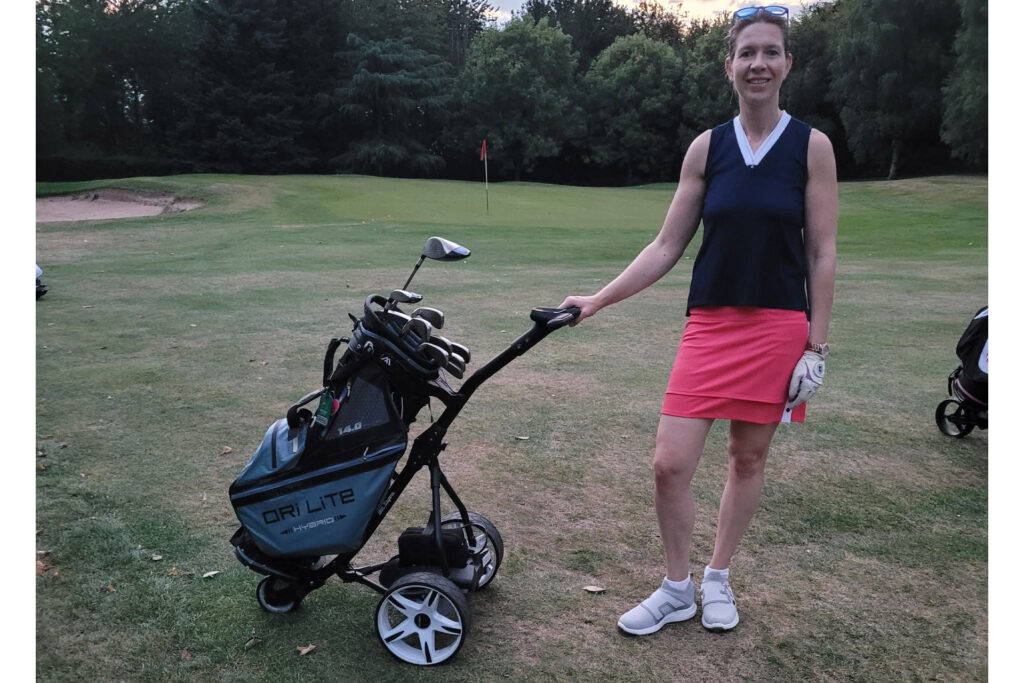 In steps the Ben Sayers Electric Lithium Trolley which I was given to test over the summer. I was going to take some convincing that as a player who likes to carry, thinks they're young enough to (in my midish-thirties) and who doesn't need an electric trolley as a push one will do, could possibly need or want an electric one.
Find out more about the Ben Sayers Lithium Electric Trolley
I am not going to lie, I was really surprised as I was impressed from the start. Firstly, was the ease at which the trolley is set up. The back wheels need to be attached first and they simply slide on with a simple release catch to secure them in place. They even have a handy right and left sticker, so you don't put them on the wrong side! You then click the bottom frame into the main arm and with a lift and push of the handle the trolley is pretty much ready to go.
The battery is strapped in and easily attached, after taking only a couple of hours to be fully charged. Then you attach your golf bag as you would to most other trolleys.
Easy to set up and simple to use
Secondly, was the ease of use of the trolley. Nice and simple. You have an on/off button which you just press down and a central dial that offers speeds from 0 to 9. If you're feeling more confident, there are also preset distances that can be used by pressing the A/B button.
In less than three minutes I was ready to take on my round. To make sure I gave the trolley a true test, I took it to one of the hillier course in the area, Lickey Hills. True to its name, there are interesting slopes and undulations to tackle around the course. The Ben Sayers trolley tackled them with ease. My only negative was that without a brake, you had to make sure you parked the trolley across a hill, so it didn't decide to run away. I was testing the 18-hole battery version of the trolley and it completed it without any issue, I am sure it would have gone on a lot longer. It's also worth noting that for those who play more than 18 holes in a day there is an extended battery trolley available.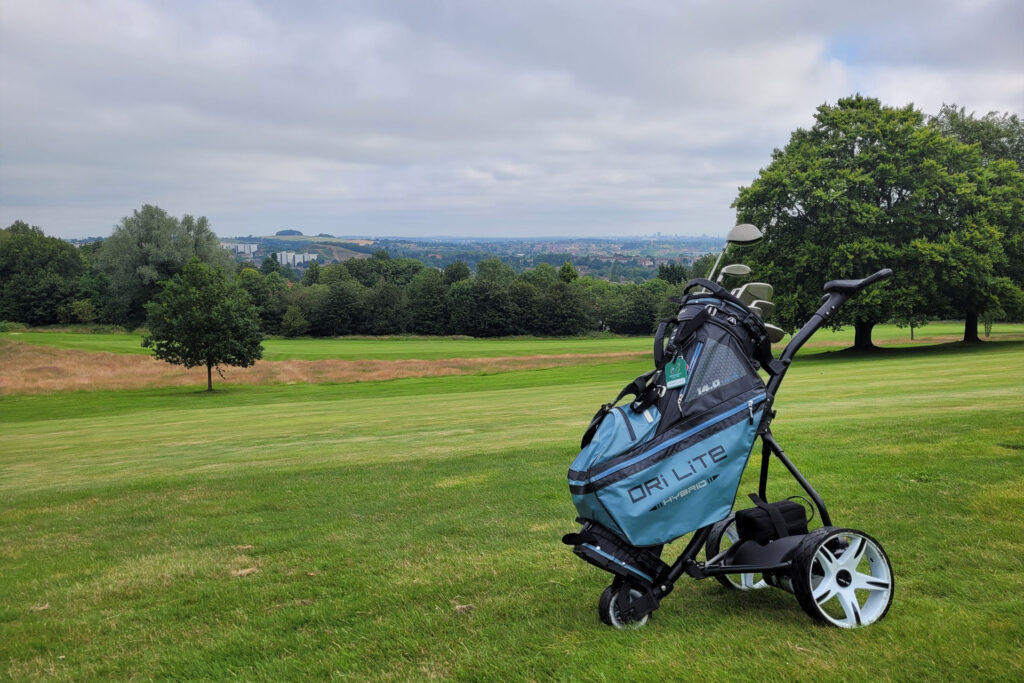 I used the electric trolley multiple times and my home club at Bromsgrove Golf Centre and I believe I managed to convince all my friends that they needed a Ben Sayers in their life.
Fantastic value for money
The third reason I was impressed was the price, at under £400 it really is great value for money. As well as the basic electric trolley set up, you also get multiple accessories included in the price. An accessories station can be fitted below the handle, where you able to attach an umbrella, scorecard and cup holder. Plus you have a durable carry bag and rain cover. That's around £100 worth of accessories that are included in the price, which I think makes it even better value for money. The RRP is £399 – but online prices range from £299-£349 at this point in time.
One final point around the weight and compactness of the trolley. I found that once the back wheels and battery were taken off, the trolley compacted down really well and was very easy to lift in and out of my car due to the lightweight aluminium frame. It certainly didn't take up that much room at all in my garage.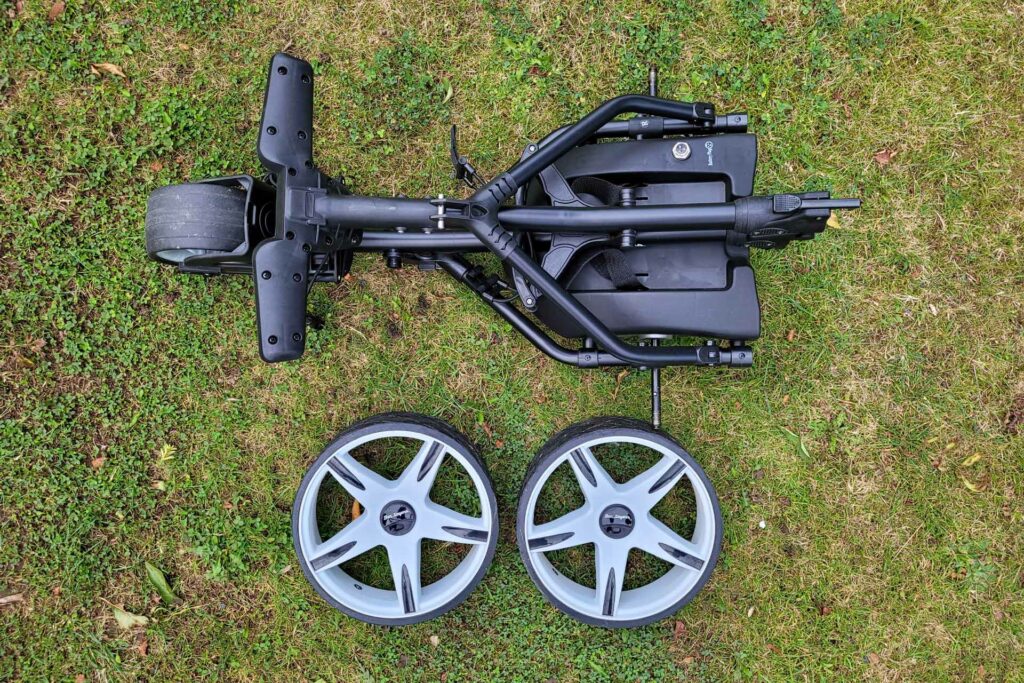 Ben Sayers Lithium Electric Trolley product information
Features a 200W motor which will tackle even the steepest of slopes. Available in 18 and 36-hole models, the lithium batteries have a life span that is up to five times longer than a traditional lead-acid battery.
A lightweight aluminium frame ensures easy transportation.
The trolley is fitted with a nine-speed control dial, along with a pre-set distance function which allows you to send your trolley forward by 10m, 20m or 30m.
A unique memory feature allows you to pre-set your required speed.
Fitted with an automatic cut-off charger to prevent the battery from overcharging.
The trolley comes complete with a free accessory pack worth over £100 and includes an accessory station, umbrella holder, scorecard holder, drinks holder, rain cover and a carry bag.
The trolley comes with a one year warranty.
Final Score
Obviously, I don't have a huge amount of experience of using an electric cart but I have no hesitation in recommending this to any golfer. I was blown away by how easy the trolley was to use and for me the simplicity was key. It had everything I would be looking for in an electric trolley and more at a price point which doesn't break the bank. I had thought that at such a low price point you would find some issues with the design or set up to compensate. This really wasn't the case and I do think golfers will be surprised at the quality, robustness and value for money this electric trolley from Ben Sayers offers.