David Thornton, an ambassador for "Golf in Society", shines a spotlight on volunteer Maggie McKay who plays a vital role within the golf industry
Name: Maggie McKay
Clubs: Mearns Castle Golf Academy, Glasgow, The Whitecraigs Golf Club and Stirling Golf Club
GIS Role: "Lead Golf Activator"
Recently we featured the remarkable story of the growth of "Golf In Society" - a social enterprise with a mission to improve the lives of people with a challenging health condition such as Dementia through golf.
This week we are shining the spotlight on one of many vitally important volunteers who are the backbone of the golf sector.
"Golf In Society" call the leaders at each golf venue "Golf Activators."
They are vital to the operation as they need to work closely with the clubs and the local community to deliver success and this requires real people skills and a passion to make a difference.
One such volunteer is Maggie McKay based at Mearns Castle Golf Academy in Glasgow.
Maggie retired a few years ago after a successful career starting out as an Occupational Therapist and latterly worked in FE and HE across the UK, advising the sector about the role of digital inclusion in removing barriers for staff and students with learning differences and disabilities.
Although she wasn't to know it at the time her interest in supporting vulnerable young people/adults and her total commitment to equality of opportunity meant she was an excellent "fit" for a role with "Golf In Society."
Maggie takes up the story
"I was quite new to golf. I had the perception that it was rather male-dominated, slightly elitist and very expensive and that you also had to be very good at the game. Maybe I've been lucky but in my personal experience as a learner at Mearns Castle Golf Academy and now an enthusiastic improver at The Whitecraigs GC that hasn't been the case. The clubs are very encouraging and supportive of every golfer regardless of age, gender or ability."
After working for 37 years, she could be forgiven for wanting to put her feet up and slow down. However, she loves working with "Golf In Society" and making a difference to the lives of vulnerable older people. She is adept at using social media effectively to raise awareness of "Golf In Society" both locally and nationally. She regularly uses technology and social media to share digital stories and successes, using it as a "reflective tool" to engage with participants and their families.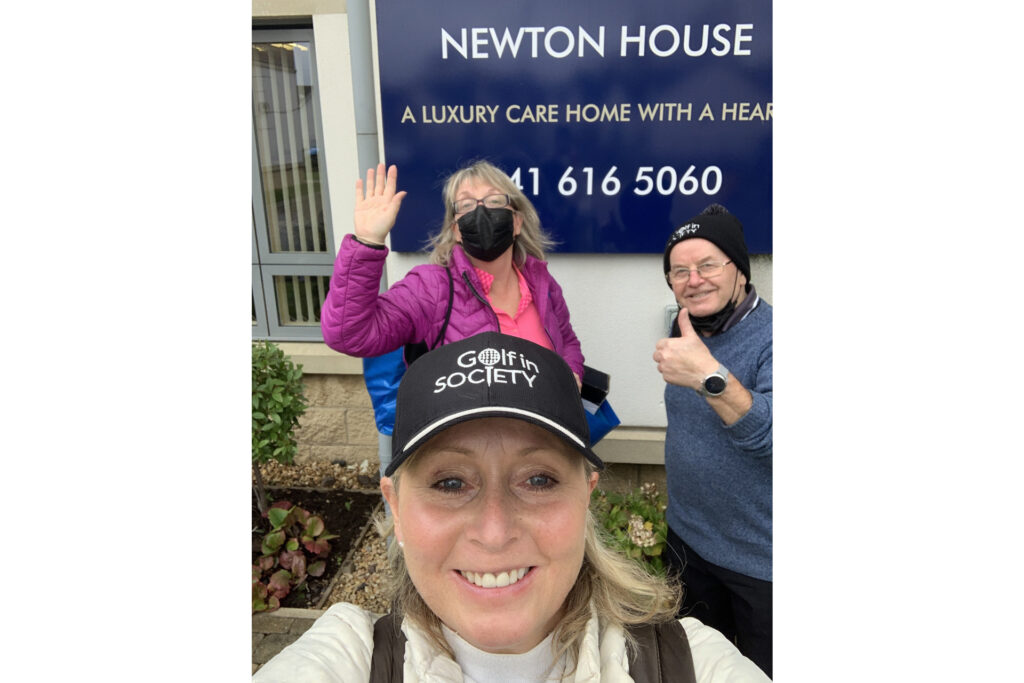 The blight of loneliness
The more we chatted it became clear how important someone like Maggie would have been during the pandemic at trying to maintain those vital links with families during lockdowns.
Maggie and the rest of the team at "Golf In Society" created weekly home-based video golf challenges which they could share with families, encouraging carers to find whatever they could around the house to use as golf equipment! For example, tumble dryer balls or rolled up tinfoil as golf balls and tins of beans and litter bins as targets.
They encouraged families to get involved and to share their videos and photos at their weekly online "staying connected' meetings where they enjoyed hearing about each other's challenges and announcing weekly leaderboard winners. This kept families connected during a very difficult time.
As Maggie said "we give them (golfers) a sense of purpose and restore lost connections. For carers, we provide and escape from the everyday worries and stresses of caring for a loved one."
I see why her MD said that "there are very few people I trust with my brand. Maggie is one of them."
Marie's story
Maggie told me the story of Marie, a GIS participant who loved golf. During the early days of lockdown her husband (and main carer) became very unwell with Covid and was hospitalized. Marie had to stay with various family members which was such a difficult time for them all. Her family however recognised the importance of retaining connections with Marie's community and with her friendship groups and made a point of helping her to attend the online groups and participate in the weekly golf challenges.
Her daughter said:
"As a family we all had to step up and support Mum when Dad was in hospital and finding activities to keep her occupied was really difficult. Maggie's weekly golf challenges were amazing, helping to keep her spirits up and giving us something the whole family could be involved in. "Golf in Society" has been absolutely brilliant for Mum and golf has played a huge part in giving her some normality in a very abnormal world.
Networking
Maggie is a firm believer in developing networks and reaching out to others in need. My notebook was littered with phrases like "local community", "social networks" and "working with others."
As well as Mearns Castle Golf Academy, she has developed links with The Whitecraigs Golf Club and Stirling Golf Club and introduced indoor golf to residents at two local care homes in Glasgow. She has even introduced 101-year-old Edith to golf for the first time – she loved it!
The phrase "unsung heroes" has become a little cliched in recent years, but I can't think of a better description of volunteers like Maggie McKay and the vital contribution they make to bringing this great game to people who possibly never considered picking up a golf club or helping people rediscover their love for the sport despite their poor health.
As the CEO of "Golf In Society", Anthony Blackburn, would say: "a proper person."
DONATE or VOLUNTEER
If you would like to donate to "Golf in Society" you can do so on their website.
If you would like to come along to one of our sessions you are very welcome. There is a map of current and planned new venues on the website.
If you would like to volunteer for GIS – Anthony Blackburn can be contacted via email at [email protected] or mobile 07491 694938
Words by David Thornton
---
David Thornton plays golf to stay alive and help him fight Parkinson's. He is an ambassador for social enterprise "Golf in Society" and is passionate about many things - family, cooking, Burnley FC and the need for golf to be genuinely inclusive. David is always looking for opportunities to write more about golf - websites, course reviews, interviews, features, golf travel, blogs… You can find him at [email protected]