EDGA, the international body for disability golf, shares the story of EDGA Benedicte Finnema who lost her leg after a ski accident
Benedicte Finnema was 53-years-old and like many Norwegians, she loved keeping fit and being an athlete. Then came a serious ski accident in 2016. As she lay in the hospital and then working through the long hours of rehab before later finally deciding to have her leg amputated, Benedicte was able to first cope, and then take a positive view for the future, by focusing on a unique personal list of paddling a boat on the sea, playing golf on a beautiful course, and walking with her great friend, Ollie.
Benedicte believes her personal resilience was first developed during a difficult childhood for her and her brother. Added to this was the realisation that ultimately, learning to live without a leg is an intense personal challenge; it's down to you – when you are ready.
However, she has also discovered, helped by her family (she has a daughter called Cathrine), and her friends in golf, that you don't need to do all this alone. Benedicte has found a brother-and-sisterhood in golf, and it's one she loves.
Norwegian Golf Federation
We are talking with Benedicte at the TopGolf venue that is part of the facility at her club, Nordhaug Golf Club, near Oslo.
Here, once a week, the Norwegian Golf Federation runs 'GGG', which translates as 'Golf, Green, Happiness'. Benedicte volunteers as a team leader and she is also on the Board for her golf club. She volunteers in support of a national activity project for amputees called 'Momentum', and also a group supporting people with disability in the sport of kayaking.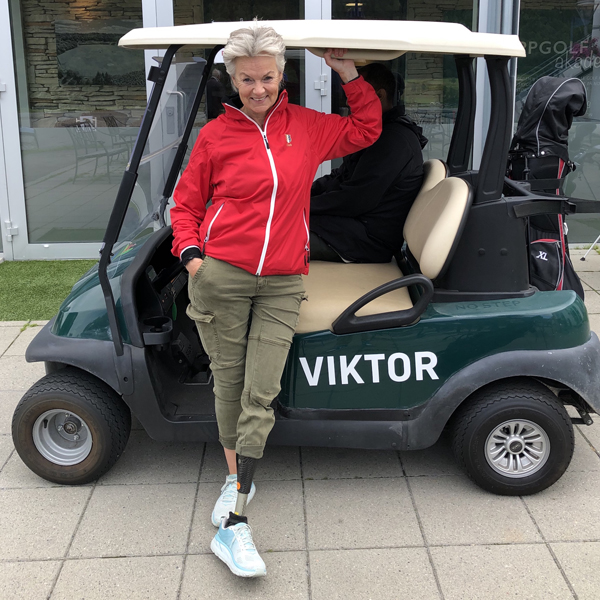 Benedicte first started playing golf 15 years ago. She says: "Then, in 2016, I was in a skiing accident and from that I eventually lost my left leg in 2019. I hit a tree in the accident. So, my whole left side was smashed to pieces. It was a bad thing, and I just knew it immediately. Then I got this really bad taste in my mouth and it turns out to be blood.
"I spent three months in hospital on my back and they tried like 12 or 13 different surgeries. I'd been in and out of the rehab centres and my only thought was to be able to walk again; and on my list, on my way back to life, there were three things. First was walking the dog, the second was of course playing golf, and the third was getting back into my kayak."
An elective amputation
Benedicte describes her struggles, before the freeing decision in 2019 to have an elective amputation: "It was very painful. I lost a lot of weight, but I still had my sense of humour and my daughter and my family. In the end I realised that I cannot just walk around and feel sorry for myself. A psychologist said you have to set a plan, set a goal, follow the plan in order to reach your goal and you have to take it from there. So, what is the very number one thing you really want to do? For me, it was golf."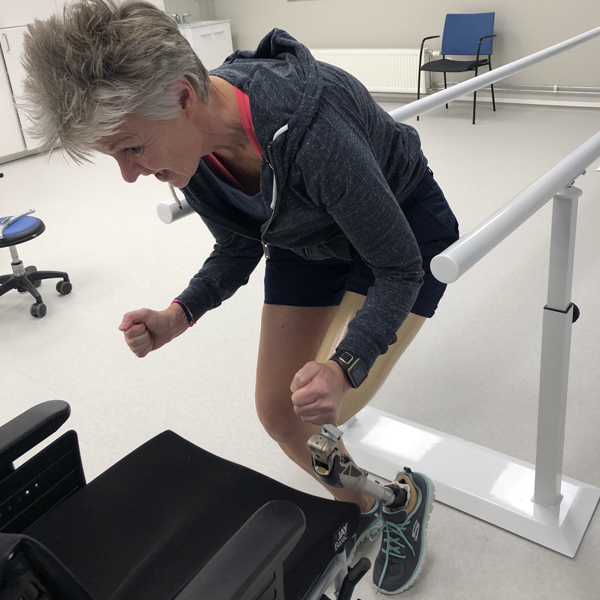 Today, Benedicte talks of her regular trip to play golf. "It is when I'm driving to the club and I just go in there and get my bag, I'm in a different zone. I feel like I'm kind of home because you cannot do this on your own. You have to have people with you.
"It's very important to have a place where you feel you belong. And for me, that's been healthy and without having any disability for 53 years, I found myself disabled, not being able to do most of the things I loved. With golf, I can be with others in the same boat, and we all just love to play golf, and it's just amazing being part of that."
Apart from her sport, her friend Ollie has been a constant source of inspiration and support.
"Ollie is a 12-year-old bearded Collie and he was six years old when the accident happened. He was very fit like me because we were doing everything together. We were hiking, skiing, cross country, everything. And well, after the accident, I couldn't take care of him for six months or so. And this dog is my heart actually. I just wanted to do everything I could manage to do to take care of him the best I could. And of course to walk him because I was used to walking like 20K every day, but now we are actually on 10K every day."
The power of golf
Walking the golf course, Benedicte says she owes a great deal to her coach Mark Davies, a PGA Advanced Professional, for helping to progress her game. Looking ahead means more EDGA competitive tournaments at home and abroad; she would love to play in Scotland.
We asked Benedicte what advice she might give to a person who faces a similar set of challenges after an accident or illness.
"First of all, they need to reach out when they're ready. That is very important. Then, you have to focus on your new life and you have to design a new life. And in that life, you need to decide whether it's going to be good or not. And if you want it to be good, you have to make a plan."
Benedicte adds in respect of golf: "It's about mental health. This is an activity, and you cannot say that a golf course is not beautiful. You're out in nature and you can hit the ball or not, or just be there, but still you're doing a very, very nice activity with other people. Most of us play golf because we think it's fun. So it's the fun thing that you need to focus on."
Words by Ben Evans
You can read more about Benedicte and more inspiring stories from the EDGA players at www.edgagolf.com and watch/listen to profiles of EDGA players at www.edgagolf.tv
More inspiring stories from EDGA, read about MS golfer Aimi Bullock - full article.