Dr Andrew Murray gives us a behind the scenes look of the facilities and experts available for golfers at a Major event such as AIG Women's Open
Dr Andrew Murray is a Chief Medical and Scientific Officer for the DP World Tour and Ladies European Tour, and is recognised as a leading specialist in Sports and Exercise Medicine. He has worked at the Olympics, Paralympics, Commonwealth Games, the Ryder Cup, The Open, Tour de France, while currently working with the University of Edinburgh, the male and female tours and The R&A
Dr Murray has worked at the last five AIG Women's Opens and just after this year's event came to a close, we got to speak to him to find out what was on offer behind the scenes in the player's area at the biggest women's golf event in the UK.
Why are health, exercise and well-being services so important for players?
Golf is a fantastic sport with the difference between coming first and coming fourth, as we saw at this year's AIG Women's Open (AIGWO), being less than 1%. If you take the Olympics the average is about 0.3%.
What is it that these athletes do that helps them put the ball in the hole or hit the ball further? It's up to them, it's up to their coach, their short game coach, their psychologist, their physio, their manager, their stats, their team, etc.
What we're able to do at the AIGWO, on the Ladies European Tour or DP World Tour with the various services that we offer is that we can ask the players what would make the biggest difference to them in terms of their health and performance and then put it in place based on our knowledge.
What was available at the AIG Women's Open at Muirfield?
Physiotherapy
If you look at some of the performance services that Claire Welsh at The R&A put in place at the AIGWO, it included, World Class physiotherapists from both the Ladies European Tour with Philipa Stewart, and Alex from the LPGA, physios across the relevant tours as they know their players best and what can help them most.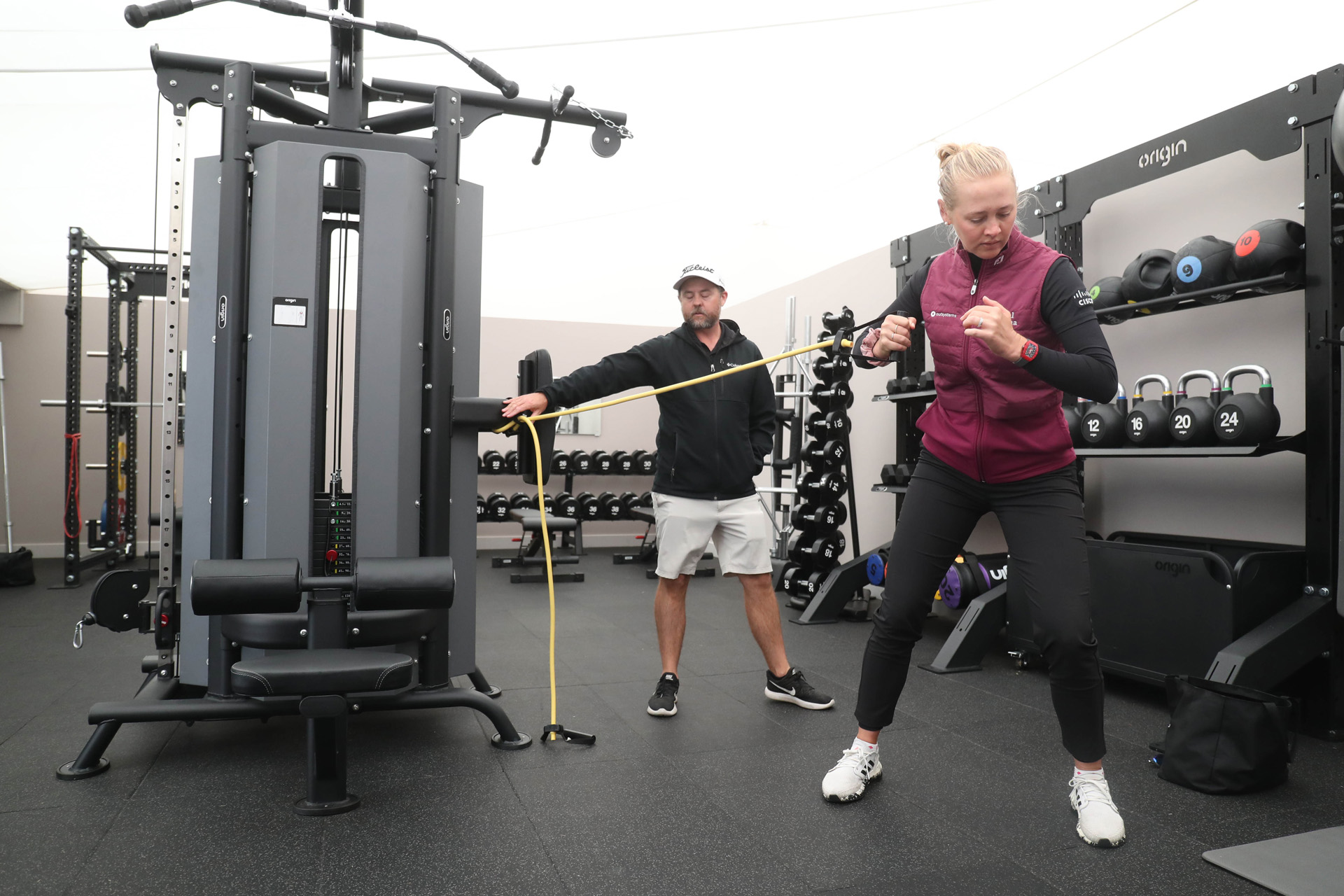 Strength and Conditioning
There was also a large players' gym, an area where they could lift heavy weights, which helps with distance, areas for stretching and mobility that can facilitate players getting ready to perform and aerobic exercise, for example, exercise bikes that people could use to get ready for the first tee.
Nutrition
With regards to performance nutrition, Amy O'Donnell was on site. Amy has looked after the last couple of Solheim Cup matches from a nutrition perspective and made sure that there's everything needed to support immune function, which has been incredibly important over the last couple of years.
This included, but was not limited to, fresh smoothies, fresh fruit and vegetables and salads. Also, protein -muscles are made of protein, so making sure there were good quality protein options. As well as carbohydrates for fuel. It doesn't matter how good the car is, if there's no fuel in the tank, it's going nowhere!
It's not to say that people would collapse and not be able to play golf, but where differences are so small and the potential impact it can have on physical performance as well as mental sharpness. For performance, nutrition is incredibly important for us all.
Gone are the days that you have a Mars bar and a drink of water before you start your round and that's it. It's about essentially making sure that the body is optimised to perform.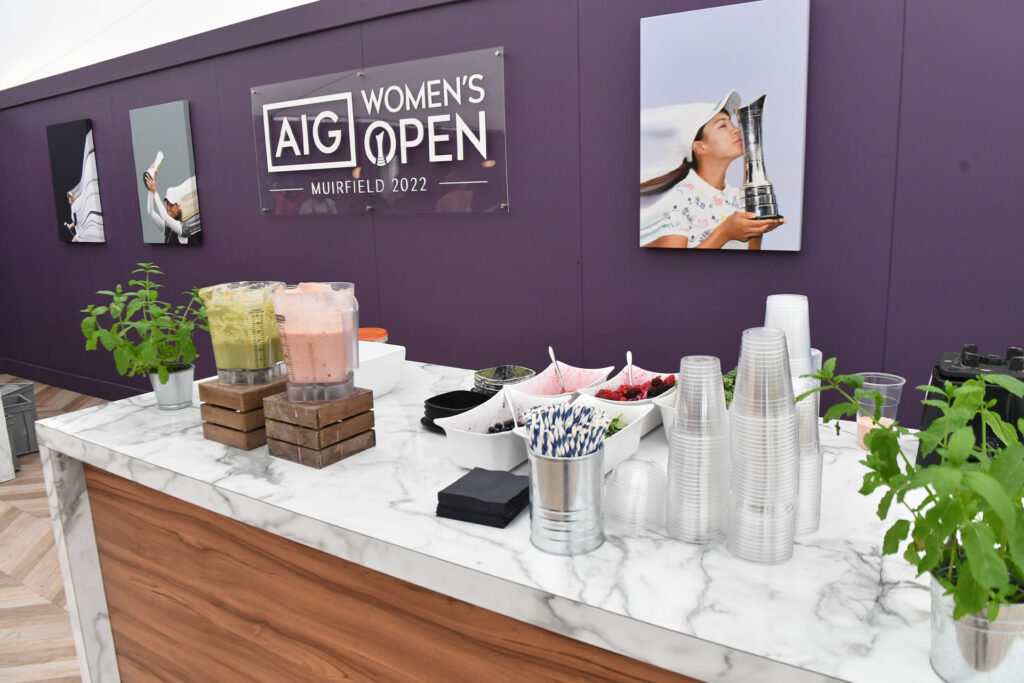 Sports and Exercise Medicine
We had Sport and Exercise medicine. I was there with one of my colleagues. Again, we're trying to get the answers for people right there. For example, if a player did present with a wrist injury, or with a shoulder injury, we're able to examine them and use our GE diagnostic Ultrasound scanners to tell them straightaway what's going on.
In this scenario, you would have a physio, a sports medicine doctor, the athlete and the imaging. We would get together and try and work out exactly what's going on and what a clear rehab plan might be rather than having to send players off-site for an MRI, or further imaging. We also assist with any illness, or performance queries, as well as helping players or their team who had run out of their medication
Skin Screening
Another extremely important area was skin screening. Players know that golf can have huge benefits in terms of longer life, physical health benefits, mental health benefits, but one of the risk factors is skin cancer.
The skin screening service from Cignpost looked after 40 of the players, caddies and support staff. It was able to pick up any issues that might be there and give proactive information to people to decrease their skin cancer risk.
Having fun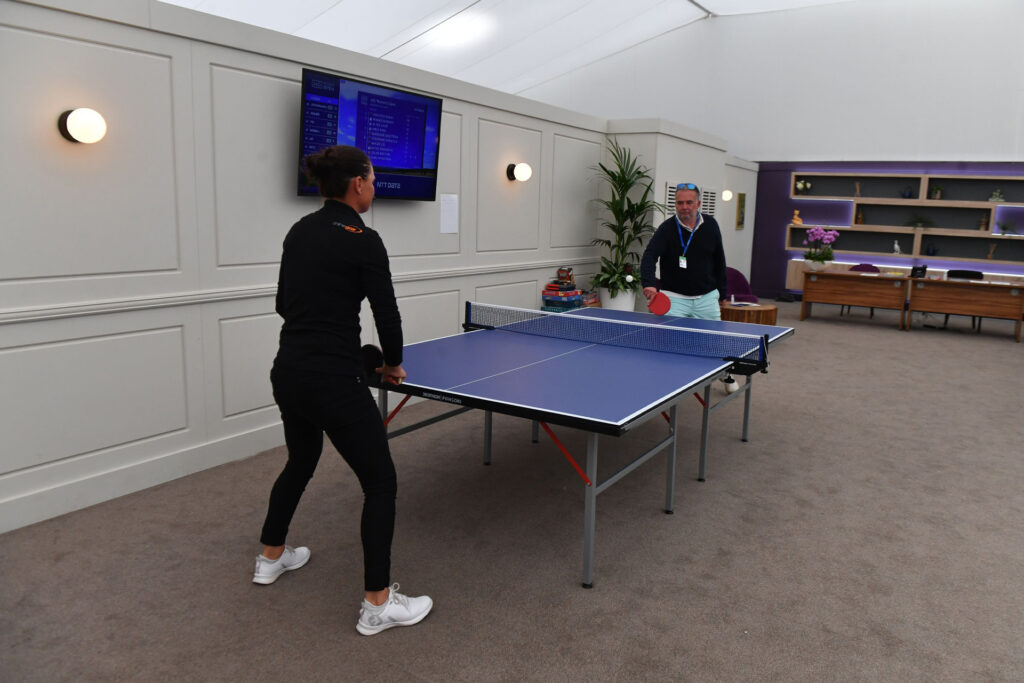 It's all about fun as well. Some of the things that players requested were games or table tennis. We also had to think about the different players we had, from many different countries and cultures. To make sure we catered for everyone we asked the players what matters to them to help with their health and performance and see what enhancements can be put in for next year.
For me, I think it's extremely exciting that the AIG Women's Open featured many of the same performance setups that were there for The 150th Open and for the Senior Open as well. Claire Welsh, Claire Baxter and their team do a wonderful job across both events.
It's right and proper, that it's recognised that golf is an athletic sport, that small differences and small interventions can make a big difference. And all of these services are there for our players.
How have setups changed at Major championships over the last few years?
If you look at the AIG Women's Open, The Open and Senior Open, then what is happening is that golf is changing, and the behaviours of athletes are changing.
A good quality gym and access to good food are just as important as a putting green and a driving range to many professional golfers now. Also, the fact that The R&A seek feedback. There's a player survey that goes out and then we can immediately action or action for next year the things that they feel would enhance that experience.
In my opinion, things are getting better year on year and now are exactly what you'd expect at the Olympic Games or equivalent but really focused on golf and thinking about what can help these athletes in particular get the performance edge they are looking for.
To find out more about the health and well-being benefits of golf please visit the Golf & Health website.