Previous U.S. Senior Women's Open Champions, Davies, Alfredsson and Sorenstam, are at the top of the leaderboard heading into the final day at NCR Country Club
Report by USGA
They threw a party at NCR Country Club for the best of the best and everybody came. Swinging into Sunday's final round of the U.S. Senior Women's Open, all three of the past champions are in the mix.
Dame Laura Davies and Helen Alfredsson are tied for the lead at four-under-par 215 with Annika Sorenstam, Jill McGill and Leta Lindley one back.
Davies won the inaugural U.S. Senior Women's Open in 2018, Alfredsson took the title in 2019 and Sorenstam brought home the hardware last year. McGill is a two-time USGA champion, winning the 1993 U.S. Women's Amateur and the 1994 U.S. Women's Amateur Public Links.
Davies, limping along on a sore right Achilles, was brilliant all day as she matched the low round of the week – a bogey-free, five-under-par 68 that featured an eagle on the par-5 16th hole.
"I had a bit of acupuncture on the old calf this morning, and although it's still painful walking, it took the pain off the swing so I could get through it again," Davies said. "I got stronger coming in. My ball-striking even got better the last few holes. It will be a bit nerve-racking tomorrow, obviously, because I've not been in this position probably since I won it. But yeah, it'll be nerve-racking but fun."
A mixed day for Sorenstam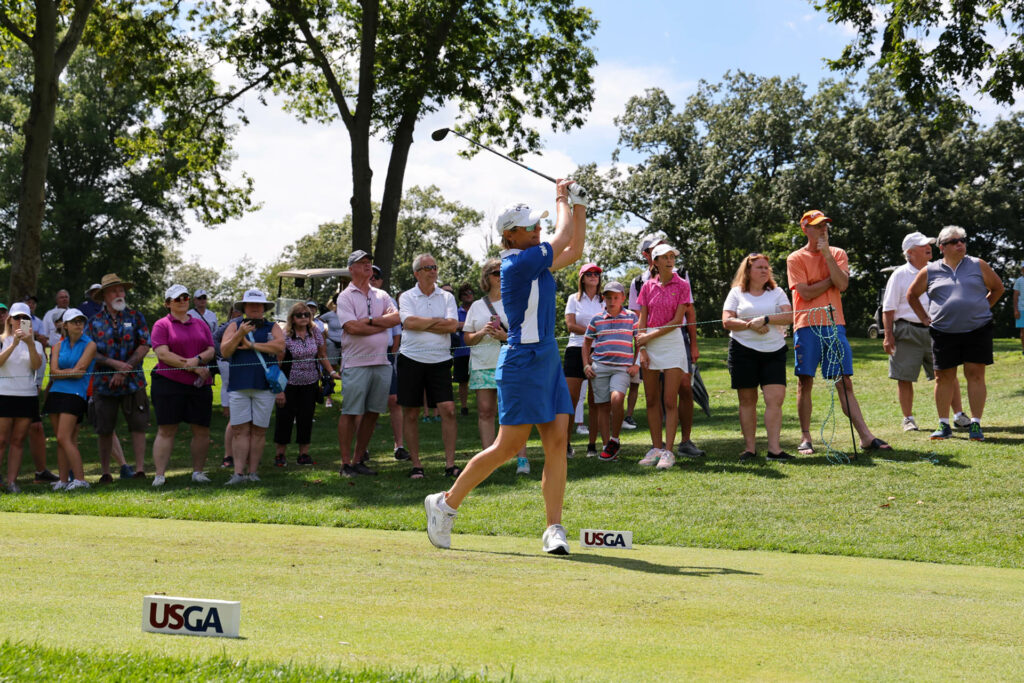 Sorenstam was surprisingly erratic. Over the last four holes of the front nine, she missed more fairways and hit into more bunkers than she usually would in a month. On the sixth, she three-putted from five-feet, missing a one-footer, to close the front nine with three bogeys in four holes.
That seemed to fire her up. She made birdies on 10 and 11, saved par with a 12-footer on 12 and birdied the 13th. But there was a bogey at 15, a two-putt birdie at 16 and yet another bogey at 17 as she posted a third-round 73.
"Talk about a mixed bag," Sorenstam said. "I felt very jittery. I felt very uncomfortable. I couldn't really find anything. I felt like I had 10 cups of coffee, and I haven't had coffee all week. If I can just kind of calm myself down and go out there and trust myself - I'm swinging well. Big day tomorrow. You have a leaderboard, a lot of names up there, some of the top names that we would expect. Hopefully, everybody tunes in."
Alfredsson at the top with Davies
Alfredsson gyrated and shouted her way to a 75 that included four birdies, four bogeys and a double bogey. The double bogey came on the par-3 13th hole when she hit into the greenside bunker, barely got her second shot out, chunked her third and had to make a solid five-footer for the five.
"Well, that I am tied for the lead still, that I didn't plummet like a stone in water, which is good, but it felt like it," Alfredsson said. "You know, it is the U.S. Open, and you know mistakes are going to come, and I did not hit the ball anywhere near as good as I did yesterday. But you know what? I'm right in it. It's Saturday, and there's still one day more to go. That's why we're here, isn't it? You just want to go out and play well and give yourself a good shot."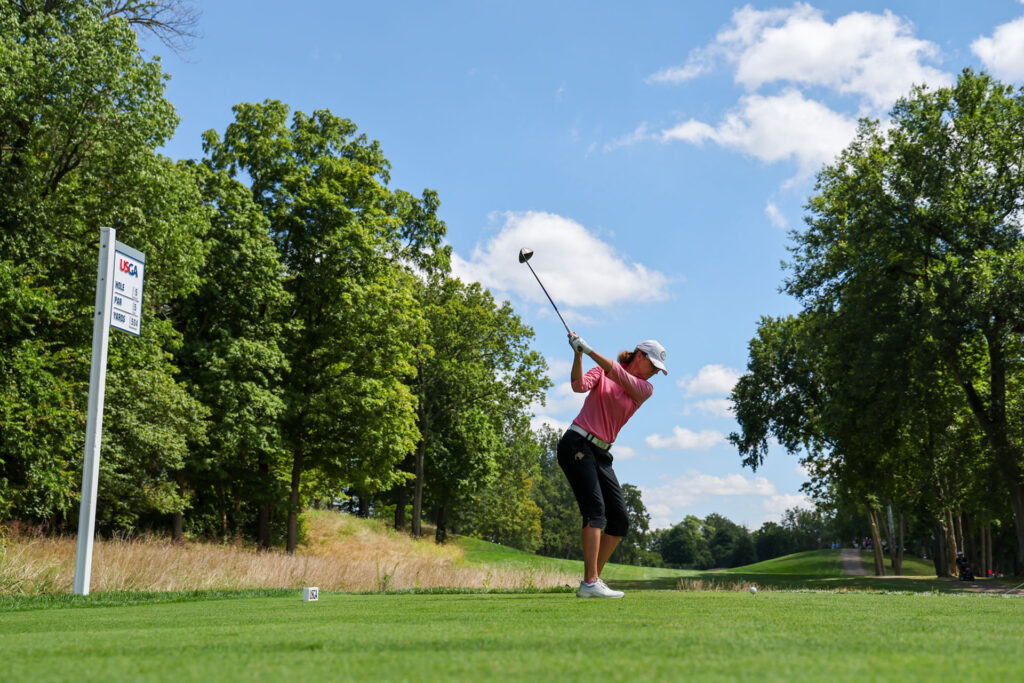 McGill and Lindley are the outsiders among this trio of champions but they have played like they belong at the party. McGill shot an extremely solid 71 on Saturday and Lindley handled the pressure of playing in the final pairing with a 75. Lurking at 1-under-par 218 is Catriona Matthew, with Trish Johnson at even-par 219.
Alfredsson started the third round one stroke ahead of Lindley and built the lead to six strokes when she made a two-putt birdie on the par-5 sixth hole. But the double bogey at No. 13 cut the lead to two strokes and a bogey on No. 18 dropped her into the tie with Davies.
A fantastic final day ahead
On Sunday, Davies and Alfredsson – many times teammates for Europe in the Solheim Cup – will be the last twosome of the day. Alfredsson on being paired with Davies:
"We were in Holland, I think, for the European Team Championship. She was so long, and we were like, who is this person. We were told to lay up, and by the time we hit our second shot we were at her drive, and it's like, this is not working; we've got to figure out something. We've been friends ever since."
They will be preceded by Sorenstam and McGill, right after Lindley and Matthew. That's the kind of leaderboard you dream of having in a major championship – and one that you rarely get.
This is a Sunday that will truly be a test of champions.
View the full U.S. Senior Women's Open leaderboard here.