It was fifth time lucky as England's Trish Johnson won the U.S. Senior Women's Open at Waverley Country Club
Report by the USGA
If there was one thing in ample supply at the 5th U.S. Senior Women's Open, it was experience. On Sunday, a trio of players with a handful of near-misses in this championship staged an epic battle at Waverley Country Club, ultimately won by Trish Johnson by one stroke over Leta Lindley and two ahead of Catriona Matthew. 
Johnson, who has played in all five of these championships, was T-2 in 2019 and third in 2018. Lindley was second last year and Matthew was T-3 in 2022 and T-4 in 2021. The Englishwoman took a one-stroke lead over Matthew into the final round and was two ahead of Lindley. The three stayed locked in a duel right down to the last hole, with Johnson closing with an even-par 72, Lindley a 71 and Matthew 73.
The tide turned on hole 15. With Matthew and Johnson tied at three-under-par and Lindley at two-under-par – all three through 14 holes – Matthew drove into a bunker on the par-4 15th and did well to save par with a five-foot putt, while Johnson hit a wedge to tap-in distance to take the lead by one stroke at four-under-par. Johnson followed with a 15-foot birdie on 16 to pull two strokes clear of Matthew, a cushion she needed when she made a bogey on 17. 
"I am so knackered, I've got to be honest," said Johnson, who finished at four-under-par 284 with Lindley at 285 and Matthew 286. "Just amazing, honestly. Yeah, it's something I've always wanted to do, win a USGA event. Never even came close in a regular U.S. Open." 
Johnson was well aware of her near-misses in this championship.
"After the front eight holes I thought, here we go again," she said. "But rallied a bit and hit some decent shots coming in. Beany [Matthew] got a bit unlucky a couple of times coming in, and here we are." 
The 57-year-old, also credited her caddie, former LET player Beth Allen, as a huge help towards her first USGA event win:
"Beth, my caddie, was brilliant, kept giving me water every two seconds. I think she could see the color draining out of my face, didn't want me to faint in front of everybody. She was fantastic and a big part of why I won this week."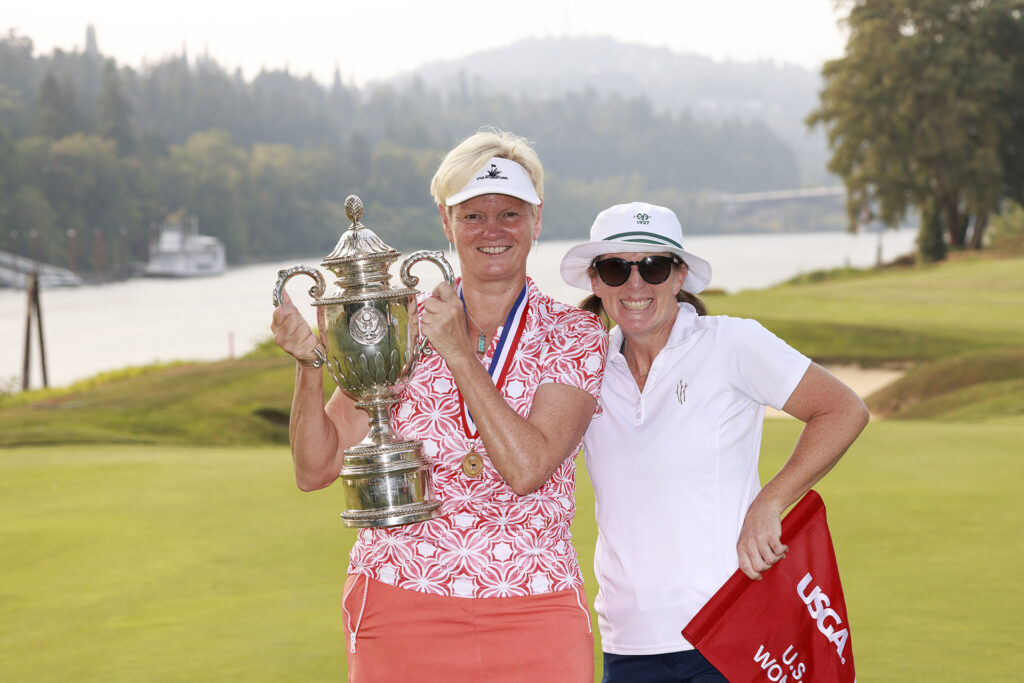 Meanwhile, Lindley was reeling off par after par, making 14 in a row before finally finding a birdie on 18 to finish at three-under-par 285. 
"It was an amazing week," Lindley said. "Came in here with really high hopes after last year and really wanted to hoist that trophy. But I played solid. I hit the ball great. I rolled it well. I just came up one shy again. I was courageous today. I hit it good. I hit my lines. I just managed myself nicely, and if I keep plugging along and keep working hard, hopefully one of these days I'm going to hold the trophy."
Matthew played a solid round of golf that featured two birdies and two bogeys until she closed with a third bogey as she gambled going for the par-5 18th hole in two and pulled her second shot.
The 2021 champion Annika Sorenstam closed with birdies on the final two holes to shoot even-par 288 along with Moira Dunn-Bohls to tie for fourth place. Patricia Meunier-Lebouc and amateur Judith Kyrinis were at 290 with Tammie Green at 291. Jean Bartholomew and amateur Terrill Samuel were at 293 while Brandie Burton, Silvia Cavalleri and Charlotta Sorenstam were at 294.
The U.S. Senior Women's Open has been staged five times and produced five different winners, Johnson joining Laura Davies, Helen Alfredsson, Annika Sorenstam and Jill McGill. The 6th U.S. Senior Women's Open will be at Fox Chapel Golf Club near Pittsburgh. The wonder at Waverley certainly gives it a tough act to follow.  
View the full U.S. Senior Women's Open leaderboard here.