Pauline Roussin wins her second LET title by clinching the Aramco Team Series - Singapore individual title, whilst Team Wolf triumph in the team competition
Report by the LET.
Pauline Roussin fired a sensational round of 64 (-8) to seal a four-shot victory at the Aramco Team Series presented by Public Investment Fund – Singapore.
The 22-year-old had a flawless final day at Laguna National Golf Resort Club where she rolled in eight birdies on the final day.
It took until the seventh hole for the Frenchwoman to make her first birdie, but she then rolled in four consecutively on holes nine through to 13.
Roussin got on another roll making three birdies on the trot on holes 14, 15 and 16 to reach a total of 15-under-par and win the Individual crown in Singapore.
"Honestly, I was just surfing the wave that was just happening," she said. "We kept it very chill with my caddie, my boyfriend, and we just talked about TV shows and what to watch, what not to watch.
"It kept me in a really good place during the entire round, and then it was unfortunate that I hit that tree, but it doesn't even matter now! I don't think I have realised just yet.
"You're going to be impressed playing with Danielle [Kang]. She's an amazing player and won so many tournaments, but I worked a lot. I was doing my own thing, and I was literally not thinking about what other people were thinking and just being in my own bubble with my caddie, and it worked out.
"It's special. I had my first win with my mum on the bag and she's here this week and my coach is here as well, so it's very special and having my boyfriend on the bag."
A steep learning curve since turning pro
It was a second LET title for Roussin, who won the 2021 Didriksons Skatfo Open just weeks after turning professional.
And the now two-time LET winner believes she has learned so much in the 18 months since her last victory.
Roussin explained: "I think I'm way more experienced now, and it just hits different because there has been a lot of work and a lot of experience from last year.
"My mom was on the bag for the first time; this week was my boyfriend. I think it tells a lot about the mindset that I want to keep on the course. It's that having fun part and being me, and doing things in a good mood, not letting the game affect that.
"It's not always going to be the case. I'm aware of that, but that was the mindset. This week I was aware that I could do good. It's not like two years ago when I was just looking at where my game was compared to other people because I just turned pro.
"Now after a year and a half as a pro and I have realised where I can be when I'm on top of my game and feels good that it comes out with a win."
Kang and Ko close behind
American Danielle Kang finished in second place in Singapore after a final round of 68 (-4) which included an eagle, four birdies and two bogeys.
World number one Lydia Ko ended the week in third place on 10-under-par after a 66 (-6) on the third day at the Aramco Team Series – Singapore.
Swedish pair Elin Arvidsson and Linn Grant finished the week in fourth place on seven-under-par alongside Czechia's Klara Davidson Spilkova.
Three players finished in T7 with Scotland's Michele Thomson, Thailand's Trichat Cheenglab and England's Eleanor Givens on six-under-par with France's Agathe Sauzon in outright tenth place on five-under-par.
Team Wolf win by one shot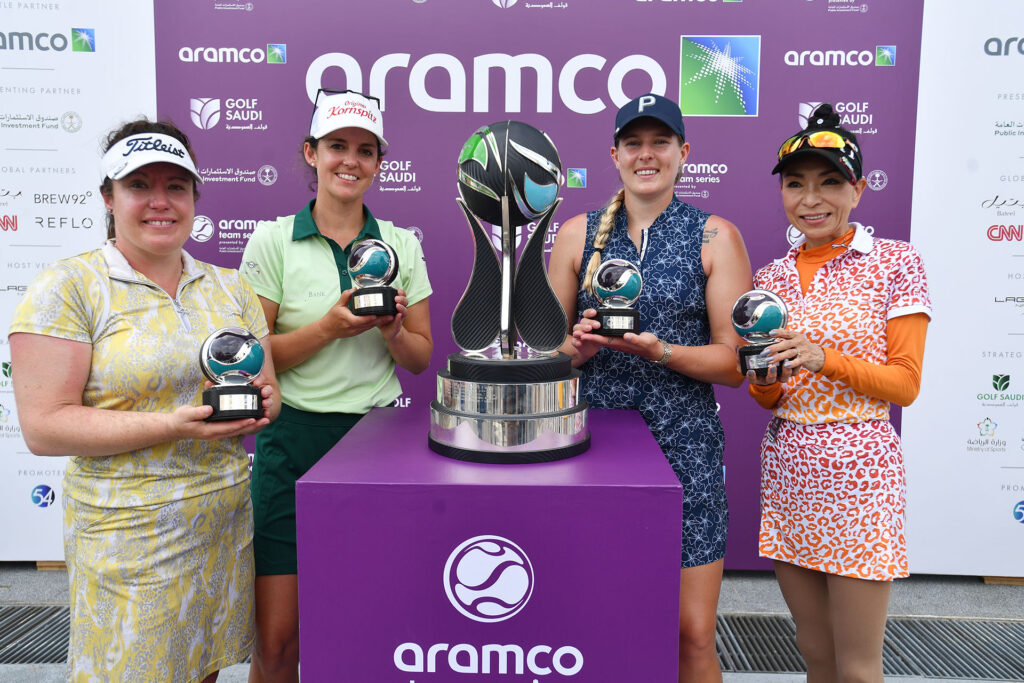 Team Wolf triumphed at the Aramco Team Series presented by Public Investment Fund – Singapore as they recorded a final round of 14-under-par to clinch a one-stroke victory on Friday.
After starting the day one shot behind leaders Team Young, Christine Wolf, Casandra Alexander, Eleanor Givens and amateur Katsuko Blalock back up their great first round with another excellent day on the golf course.
It was a fast front nine as the Team soared to a score of -26 with nine holes left to play, but despite it being more of a struggle on the back nine Alexander rolled in the crucial birdie on 18 to seal victory with a total of 29-under-par.
Captain Wolf said: "We all knew we needed a birdie on the last few holes and thank god the girls pulled through. They've all played really well for the whole two days and I couldn't be prouder!"
First win for England's Ellie Givens
It was a first LET title for Givens, who has recently come back from time off due to a medical, and she was pleased with how 2023 has gone so far.
"This is definitely the peak of the comeback so far," said Givens. "I'm really pleased. When I saw I was on the team with these two – Christine is one of my best friends and I love playing with Cas – I thought straight away we could have a really good chance here. I was looking forward to it.
"We've had really good fun, I was really pleased with some of the shots I hit. I was a little bit up and down today but there was a lot of good and I'm looking forward to the final day of the tournament tomorrow as well. It's a nice first win for me and nice to do it with these three beside me."
While Alexander has been in this situation twice before winning the inaugural event in Jeddah as part of Team Pedersen in 2020 and again in Jeddah in 2022 with Team Garcia.
The South African explained: "I didn't make many putts all day and I didn't hit it close, so I was happy to hit it close on the last hole. As you've seen with my past performances in the Aramco Team Series, I like to leave it till the last minute and left it again.
"I was definitely very nervous, my heart was beating really fast. I made the putt, gave Ellie a hug and told her I was nervous over that putt. It's not very often that you play below par individual golf and still have fun. We had a really good atmosphere and had good conversation. It was just fun."
Team Roussin finished in second place on 28-under-par after a second round of 16-under which saw them move up the leaderboard.
Team Spilkova, Team Gustavsson and Team Kang ended the competition in a tie for third place one shot further back with Team Simmermacher, Team Law and Team Young on -25 in T6.
Race to Costa del Sol
In the 2023 Race to Costa del Sol, India's Aditi Ashok continues to lead the way at the top of the standings with 1,210 points.
Spain's Ana Pelaez Trivino sits in second place with 777.33 points, while Roussin moves up to third with 569 points.
South Africa's Ashleigh Buhai is fourth (545.19), England's Lily May Humphreys is fifth (532) and England's Alice Hewson is sixth (513.83).
Swedish duo Maja Stark and Grant are seventh and eighth with Germany's Chiara Noja in ninth and Belgium's Manon De Roey rounding out the top 10.
The Ladies European Tour now has a break in their schedule until May 11 when they will be in France for the Jabra Ladies Open at Evian Resort.
Maiden victory for Baldwin
On his 200th DP World start, England's Matthew Baldwin found the elusive first title that he had long been searching for.
After completing the suspended third round on Sunday morning, the 37-year-old took a four-shot lead into the final round at the SDC Championship in South Africa.
Baldwin never looked like he would relinquish his lead as he carded three birdies on the front nine to take his lead to six shots. A bogey on the 11th was followed by two more birdies on the 13th and 14th.
In the end, Baldwin signed for a four-under-par 68 to win by seven shots.
His closest rival was Spaniard Adri Arnaus who went one shot better in his final round but the gap was just too great. There was a five-way tie for third place.
It's been a rocky few years for Baldwin who through illness and the pandemic, only returned back to the DP World Tour this season.
Talking of the road to victory, Baldwin said:
"I'm not 100 per cent sure what's just happened. It's been a tough few years, so obviously to get the win means absolutely everything.
"I can't process it right now but it just means the world to me.
"It's been windy all week, it's that sort of golf course. Fortunately for me I've grown up playing in Southport at Hesketh and Royal Birkdale, so I'm pretty good in the wind and it's worked out a treat for me."
As well as the WGC - Dell Technologies Matchplay in Austin, Texas, the next event on the DP World Tour is the Jonsson Workwear Open at The Club at Steyn City in Johannesburg.
A first victory on the PGA Tour too as Taylor Moore wins
There was lots of drama as American Taylor Moore claimed his first PGA Tour title at the Valspar Championship.
With a packed leaderboard that included Jordan Spieth and Tommy Fleetwood, it was 29-year-old Moore that rose to the top.
Moore carded a closing round 67 to set the clubhouse lead at 10-under-par. Fellow American Adam Schenk had held the overnight lead and only required a par on the 18th to force a play-off.
A pulled drive on the final hole came to rest close to the base of a tree. Schenk then had to play a left-handed shot and once on the green, his long putt just had too much momentum and bounced over the hole. In the end he had to settle for second place.
Spieth had been playing with Schenk in the final group and had needed a birdie at the last. A three putt put him a tie for third with Fleetwood. Both Spieth and Fleetwood had been tied for the lead during their final rounds, but it just wasn't meant to be.
Commenting on his victory, Moore said:
"It hasn't really hit me yet. I was just in compete mode and watching the guys finish - maybe in a play-off, maybe not, and it's so cool.
"It's so awesome, it's what I work for and I'm really excited not just for me but for everyone around me. It's a cool moment."
Next up on the PGA Tour is the WGC-Dell Technologies Match Play in Austin, Texas.
First Epson Tour win for Australian Ruffels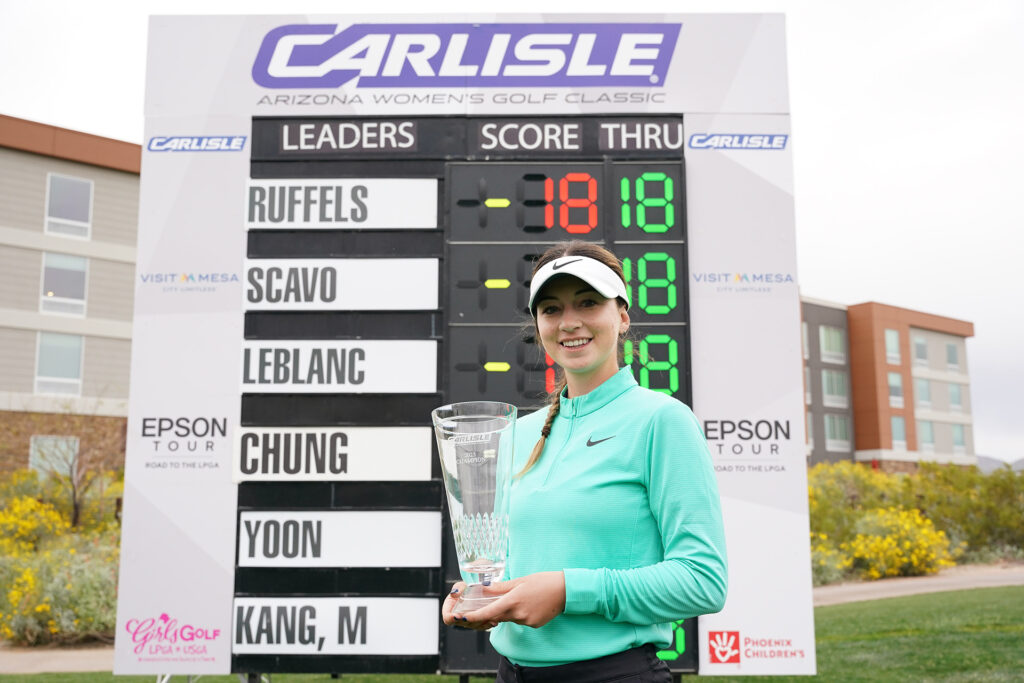 Report from Epson Tour.
Seventy-two holes later, the Carlisle Arizona Women's Golf Classic has a new champion. Gabriela Ruffels held onto her third-round lead and secured her first Epson Tour victory. The Australian finished the tournament -18 after signing for a four-under-par, bogey-free final round.
"It feels so good [to win]. I've wanted this all week, especially after the first round when I kind of got into the tournament," said Ruffels. "I just had to stay patient all day, and I can finally relax knowing that I won. It's a really cool feeling."
Ruffels carded only one bogey throughout the week, scoring par or better on 71 of the 72 holes. The 22-year-old was reminded by her mom, who has been on the bag for the past year, to stay patient throughout the tough and changing conditions.
"I feel like that's probably one of my most proud things," said Ruffels. "I made a whole lot of birdies. My mom told me to stay patient, and that's what I needed to do out here. Turns out it worked out well."
Missing out on her 2023 LPGA Tour card by five spots, Ruffels was eager to get back on the course and prove herself. The University of Southern California grad looks forward to developing her game on the Epson Tour and giving herself a good shot at moving up in 2024.
"I came in 15th on the Epson Tour last year and still felt like I had a lot to improve on," said Ruffels. "I feel like this year, if I can prove myself out here, then hopefully next year, if I get onto the LPGA Tour, I'll be super ready. Definitely having this win, any win but especially this one, is going to boost my confidence for the rest of the year."
Finishing two strokes behind Ruffels, in second place, was Kathleen Scavo at -16. After finishing at No. 82 on the 2022 Official Money List, Scavo was happy to finish strong early in 2023.
"Honestly, that last shot was probably one of the best shots I've ever hit," said Scavo. "It was amazing. I've just been very thankful for my hosts this week, my mom came to the tournament, and it was a very supportive team. I can't wait for next week."
Rounding out the top five, tied for third at -13, were Maude-Aimee Leblanc, Karen Chung, and Min A Yoon. Leblanc and Chung shot a final round, five-under-par, while Yoon signed for one-under. A total of 54 players finished the tournament at even par or better.
Next up on the Epson Tour is the IOA Championship Presented by Morongo Casino Resort & Spa
at Morongo Golf Club in California.
Which other tours would you like us to report on? Drop us an email with your request here.