Exceptional Stark makes it six wins in a year as Ewen Ferguson adds a second at the ISPS Handa World Invitational
Maja Stark fired an exceptional course record of ten-under-par, 63, on the final day of the ISPS Handa World Invitational to win by five strokes. Securing her sixth professional victory in the year since turning professional.
The tri-sanctioned event with the LPGA and DP World Tour had a thrilling final round. The 22-year-old began the day two shots behind overnight leader Amanda Doherty but got off to a sensational start with birdies on the first, third, fifth and sixth.
Stark rolled in two more back-to-back on eight and nine to make the turn in 31 (-6), but the Swedish star didn't stop there.
From holes 12 through to 14 she rolled in three birdies consecutively before making another on the 17th and despite finding the water on the last, Stark made the up-and-down for par to win with a total of 20-under-par.
Watch ISPS Handa World Invitational final round highlights
"I don't think it's landed yet," said the five-time LET winner. "I was just feeling so nervous. All day, I just kind of reminded myself to be calm and just take it one shot at a time, but it's been easier said than done.
"I think playing three holes at a time was a big key because it would just be so easy to think I'm whatever under par, and then you kind of crumble after that because you get too nervous. But every time, I was like, just three more holes, three more holes.
"I tried to not watch the leaderboards. I usually do, but I just thought, well that's not going to help me, so I tried to not look at them. Then I caught a glimpse of one on 13 and saw I was leading, but it was still pretty tight at the top, and then I tried to not look at it. Then I walked up on 17 green, and I saw that I was leading by five and thought whoa this is nice."
Stark becomes LPGA member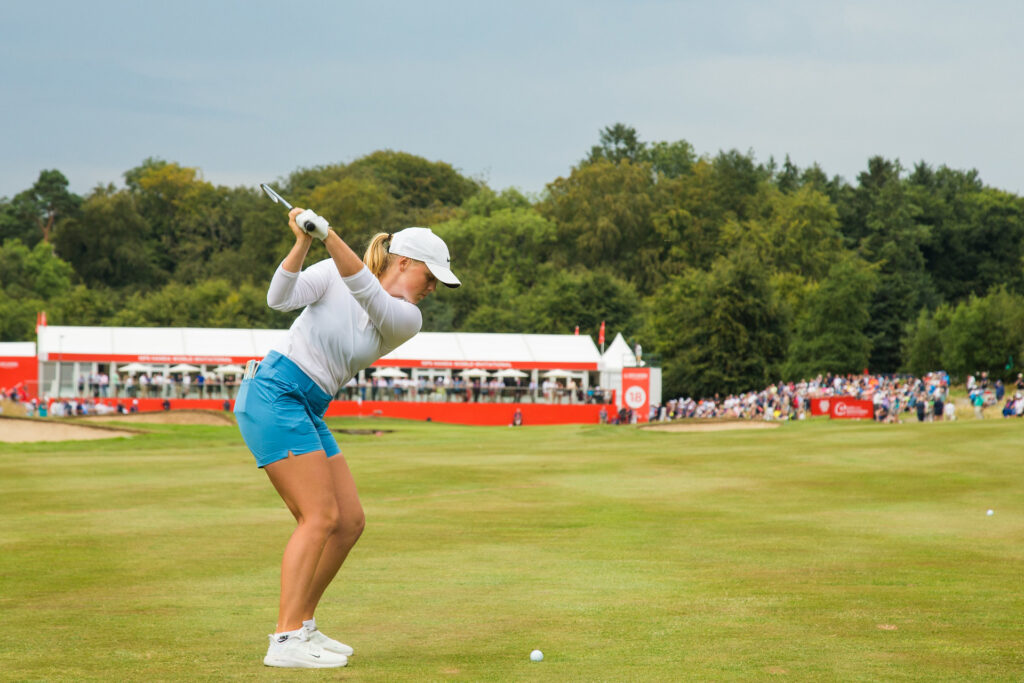 After winning the tri-sanctioned event, Stark officially accepted LPGA Tour Membership and will become a rookie for the rest of 2022.
"It means the world. That was all I came here for," she continued. "I just wanted that winner's category. I was so nervous. I hate qualifying and going to Q-Series, it's great that I don't have to do that again.
"I've been dreaming about playing on the LPGA Tour for a long time. It's just been so frustrating when you feel like maybe you could play there, but it feels like the road is so long and with Q-School – if you have a bad week you're out, and then you have got to wait another year. It's really nice to just skip that part and just go ahead to the fun stuff."
American Allisen Corpuz finished in second place on 15-under-par after producing a round of five-under-par 68 on the final day at Galgorm.
"I played really solidly," she said. "It is tough to beat 10-under par, but it was really awesome to play with Maja and just see how well she played. Plus, to be able to play a really good weekend, as well, for myself."
England's Georgia Hall carded a final round of three-under-par 70 to finish in third place, while Sweden's Linn Grant, Denmark's Emily Kristine Pedersen and Chinese Taipei's Peiyun Chien were fourth on 13-under-par.
One shot back in seventh place was England's Liz Young and American pair Lauren Stephenson and Amanda Doherty were eigth on 11-under-par with Ireland's Leona Maguire rounding out the top 10.
In the 2022 Race to Costa del Sol, Stark's win means she had extended her advantage at the top of the standings and now has 3,037.64 points from 14 events.
Her compatriot Grant is still second with 2,447.66 points to her name with fellow Swede Johanna Gustavsson in third place (1,768.63).
Manon De Roey and Magdalena Simmermacher are still fourth and fifth, England's Hall moved up to sixth place and now has 1,306.95 points while South African Lee-Anne Pace is seventh with 1,175.30.
The LET now moves to Spain and the Aramco Team Series - Sotogrande whilst the LPGA has a week off before heading to Canada and the CP Women's Open.
Second DP World Title for Ewen Ferguson
Scotland's Ewen Ferguson claimed his second DP World Tour title of the season with a wire-to-wire win in the ISPS Handa World Invitational.
With Maja Stark winning the women's event, it was Scotland's Ewen Ferguson who came out on top of the men's event at the ISPS Handa World Invitational. Winning his second DP World Tour title of the season.
The 26-year-old began the week with a course record at Galgorm Castle of 61. He went wire-to-wire, finishing with a round of 69 to get him to 12-under-par and three shots clear of Connor Smye and Borja Virto.
Ferguson, who won the Qatar Masters in March, spoke to Sky Sports after his victory:
"It feels unbelievable, just can't believe how calm I was out there. It couldn't have worked out any better playing with Connor.
"I played with him the first two days and he was playing so, so good and I felt he was my main rival so managing to play with him and kind of holding each other off and trying to keep up with each other was so good and I can't believe I'm a winner again.
"My Mum and Dad were supposed to be here this week but the last tournament they watched didn't go so well so I banned them because I said I need to focus. Dad's probably at the club buying the full club drinks.
"My whole family's life revolves around me playing golf. Their happiness seems like it's all about me and my golf. It's been a good year and obviously you get times where it doesn't go so well so I think you really need to appreciate times when you're picking up trophies."
Will Zalatoris wins first PGA Tour title
After a season where Will Zalatoris has come close, it was finally his turn to come out on top. He beat Sepp Straka in a play-off that went to a third extra hole at the FedEx St Jude Championship.
Zalatoris and Straka finished tied on 15-under-par after Zalatoris holed an eight-foot putt to save par on the final hole. After replaying the 18th twice and both making par, they headed to the par-three 12th.
Both players had to take drops due to their tee shots, but it was Zalatoris that managed to capitalise. Straka found the bunker at the back of the green after hitting from the drop zone whilst Zalatoris managed to get up and down after taking a drop from an unplayable lie.
The win comes as an early birthday present for Zalatoris who turns 26 on Tuesday. But it looks like the celebrations will have to wait, he said:
"It's kind of hard to say 'about time' when you're in your second year on Tour but it's about time. Considering all the close finishes that I've had this year, to finally pull it off means a lot.
"It still hasn't hit yet. I think I've always had the attitude of the job's not done and as great as it is to pull this off, I still feel like I've got some unfinished business going forward.
"It's obviously very satisfying, but this is the peak season for the PGA Tour players and the grind continues."
That grind continues at the penultimate event of the PGA Tour season, the BMW Championship at Wilmington Country Club, Delaware.
Schmidt secures maiden LETAS win
Germany has got another winner this year after Patricia Isabel Schmidt defeated the Netherlands' Lauren Holmey in the Big Green Egg Swedish Match Play Championship.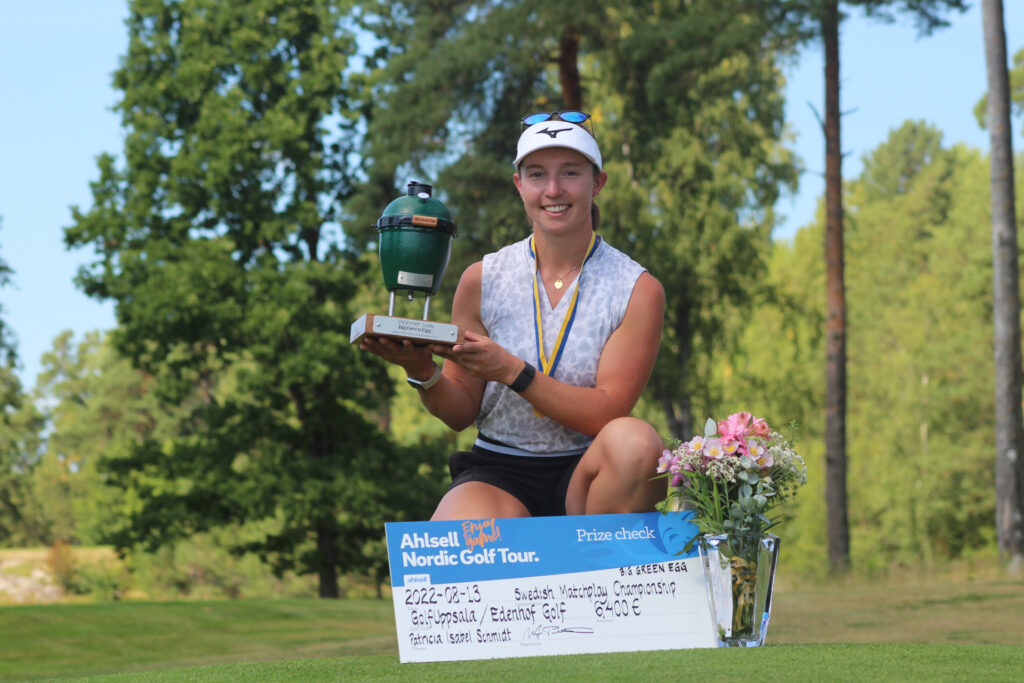 The semi-finals – played on the front nine of the Edenhof Course in GolfUppsala, took place this morning and saw two great matches where all four players barely made any errors.
First up was Schmidt against English rookie Amy Taylor and after an up-and-down match, the German won after holing a long downhill putt on the ninth green.
"It was a big fight with Amy which I think is how matchplay should be. The score kept changing from 1UP to all square and back and forth, so it was a really tough match," said Schmidt.
While in the other contest, Holmey secured a 2&1 victory over the LETAS Order of Merit leader Chiara Noja from Germany.
The afternoon finale which was played on the back nine saw Schmidt take charge on the second green and she did not let go of her lead.
The 26-year-old then won three consecutive holes to clinch her maiden professional win on the seventh hole with a final score of 4&2.
The champion said: "I think it will take some time to realize I have won but it feels great. I played some solid golf the last couple of days.
"I was happy to play with Lauren, we are good friends, and I was looking forward to the final match with her. I was hitting it solid off the tee, giving myself good positions into the green, and made some good putts."
On her way to today's semifinals and to securing her first win on LETAS, Schmidt placed T4 in the qualifier, carding rounds of 71 and 70 (-3).
In the round of 32, she beat her compatriot, amateur Helen Briem 2&1, then won 4&2 over Sweden's Sandra Kagstrom in the last 16 before defeating another Swede and amateur Ellen Hutchinson-kay 2&1 in the quarterfinals.
"The key this week was hitting long balls from the tee on the front nine and giving yourself shorter approach shots since you really need to hit the right spots on the greens," commented the victor on her strategy.
Runner-up Lauren Holmey produced a great performance in Sweden as the best amateur, placing fifteenth in the qualifier.
The Dutch player then defeated Spain's Teresa Diez Moliner in the round of 32, Denmark's Fie Olsen in the last 16, and New Zealand's Momoka Kobori in the quarterfinals.
Holmey said:
"I'm really proud of myself because the matches I had against Momoka and then Chiara were really tough but also exciting, they are great players.
"Playing matchplay on only nine holes makes everything go fast and you need to have a good game from the beginning. I tried my best against Patricia, she was simply better, and I am still satisfied with my result here."
Schmidt moves up one spot on the LETAS Order of Merit to second place with 1,678.21 points, having Germany lead the top two positions as Chiara Noja remains in first with 1,939.65 points.
Amateur Holmey moves to third with 1,461.30 points while Kobori is in fourth with 1,446.50 points.
The LETAS schedule takes a week off and comes back to Sweden with the Goteborg Open from 24–26 August at Kungsbacka Golfklubb.
Yan Liu holds on for wire-to-wire victory
In a thrilling, keep-you-on-the-edge-of-your-seat ending, Yan Liu walked away from the Four Winds Invitational a champion for the first time. Although she shot two-over-par on the day, Liu made birdie on the 18th to join a three-person play-off.
"I'm feeling overwhelmed," said Liu. "I was very happy [about the playoff] because on 17, I got a bogey. The chance to play in a playoff was awesome."
Liu defeated Gabby Lemieux and Kiira Riihijarvi with another birdie on 18, chipping from just short of the green to an easy three-foot putt for birdie.
The China native came into the day with no expectations for the round. She did, however, have a big goal on her mind – make it into the top 10. The win earned her that goal, bumping her from 27 to seventh.
"I'm feeling amazing," said Liu. "I'm just proud of myself for never giving up. The season is not finished yet, so I need to keep working."
A big change to Liu's game this week was adding a caddie to her side. She says he was a key part to staying patient throughout the week.
"My caddie always told me to believe in myself and my putting," said Liu. "So I did it. He helped me a lot."
Which other tours would you like us to report on? Drop us an email with your request here.