We were delighted to see Women & Golf Tour Ambassador Gemma Dryburgh secure her first LPGA Tour title at the TOTO Japan Classic
After 72 holes in Shiga, Japan, Scotland's own Gemma Dryburgh flourished at Seta Golf Course, posting a second-straight 65 to earn her first LPGA Tour title at the TOTO Japan Classic, finishing at -20 overall. Four shots clear of her closest rival.
Dryburgh becomes the 11th Rolex First-Time Winner of the season, tying the Tour record for most Rolex First-Time Winners in a year, which last occurred in 1995. Her 268 is a new career-best 72-hole score, shattering her previous record, a 276 from the 2019 Pure Silk Championship.
"I was in Korea last week with friends and I said to them 'I mention you in my speech' as a joke. But it's overwhelming to be honest," said Dryburgh, who becomes the fourth Scot to win on Tour and the first since Catriona Matthew at the 2011 Lorena Ochoa Invitational. "This has been a dream of mine for a long time. A lot of hard work has gone into this, so it means so much."
Watch final round highlights from the TOTO Japan Classic
Starting the final day one shot behind 54-hole leader Momoko Ueda, Dryburgh notched her first birdie of the day after making a 20-foot putt on four, and added her second on seven after putting it to three feet on the green. She took the lead at the turn after Ueda bogeyed nine, but the real difference maker came at 11, when Ueda made a double bogey to Dryburgh's birdie after an impressive display with her four hybrid to four feet.
"That's kind of a turning point in the round I'd say. I had a really good shot there yesterday and hit the same club today, so I was confident I could do it again," said the 29-year-old. "But yeah, had an incredible shot there and it was a nice birdie on that one. It was quite a tough one."
It was off to the races after 11, with Dryburgh carding four more birdies in her last six holes, including at the last for a bogey-free day, the greatest way to cap off an incredible week. "The vibes are just so good," said Dryburgh, who first joined the Tour in 2018. "I'm lapping it up, to be honest."
Did she feel any nerves on her way to shooting two 65s at the weekend?
"I was surprisingly calm. When I dreamt of this moment, I thought I'd be super super nervous. I was nervous, I'm not going to lie. But I was incredibly calm to be honest. Kind of focused on my breathing and that really got me through."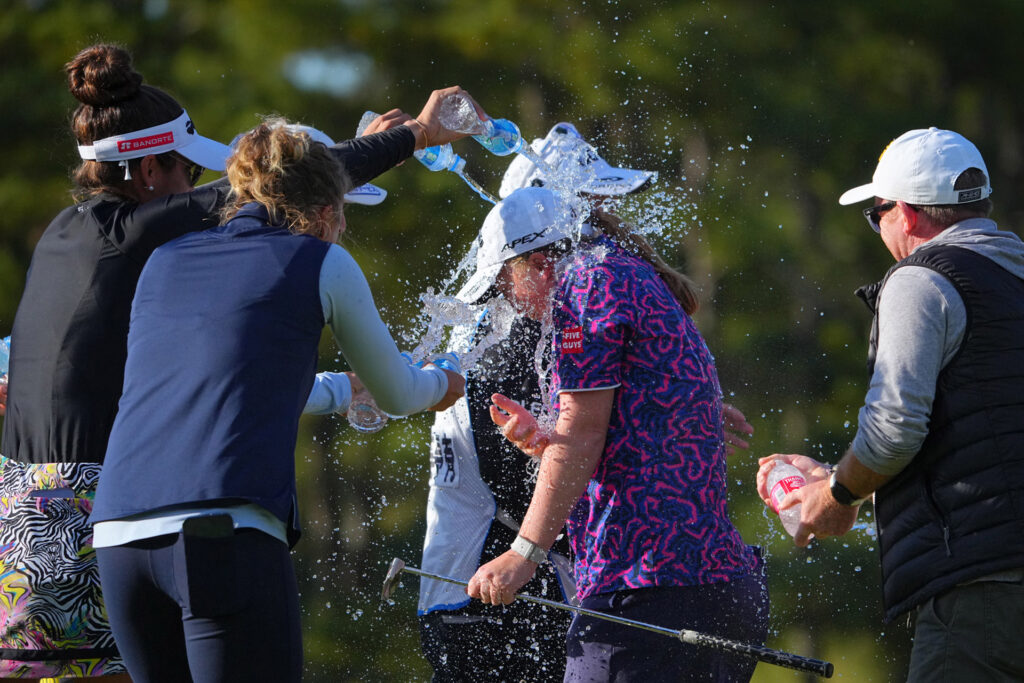 Strong showing from JLPGA players
JLPGA winner Kana Nagai carded a seven-under-par 65, notching eight birdies to one bogey in her fourth appearance in the co-sanctioned event and finished solo second, a career-best result in now five starts on the LPGA Tour.
"Since many Japanese played well in the first three days, I tried to play in that mood. But, LPGA players finally came up on Sunday," said Nagai, who was one of seven Japanese players among nine total tied for eighth and better. "I am really impressed that LPGA players played well even on the golf course which they are not used to."
Linn Grant made a run on the final day, with four birdies in her opening nine holes, but two bogeys derailed her chances for a victory. She picked up third after a fourth-round 67, a new career-best result on Tour for the 2022 rookie.
"I think I did a good job, unfortunately had a bogey on the last is never fun, but up to that point I did my very best as much as I could," said Grant. "Got some good game going, some putts, it was fun."
Thitikul rallies after third round disappointment
Yuna Nishimura finished at -13 in solo fourth, while LPGA Tour Winner Ayaka Furue, four-time JLPGA winner Miyu Yamashita and Ueda tied for fifth at -12. Minami Katsu and Yuri Yoshida finished in a tie for eighth at -11, with four players rounding out the top-10 in a tie at -10, including Rolex Rankings No. 1, Atthaya Thitikul. Thitikul rebounded after a Saturday 73 with a five-under-par 67 to earn her 15th top-10 result of the 2022 season.
"I always like coming to Japan. It has a lot of memories," said Thitikul. "And I got World No. 1 here now, my caddie wearing the green bib and the ceremony on the first tee in the first round, so it's good memories for us."
The LPGA Tour now heads back to America for the final two events of the season. The penultimate event is the Pelican Women's Championship in Belleair, Florida.