LPGA Q-School Stage I made headlines but not for the reasons you would expect as transgender athlete Hailey Davidson bid to get her tour card
When Hailey Davidson took part in the first stage of LPGA Q-School last summer, the moment passed with barely a murmur. In fact, when she won a National Women's Golf Association event at Providence Golf Club in May 2021, there were only a couple of reports.
Fast forward to this week and back to stage one of LPGA Q-School and Davidson is making multiple headlines. Maybe it's because there is now a heightened focus on transgender athletes in sport. Whatever the reason it appears that Davidson's second quest to join the LPGA Tour, making her the first transwoman to do so, has got the sports world talking.
Hailey Davidson making headlines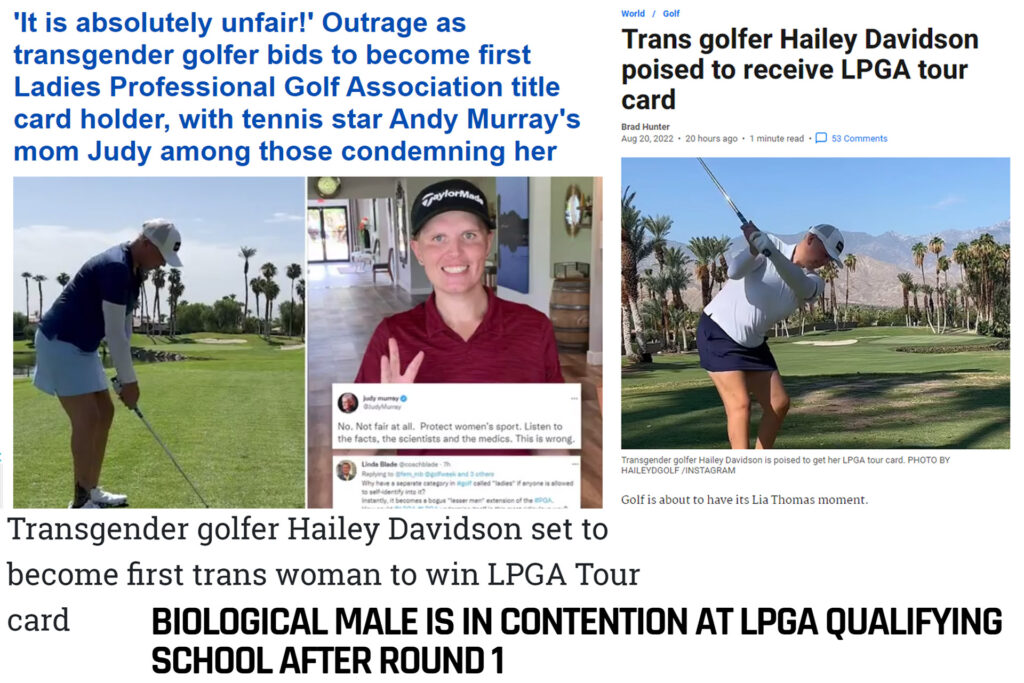 Over the last two days, reactions on Twitter included:
It's clear that transgender inclusion, especially transwomen in women's sport is such an extremely divisive topic. One that we at Women & Golf will delve into deeper at a later date.
An overview of what has happened this year within the world of sport with regard to transgender athletes:
|A brief 2022 timeline
February – Transwoman swimmer Lia Thomas makes headlines after winning and setting new records in women's events at Ivy League Championship and NCAA championship in the USA.
March – Transwoman cyclist Emily Bridges is stopped from racing to qualify for the Commonwealth Games in the Wales women's team after it was opposed by female professional cyclists.
April – British Cycling withdraws its transgender inclusion policy.
June – FINA, the international swimming federation, announces a new policy excluding anyone who has been through male puberty from female competition. Whilst British Triathlon announces a new policy re-establishing the female category for those born female.
July – The Rugby Football Union (RFU) and England Rugby League adopt a revised policy which only ermits players in the female category if the sex originally recorded at birth is female.
August – World Triathlon announces a revised policy based on two years of testosterone suppression and a requirement not to have competed in men's events for four years.
But transgender inclusion is not new to women's golf
Whilst Davidson may be looking to blaze a trail on the LPGA, she is not the first transwoman to compete on tour. Danish professional Mianne Bagger became the first openly transitioned woman to play in a professional event – teeing it up alongside Dame Laura Davis in 2004 at the AAMI Women's Australian Open.
After continued lobbying by Bagger, the Ladies European Tour were first to make changes to its membership criteria to include transwomen. This created a knock-on effect.
Golf's transgender timeline:
September 2004 – LET amends its membership criteria.
November 2004 – The now WPGA Tour (Women's Professional Golf Association Tour of Australasia) votes in favour of changing their constitution to remove the 'female at birth' clause.
February 9, 2005 – The Ladies Golf Union announces a policy change to allow Bagger to compete in the now AIG Women's Open.
March 2005 – The United States Golf Association (USGA) announces it's adopted a new 'gender policy' that allows transitioned athletes to compete in USGA golf championships, including the U.S. Women's Open.
2010 – LPGA amends their bylaws and removed the "female at birth" entry condition.
Although the various policy changes have enabled transitioned athletes to compete, the policies remain under review. This included the recent removal of the need to be two years post reassignment surgery to compete on the LPGA or in USGA events.
In Davidson's case, this meant that she could compete at last year's LPGA Q-School. After undergoing hormone treatment since September 24, 2015, she only went through gender reassignment surgery in January 2021.
How did Hailey Davidson perform at Q-School?
The debate around transwomen in women's professional golf may now die down again, as quickly as it surfaced. Davidson did not make it through the first stage of LPGA Q-School after missing the cut by one shot with rounds of 70, 76 and 73.
However, the Epson Tour could beckon as the LPGA and Epson Tour Qualifying School Fast Facts state that "players who complete 54 holes without a score of 88 or higher will earn 2023 Epson Tour
status."
Regardless of the debates that may or may not continue on social media, it's clear that golf needs to address the topic of transgender inclusion in the sport. Especially in a sport that prides itself on being totally inclusive.
One thing's for sure, it's not a simple discussion and you will never come to an agreement that everyone will be happy with.
What are your thoughts on transwomen competing in women's golf - at club and/or professional level? Drop me your thoughts [email protected]