Leona Maguire maintains a one shot lead heading into the final day of the KPMG Women's PGA where she bids to be the first Irishwoman to win a Major
Leona Maguire has maintained her one-shot lead heading into the final round of the KPMG Women's PGA Championship. After a two-under-par front nine and at one point leading by three shots, it felt like she may set up a big lead for Sunday. But this is a Major and the back nine is always the tester.
An even par back nine which featured two bogeys and two birdies, plus some excellent play from the chasing pack saw the lead cut back to one.
Assessing her performance the 28-year-old said:
"A steady day today. It was more of a mixed bag than the last few days. Had to scramble a little bit more today. I had a few key up-and-downs out of bunkers today to keep me going and keep me in it. Always nice to finish with a birdie on 18."
One shot back is Korean Jenny Shin (-6), who shot the round of the day on Saturday, a bogey free 66 to leap up the leaderboard and head out in the final group on Sunday. The 30-year-old seemed in complete control on Baltusrol's Lower Course, which has proved to be a tough test all week.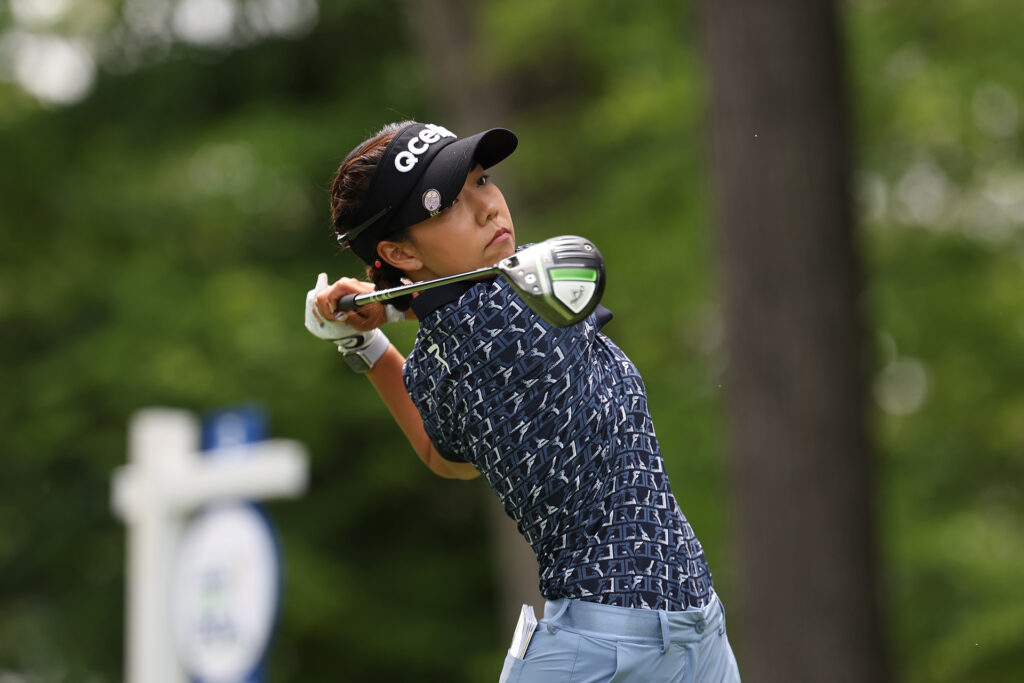 Shin turned professional at 18 and this is her 13th year on the LPGA Tour, since Covid, Shin has looked to having a different relationship with golf. Asked about how she had been improving her game, she said:
"Smarter. Better. Better quality. I mean, when does trying harder ever work, right? I think I am seeing things and doing things a little bit differently. And not to be so deep, but there's more purpose. Before golf was everything. Golf was life. Now it's just a job, which is quite surprising, and I love my job, and I want to, again, prove myself that I can be really good at this job."
Making up the trio at the top of the leaderboard is Northern Ireland's Stephanie Meadow, another veteran of sorts at 31-years-old and at 151st in the world isn't someone who you would have thought would have been in contention at the start of the week.
A thrid round 67, also saw a big climb up the leaderboard and she sits on her own in third at five-under-par. Meadow is trying not to focus on the enormity of the moment:
"I have a great life. I'll put it that way. I do what I love. Golf is not who I am, but it's what I do, and I have a family back home, a doggy, in-laws, mother, everybody that supports me. No matter what happens out here, I go back to that, and you can't ask for much more."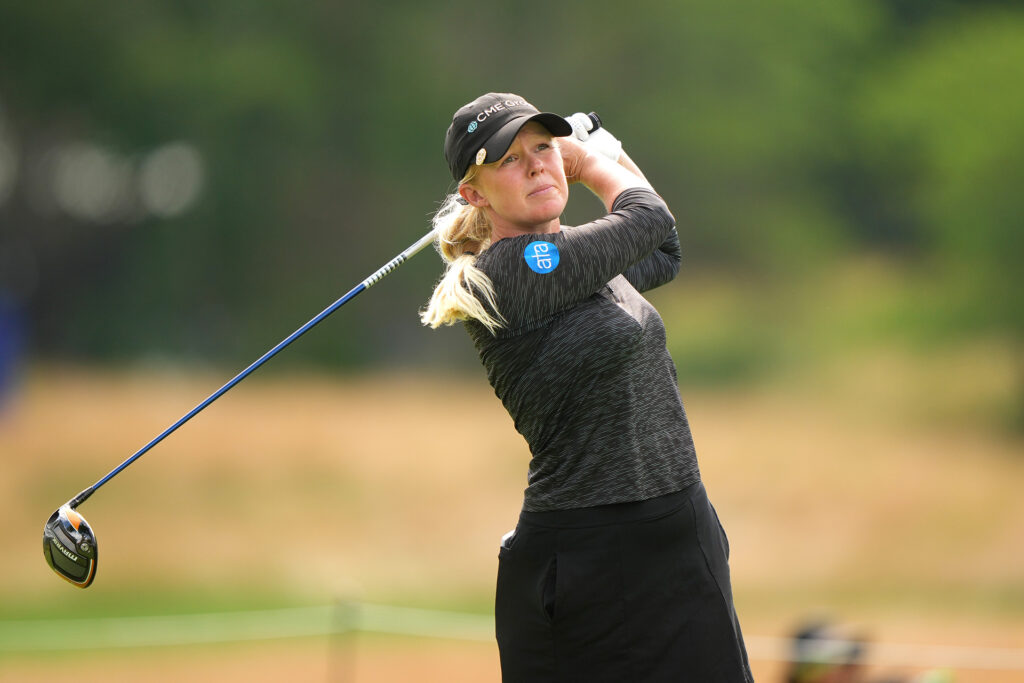 World number one Ko four shots back
Who else may contend on Sunday? China's Ruoning Lin is a definite threat and is only three shots back at four-under-par. First round leader Lee-Anne Pace is still in the mix, also at -4, she's been underestimated all week - could there be one last push from the South African?
Others may feature but when Jin Young Ko is only four shots adrift, you would definitely expect a strong final round showing from the world number one.
Maguire is aiming for a back-to-back victory and her first Major, but is keeping a level-headed approach to the final 18 holes:
"I don't think it's any different. I think it's one more round of golf. I have to hit one shot at a time and play some really good golf. It doesn't matter that it's a major. It's really no different than any other day, and I'm not going to treat it any different."
Final round of the KPMG Women's PGA Championship
Whilst the threat of the weather halting play hasn't materialised to this point, there are storms forecast for Sunday. This means that the final round will now be played in three balls and with a two-tee start.
Although the news of playing in three balls may not be quite to the player's liking, from a fan perspective it means that we'll get to see a final round grouping featuring long-time friends and rivals Maguire and Meadow. Both are looking to become the first Irishwoman to win a Major.
It's still not been announced whether coverage will start earlier in the UK, but coverage will definitely be underway at 4pm (BST), 20 minutes after the final group have teed off. You can watch for FREE via the Sky Sports Golf YouTube channel:
It's major Sunday, storms are brewing and one thing is for sure, a stacked leaderboard is going to make for exciting viewing for the final day of the women's second Major of the season.
Follow the KPMG Women's PGA Championship live leaderboard link here.
Inspired by the second women's Major of the season? Why not come and watch the best players in the world at the AIG Women's Open this summer at Walton Heath. Ticket prices start from £20.