The prestigious AIG Women's Open makes its much-anticipated way to Walton Heath next week. Here's everything you need to know.
The picturesque Walton Heath Golf Club, nestled in the heart of Surrey, will be the stage for this year's AIG Women's Open. From 10 – 13 August, the golfing world will witness a spectacular showcase of talent, skill and dedication as the finest female players compete for the coveted title.
Setting the stage at Walton Heath
The first AIG Women's Open to be hosted at Walton Heath, next week promises an unforgettable tournament that will keep us on the edge of our seats.
Walton Heath Golf Club is renowned for its stunning heathland layout and challenging course design. This iconic venue has previously hosted several prestigious golfing events. And it now proudly welcomes the best female golfers from around the globe to take on its pristine fairways and undulating greens.
But this year's tournament will take a new course. With a festival fan village, street food, roof top bars and live entertainment, this is a new way to experience championship golf. Whether you're new to the game or have played for years, there really is something here for everyone this year.
Stellar line up of players
The star-studded field of players competing at the AIG Women's Open this year is a who-who's in the world of professional women's golf. And they've each made significant contributions to the sport.
Ashleigh Buhai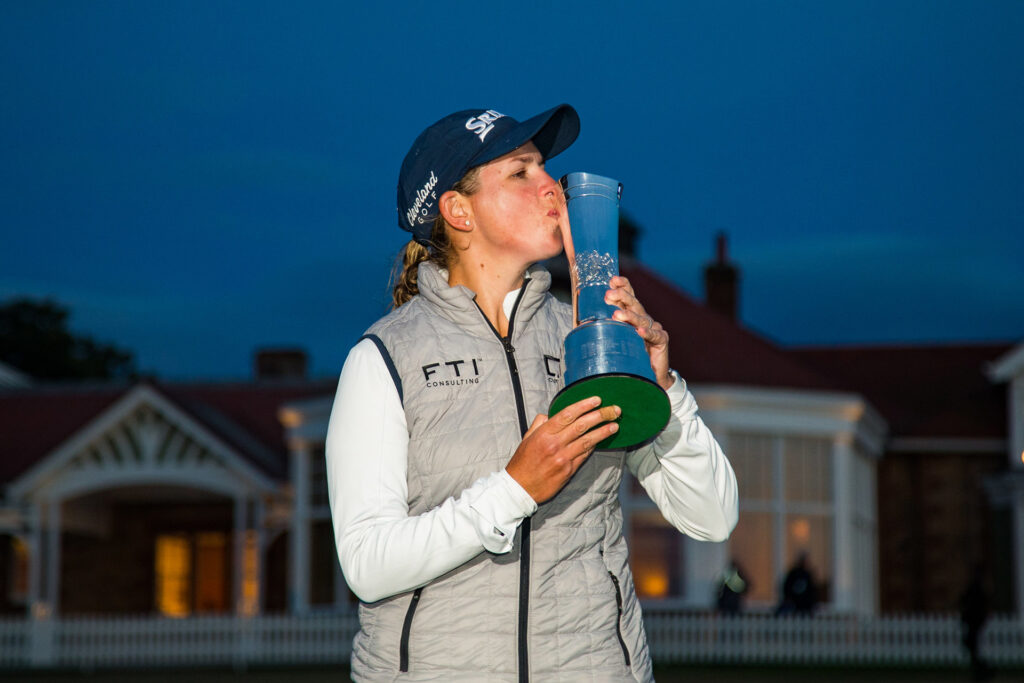 Ashleigh Buhai took last year's title in spectacular fashion. After second and third round scores of 65 and 64 respectively, she finally defeated In Gee Chunan in an epic four-way playoff on Sunday afternoon.
Buhai finished the 2022 season with victory at the Australian Open, following that up with a win in the South African Open in March 2023. Now Buhai heads to Walton Heath with one thing on her mind: To defend her title.
Jin Young Ko
World No. 1 Jin Young Ko is no stranger to winning, with 12 victories under her belt including two Major titles. And she currently holds the record for the most weeks ranked at number one.
But she's still got a lot to prove. And is on the hunt for her third Major championship win.
Lydia Ko
The former World No. 1 has already made a profound impact on the game, becoming the youngest player in history to reach the summit of the Women's World Golf Rankings.
Her impressive game has earned her numerous accolades, including two major championships. Let's see if she can reclaim her spot atop the leaderboard next week.
Nelly Korda
Returning to World No.1 this week, Nelly Korda's powerful drives and consistent ball-striking have catapulted her to the top of the rankings and earned her multiple victories on the LPGA Tour. A strong showing at the AIG Women's Open could solidify her position as one of the game's brightest talents.
Hinako Shibuno
Known affectionately as "Smiling Cinderella," Shibuno captured the hearts of golf enthusiasts worldwide when she clinched the 2019 Women's British Open. Her infectious smile and unflappable demeanour on the course have endeared her to fans, and she remains a fierce competitor who should never be underestimated.
Georgia Hall
As a homegrown talent, Georgia Hall will undoubtedly be a crowd favourite. The 2018 AIG Women's Open champion has been a prominent figure in European golf, displaying remarkable consistency and versatility in her game.
Competing on familiar turf may give her the edge she needs to lift the trophy once more (and I'd love to see her do it!).
Minjee Lee
A model of consistency, Minjee Lee's game is characterised by its precision and composure under pressure. Her steady rise through the ranks and two Major championship titles highlight her immense potential to emerge victorious on any given day.
Can she rise to the challenge next week?
Women & Girls Golf Week 2023: Role models
Women & Girls Golf Week is back for 2023! Here's what it's all about:
Thursday's theme is all about role models ­– people who have shaped the sport and made it was it is today.
Well … you can take your pick of role models during the Major. Beyond their individual achievements, the players in this year's AIG Women's Open have collectively contributed significantly to the growth and popularity of women's golf. Their skill, dedication, and perseverance have shattered barriers and inspired countless aspiring athletes to pursue their dreams. Through their performances on the global stage, they have brought more visibility to women's golf and demonstrated the limitless potential of female athletes in a historically male-dominated sport.
The AIG Women's Open not only provides a platform for these exceptional athletes to showcase their talent but also serves as a reminder of the progress women's golf has made and the promise of an even brighter future.
As the date draws nearer and we all eagerly await the first tee shot, one thing is certain: This championship will be a celebration of the talent, dedication, and passion that continue to drive women's golf to new heights.
There's still time to purchase tickets for this year's championship. Find out more via the AIG Women's Open website.