Home favourite Leona Maguire is back at Dromoland Castle ahead as we look ahead to this week's KPMG Women's Irish Open
Read full pre-event coverage via the LET website.
Leona Maguire returns to Dromoland Castle this week as she prepares to play on home soil at the KPMG Women's Irish Open.
After the tournament returned to the LET schedule in 2022, following a ten-year hiatus, the 28-year-old can't wait for the week ahead.
Last year, there were estimated to be 30,000 people in attendance across the week and the two-time LPGA Tour winner is always thankful for home support.
"It's huge to have this event," said the Solheim Cup winner. "The crowds were amazing last year, and I think everyone was really excited to have this tournament back on the schedule.
"I remember last year a lot of the LET girls were saying to me, it almost felt like a major the way the crowds were, so I think everybody is really excited to be here. I think that's the general feel here this week, you can tell everybody at Dromoland is excited to have us and the players are excited to be here. It's a win-win for everybody.
"With the dates being a smidge earlier, it's nice that so many Irish amateurs are getting a chance to play this week. For some of them, it's their first time playing in a professional event. I was fortunate enough to do that as an amateur when I was younger, so that's a huge learning experience for them and that's exactly what you want for a home open."
Maguire, who is seventeenth in the Rolex Women's World Golf Rankings, finished in a tie for fourth place last year after rounds of 67-75-65-68.
But despite being the home favourite, the Irishwoman is trying to treat this week like any other week and not think about the expectations.
She explained: "It's always special to come home and you try to do as well as you possibly can. It's a busy week for me, there's a lot of demands on my time and you're trying to give everybody as much time as you can and still prepare.
"There's a lot of things to juggle this week and that was a big learning experience for me last year, but at the same time, you're so appreciative of everyone who comes out and follows. You meet people who say they've followed you for the past 10-15 years and you want to do as well as you possibly can for them."
Defending champion Klara Davidson Spilkova happy to return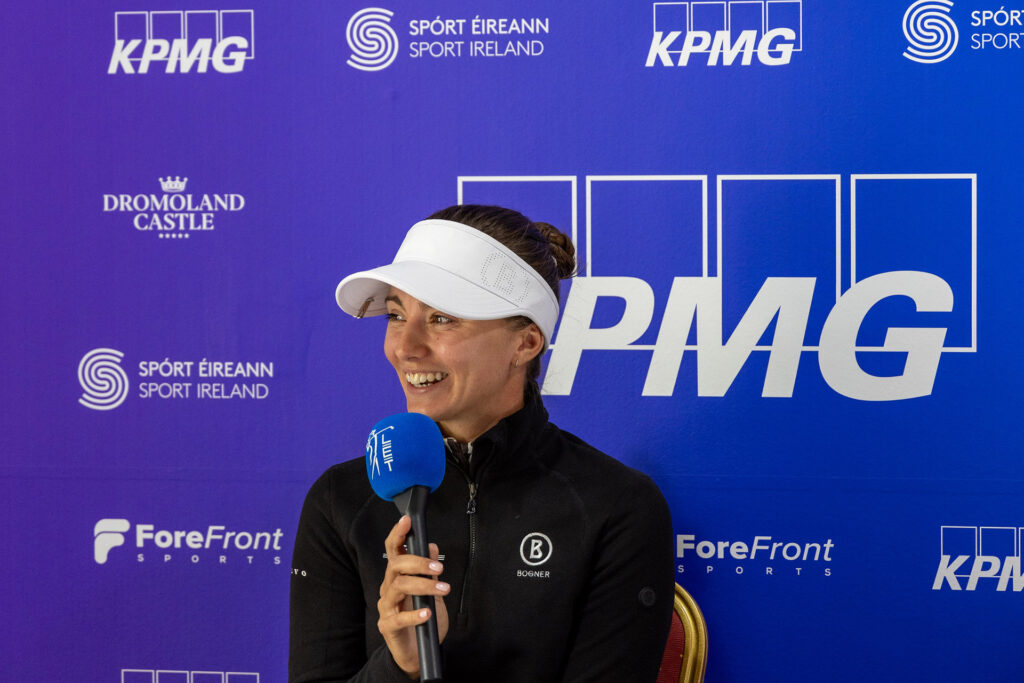 Last year Klara Davidson Spilkova clinched her second LET title securing victory via a play-off at last year's KPMG Women's Irish Open.
It was her first win on Tour since 2017 as she defeated Finland's Ursula Wikstrom and Denmark's Nicole Broch Estrup by sinking her birdie putt.
Returning to Dromoland Castle this year, the Czech star was able to vividly remember her shots from the final day in 2022.
"I played the back nine and it was like a flashback," said Davidson Spilkova. "It was crazy, I remember every single shot.
"I was almost getting emotional out there, it was nice to be back and have all those amazing memories. It's great to be back and the course is in great shape. Everybody is very friendly and hospitable; I have really been having a nice time here.
"Last year, just accepting that there were tricky holes was important and just really staying strong mentally even during the playoff because there was three of us.
"I stayed really strong and I kind of believed that it was there for me, and it was. The key was to hit good shots, stay strong mentality and try to enjoy it as much as you can."
Women & Golf are looking forward to attending the event on Friday. Do drop us an email if you are going to be there. If not, you can follow live scoring here.