Klara Spilkova won her second LET title, her first coming in 2017, as she took on Ursula Wikstrom and Nicole Broch Estrup in a play-off at Dromolond Castel.
It was a magical week in Ireland as the Women's Irish Open returned after a 10-year hiatus. With a new sponsor KPMG and a new location at Dromoland Castle, there was a real buzz around the course the whole week. Of course this was helped by Irish golfing star Leona Maguire being in the field but it's safe to say that the event made a triumphant return to the Ladies European Tour (LET)schedule.
Heading into the final day, local favourite Maguire was two shots behind the overnight leader Anne Van Dam. On what was a packed leaderboard – it was always going to be a tight finish. So it came as no surprise that it required a play-off to find the winner.
The win went to Klara Spilkova who secured her second victory on the LET with a birdie on the first play-off hole.
The Czech star fired a final round of five-under-par 67 to end the tournament on 14-under-par alongside Finland's Ursula Wikstrom and Denmark's Nicole Broch Estrup.
At the end of play, the trio headed back down to 18 and it was Spilkova who rolled in her birdie putt to emerge as the champion at Dromoland Castle.
Watch final day highlights from KPMG Women's Irish Open
"I was just trying to stay patient out there because I started a little funny," said Spilkova. "But I just really believed in myself somehow and I kept saying to myself that it was there for me.
"It has been a while since I've won and I have been playing really good recently, so somehow, I was trying to convince myself that I could win today."
The 27-year-old came into the day having recorded rounds of 66 (-6), 68 (-4) and 73 (+1) on her opening three days of the KPMG Women's Irish Open.
And Spilkova had a tough start with two bogeys in her first five holes, but she also made three birdies to make the turn in 34 (-1).
Back-to-back birdies on 10 and 11 saw the Czech player put herself right in the mix before another birdie on 16.
A miraculous par-save from the edge of the water at 17 gave Spilkova the momentum and she finished her day with a birdie on 18 which at the time put her in the lead in the clubhouse.
"I have to admit that yesterday was a bit of a struggle," she continued. "On eight and nine I made some bad swings, and I struggled throughout the back nine, I saved a lot of putts out there. Today it was a totally different approach, I felt much calmer even though of course I was a little nervous, but I felt much more grounded.
"It is definitely the best up-and-down I have made in my whole life, and I have been playing golf for 24 years! I got there and it was lying really nicely, and I could even put my club down because of the rule change.
"I thought it wasn't too bad even though my legs were in there. It felt like I had no idea what was under the mud! I just thought I'll try and get it somewhere on the green because I thought I could and just make a two-putt for a bogey and I can still make a birdie on the last hole.
"It ended up being almost a metre from the flag. It was really fortunate! I couldn't control that shot, it was luck and I'm really grateful because it saved my whole day."
Spilkova has had fiancé Sean on the bag with her all summer and getting the win in their final tournament of the year together made it all the more special.
She added: "My fiancé was on the bag, and it was his last event this year. He has to go back to school, so I'm really happy that we were able to do it because we've been playing so well this summer together and we have a really nice connection out there and he's a great golfer. I'm just so happy that we actually did it at this last tournament."
A packed leaderboard on the final day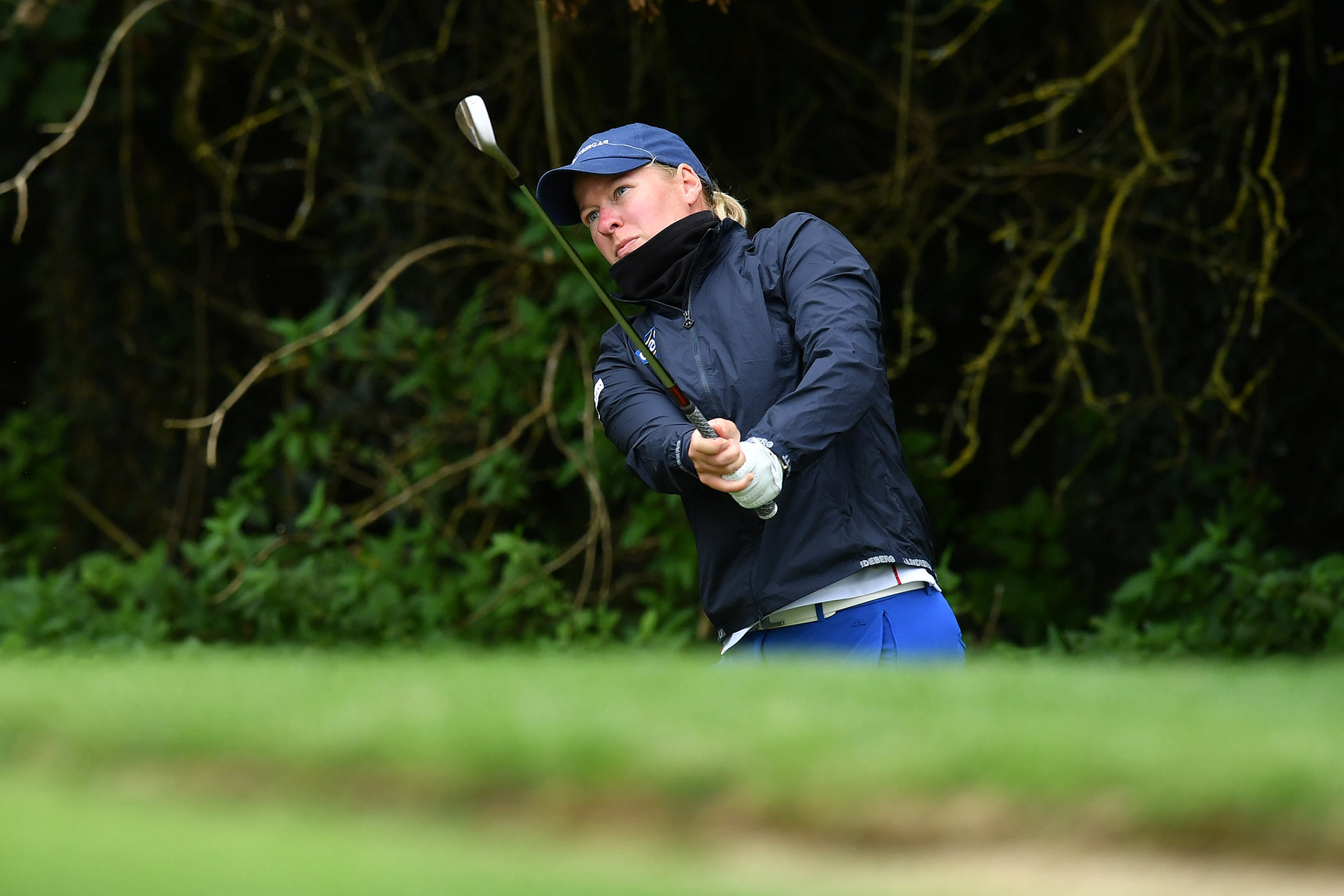 It was a final round each of four-under-par 68 for Finland's Wikstom and Denmark's Broch Estrup as they both secured a spot in the play-off.
Both players had similar length birdie putts but they both left them just short of the hole and ended the tournament in a tie for second place.
Wikstrom explained:
"I have been struggling with my putting and that was starting to work and I started to make some birdies. In some parts of the rounds, it was starting to work better, and I'd say this week I had a pretty solid game with not many stupid mistakes.
"In that way it was easier, I still maybe need to go at it a bit more aggressively. I like Ireland and I had a nice local caddie who was helping me all week and taking care of everything. It was a fun week."
Four players finished in a tie for fourth place with Denmark's Smilla Tarning Soenderby, Austria's Christine Wolf, Ireland's Leona Maguire and England's Annabel Dimmock.
Star attraction Maguire pulls in the crowds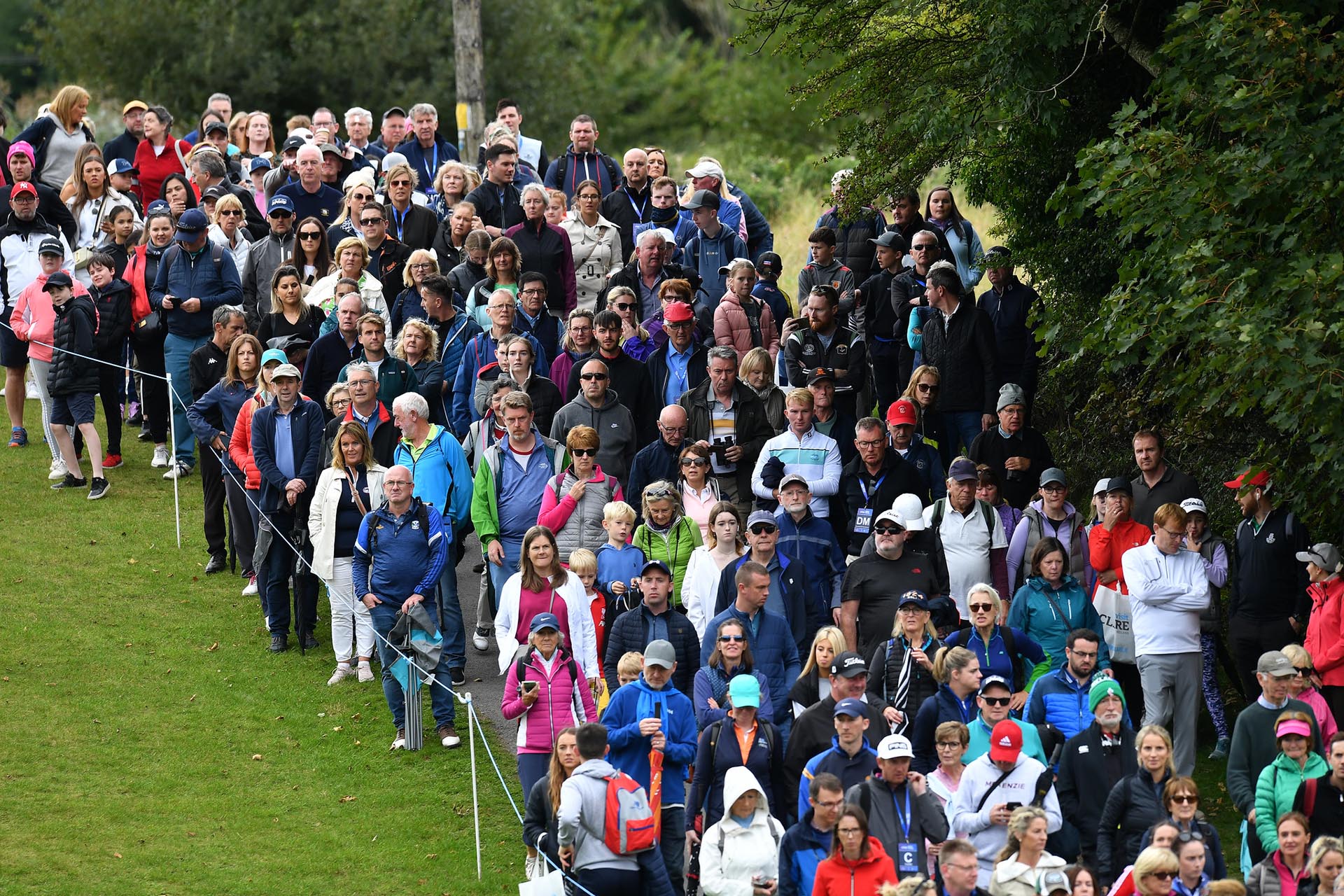 It was a solid end to the week for Solheim Cup star Maguire after a round of four-under-par 68, while there were also 10,000 spectators at Dromoland Castle on Sunday.
"I gave it my very best shot today especially on the back nine," the Irish star said. "I was just a little bit too far back after Friday, but if you would have told me I'd finish on 13-under-par on Friday night I would have taken it.
"There has been some great golf played. The Irish fans had a lot to cheer about this week, they've come out in their droves, and I think the first KPMG Women's Irish Open in ten years has been a great success."
Scotland's Laura Beveridge, England's Gabriella Cowley and Spain's Carmen Alonso rounded out the top 10 finishing in T8 on 12-under-par.
In the 2022 Race to Costa del Sol, Linn Grant increased her lead at the top of the standings and has a 202.27 point lead over compatriot Maja Stark with fellow Swede Johanna Gustavsson in third place on 1,885.63 points.
While KMPG Women's Irish Open champion Spilkova jumped up the rankings from 58th place and now sits 15th with 935 points from four LET events.
View the final KPMG Women's Irish Open leaderboard here.
The LET now takes a two week break before heading to America for the Aramco Team Series: New York.