Hinako Shibuno, 2019 AIG Women's Open champion, leads by one-shot from Jessica Korda after a blustery day on the links
The wait was finally over, as one Muirfield member described to me yesterday "it felt like Christmas Eve". At 6:30am (BST) Scottish golfing legend Catriona Matthew hit the opening tee shot of the 2022 AIG Women's Open. A moment that wouldn't have been thinkable as little as five years ago.
Although there had been a beautiful sunrise, the weather was slightly against the Championship as the rain came just in time for the first group to go out. You could see that the moment wasn't lost on Matthew, who took a deep breath before stepping forward to take her shot.
Matthew certainly didn't get her round off the way she would have wanted with a double-bogey and it was one of her playing partners and fellow Scot Louise Duncan who started in strong fashion just like she did in Carnoustie last year.
Duncan started where she left off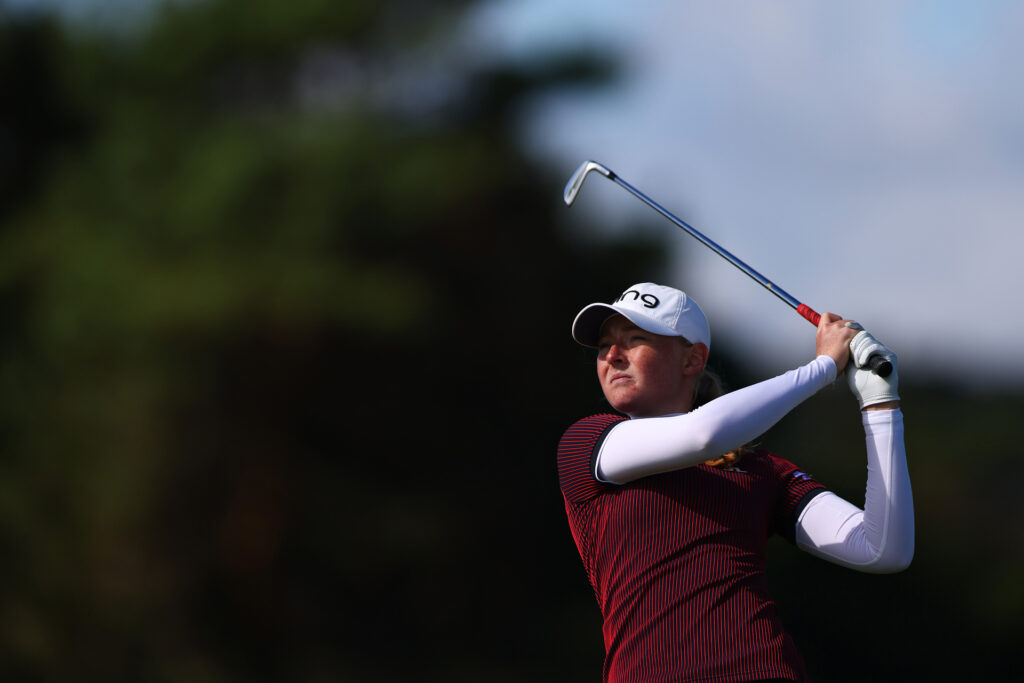 The one part of her game that has been a challenge for Duncan recently has been her driving, but a new head seems to have solved those issues.
And having joined the professional ranks last week, the Scot tried to stay relaxed this morning and patience was the key to her round of 67 (-4). She said:
"It was worth the 4.30 alarm! I'm glad it's over with and I played well. I didn't take it too seriously this morning, I just went out and enjoyed my warm-up. It was a relaxed morning considering how early it was and I think that's what helped me shoot that score.
"I'm really happy with driver and just overall really happy with my game. I've been struggling with the driver recently; I got a new head in it and that seemed to have sorted the lefts and the rights. I hit loads of greens. I hit loads of great putts and I stayed patient as well which led to holing a putt on 17. It was a good day."
Duncan made three birdies and two bogeys on her front nine to make the turn in one-under, but another birdie on 11 and an eagle on 17 saw the Scottish player climb up the leaderboard.
She continued: "Last year was in the back of my mind. Obviously, I had a good run on the back nine last year. It's a tough back nine here.
"I thought level par was going to be a really good score. I knew there was a chance on 17, so if I did make a bogey, I wasn't going to be too upset and I missed a wee put on 15 for birdie. I tried not to let that affect me and it didn't, really. That was a decent back nine."
Leading LET player Stark starts strong
The current leader of the 2022 Race to Costa del Sol Maja Stark was pleased with her steady start to this week's AIG Women's Open at Muirfield.
The 22-year-old carded a round of 68 (-3) which included four birdies and one bogey to leave herself in a tie for fifth after the first day of competition.
"It was very windy," she said. "I feel like I was mentally prepared that it was going to be raining and nasty golf, which is not super fun, in the beginning. I think we got a little bit of a benefit because the wind wasn't that strong when it was raining, so that might have made up for something.
Stark secured her fourth LET title in less than 12 months at the start of July winning the Amundi German Masters thanks to a birdie on the last.
But the Swede has struggled in recent weeks missing the cut at the Amundi Evian Championship and last week's Trust Golf Women's Scottish Open.
However, after realising that she was overthinking on the course – especially with the putter – the four-time LET winner has a different mindset.
"I missed the feeling of playing well," she continued. "These past couple of weeks I have just been trying too hard, I haven't made many putts at all. It has been tough to not recognise myself when I'm playing.
"For example, on the greens, I would think the line is here but then I'd think what are the odds of me starting it on line and making the putt? Now, I feel like I don't have to think that much, and we have practised it, so now I just go up and hit the putt instead of standing over it and walking around for so long."
Another change for the past two weeks is the fact Stark now has 16-time LET winner Sophie Gustafson on the bag and the world number 68 is enjoying having the Swedish legend with her.
She added: "It is fun having Sophie on the bag because she understands and when I get mad, she doesn't take it personally. It's good because I think we have pretty similar playing styles, we're pretty aggressive and hit it kind of far.
"She keeps me a bit calm, even though I might not look it because I do get angry when I hit a bad shot, but it's nice because she is always so calm. She doesn't add onto the stress."
The day belonged (just) to Hinako Shibuno
Japan's Hinako Shibuno fired an opening round of 65 (-6) at Muirfield and holds a one-shot lead at the AIG Women's Open.
The 23-year-old made headlines back in 2019 when she won this Championship at Woburn in her first event outside of Japan, and she has started the week brightly.
Shibuno, who has the nickname of the 'Smiling Cinderella', got off to a quick start with three birdies in a row before dropping a shot on the fourth.
The Japanese star rolled in birdies on the fifth and ninth holes to make the turn in 32 (-4) before making three more birdies and one bogey on her back nine for a round of six-under-par.
"It has been a long time since I've played this well, especially putting," said Shibuno. "Honestly it was a little frightening!
"Two years ago, when we were playing at the Royal Troon, the wind completely overtook my shots. I wasn't thinking about how to use this to my advantage. However, at this tournament I could adapt my style to the elements. It was nostalgic to be on the top."
One shot behind the leader is American Jessica Korda, who sits alone in second place on five-under-par at Muirfield.
Scotland's Louise Duncan and Mexico's Gaby Lopez share third place on four-under-par with Lopez having a bogey-free day.
Five players are in a tie for fifth place on three-under-par after 18 holes including 2022 Race to Costa del Sol leader Maja Stark, France's Celine Boutier and England's Jodi Ewart Shadoff.
Three players round out the top 10 with Japan's Miyuu Yamashita and Korean pair Inbee Park and Hye-Jin Choi on two-under-par.
View the full leaderboard here and watch highlights from Day One of the AIG Women's Open here.