Round 1 of the KPMG saw Georgia and Charley tie at 13th and LPGA mum Brittany Lincicome and Malaysia'a Amy Tan share the overnight lead.
The 2020 KPMG Women's PGA Championship, the third women's major of the year, began yesterday (October 6) at Aronimink Golf Club in Pennsylvania.
It's hugely exciting for several reasons…
With Mel Reid and Georgia Hall winning the last two events on the LPGA, many of us are hoping for a hat-trick of British winners and it's also AIG Women's Open winner Sophia Popov's first appearance at a major since she became a major champ herself.
KPMG is in its sixth year as the title sponsor and despite us being in the midst of a pandemic, it has boosted the winnings purse by 12 percent to $4.3 million.
We think that's pretty brilliant of them...
So, in case you missed it, here are the main talking points from Round 1 of the 2020 KPMG.
Oh and don't forget, we can watch all the action for FREE here in the UK on the Sky Sports Golf YouTube page.
Lincicome and Tan share overnight lead
LPGA mum Brittany Lincicome brought her 16-month-old daughter Emery to one of the practice rounds and she seems to be a very cute good luck charm.
Known as one of the Tour's bigger hitters, she found green after green, and along with Malaysia's Kelly Tan shot 3-under 67.
The pair share the lead going into Round 2 today.
Lincicome missed the cut by one shot this past weekend at the ShopRite LPGA Classic, so the 35-year-old mum of one is thrilled to have made such a strong start.
"I've had so much time off since having Emery and taking time off and COVID," she said. "Each week it's just kind of been let's make the cut, let's make the cut, and that's not a way an eight-time winner should play golf."
The American is a two-time winner of the major ANA Inspiration, but she's yet to win since she gave birth to her baby girl.
The windy conditions meant she couldn't be quite as aggressive with her driver as she would normally be.
"I never tried to swing hard with the driver off the tee today," she said. "I was just literally, `Get it in the fairway and then worry about the next shot.' And then on the green, aiming in very specific spots."
Could we have another first-time major winner?
Eight of the last nine major champions had never won one before.
In fact, 26-year-old Kelly Tan has never finished higher than 30th place in any of her previous majors.
Sophia Popov is of course the most recent example of an unexpected major winner; she bagged her title despite being ranked 304th at the time.
Commenting on who she thinks will win at the KPMG, German Sophia said: "I think on any given week a girl that's ranked 200 or 300 can play her best golf and win."
And this is exactly why we love golf so much!
Lopez and Ciganda bounce back
Mexico's Gabby Lopez and Spain's Carlota Ciganda both tested positive for COVID-19 earlier this year (as did our own Charley), and they proved they were back in top form by finishing one stroke back from the lead.
Along with Danielle Kang, Lydia Ko, Linnea Strom and Cydney Clanton they are T2 after the first day.
But how did the Brits do?
At the end of Thursday, Charley Hull and Georgia Hall are both neck-and-neck at T13 and doing the best out of all our home hopes.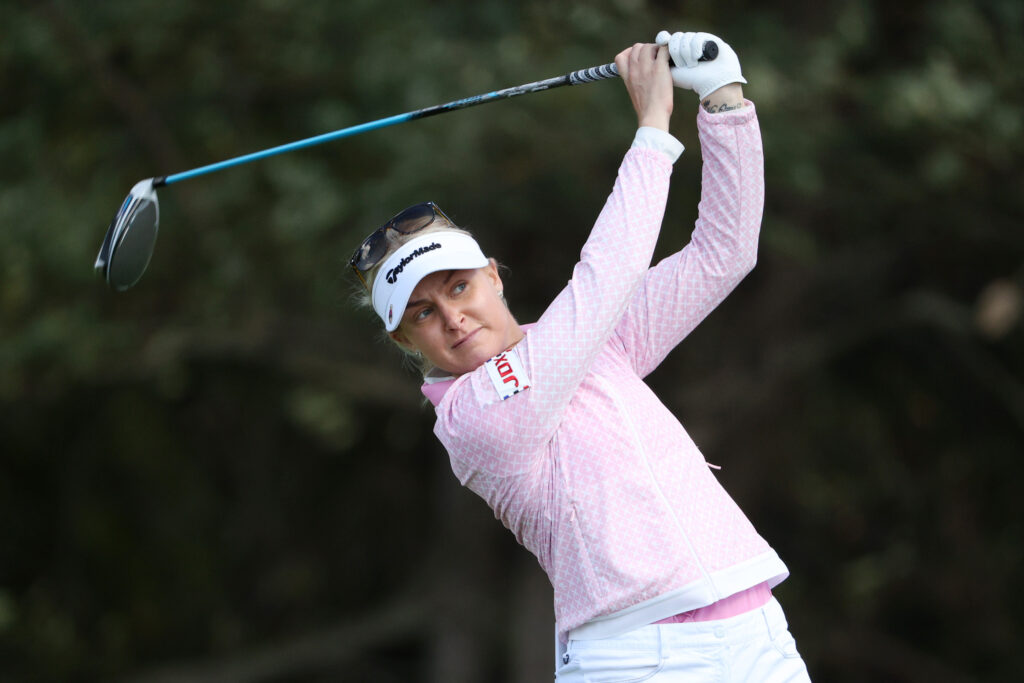 Both shot an even round of 70 which included three birdies each.
Meanwhile, Mel Reid is down at T73 (she started with two bogies) and Dame Laura Davies finished T89 with a round of 75.
The yardages at Aronimink are super long, so it definitely puts you at an advantage to be a big hitter.
Georgia (who was the early leader at one point) doesn't seem putt off by this though and she described the track as a "proper golf course".
That's our girl!
As well as being really long, the wind was intense
There was a real sense of autumn in the air, with golden leaves scattered over the course and a strong wind blowing.
Sweden's Anna Nordqvist, the 2009 champion of the KPMG was seen playfully tossing leaves at her caddie at one point (the rascal).
Clearly used to the sunny weather of her new home in Arizona, the 33-year-old said:
"I know it can blow here, but I didn't expect it to blow that hard that early, and it was really cold."
Lindsey Weaver got a new trolley
American Lindsey Weaver caused a stir at the AIG Women's Open when we noticed that not only did she not have a caddy, but her push trolley seemed to about a hundred years old (a slight exaggeration but you get the idea).
However, at the KPMG she is debuting her brand-new fancy set of wheels.
Golfweek writer Beth Ann Nichols took this snap of it by the putting green –you're looking the business now Lindsey!
You can see the full leaderboard HERE.