Amaya Athill reflects on the passing of Lee Elder and the underrepresentation of black women in golf in the UK
Lee Elder was the first black American professional golfer to play in the Masters in 1975 and the Ryder Cup in 1978. His legacy opened the door so future black players would know and believe it was possible to enter the same space. His passing on the 28th November 2021 gave me pause to reflect on the barriers in golf - those that were shattered by players like Lee Elder so that other people of color could be seen and succeed at the highest levels of the sport. It also caused me to reflect on ways in which we can carry on his work and legacy.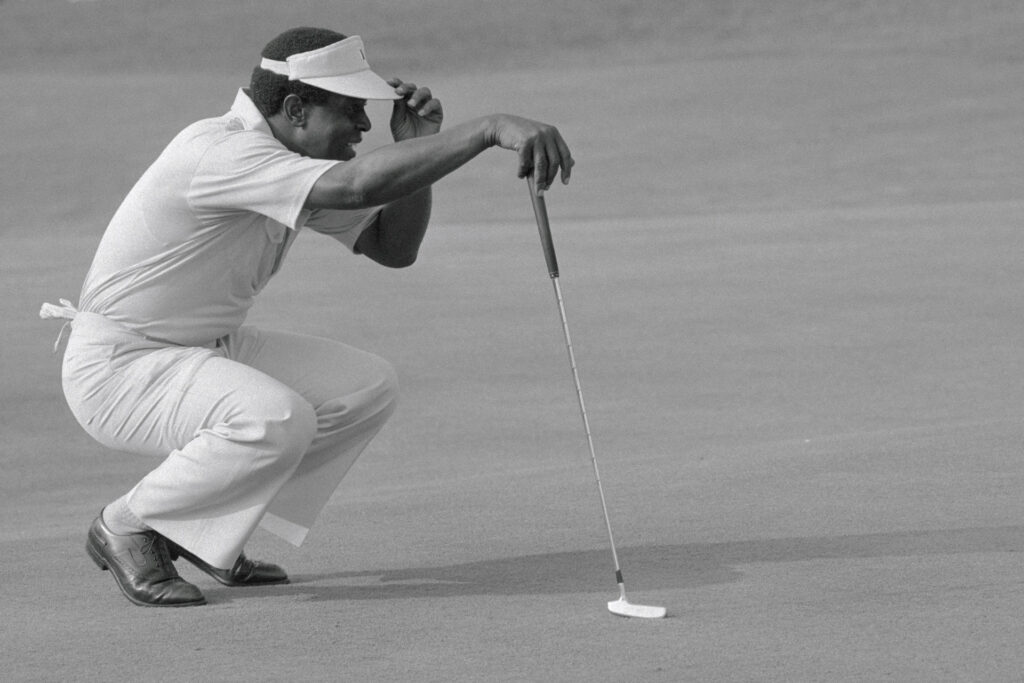 Lee Elder on the 18th to win the Westchester Classic - image credit Getty images
Growing up in Golf
I grew up as part of a robust junior golf program on the Caribbean Island of Antigua and Barbuda where the golfers, coaches, and golf associations were predominantly black, or people of color. In those days, Tiger Woods was at the height of his dominance on the PGA Tour, so naturally, weekend junior golf lessons would end with a group of us in the clubhouse eating lunch and watching him on T.V.
In that environment, I had active examples of amateur and professional golfers with whom I identified, which made me even more inspired and excited about getting better, and growing in the game. I even went so far as to show up for one of my high school career days dressed in a Nike hat, red polo shirt, black pants, and a braided red string bracelet declaring that, when I grew up, I was going to be a professional golfer like Tiger Woods. Such is the magic of representation; it gives you a vision of what YOU can become!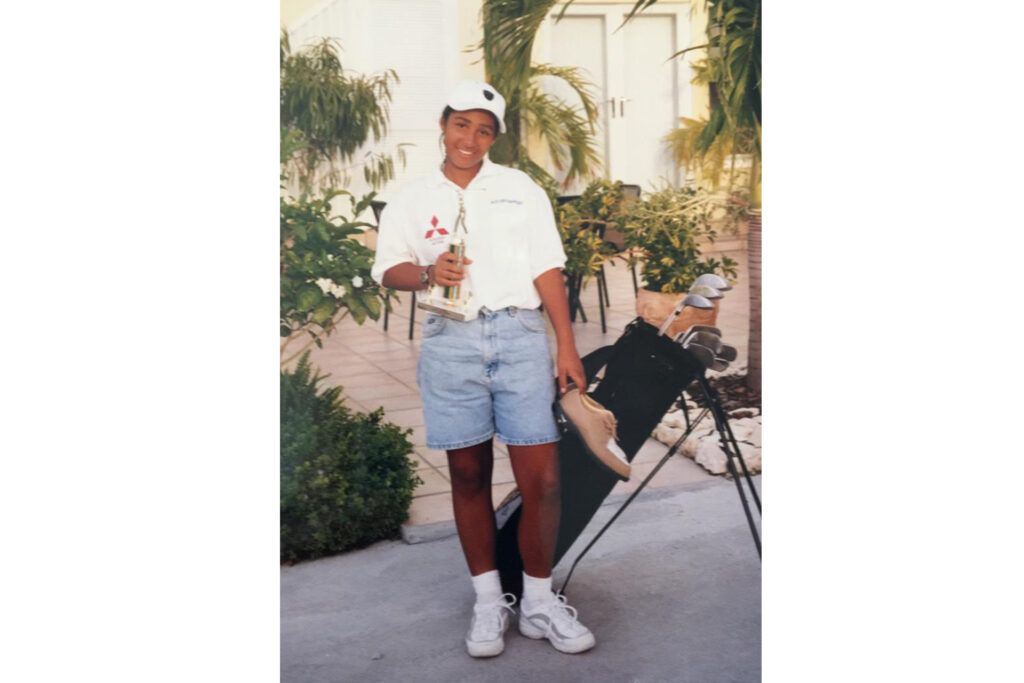 Me as a junior golfer in Antigua in the 90's after winning a golf tournament
(What were my parents thinking with this outfit? I cringe.)
Returning to golf
Needless to say, I didn't end up turning pro. In fact, I took a hiatus from golf for 15 years to focus on building my career as a lawyer, but golf was always MY sport and one I knew I could go back to whenever I was ready - and that I did. When the global pandemic hit in 2020, the year-long on-again/off-again lockdowns in the UK took a toll on my mental health. To remedy this, I began playing again in April 2021.
Returning to the game has been a whirlwind! In the space of the last seven months, I have fully immersed myself in the game and wound up playing casually and competitively at different courses and with various societies around the UK. I even had the incredible opportunity to participate as an amateur in the Ladies European Tour (LET) Aramco Team Series in Sotogrande, Spain, alongside professional players whose careers I have followed and admired from afar.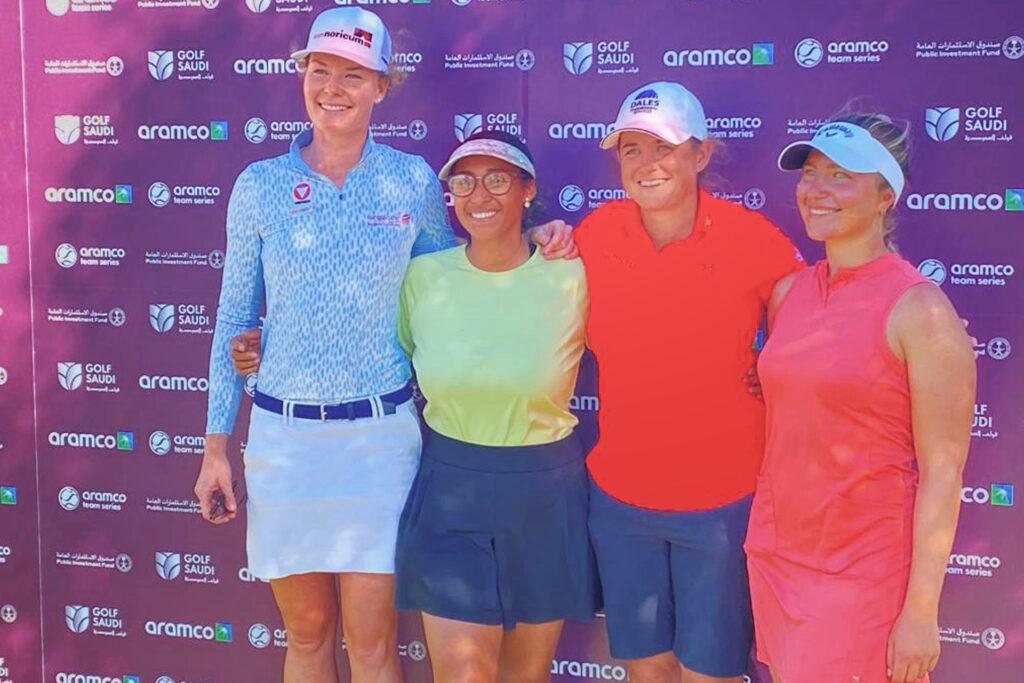 Team Schober on Day 2 of the Aramco Team Series in Sotogrande, Spain
(L-R Sarah Schober, Amaya Athill (Amateur); Michelle Thompson; Madeline Stavnar
The underrepresentation of black women in golf in the UK
My return to golf has not been without its challenges such as cost, dress code, acceptance, and accessibility, however, for the purposes of this piece, I will focus on the ways in which playing golf in the UK highlighted issues with the lack of diversity, and specifically, an underrepresentation of black women in the sport. My experiences can be summed up pretty well in three examples:
More often than not, when I visited various golf courses, I was the only black woman golfer.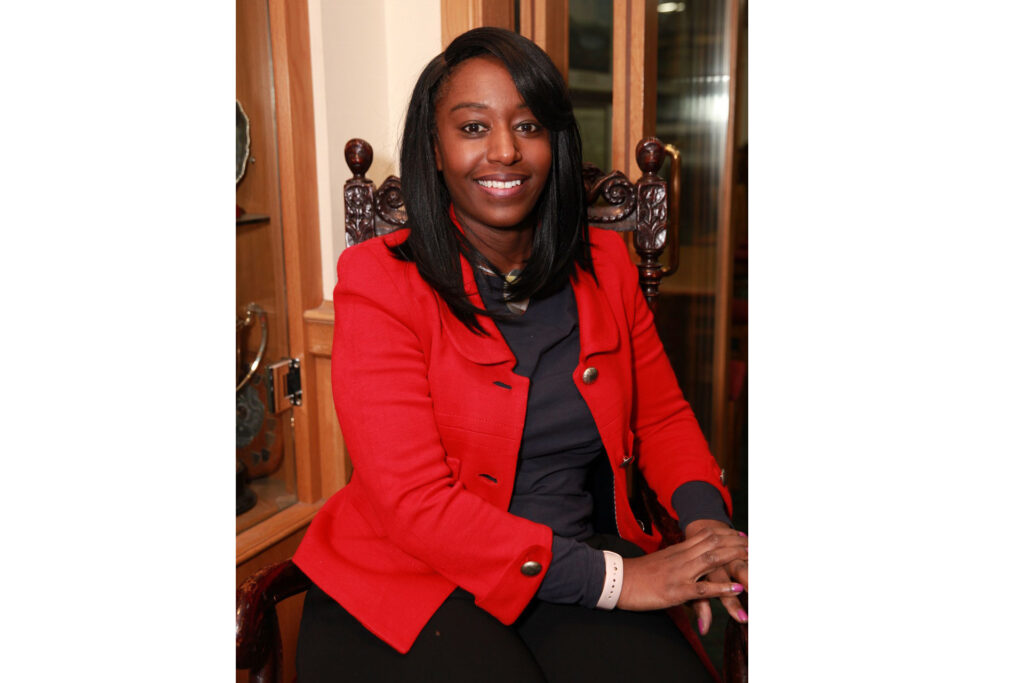 Lynette Mapp, Ladies Captain, Wanstead GC 2019
Image credit - Lynette Mapp
I had the pleasure of playing a charity golf day at Edgbaston Golf Club with a spritely 78-year-old named Jenny (whose story I hope to share with you in full one day). In her 20 years of playing golf, Jenny had NEVER met another black woman golfer.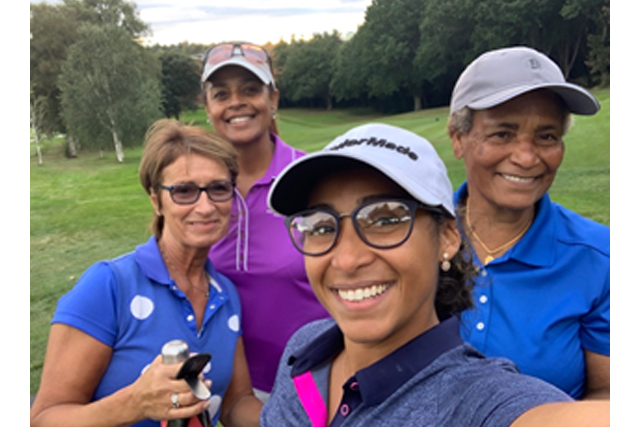 From L-R Ann Murray, Julia Regis, Amaya Athill, and Jenny Clark
at Edgbaston Golf Club for the Rory Daley Charity game
Black golfing associations and societies – a predominantly male dominated space
Over the years, golfers from diverse backgrounds felt and, in some instances, were blatantly excluded from becoming members at established golf clubs. These groups set out to create their own spaces and societies through which they could feel safe to enjoy the game. The African Caribbean Golf Association (ACGA), founded in 1993 by four black golfers, Tony Irish, Daryl Oxley, Tony Johnson, and Frank Skinner, is one such society and is one of my personal favorites. This group is well established, has female members (including Lynette and Ingrid), and is a lot of fun to be a part of. However, it is very much male-dominated – which pretty accurately mirrors the status quo of golf as a sport - a fact of which the ACGA Committee members are acutely aware and are proactively working to change.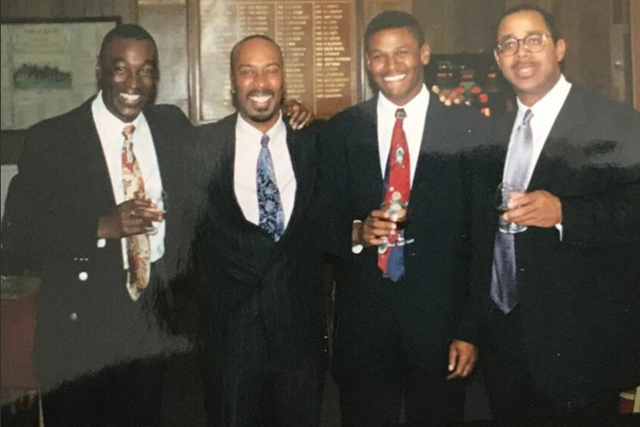 From L-R - Tony Irish, Daryl Oxley, Tony Johnson, and Frank Skinner (Photo with permission of Frank Skinner)
Strength in numbers – Leveling up
Underrepresentation is a limiting factor to the progress of the game. There is power in numbers and having larger numbers of any demographic can have a "level up effect". By this, I mean that if there are more black women playing golf casually then the more likely it is that there will be black women who move up to competing as amateurs.
Similarly, the more black women we see competing as amateurs, the more likely it will be that some of those women will turn pro. The more black women professional golfers that exist will, in turn, increase the chances of a professional black female golfer winning on the LET, or rising to dominance in the sport as Tiger Woods did.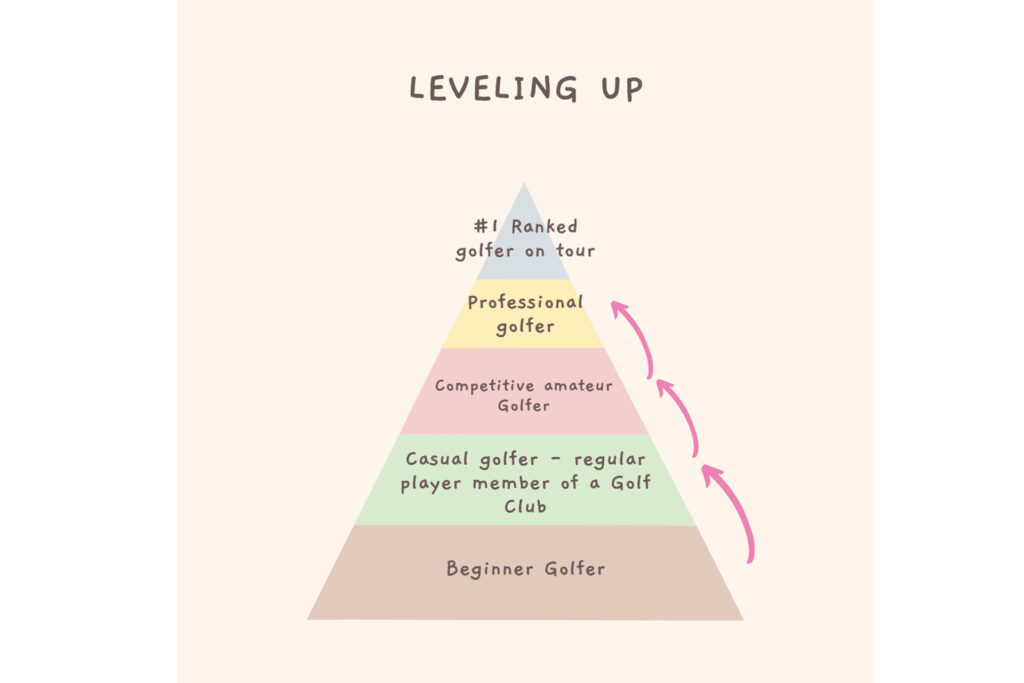 Illustration my own
(With the help of Canva)
Perhaps Lee Elder felt the same about this concept of progress in numbers, as he indeed dedicated his life to open pathways in golf for young men and women from low-income communities through the Lee Elder Foundation.
The impact of the visibility of community-based and community-focused initiatives
Representation matters from bottom to top - from the casual player, to the competitive amateur, to the professional golfer. There are many stories to be told about the work currently being undertaken in the UK to get more black women into golf. They include initiatives to increase the visibility of underrepresented golfers such as the Black British Golfers Instagram page. They also include introductory initiatives to increase accessibility of golf to black women, such as the "Get into golf" taster sessions and programmes hosted by Julia Regis and PGA Professional David Atkins at Edgbaston Golf Club; by PGA Professional Trey Nivens at 3 Hammers Golf Complex; and by myself, Cheryl Harding, and PGA Professional David Hawkins at Wanstead Golf Club.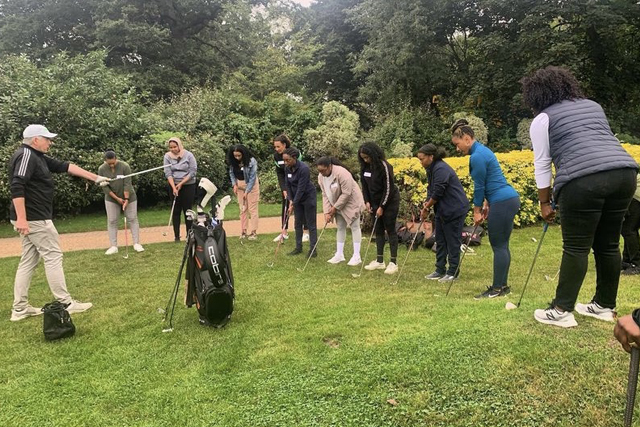 Participants of the golf Taster session for black women hosted by Amaya Athill, Cheryl Harding, and PGA professional David Hawkins at Wanstead GC in September 2021.
Black women role models in golf
It is important for black women to see other black women trying golf for the first time through initiatives spearheaded by people within their community like Julia, Trey, and Cheryl. It is important for black women to see other black women like Lynette and Ingrid taking up leadership roles as members of established golf clubs. It is important for black women to see black professional golfers like Georgia Oboh and Nicola Bennett playing on the LET and teaching at established clubs.
These visuals, these initiatives, and these communities dismantle the perception that golf is only for a certain demographic and serve to encourage more participation - from those who are trying to gather the courage to take the first step through the intimidating-looking gate of your local club's driveway for their first golf lesson to the casual players who aspire to the level of amateur or professional golf.
When we encourage the participation of black women in golf (or any underrepresented community for that matter) - at all levels - we are continuing the legacy of pioneers such as Lee Elder by increasing the likelihood that we will open more doors and that more of us will step through them, so that barriers that still exist for many in the sport will continue to be broken.
Words by Amaya Athill
If you're interested in this story and would like to connect, you can find me on Instagram at @golf_interrupted