The voice of women's golf on Sky Sports golf, Richard Kaufman talks to Women & Golf at this week's AIG Women's Open at Carnoustie
You may be familiar with the voice of Richard Kaufman who is a regular commentator for Sky Sports golf coverage. He joined the team at Sky Sports in 2017. As a lead commentator, Richard covers Ladies European Tour and European Tour events around the world, including major Championships and team events such as the Solheim Cup. He is also a lead commentator on the Asian Tour, presenter on The Open Radio and commentates on other sports such as football.
We got ten minutes with him here at the AIG Women's Open at Carnoustie to get his thoughts on the women's game, what his role is this week and how he prepares to commentate so that we, the viewer, are always up to date with what is happening on the golf course.
Before we get into talking about commentating, what are your thoughts on the increase in the prize fund for this year's AIG Women's Open?
I think the prize fund announcement is a really significant statement. It's fantastic. It's not the first step because there's already been steps made. But I predict that the U.S. Women's Open and the AIG Women's Open will have the same prize fund within 10 years as the men's equivalent.
It's all very well, people saying we want to support women's golf and then there's doing it. This is doing it!
Do you think it will be a catalyst for a jump in the U.S. Women's Open prize fund?
As we all know the new man in charge of the USGA [former LPGA Commissioner Mike Whan] is obviously very invested in women's golf and the US Open has always been very proud of the fact that it has had the biggest prize funding women's golf. I'm sure it won't want to lag behind.
Let's move on to commentating. How do you normally prepare for a week of commentating?
I'm always juggling a lot of balls, in terms of trying to do work. I try and look a couple of weeks in advance, so I'm commentating at the Curtis Cup and the Solheim Cup – those are a little different as there's a limited field. Then there's the BMW PGA at Wentworth after that, so switching to the men's game.
I've got quite a big database of information on golf and then I also commentate on some football too!
What do you need to do in advance before the play starts?
I don't want to come to the course go on air on Thursday at 11 o'clock, look at the leaderboard and not know something about every single player who is in the top 10. And of course, you have no idea who that's going to be. In other words, I want to know something about everybody.
Talking about equality every year, it's amazing as we have been given player bios for the first time. When you go to The Open championship, you get this amazing media guide with all the player bios. We've never had it before in the women's game until this week where the R&A have provided it. I know that some in TV in America get bios but this is the first time it's ever been provided here for everybody to access.
There's amazing information on there but I want to do my own research. I could be lazy and just print that out and start reading but I'm quite keen to try and find out stuff about the players myself.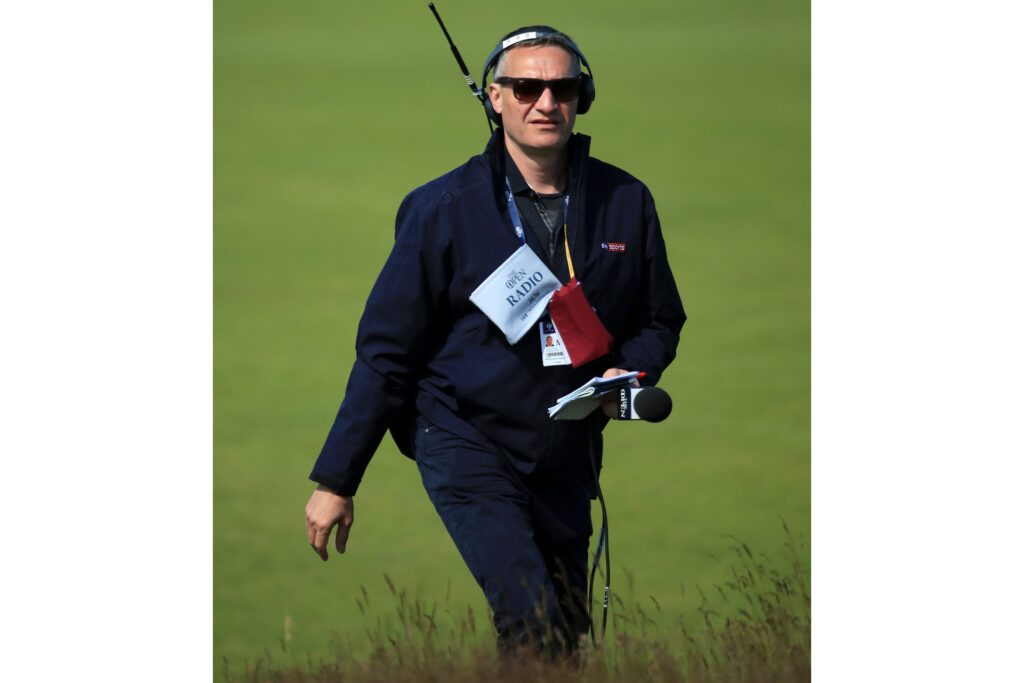 How does a major week differ from a regular Ladies European Tour event?
This week I am lead commentator. Normally it is just two of us, this week there's eight or nine voices you will hear. With three commentators always in the commentating box. So, my job this week which may sound a little weird as the lead commentator, I shouldn't really commentate. I still need to know about each player but I should be editorializing, setting things up when it comes to actually commentating. The golf shot and knowing the golf holes that should be down to the golfers commentating who know how these golf shots should be played because they have played on this golf course, either in the open or elsewhere. That's their role. If need be, I will obviously commentate on a shot.
I want to know the course because I want to feel the comfort of knowing what's coming up. I want to know in the closing stages that 12 and 14 are two par fives and then you've got that really tough stretch. Why are the closing holes so hard? How's the course going to play different than when the women came here in 2011? I want to know those things but more from an editorial story point of view as opposed to knowing for commentary purposes. Things like if you go in this bunker here, you're dead – that's the role of the on course commentator.
Is a major one of the best ones to commentate?
I have commentated on Swedish football, I've commentated on all sorts of things that would be considered minor. I always go into every week, as if it's the most important thing because if anyone's watching it, to them, there's a reason they are watching it. It's important. I could be covering the most minor of tournaments or I could be doing this week at the AIG Women's Open. I get paid to do the same job, which is to bring excitement and bring the story to life and add to the pictures. They're all important to me.
But yes, of course, after a long stretch of doing tournaments, I feel energised coming here and seeing a golf course like this. And the field that we've got, working with the people that I'm working with, it's great.
I also wanted to ask you about last week at Dumbarnie. How does that work when you're commentating on a course that viewers probably haven't seen before? Does that make any difference?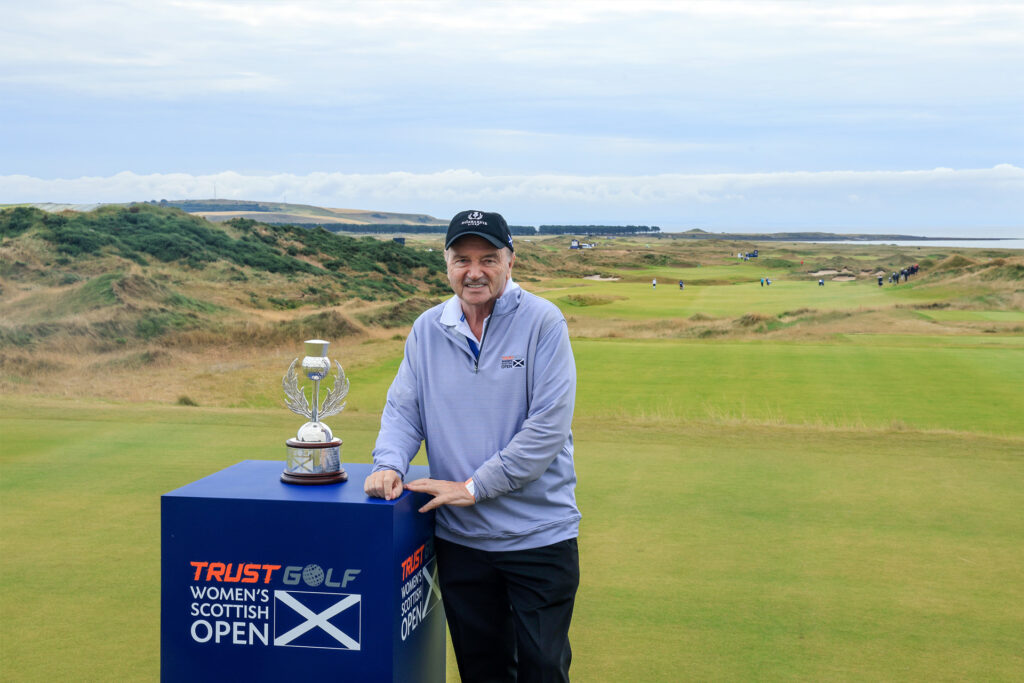 It doesn't usually happen for Ladies European Tour events that we cover that I haven't seen before but I was introduced to Clive Clark, who designed the course at Dumbarnie. While I was away in Spain at the Aramco Team Series, the previous week, I was asked would I like to speak to him and we got introduced via email. I was able to speak to him and then have a call with him ahead of the tournament, just to get his perspective and all the insights into the course.
He was really interesting when he came on air on Saturday as well. That's quite a rarity but it is a big help to get an insight into what the golf course looked like three to four years ago. I could then say it was farmland, and there were cattle on there, and there's a train track going through the middle of it.
In comparison to this week, Dumbarnie was nice and gentle, the weather obviously made it less than gentle at times, but the fairways there are like runways compared to the single file traffic coming down these fairways here at Carnoustie. For me, if I were hacking my way round, Dumbarnie is a nice course, you look at the fairways and you are thinking how can I miss these. Whereas this week, you'll be looking at a few holes like 14 for example and thinking is there a fairway there, I can't see anything?!
Sky Sports have very much committed to increasing the exposure of women's golf, especially with their free to air coverage on the Sky Sport Golf YouTube channel. Do you think that has made more people aware of what women's golf has to offer?
Well, I think it's fantastic that it is available. Does it make a difference? It's really hard to tell. I'm not sure how many people are aware that it's there, that it's free and available and also golf's audience isn't that young generally. So, getting people onto YouTube, even though it's the simplest thing to do once you know how to do it. I don't think people naturally gravitate to that. However, it has to be applauded, what Sky Sports are doing and it's not the only place you can find it.
Finally, do you have a favourite golf course?
I mean, this is ridiculous. I'm not saying that this is my favourite course but embarrassingly on Sunday, I played Crail Golf club and that was the first time I'd ever hit a shot on a links golf course. Crail wasn't just nice, it was fantastic. It was so great to actually play some golf!
Favourite golf course, I can't pick just one but Pebble Beach and of course St Andrews – The Open is going to be fantastic there next year.
Watch live coverage of the AIG Women's Open on Sky Sports Golf and on Sky Sports Golf YouTube.