Here's what happened in the England Golf women and girls Champion of Champions events that took place last weekend at Woodhall Spa
Woodhall Spa's Bracken Course played host to the Girls', Women's and Senior Women's Champion of Champions tournaments at the weekend, with Yorkshire pair Amy Staveley (Girls) and Emma Brown (Senior) taking home titles in their respective competitions and Hampshire's Raphaela Dyer winning after a two-hole play-off with Dorset's Melissa McMahon.
Women's Champion of Champions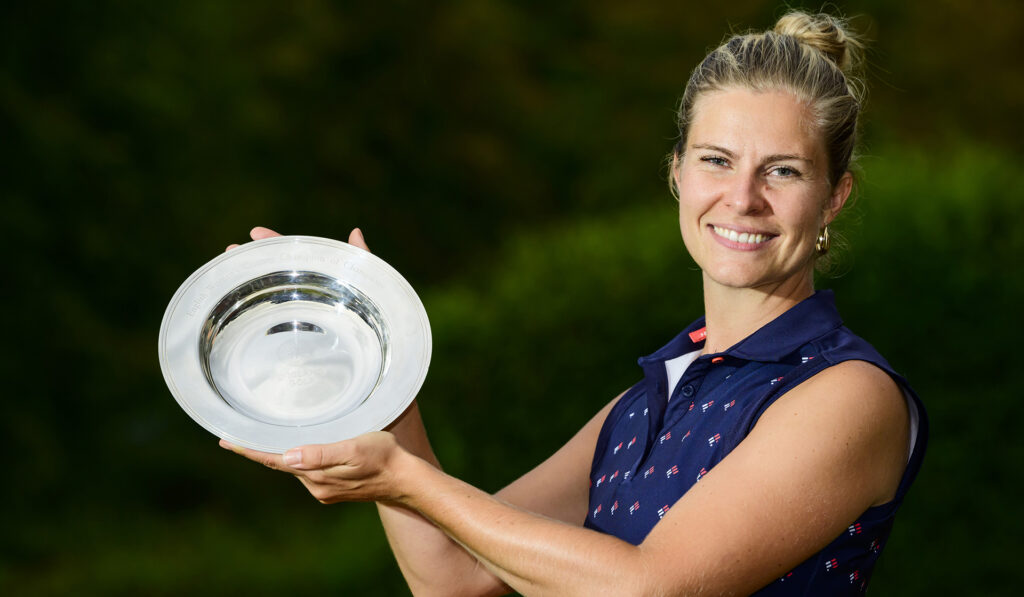 In the women's event, 16 players battled it out on Sunday to become Champion of Champions, with Raphaela Dyer (Hampshire) and Melissa McMahon (Dorset) sitting in a tie at the top on +1 through one round, after a second round had to be cancelled due to lightning. That left Jessica Hall (Durham) in 3rd just one shot back, while Lili-Rose Hunt (Worcestershire) finished 4th on +4, edging Katy Yates (Essex).
That meant Dyer and McMahon went out for a play-off at 6.15pm and despite Dyer driving right and being blocked out by the trees on the 1st hole, she got up and down from a greenside bunker to halve the hole with par, after McMahon hit one short of the green before getting up and down herself.
On the 2nd play-off hole, Dyer recovered for a fantastic birdie to win the tournament. With her dad Mike on the bag, she explained what happened: "We'd actually been planning to use the 17th fairway as it can leave you a nice shot into the green but I didn't hit it right enough. I managed to get it to 20 feet with my second shot though which I was really pleased about as I had to go above two big trees."
Opponent McMahon hit a nice drive down the middle and despite landing her approach by the flag, it ran through the green leaving her a chip to a couple of feet, and Dyer admitted: "Mel hit a good shot but it ran into the fluffy stuff, while I had a putt across the ridge but I had one of those moments where I thought: "I could hole this and also I want to hole this so we don't have to keep on playing!" It just crept in and I was in a bit of shock because that was it, it'd gone in and it was match done!
"You go into these competitions hoping to do well but I never really set the goal of winning. I was playing well coming into it but it's a bit of a shock. Mel and I have known each other for over 15 years and played together at England tournaments. It was a game played in the right spirit and it was nice to be playing it with her."
Asked how she celebrated her win, the 32-year-old revealed: "I went with my dad for a nice Italian dinner, we were both exhausted so it was an early night! Since I got back into golf in the last year, Dad's been back on the bag and it's been fantastic, just like old times!"
Girls' Champion of Champions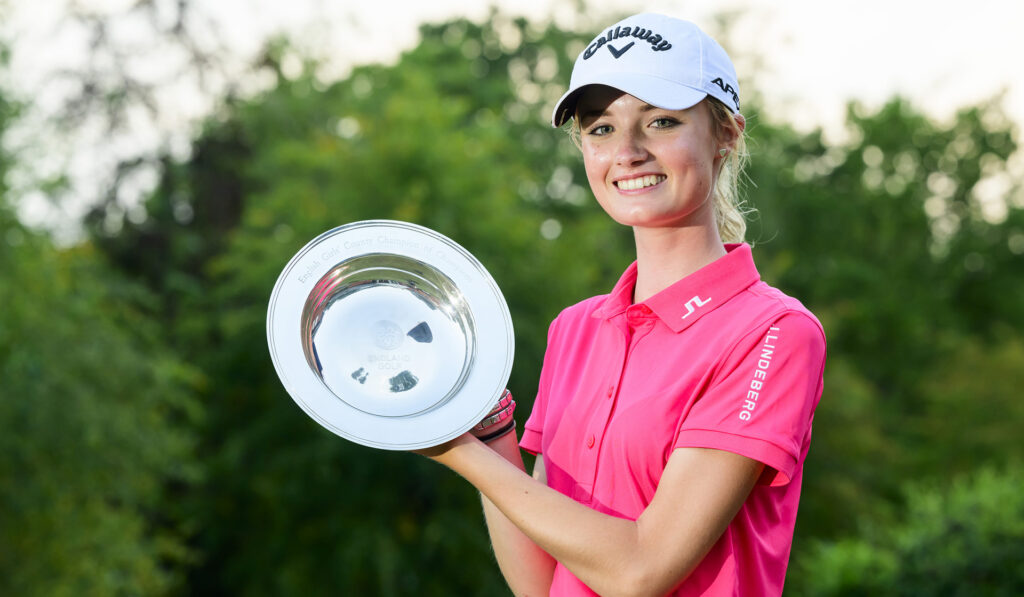 In the Girls' Champion of Champions, Amy Staveley came out victorious in the 28-player field, following a stunning second round of 68. The Yorkshire golfer shot 78 on Saturday morning but six birdies in the afternoon propelled her to a nine-shot victory over Katelyn Wilkie in 2nd (Shropshire, +11) and Arianna Virik in 3rd (Warwickshire, +12).
Staveley, 17, said: "It means a lot. It's my last year as a junior so it was really nice to win it for Yorkshire, and for Emma to win the Seniors for Yorkshire was nice too!
"In the morning I felt like I was playing well but I was getting bad bounces and putts weren't dropping or were lipping out. So in the afternoon I told myself I needed to get closer and I got my distances correct. That led to me holing some six-footers for birdies which gave me a lot of confidence and also a 15-footer which was nice."
The Ganton golfer almost chipped in for an eagle on 14 but a tap-in birdie was one of three in a row on an impressive back-nine which helped her to seal victory. And she paid tribute to her mum Paula on the bag.
Staveley explained: "I didn't think I'd be anywhere near after my first round but because I was one of the last out, I knew I wasn't far away and I might have a chance. I played more freely and I was determined to try and do it. I wanted a nice score and my mum helped me a lot. She was caddying saying: "Just commit to it, it'll be fine!" While she doesn't play golf, she just tells me it's going to be okay, even if I don't hit a good shot, so it works well!"
It wasn't a case of celebrating the win for Amy, but a case of seeing some family and getting back to the golf club for more practice! She admitted: "I came home and saw my family and went to Ganton. They were all really pleased for me. I just did a bit of practising and saw some people so that was nice!"
On her aims, Staveley added: "The end goal is to play for England but I hope I can keep the fun going and give me the confidence because I struggle with that sometimes. But it's nice to know that I can do it."
Senior Women's Champion of Champions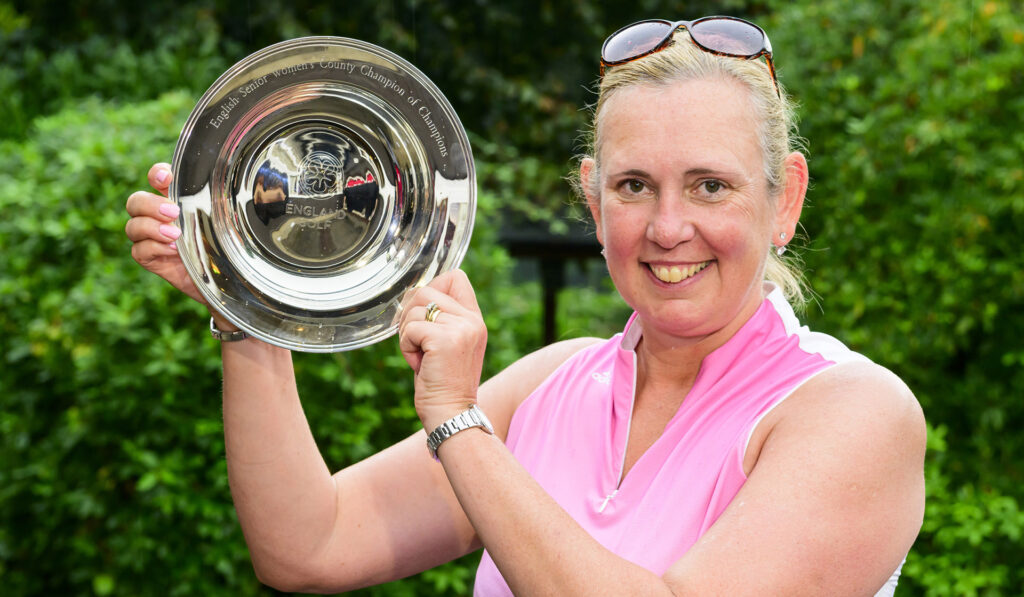 In the Senior Women's Champion of Champions, Emma Brown (Yorkshire) won the event for the second year in a row – meaning she has won it both times she has featured at the event in Woodhall Spa.
Over the course of 36 holes across Saturday and Sunday, she produced two scores of 74 to finish seven shots clear of her nearest competitor Sue Caley (Bedfordshire), while Tracy Bourne (Leicestershire & Rutland) and Amanda Mayne (Somerset) were a further four shots back in the 24-strong field.
Brown said: "It was a bit of a hot one on Saturday – I think it was the hottest I've been on a golf course as there was just no air! But it was nice to go back and successfully defend my title. I just managed myself well around a tricky course with the greens being so undulating. I just tried to play steady and think about where I was putting the ball on the greens, so that I wasn't leaving myself slopey ones for the second putt!"
After her win, the Malton & Norton golfer, who works as Assistant Secretary at Ganton Golf Club, added: "I drove home afterwards and had a glass of wine to celebrate but it was back to work on Monday!"