The fourth ANWA is underway with the day belonging to Rose Zhang. Here are the highs and lows from round one
A day of big highs and lows at the Augusta National Women's Amateur (ANWA) as 72 of the world's top amateur golfers took to the Champions Retreat in Augusta for the first round.
It was world number one Rose Zhang who started as she meant to go on as she goes in search of her first ANWA title. A bogey-free six-under-par set a new Championship record and gave her a one shot lead.
Talking of her first round, Zhang said:
"I'm super honored; I've seen the golf course pretty often the last couple years. So I kind of know for the most part what I'm going to get out here. But I think it's just the level of grinding and the mindset that I have that allows me to know that, even if I don't have my best game, especially the last couple years, certain mishaps have popped up.
"So with that in mind, I'm just kind of taking everything in my stride and allowing myself to, you know, if I do make mistakes, I can come back. So that really helps my mindset today."
A birdie from the Stanford sophomore on the final hole gave Zhang the outright lead with Sweden's Andrea Lignell one shot behind.
Another bogey-free start
The University of Mississippi senior, who has two wins and six top-five finishes this season, also had a bogey-free start in her ANWA debut. Lignell said:
"I did not expect a bogey-free round today. There's a lot of tough holes out there where you can easily be okay walking off with a bogey. So I definitely did not expect it, but I'm really happy."
American Zhang birdied two of the par-3s and each of the four par-5s on the course, including a 50-foot putt at the 14th.
"Par-5 scoring is very important for a good round. For me to be able to do that and capitalize on every par-5, I think it shows my game is in a pretty consistent, good direction. Hopefully I can continue like that the next couple days."
Defending Champion Anna Davis penalised
With regards to the lows, that came from defending champion Anna Davis. The damp conditions meant that lift, clean and place was in play for competitors, but Davis took this to mean preferred lies were an option. After marking and moving her ball on the first fairway twice, she incurred two separate two shot penalties – resulting in a four-stroke penalty.
"I knew we were playing lift, clean and place. I asked my scorer if we were doing it like everywhere, but I guess he didn't know. But he said, yeah, we were. So whatever. It happens".
In this case, Davis was penalised for two things: moving her ball by picking it up, and then not replacing it properly.
She was told on the fourth hole, and then made double bogey and bogey on the next two. After the quintuple bogey nine on the opening hole, she finished with a +4 round of 76 to leave her ten shots off the pace, the gap exacerbated by the costly error on the first hole!
ANWA Ones to watch
As for Women & Golf's ones to watch and the British contingent, here's where they currently stand: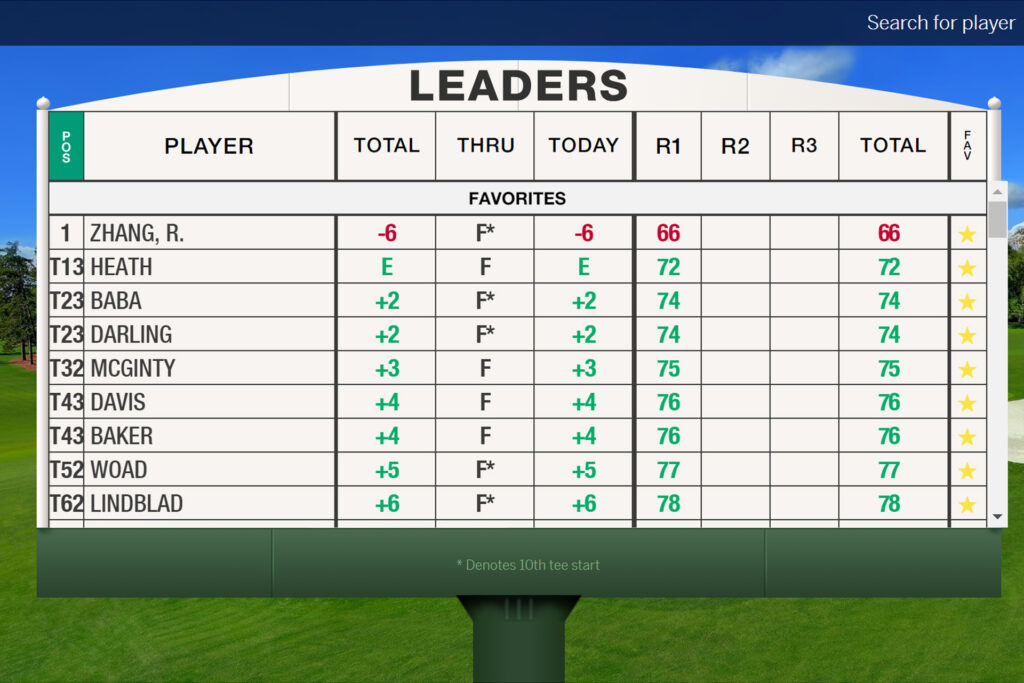 Last year's runner up Ingrid Lindblad has a lot of work to do as she remains 12 shots off the lead and will have to battle to make the cut.
The second round takes place today at Champions Retreat, with live coverage on Golf Channel from 1:30-3:30pm EST and Sky Sports Golf from 6:30-8:30pm. Plus those in the UK can watch via Sky Sports Golf You Tube channel:
Following the completion of the second round, a cut will be made with the top 30 players and ties advancing to Saturday's final round at Augusta National Golf Club. All participants will play a practice round at Augusta National, the home of the Masters Tournament, on Friday.
Keep up-to-date with coverage of the championship, including scores, highlights, features and interviews. Visit anwagolf.com and the Championship's official social media handles (@ANWAgolf) on Twitter, Instagram, Facebook, YouTube and TikTok.