Editor Emma Ballard tries to create the Warm Chocolate Chip Skillet Cookie that is being served at Scottie Scheffler's Masters Champions Dinner
I've always been a keen baker but my interest has definitely risen since I had children. Every year, my two biggest cake efforts are for their birthdays. Both girls get to choose a theme, I then scour Instagram for inspiration, take a deep breath and normally a glass of wine and off I go.
Here are a couple of my recent efforts, which I am very proud of.
Hopefully, that was a good scene setter for where I am going now. Tonight Augusta National Golf Club will play host to the Masters Champions Dinner. A tradition that started back in 1952 by Ben Hogan, who had won the previous year. As is quite obvious by its name, it's for past Masters Champions and you have to wear your green jacket.
Each year the Champion from the previous year gets to pick the menu. Scottie Scheffler was victorious in 2022 winning by three shots over Rory McIlroy, so the American was left in charge of the menu.
Scottie Scheffler's Masters Champions Dinner Menu
This menu ticked a lot of boxes for me. I have family who live in America and one of our stops when we visit will always be a BBQ restaurant.
Anyway, I digress. Finishing off the dinner is a Warm Chocolate Chip Skillet Cookie. What a way to end the night! I like making cakes, but pudding, apart from pavlova, isn't my forte.
However, I had made 2015 Great British Bake Off winner Nadiya Hussain's Hot Cookie Dough recipe from her first book Nadiya's Kitchen a couple of times. It's not the prettiest pudding but it tastes amazing!
With all of this in mind and the fact that I like a baking challenge, I decided to attempt to make a Warm Chocolate Chip Skillet Cookie.
First a bit of internet research to find a recipe I liked. I could have used the Nadiya recipe and adapted to cook in a skillet but decided I wanted to find a recipe specifically for cooking in a pan.
After looking at a number of recipes I went with How Sweet Eats and her Salted Chewy Gooey Chocolate Chip Skillet Cookie. I halved the recipe as I was only making for four people.
Warm Chocolate Chip Skillet Cookie Ingredients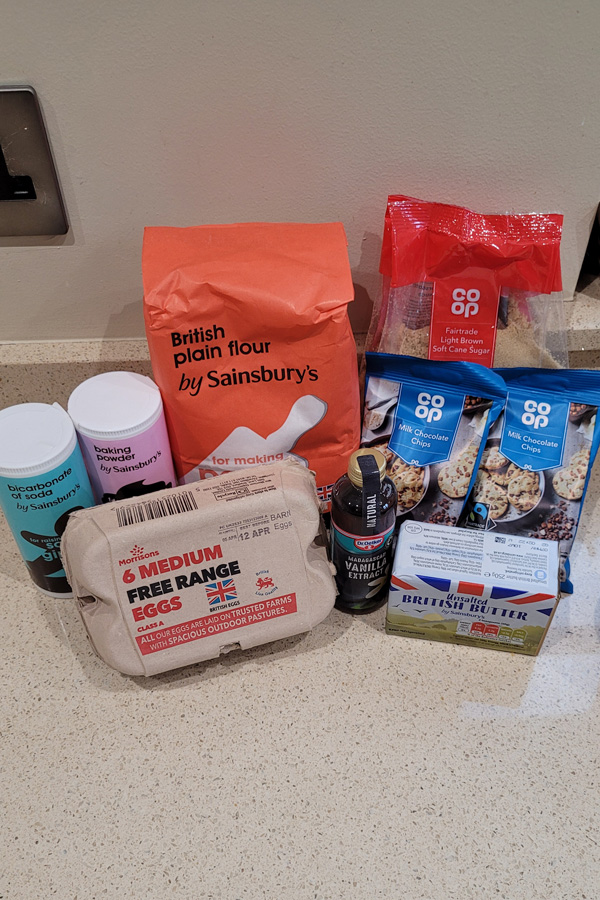 Here is what I used:
1 ¼ cups or 150g all-purpose (plain) flour
1 teaspoon baking powder
½ teaspoon baking soda
¼ teaspoon salt
½ cup or 113g unsalted butter
3⁄4 cup or 150g light brown soft sugar
1 medium egg
1 medium egg yolk
1 ½ teaspoons vanilla extract
5 ounces or 140g chocolate chips, milk or semi-sweet, your choice!
flaked salt, for topping
Method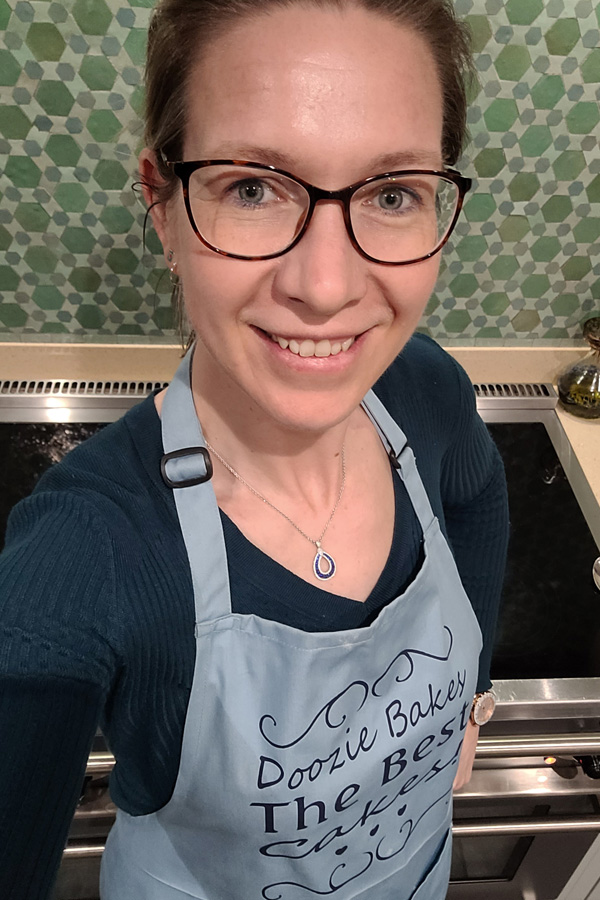 Preheat the oven to 350°f or 175°c.
Heat an oven safe (preferably cast iron!) 8-inch skillet (I used a frying pan) over low heat. Let the skillet heat up for 5 minutes.
Add the butter and let it melt completely.
Stir in the sugars with a wooden spoon. Turn off the heat under the skillet. You MUST turn off the heat! You can also remove the skillet from the burner/hob if you wish.
Whisk together the egg, egg yolk and vanilla extract in a bowl. Add it to the skillet sugar mixture and mix in right away with a spoon, quickly mixing so the eggs don't cook from the heat.
Stir in the dry ingredients until just combined. This will take a minute or two and the mixture will be thick.
Stir in the chocolate chips.
Transfer to the oven and cook for 20 to 25 minutes, or until it's mostly set in the center.
Top with flaked sea salt.
Serve warm with vanilla ice cream.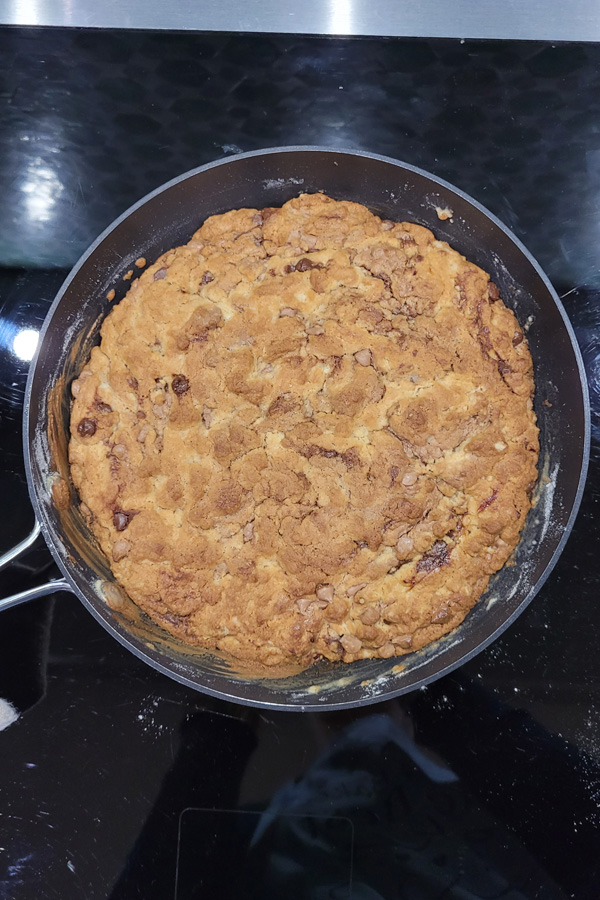 There is a reason why I edit a golf website and am not an Instagram food blogger... You will have to excuse the photos but I assure you that cookie was delicious.
So as Tiger Woods, Jack Nicklaus, Nick Faldo and other golfing greats tuck into their (probably individual mini-skillet) cookie pudding tonight, I'll be having mine with a cup of peppermint tea in my Masters mug.
Did I mention I went to the Tuesday Masters Practice Day in 2015?! No! Well, that's a story for another day.
Let me know if you attempt or have attempted making a skillet cookie and feel free to tag us in your creations on social media.