adidas are the Official Merchandise partner at the AIG Women's Open. We take a look at what's on offer.
Jane and I were very excited to get a preview of the women's adidas Golf clothing that is available in the official Merchandise tent here at the AIG Women's Open. We got a guided talk though the range with Gina Ingram Assistant Product Manager – Ladies, Kids and Accessories at adidas Golf.
Tell us about the range you have here at the AIG Women's Open
Our collection here is high summer/winter which launched in July. We maximise the summer months by bringing in more summery products. This includes sleeveless polos, skorts and technologies such as HEAT.RDY. Then moving into the more winter months, we bring in COLD.RDY so you're ready for the cold weather. The .RDY is a technology used throughout the adidas group.
What does HEAT.RDY technology actually do?
The HEAT.RDY fabric itself has a slight texture on the interior which basically reduces the touch points to the body, so it doesn't cling to you and also allows for airflow through the garment, so it's going to keep you cooler on a hot day. This is an example of a HEAT.RDY polo, really sporty in the look and feel where we've got a hidden placket and then the piping to the collar.
The collection here also brings in prints. This particular example is the Ultimate365 sleeveless polo shirt which has a print that is actually inspired by the Heather in Scotland. An abstract floral pattern with great feminine details with the contrast to the collar and sleeve.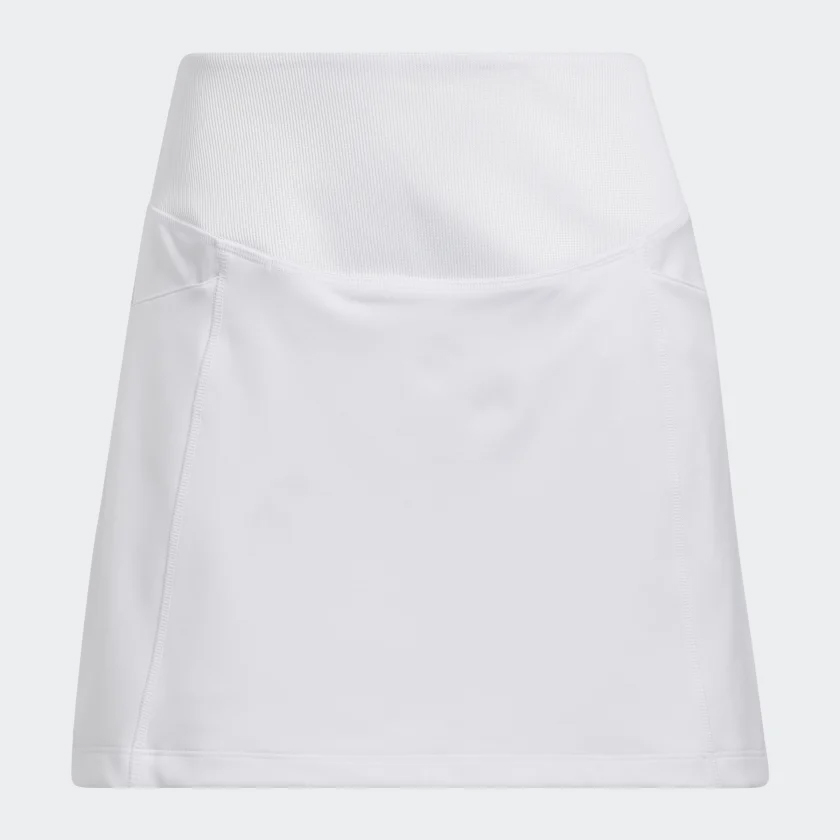 There is a big focus on sustainability and reducing plastic at adidas. We know that Primeblue items feature threads that are made with 50% parley ocean plastic from upcycled plastic waste intercepted on shorelines and coastal areas, preventing it from polluting our oceans. Can you show us a couple of examples here?
Here we have the HEAT.RDY Primeblue short sleeve polo which has modern look setting it apart from what you could buy elsewhere. We also have the Jacquard Primeblue sleeveless polo. This has a beautiful marble print detail throughout the garment in a jacquard, again, using that sustainable ocean plastic. You've got that call out of Primeblue on the back, calling out that it is a sustainable product.
The Primeblue skort, is really popular. You have to feel the fabric, it's so soft! You've got a really nice higher waistband, so it's really comfortable This would go perfectly with either polo and give you a fully sustainable outfit.
Our readers seem a bit divided on golf dresses, but we're definitely seeing more on the course. This dress looks really cute…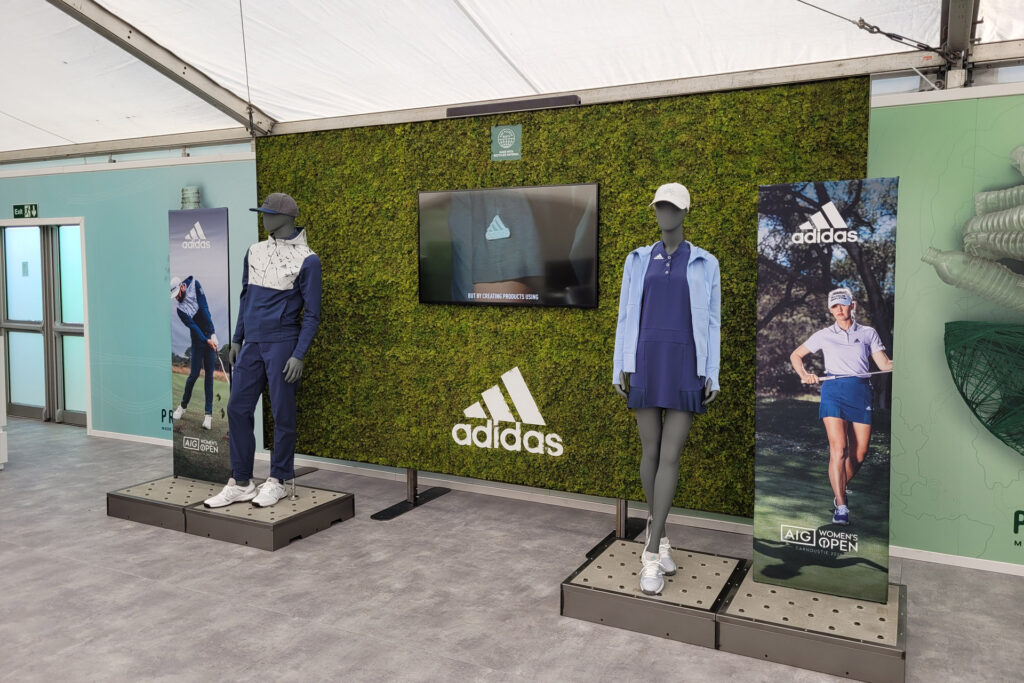 The Sport performance golf dress is one of my favourite pieces I think we've ever made. Dresses are really trending for us at the moment. They're our fastest growing category. And we have a few different silhouettes of dresses in the range. But this is our sport dress. You've got the modern racer back details, not a full race back still very wearable. Then you've got the popper placket. With pockets front and back. There is also a short internally for modesty.
There's also quite a division on wearing leggings. Is there a demand at adidas for golf leggings?
These do extremely well. Leggings are becoming a basic item. These ones in particular are good as the weather gets colder as they are fleece lined, so have a lovely cosy feel. They also have a pocket – which has often been one of the complaints about wearing leggings. They also have a bonded waistband, so it retains its shape and improves the fit.
It already feels like summer is over, what is here for the cooler months ahead?
As we move into colder weather, we launch a secondary print. This year it ties into the ambient sky and pulse yellow theme. We definitely move into more wintery pieces as we hit September.
Firstly we have our COLD.RDY hoodie, this is really lovely and is kept very feminine with the ribbon detailing. Then you have this kind of ottoman fabric throughout the body, which basically traps the heat while you're wearing it so keeps you really warm. There's also little details like the thumbhole just to make it really cosy and versatile.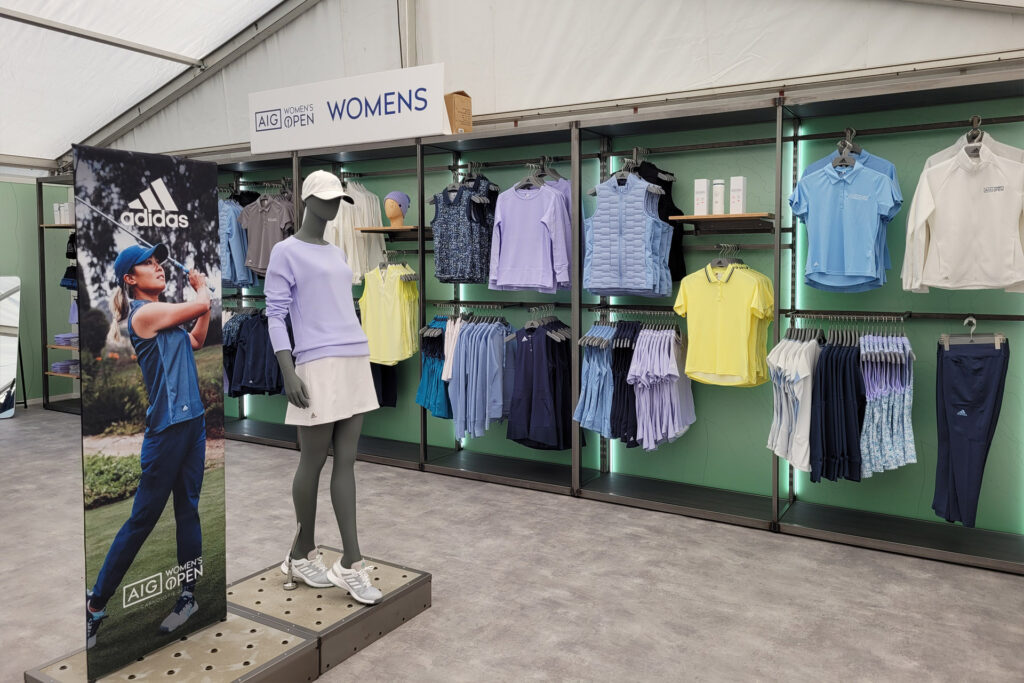 Again in versatility, we have our crewneck sweater, which you can see on the mannequin. This is just a really easy, relaxed piece and sits within our Go-To family. There is a different kind of branding execution to the sleeve. It just looks great.
We also have a Textured Layer full zip jacket. It's pretty lightweight and another really cosy piece. You've got a fleece lining throughout the body, and then this upper actually has a slight wind resistance as well. You get a certain texture and interest, but also full protection.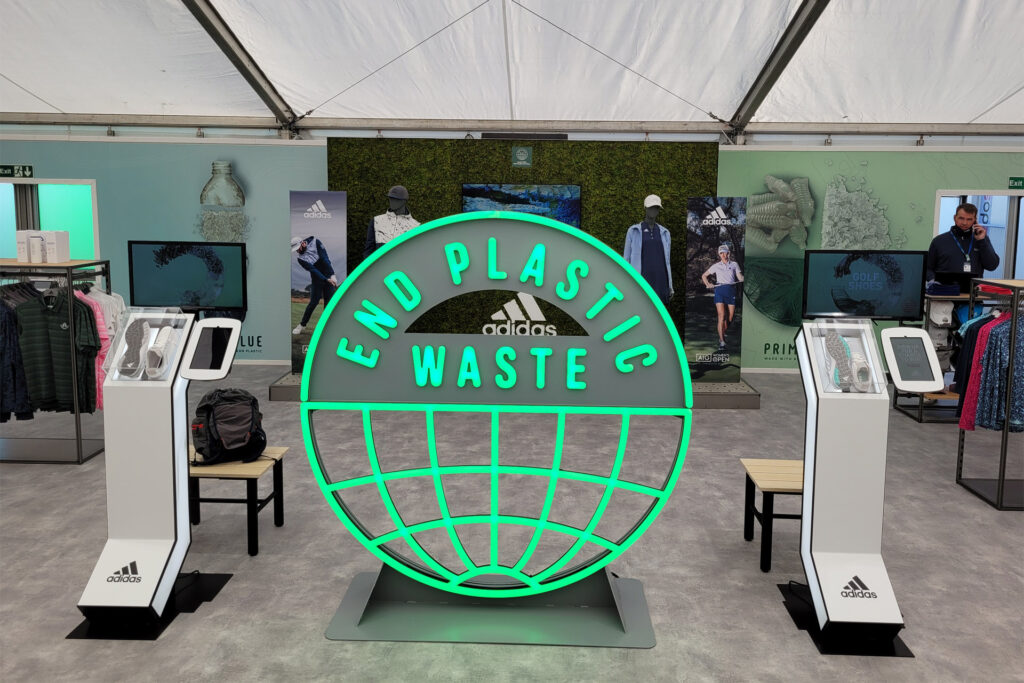 Finally, you've got the Frostguard vest and the Frostguard jacket. What we have been able to do with this piece is add more stretch. The baffling across the body is bonded rather than stitched. Typically, when you stitch something then you will restrict the stretch. With this bonding, it enables you to have more stretch, and provide you with more warmth, because there aren't any perforations through the stitch holes. The jacket also has COLD.RDY ready sleeves and panels down the side. All meaning that your range of movement is not affected when you're swinging. The final feature is the dual directional zip, adding to the functionality of the product.
Take our money!
We were really impressed with everything that was on offer in the Official Merchandise tent, we just wish there was even more to choose from. There is also adidas golf clothing for men and juniors, plus AIG Women's Open branded products - including caps and polo shirts. We're sure it's going to prove very popular this week.
Adidas's partnership with the AIG Women's Open also extends to the championship's official uniform. Continuing their commitment to help End Plastic Waste and bring more sustainable products to golfers everywhere, adidas have provided all staff and marshals at the AIG Women's Open with Primegreen product, made with recycled materials, as part of their kit.