Editor Emma Ballard takes a first look and review of the new COBRA KING LTD Max Women's driver
Women & Golf headed to Kings Golf Studio in East Grinstead in early December to get a sneak preview of the 2022 golf club range from COBRA Golf. Firstly, it was great to actually get to see the new range in person after having to do most product launches over ZOOM in the last year. Secondly, it was refreshing to watch a presentation where the full range was presented and by that I mean that women's specific product wasn't just an add on.
We were also given time to have a hit with the products and gather our initial thoughts. A couple of weeks later I received the new LTDx Max Women's Driver to test. It's a bit like being a child at Christmas when you get given a new golf club, especially one that you get to use and review before the rest of the golfing world does.
In advance of watching the review, it's worth noting that I have pitched this to golfers more in my handicap range, mid to high. I'll be looking to do a more comprehensive review when the courses are less wet and I'm also going to be challenging Women & Golf's Jane to see whether gaming a new COBRA driver (compared to her current COBRA driver) can help her get down to single figures.
First impressions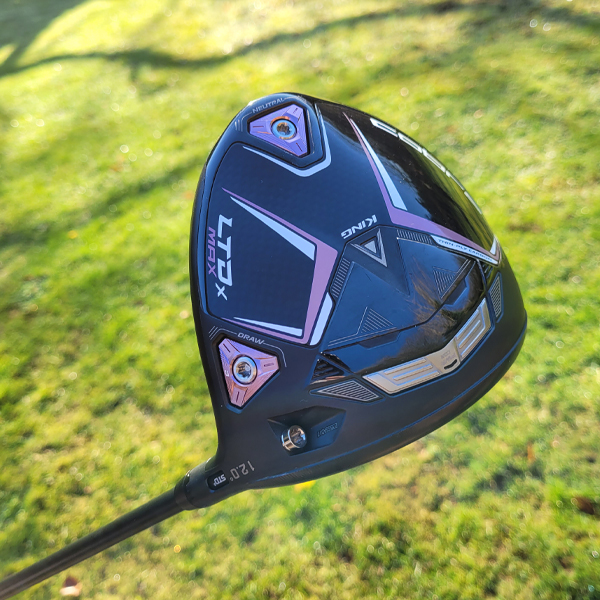 Obviously, the performance of the driver is of utmost importance but there is a lot to be said about first impressions. The COBRA KING LTDx Max women's driver doesn't disappoint. There is a black gloss finish to the crown and sole and there are accent colours which COBRA has called elderberry - a light metallic purple.
The club looks great at address and overall I had no complaints when it came to how the club looked.
Technology
There's a lot of technology behind the new family of LTDx drivers - you can find out more here.
Performance
If you watch the video above you will see that I compared the new LTDx Max driver to my current gamer to see if there were any performance differences. I had expected there to be as my driver has needed to be upgraded for a while.
I used the studio and Trackman set up at Bromsgrove Golf Centre, to record my shot data. First I hit my regular driver (orange), where you can see that my dispersion of shots was quite big and very inconsistent. I then hit the LTDx Max driver, I had the 12 degree version, without changing any of the set up.
I found that it increased my distance a little, as well as my spin rate and launch angle but the change wasn't that significant.
Then I changed the loft by one degree to 13 and you can see the comparison to my own driver below: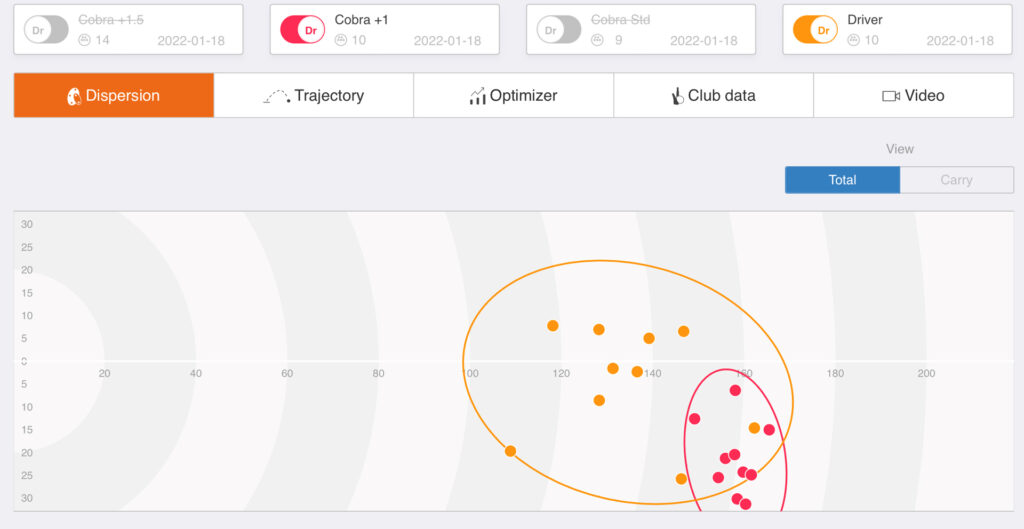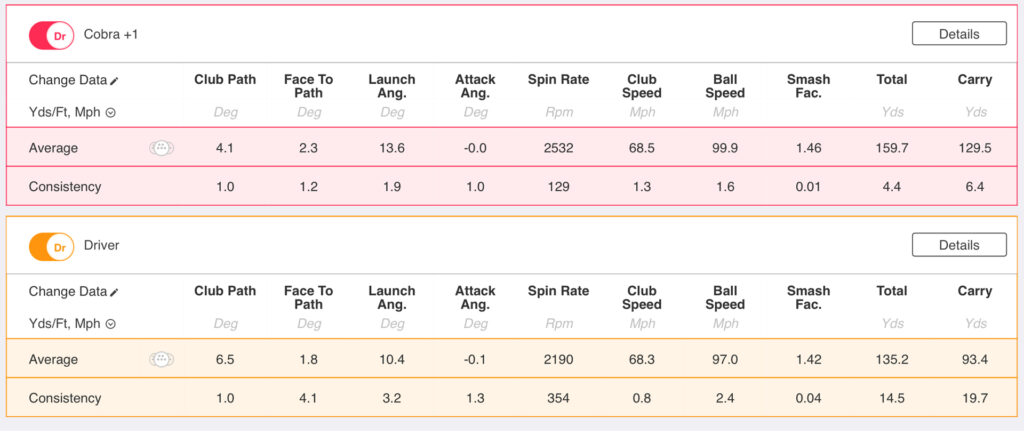 Unsurprisingly my launch angle increased again, as did my spin rate and due to those two factors, I was able to generate a much more consistent shot with a gain of over 25 yards on average. I was seriously impressed.
I then upped the loft one more time to 13.5 degrees but this produced a more dispersed and shorter drive, although the figures for spin rate and launch angle were higher.
You can see the full comparison in the video review above.
Overview
As mentioned previously, this is just a first look with some data insight. We'll be getting the LTDx Max driver out on the golf course soon. But it's safe to say that I was really impressed with how the COBRA LTDx Max driver performed on the driving range and if I can consistently gain over 20 yards on my drives, then I'll be definitely looking to invest in the new LTDx Max when it's released in February.
All LTDx products are available at retail and online from February 11, 2022. For more information, visit www.cobragolf.com
More Equipment