Bushnell Golf have unveiled their new and best-ever Golf GPS Watch the ION ELITE, the first-ever to feature Bushnell's patented slope technology
Bushnell Golf prides itself on providing easy-to-use distance measuring devices for golfers of all skill levels, and the ION ELITE delivers the simplicity and convenience golfers are looking for in a Golf GPS watch.
Designed to meet the ever-changing needs of golfers wanting wearable DMD's (distance measuring devices), the feature-packed ION ELITE includes a quality and highly responsive colour touchscreen display, Slope compensated distances to provide golfers with Bushnell Golf's trusted accuracy on the golf course and comes preloaded with 38,000+ courses around the world.
Bushnell Golf ION ELITE look
The ION ELITE'S built-in Slope feature offers more precise compensated distances to account for a hole's incline or decline providing golfers with even more precise yardages. A clearly visible blue surround is shown on screen to clearly inform the golfer that slope distances are calibrated and being displayed. Slope Technology can also be simply disabled to make the ION ELITE legal for tournament play.
The sleek, modern design and durability of the new ION ELITE allow it to also be worn as an eye-catching everyday timepiece with a visual clock face off the golf course.
Bushnell Golf ION ELITE on the course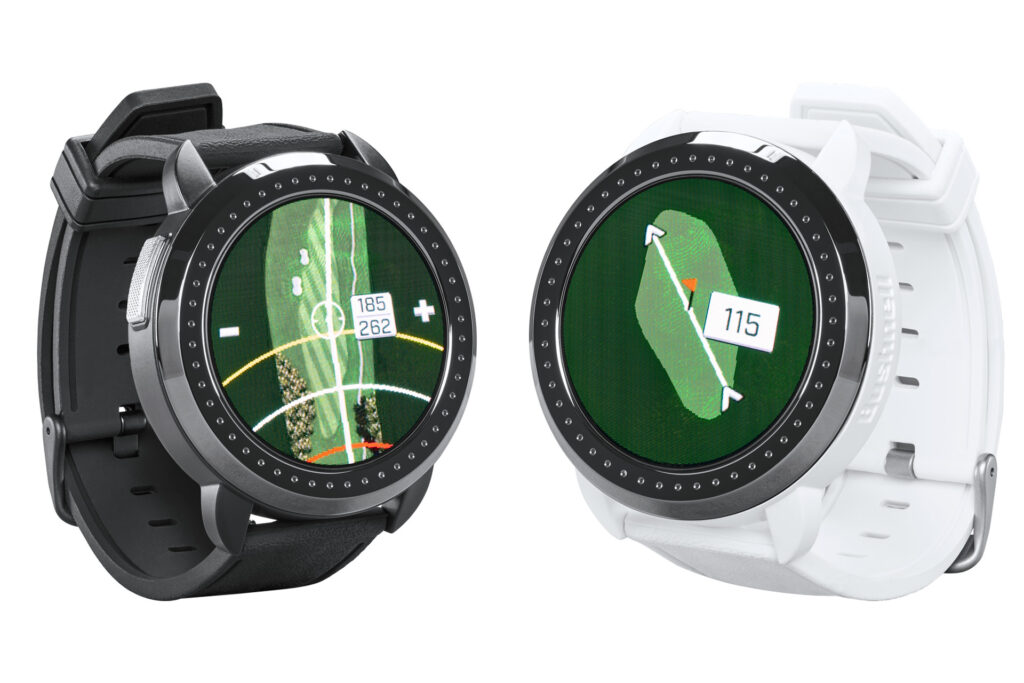 On the course, golfers can also enjoy the ease and convenience of getting GPS-provided distances with the ION ELITE. It features large, easy-to-read front, centre and back distances, GreenView with movable pin placement and GreenView which provides accurate distance based on a golfer's line of play. HoleView is another additional feature which comes as standard with the ION ELITE. A simple tap provides access to a visual layout of the current hole in play allowing you to understand what lies ahead for blind shots or doglegs.
"The ION ELITE is ground-breaking and enhances our GPS portfolio. This best-in-class, wearable device is part of our 25-year continuation of producing the best electronic measuring devices in the market." said Darren Bragg, Bushnell Golf Commercial Manager EMEA.
The feature-packed ION ELITE also offers golfers long battery life (12+ hours), a shot distance calculator, and the ability to get up to six hazard distances per hole.
The ION ELITE Golf GPS Watch comes preloaded with 38,000+ courses, has auto course recognition and automatically advances from hole-to-hole.
Available at retailers and online from September 1st, the ION ELITE Golf GPS watch comes with two colour options (Black and White).
Bushnell Golf ION ELITE features:
Bushnell Golf's Patented Slope compensated distances
Colour Touchscreen Display
Dynamic Green Mapping (Distances are shown based on golfer's line of play).
GreenView with Moveable Pin Placement
Hole Maps with Shot Planning
Auto Course Recognition
Auto Hole Advance.
Scorekeeping with Statistics
Easy-to-read front/center/back distances.
Shot Distance Calculator.
Over 38,000 Worldwide Courses Preloaded.
12+hrs Battery Life.
FREE Bushnell Golf App included with purchase
RRP - £199 (€239)
Find out more by visiting the Bushnell Golf website here.