Darwin Escapes Managing Director Lindsey Esse spoke to us about her vision for Dundonald Links and how she has helped to create a golf destination where everyone is welcome.
In November I was invited to the grand opening of the new Dundonald Links clubhouse and accommodation. The results that I saw were part of a £25 million investment from Darwin Escapes who had bought the club from Loch Lomond Golf Club in 2019. You'll see from my review that I was pretty blown away by what I saw, something so far removed from the portakabin I had visited in 2007.
After a very comfortable night staying in one of the new onsite lodges, I had the opportunity to speak to Darwin Escapes Managing Director Lindsey Esse. Her passion for every destination in the Darwin Escapes portfolio was clear to see but it was Dundonald Links that I was particularly interested in talking to her about.
The potential of Dundonald Links
We started by talking about her first impressions of Dundonald Links, where she saw so much potential> Especially in the women's side of the game. She recalled her first visit:
"A lot of places I've been to and had the privilege of playing, you see that there hasn't been the investment in the women's side of the game. When I first came to Dundonald Links, I couldn't buy a women's polo shirt. There was no women's clothing at all. And I said, "why?" and I was told there wasn't the need for it.
"I said there isn't the need, because you don't market it or publicise it."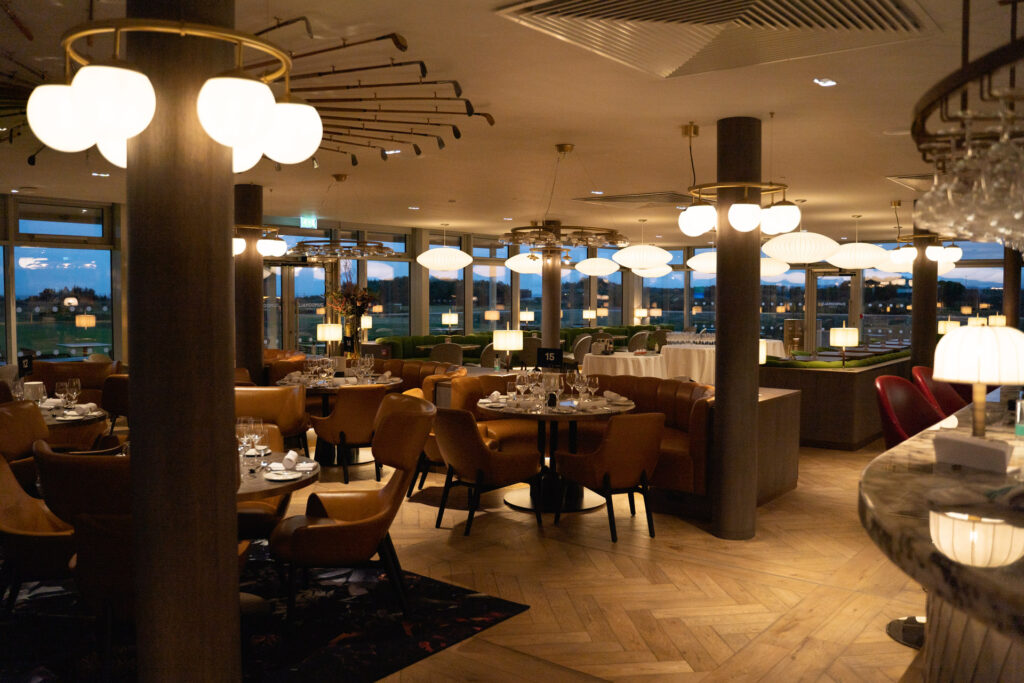 Esse's attention to detail is everywhere to be seen and you really see that there has been a lot of thought put into every aspect of the new clubhouse. She worked closely with Jim Hamilton, Creative Director at Graven, a local design agency. Esse believes that although she has made sure there has been a focus on female aspects of the building, it's a place that is attractive to all and a beautiful place to spend time.
Why the Canny Crow?
The restaurant in the clubhouse is called the Canny Crow and was named by club manager Ian Ferguson. Esse explained:
"We wanted to have a meaning and a purpose. The fact that the crows here do go in your golf bag, can unzip them and take things out. That includes golf balls on the fairways, which only happened the other day. It was quite unbelievable to see a guy running down the 18th, trying to catch the crow, who had the golf ball in its mouth!"
When building the clubhouse Esse told me that panoramic views were what they wanted first and foremost. The Canny Crow definitely offers that. When you go out onto the balcony you can see the driving range and putting green as well as the 1st, 9th, 10th and 18th holes. Their second priority was to create different destinations within the restaurant area.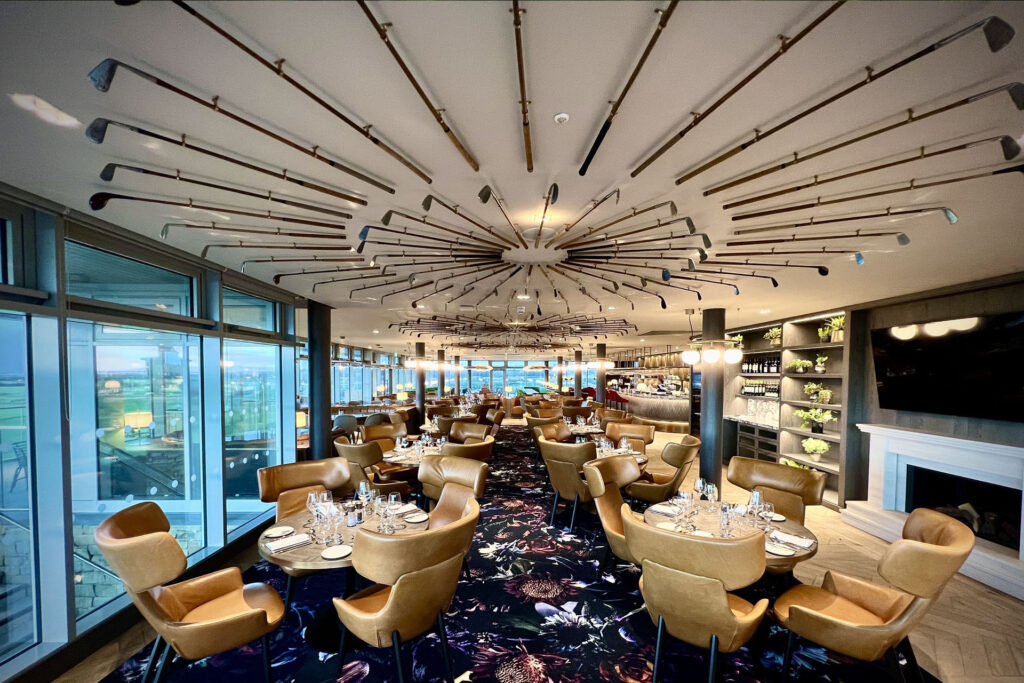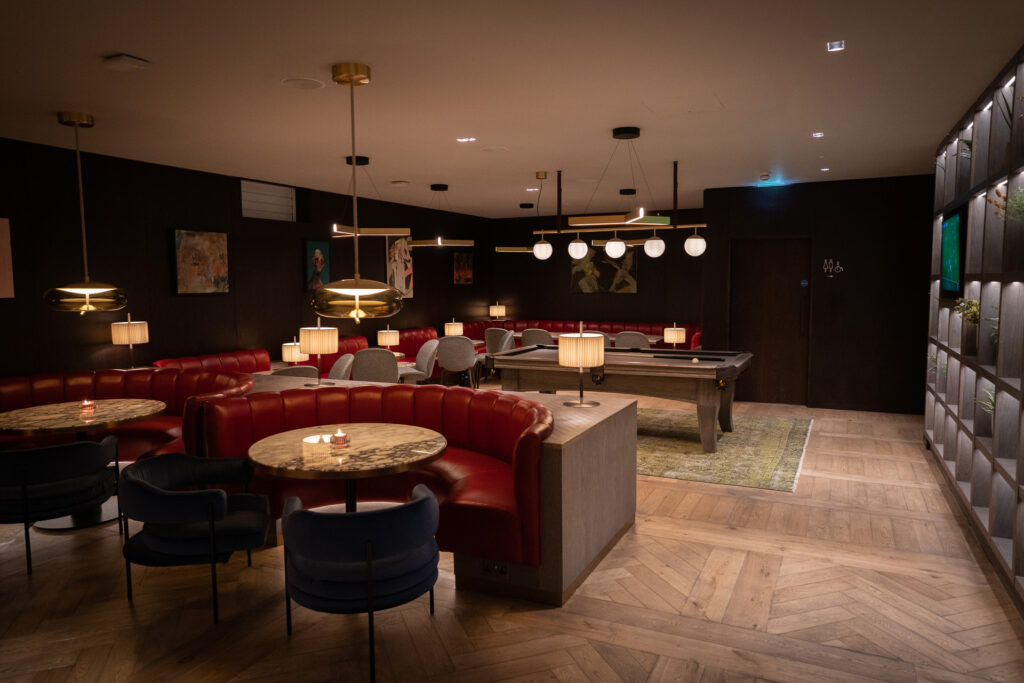 She explained in more detail:
"Where we were last night, looking over towards the halfway house, it could be a bit more formal dining, whether that be for events or in the evening, or in the daytime, you can feel very special. The area looking over the ninth is very much more informal, you can come in and have breakfast, coffee, lunch, evening meal, but a bit more relaxed.
"We then have what I call the red and blue area where we've got the pool table. It could be people booking out booths, having a small gathering, where you can play pool with your friends or family. This area can also be booked out.
"It was about accessibility, something for everybody. So, you shouldn't have to feel it's stuffy and it's a golf club. It is about relaxed, informal, but formal if you would like that as well."
Esse also told me that it was very important to make sure that the lighting was right and they worked on this with Graven to create the feeling of bringing the golf course into the building.
Attracting more women to play
One of the biggest changes at the club, apart from the structural work, is the fact that there are no longer members. A move they hope will make the course and facilities more accessible. They are already working hard on their Junior Academy. Their next move is to attract more women to play, Esse had personal experience of playing links golf:
"I felt very intimidated by playing links golf courses, and it's about how do we break down those barriers to say, actually, you can play it. You know, it's tough when the winds blowing and, like today, with the rain, but actually, you can overcome that. It's just how we approach women to say you can play in these conditions. That's really what it's been about for me, ever since we bought Dundonald. I love the course, I can play it, not necessarily great every time, but it's that enjoyable factor and getting others to experience it."
What about the other golf courses in the Darwin Escapes portfolio?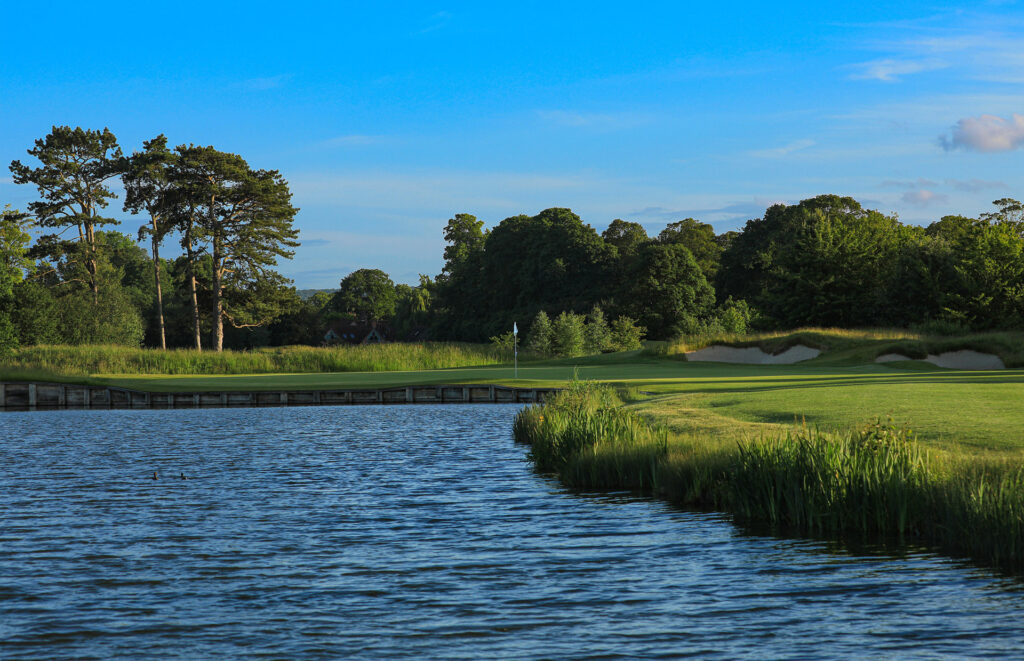 "We have three golf courses under the umbrella of Darwin Escapes. They're very different courses to play with different challenges, particularly with the weather, whether that is from the River Thames at The Springs in Oxfordshire, to good old Yorkshire weather at Kilnwick Percy. The great thing is they're all playable all year round.
"Unlike Dundonald, The Springs and Klinwick Percy have members there as well. We have a number of very passionate women members who really have invested in the courses. Over the last three years, we have attracted a lot of new women golfers and younger women as well.
"It's important to me to be involved in that area too. I don't play as much as I would like to, but I just think it's good to be seen out there as well. To play the courses, I get to feel that experience and am able to communicate that to my teams. As Managing Director I am very hands on, that's key for me, and we have quite a flat structure at Darwin Escapes. So, if I were to play and it's not playable, then I am able to communicate that directly with the team."
A go-to golfing destination
It's safe to say that the future looks bright for Dundonald Links and is the perfect destination for those looking to play a number of different courses in the area. Esse was keen to add that they are part of a local network of golf courses that they want to support as well.
A highlight for 2022 will be the return of the Trust Golf Women's Scottish Open in July, as Dundonald firmly cements its name as a go-to golfing destination.
Find out more about Dundonald Links by visiting their website here.