Editor Emma Ballard visited Stowe School to meet golf scholar Chanel Fontaine-Geary to talk about golf, school and her ambitions for the future.
Chanel Fontaine-Geary is the inaugural girl golf scholar at Stowe School in Buckingham. She joined the school in the 3rd form when she was 13-years-old. Now 17 and in her first year of Sixth Form, she has her sights set on reducing her handicap and turning professional.
Women & Golf Editor, Emma Ballard, got an exclusive tour of Stowe and spent the afternoon with Chanel and resident PGA Professional Andrew Hancox. The school boasts a brand new 9-hole golf course, which can be turned into 18 holes, as well as a new clubhouse and state-of-the-art golf studio with Trackman and GASP Systems.
As well as offering scholarships, Stowe has a bold vision, Change 100, to raise £100 million for 100 fully-funded bursaries, forever, to provide access to a Stowe education and financial assistance to children from less-advantaged backgrounds to celebrate the School's first 100 years which it will celebrate in 2023.
Chanel as the first girl golf scholar and Stowe with Change 100, are both working hard to #BreakTheBias when it comes to what girls can achieve in golf and to make sure that anyone can access a private education.
Here we speak to Chanel about golf, Stowe and her ambitions for the future.
How did you get into golf?
I come from a long line of female golfers in my family, my Great-Grandma, Nan and Mum play(ed), so it was a really natural progression that I would play and enjoy the same golf club that they did which is South Beds Golf Club. Where I am the current Ladies Champion.
I think I first picked up a club at three years old. I've just always played, it's just a natural thing to me, I couldn't imagine not playing golf. As a junior, I played in events like the Wee Wonders in Scotland to gain experience and play some amazing golf courses. I ended up doing quite well with U.S. Kids events, which meant I got to go to America and play a shortened version of Pinehurst. It got me really excited when I saw Michelle Wie's picture on the wall there.
I've been to so many Solheim Cups. When you're younger and you get to watch those players, the more they become role models and the more I wanted to do what they're doing. That's been such a motivator to where I am now playing off +1.
What does being the first girl golf scholar at Stowe mean to you? Is there any added pressure?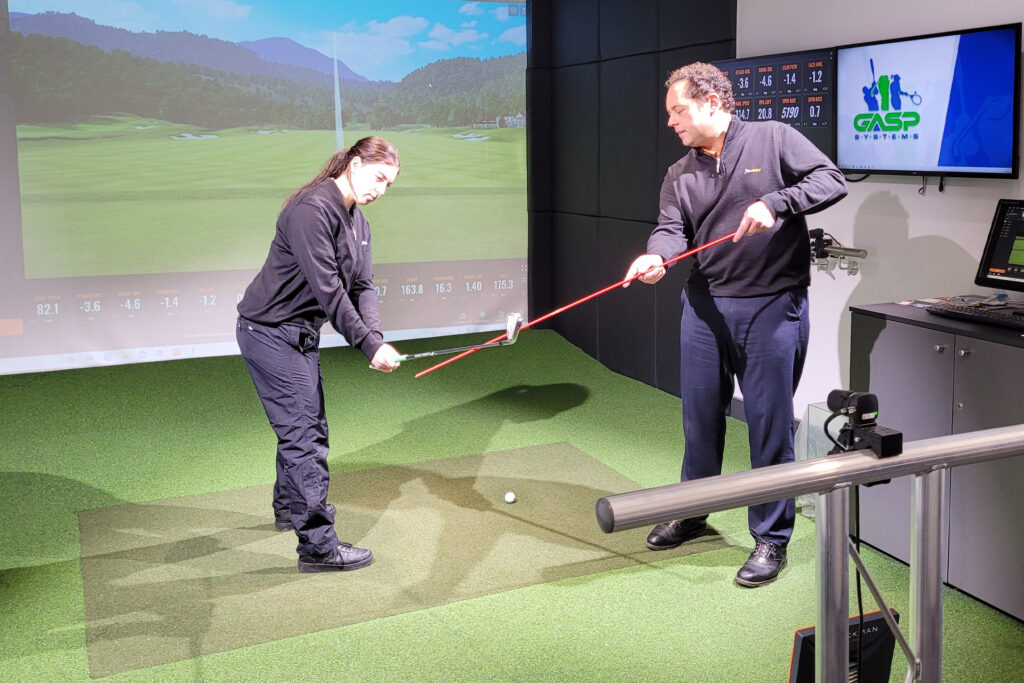 I'm proud to be the first girl golf scholar and think it's really quite cool! The pressure is there when it comes to differences because the other scholars are boys. We're friends but I always want to try and match them, hit it as far as them, hit off the same tees. All of which has really benefited my game. I was nervous when I first started but that's gone now.
I'm definitely trying to influence other girls at Stowe to play golf. I like playing with the boys, but it would be good to have a female friend there too. I believe it's really important to be a good role model and show other girls in the school that golf could be a sport for them to play.
How do you mix golf with your everyday school life at Stowe?
Now I'm in Sixth Form, things are a little more flexible as I have free periods. For example, I finish at 1 pm on a Thursday. Normally I'll head to the golf course and try and get nine holes in before my studio lesson with Andrew. Obviously, if I have homework, that will take priority before my lesson.
I pretty much play every day, apart from Wednesday when I'll try something different like football, or sometimes I have a different sports match on a Saturday. If I'm here on Sunday, I'll go off and play a round at midday.
There's a real emphasis at Stowe that it shouldn't be about playing golf seven days a week. When I joined in the third form, it was emphasised that it was really important for me to develop other athletic skills, play team sports and play different types of sports where the ball moves itself. I've become a little more specialised as I've become older.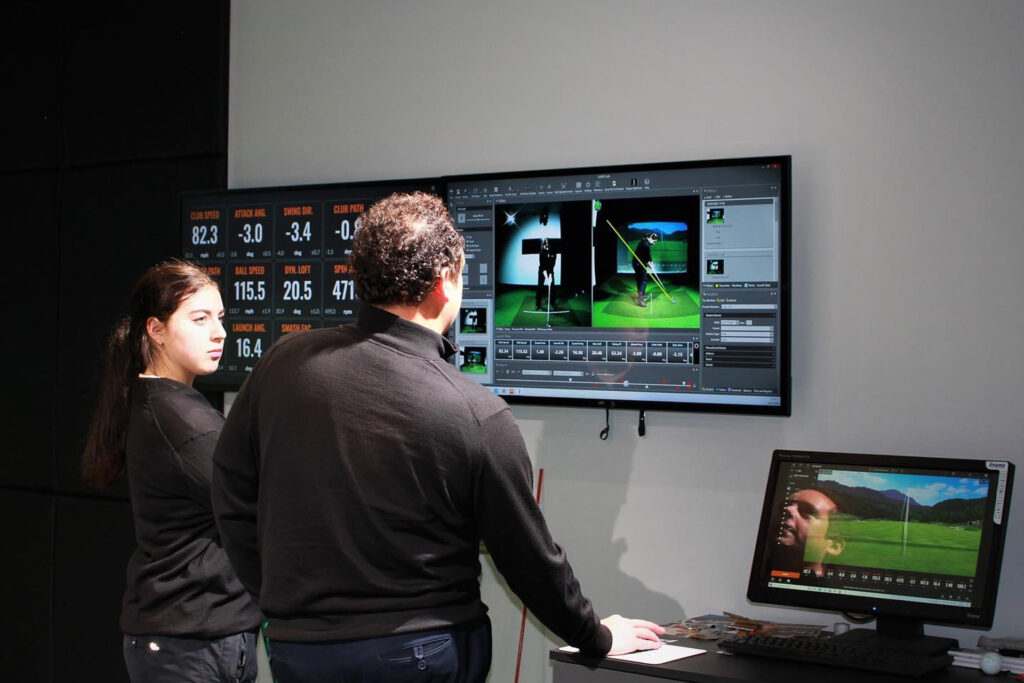 Tell us more about the strength and conditioning training you do at school?
I've had a bespoke training programme put together by Andrew and the trainers here at Stowe. I'm able to use the gym at any time but I do enjoy Wednesday lunchtimes the most, which is a session just for girls.
I'm also going to be having a session with Dr. Mark Bull soon, as I missed the last one due to having to isolate. I'll be having a biomechanical screening. This is very fundamental to the coaching philosophy that Andrew has here at Stowe, understanding the how and why someone moves the way they do, so you can work on long term development.
How do you juggle everything?!
It's all about your time management. It's obviously a priority for me to make sure I get my schoolwork done. If I'm away at a competition, I just take my school work with me. There's a lot of free time when you're at competitions, so you get plenty of time to get your work done.
If I were struggling, I could email my teachers and they would put on clinics for me, they would help me out or we could use Microsoft Teams and they could do a lesson with me in clinic times. I don't think it's difficult to manage. Obviously, it gets more stressful during exams as the season picks up around that time too. I just have to plan my time really well.
What do school golf matches look like?
We play a lot of all-boys schools and with the sport being male-dominated, I don't often play against many girls. Covid changed this a little but normally the format is match play, occasionally it's greensomes, over 18 holes.
It really depends on the competition as to which tee I play-off. Sometimes it's the red forward tee and other times it could just be one tee forward of the boys playing off the white tees.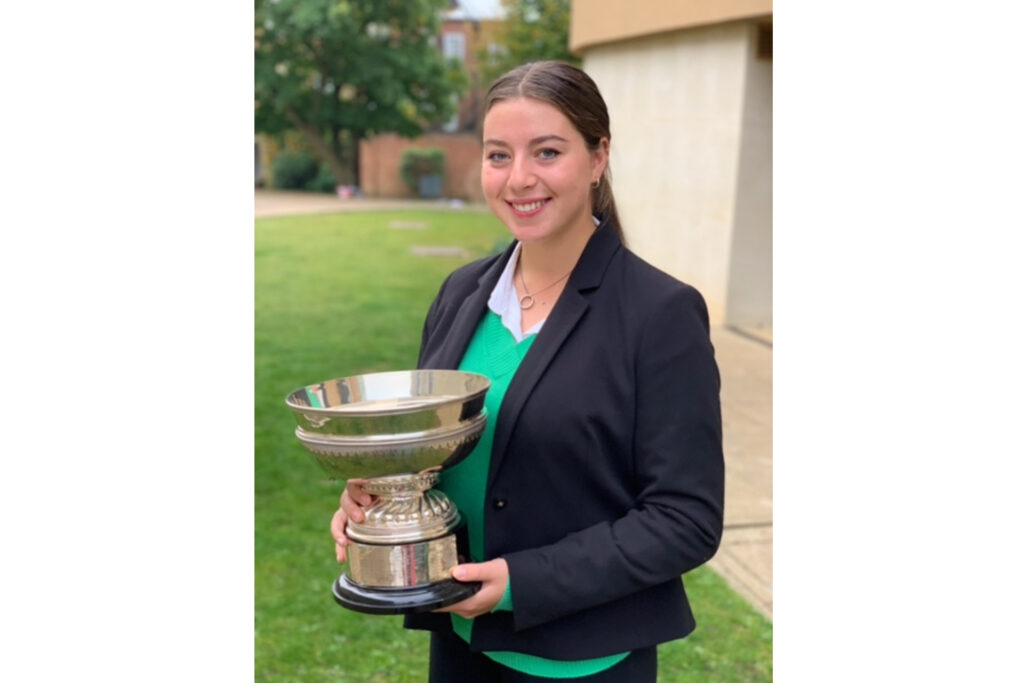 Who else do you play for apart from Stowe?
I'm Junior Captain of Bedfordshire County and have won the Junior Championship a couple of times. I'm also a member at Woburn Golf Club where I won the Junior Championship last summer. I also play for their scratch team.
What's your proudest moment so far?
My proudest achievement so far was winning the Welsh Faldo Series Championship at Rhuddlan Golf Club. I wasn't expecting much but managed to go three rounds and shoot six-under-par, which is the course record.
You got to play the LET Access Santander Golf Tour Barcelona at Real Club De Golf El Prat last year. Tell us about the experience?
It's a really amazing golf course. I love it and I really want to go and play there again. When you're with all of the professionals and you see how they hit it, there isn't actually a massive difference. But the difference is they know the pace of the greens, their short game really comes in to play and their course management is better.
The pros were all really lovely and friendly. When I played with them, they would talk to me and help me out and I made a friend. I didn't find it too intimidating, I was there to have fun and see how well I could do. I focused on my own game. I did get a little over-excited after the first round, so I need to calm my nerves down in those situations but it's all a learning experience.
Do you have a favourite golf course that you've played?
I think that my favourite is Royal Birkdale. I like links golf courses even though my actual golf game is probably more suited to a parkland course. I just love links golf.
What are your ambitions for the future?
By the time I'm 18 I'd like to be playing off plus three. I want to be shooting three or four under consistently. I don't want to get amazing too young, I want to peak at the right times.
If I could win the AIG Women's Open, the U.S. Women's Open and all the majors, I think that would be pretty much my goals, hopefully, multiple times! But if I could just play in the AIG Women's Open once then that would be a dream come true.
We'll be checking in with Chanel later on this year once the season gets started and there's also be a promise of a round of golf at Stowe in the spring, so watch this space.
To find out more about Stowe School please visit their website.