Editor Emma Ballard reviews Peter Alliss: Reflections Of A Life Well Lived. A book Alliss was working on before his death in December 2020.
When you think of golf, and in particular golf commentating, your thoughts most likely pull up Peter Alliss – the 'voice of golf'. Throughout my lifetime Alliss was very much the constant voice that I would hear when watching Open Championships, battles for the green jacket and many other iconic golfing moments.
But how much did I really know about him? I have to confess that it wasn't much. He was already in his 50s when I was born, so his playing career was behind him. When listening to him I could appreciate that he was extremely knowledgeable about the sport and was clearly very well-connected, but I didn't think much deeper than that.
When he died suddenly at the age of 89 in December 2020, I was saddened at the thought that we wouldn't be hearing his thoughts and voice anymore. Admittedly his sharp wit and fantastic timing had slowed with age but he still had so much to contribute to the golf conversation.
Before his death, he had been working on his final book with esteemed golf writer Bill Elliott, Golf Monthly Editor at Large. Alliss had obviously intended to see it through to publication but with his passing, his wife Jackie and Bill took on the responsibility of making sure this book could be enjoyed by golf fans across the world.
Sit back and listen to the 'voice of golf'
Reflections On A Life Well Lived isn't so much an autobiography but a book that charts Alliss' thoughts and 'reflections' on various parts of his life.
I have to admit that I found the book hard to put down as it gave such a fascinating insight into his life. You really can't appreciate how many of the golfing greats he had the pleasure of spending time with and, in some cases, competing against.
Throughout the whole book, I felt as if Alliss was speaking the words to me, which made the stories more vivid. It was also clear, even from the first few pages, how little I knew about the 'voice of golf'.
He will probably always be known for his commentary but he deserves to be remembered for so much more, including his role as a PGA Professional, his playing career, golf course design company, charity work and his overall contribution to the golf industry.
Did you know that he was the first President of the Ladies European Tour? I didn't.
The press release that accompanied the book summed up Alliss well:
He appreciated his good fortune at being able to make a living from his 'ramblings' while, at the same time, possessing an acute awareness of his rare talent for finding the appropriate word or phrase while winging it over a television picture.
His belief that sometimes, silence is more eloquent than words flies in the noisy face of much modern broadcasting. He was all the more appreciated by many of us for sticking to his conviction and for daring to hold firm in the face of changing convention. Peter is gone now, but the spirit of kindness in which he lived his life reverberates still.
Peter Alliss: Reflections Of A Life Well Lived book launch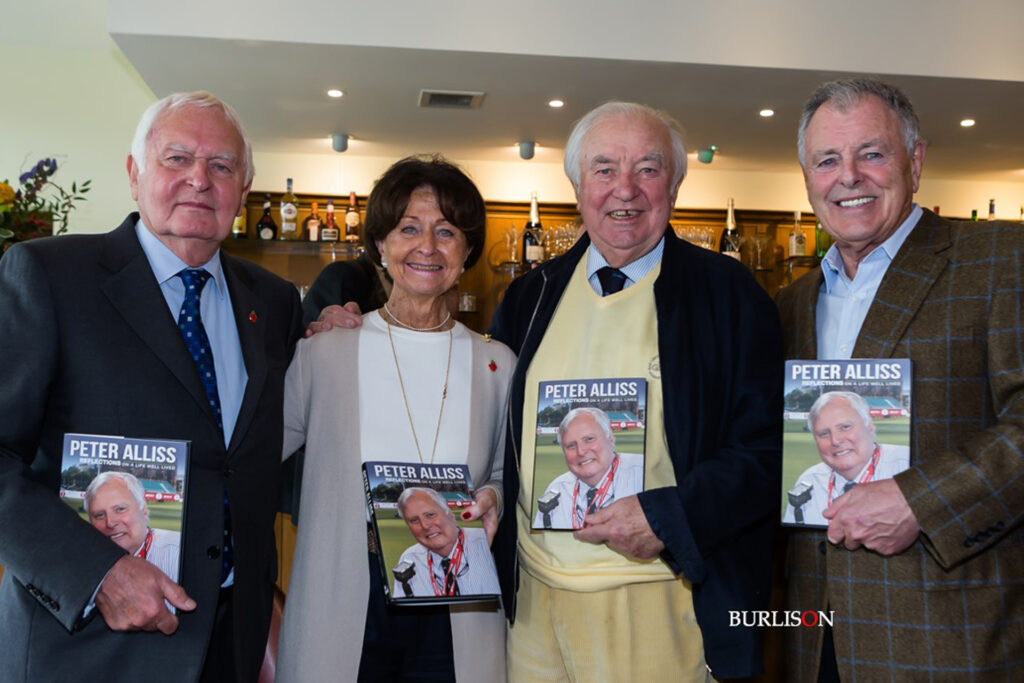 Whilst his wife Jackie has written a heartfelt tribute on the back of the book:
"The house is different now. It looks the same but quieter. We all miss the laughter and the sheer presence of him. I really don't think there was ever a day with him when he didn't make me laugh. He was a real romantic, leaving me notes in strange places all of which give me great comfort now.
"We had such an amazing life together, I never wanted anything else but him and I do believe he felt exactly the same way about me. I feel so very blessed with my memories and the laughter which I can hear in the house.
"My family have been a staunch support and my grandchildren keep me smiling through the tears. I was so blessed to have shared over 50 years with this unique and very special man."
This book is a perfect gift for any golf fan, not only to understand more about Peter Alliss but because it mixes in annecdotes, historical facts and a unique perspective on some of golf's biggest moments and biggest stars.
Women & Golf Reader Offer
The publishers are happy to offer readers of Women & Golf a special price of £20, plus free posting in the UK (RRP £25). Click on the following link for the Women & Golf Reader Offer - Peter Alliss: Reflections On A Life Well Lived and the book will be sent to you within 10 days. For any queries please contact the publisher at [email protected] The book is also available from Amazon and most major bookshops.