Mel Reid marries her long term girlfriend Carly Grenfell, in front of friends and family in Florida.
It's been the wedding we've all been waiting for since Mel Reid announced her engagement to Carly Grenfell in December 2020.
As one of the greatest and most likeable characters in women's golf, we're thrilled to see that they have finally tied the knot.
We don't have all the wedding details as yet but a picture has been shared by the happy couple's photographer Christina Karst on her Instagram. Where they are seen raising their hands into the air after marrying at the Clay Theatre in Green Cove Springs, Florida on Saturday, April 16.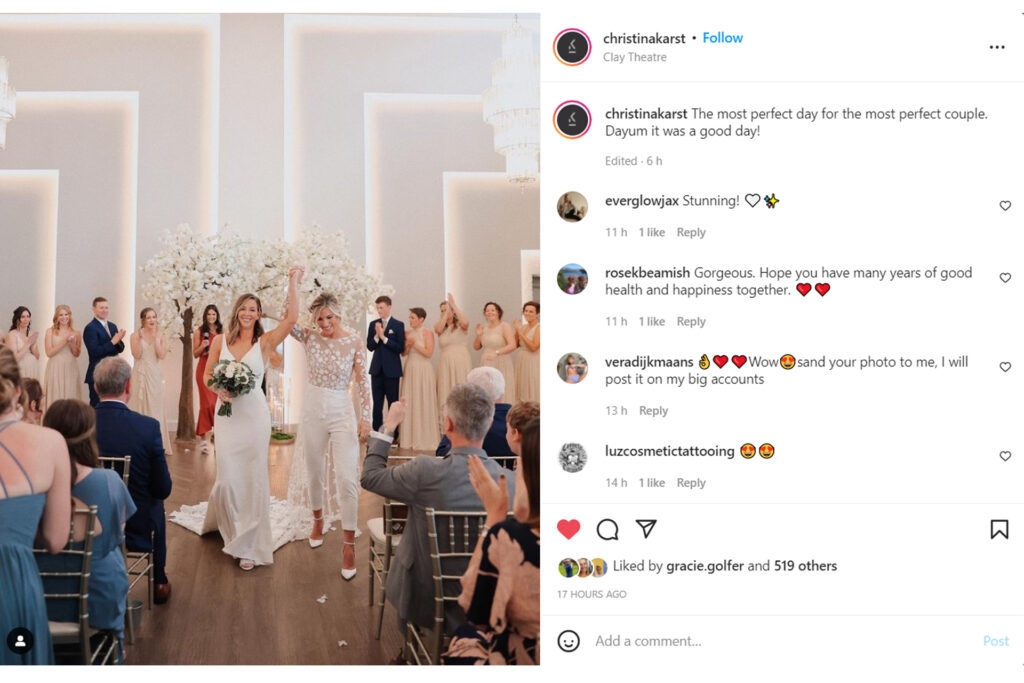 Getting engaged
Back in December 2020, the now 34-year-old announced on her Instagram that she had proposed to her partner Carly and that she had accepted.
Carly works on the social media team for the PGA Tour and a host of Mel's famous friends rushed forward to offer their congratulations, including LPGA mum and major-winner Michelle Wie and Solheim Cup star Suzanne Pettersen.
Meanwhile, Carly posted a similar photo saying "a normal start to 2020, a pretty messy middle, but the absolute best ending. finding myself at a loss for words still, but that was definitely the easiest YES of my life."
Mel turned professional in 2007 but didn't come out as gay until 2018.
She said she made the decision to go public about her sexuality in the hope that it would encourage others who were struggling with their identity to be proud of who they are.
"I protected my sexuality for a long time because I thought I had to in order to help my career and to get more sponsors," she told charity Athlete Ally.
"But then I started to wonder why these companies would want to sponsor me and have me represent them if I can't be my authentic self. There is only one of you in the world and you have one life, so be the best version of yourself and be proud of who you are. That's when you attract the right people around you to make you better, and ultimately, happier."
We'll update with more wedding details, when we get them but we're sending massive congratulations Mel and Carly!