How one woman has built a thriving women's golf community in London, where members can flourish both personally and professionally through playing golf.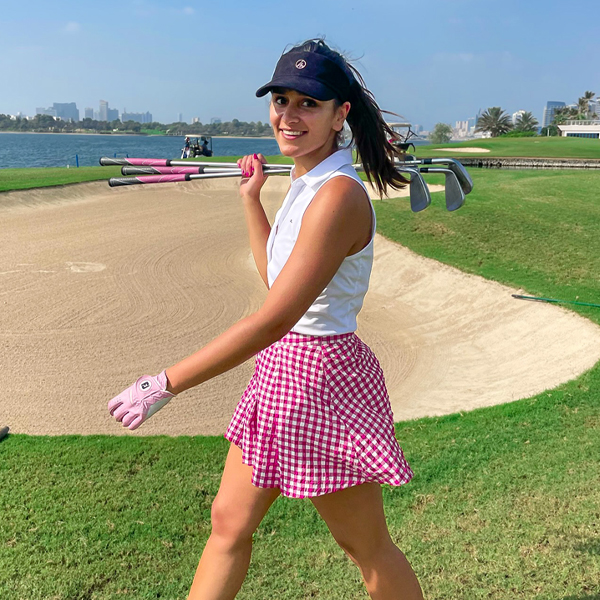 Caroline Shukla founded Skratch Women in 2021 with a mission to inspire, encourage and support inner-city women to enjoy the skill of golf for both personal and professional gain. Here she tells Women & Golf how it all started and how she is growing a thriving golfing community in London.
Dance was my passion growing up. I used to dance up to five hours a week and continued to do so into my early 20s. But after university, I moved to London and found that dancing as often and in the city was unsustainable. We often hear talk about golf being expensive, but dance classes in London could reach £25 a session and I just couldn't justify the cost.
Realising that dance was probably not going to continue all through my adulthood, I looked at other sports I had done in the past and that I could continue to do on a regular basis. Growing up I occasionally used to go to the driving range with my Dad and got a set of golf clubs for my 16th birthday. The gift encouraged me to pursue lessons during my last couple of years at school and was probably the first point which I felt a real spark with the game.
Upon moving to London I decided to book ten hours of lessons with Alex Cannon at Hersham Golf Club (now the pro coach at the Skratch monthly golf coaching event). Although I had clubs, I had never actually played on the golf course before and only ever experienced the driving range. Having regular sessions with a coach gave me the opportunity to get out onto the course, build up my confidence and nail down the basics so I could really start to enjoy playing. I quickly realised that this was the hobby that was going to stay with me for the rest of my life.
From that point on I really only ever played golf with someone I was in a relationship with because I didn't know any other young women who played golf, in fact, I didn't know any older women either. 
Lockdown in London
Fast forward to lockdown, I wasn't in a relationship, I didn't have anyone to golf with regularly and I just wanted to get out there and play! I thought to myself that there are 9 million people in London and there must be other women, like me, who play golf and want to enjoy it at the weekends. So, that's when I started Skratch Women.
When I started searching online for social groups in London, I came across Meetup.com during one of my Google searches and went to a couple of coffee mornings to see what they were all about. Everyone was so genuine and just looking to socialize and make new friendships in their areas. There's such a wide variety of Meetups available from pottery making, to football leagues, you can find almost anything on there, but at the time, there was no womens golf group!
As a result, I set up a social golf group on Meetup.com and made sure I associated a few things with the page – social, active 20s and 30s in London and cocktails which helps to recommend the group to members of the website with common interests.
A lot of the women who joined the group just found me through Meetup. By the time I got to 50 members in the group, only two or three of them were my own friends and most of the new members discovered Skratch Women through Google search.
What do Skratch Women events look like?
The group has attracted so many beginners which is such a positive outcome for the group because it shows there's an appetite for women who want to learn. Skratch is all about social golf. The events always involve some sort of food and drink and are often at popular London venues. The aim was to attract like-minded women who also live in the city and also want to enjoy all the fun things on offer here, but are keen to be active and enjoy the outdoors too. The formula for the events has been successful so far and I'm looking to continue to tie golf in with other fun activities in the future.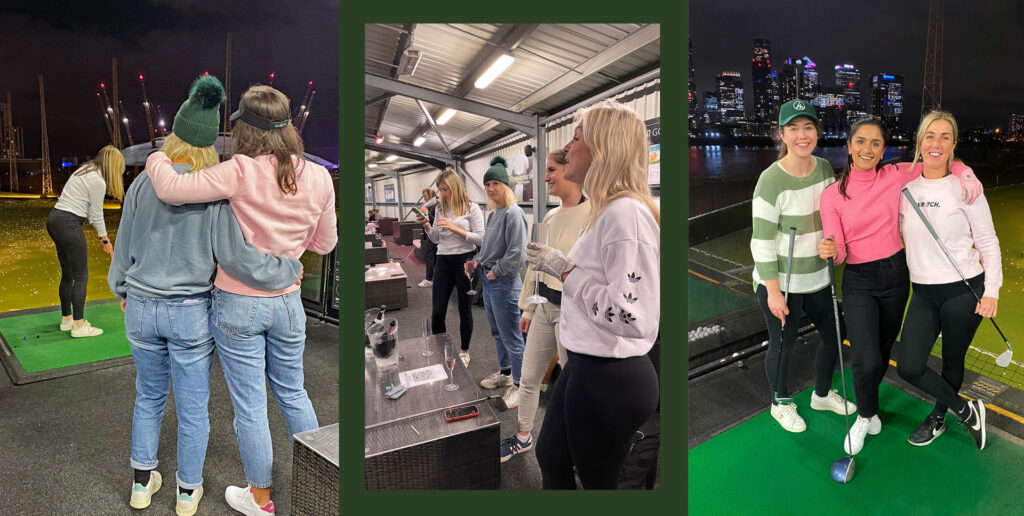 I held the first event in October 2021, which was the Drinks and Driving range event at Greenwich Peninsula Driving Range. Everyone gets a glass of prosecco, can hit some balls and enjoy the amazing views of the O2 arena and Canary Wharf, whilst chatting to fellow golf enthusiasts. It had such a great response it is now a monthly event in the Skratch calendar and I haven't played golf with boys since!
It's not just about the golf
I'll always put time in before and after the actual golf element of the events for women to get to know one another. I didn't want the group to just be about golf. It's an opportunity to bring together women with shared interests who might be able to build new friendships or professional relationships out of the community. These are not just the women that you're golfing with on a Sunday morning, but there the women you can get career advice from or enjoy a big night out on the town with!
There are three individual events that currently run on a regular basis. Drinks and Driving Range occurs on a weeknight from 7pm, The Beginners and Intermediate Group Coaching in Surrey at the weekends and our newest event which is a Cheese, Wine and Golf Night! in central London. We've also just launched a Learn Golf From Skratch programme which is an eight-week series hosted at Pitch London, an amazing indoor golf facility in the heart of Bank.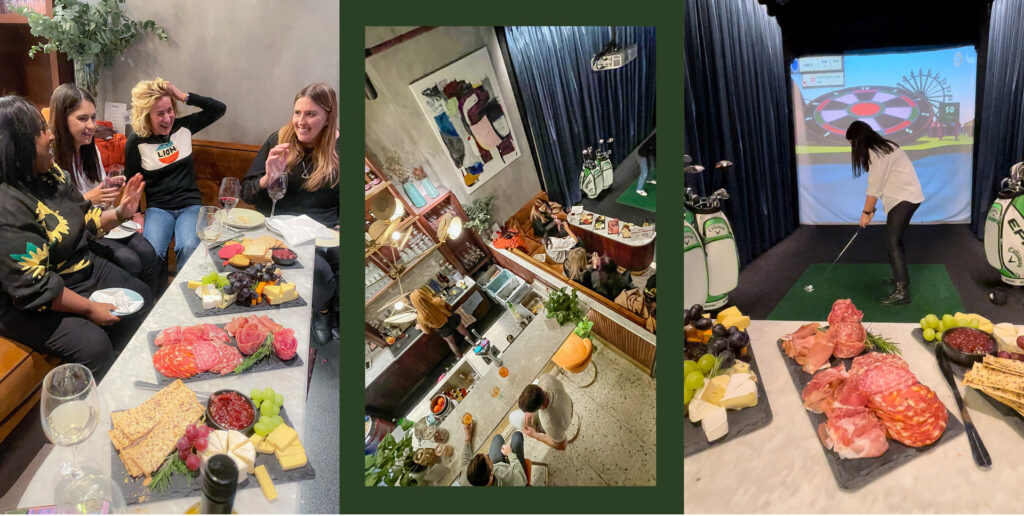 We have 198 members on Meetup and around 45 of those are regulars at the events. Interestingly of the 184, 83% classify themselves as beginners and that's someone who has never played on a golf course before. Within the group, 77% of members are also in their 20s and 30s.
Golf and dress codes
I have always been very conscious of the appearance of golf and the way it comes across from the outset. Particularly being from a professional fashion buying background, I think first impressions provided by dress code are super important in how people perceive someone or something.
The events never have a strict dress code. I don't want women to feel like there are too many barriers between them and playing golf. The way that you dress and the rules associated with the sport can be a massive obstacle. So at Skratch events, people can come wearing whatever they feel comfortable in. I think you can see from the Instagram page that there is so much variety in how people dress for events and that's what gives the group its personality.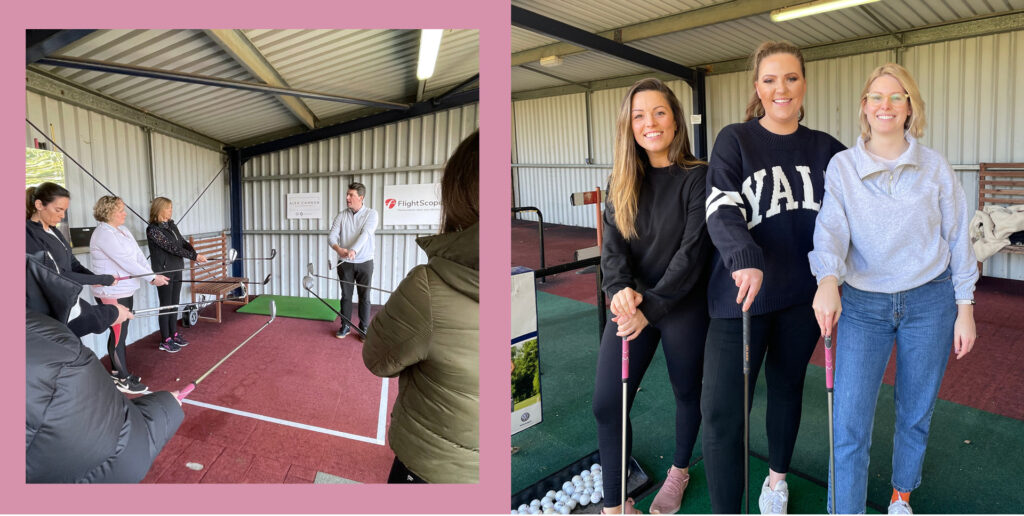 What's happening in the future for Skratch Women?
In the second half of this year, I am looking to work with women in business and help them use golf to benefit both themselves and their careers. There's quite a lot of women in London who I think could be using golf, not only for personal, physical, mental, and social wellbeing, but as a networking tool to drive their careers forward in the same way that a lot of men currently do. It's about equipping women with the ability and confidence to say 'yes' to those invaluable career opportunities and not feel they need to shy away and find alternative solutions.
I had two women come to one of my events that worked for a tech sales company, one of them had played golf before, and one of them hadn't. They both told me that they never go to the annual company golf day because they feel too intimidated to play, scared of embarrassing themselves and don't want to be the minority in attendance. Golf really is a fantastic tool for people in business, which is why it is still used regularly in industry, however there is a lot of work to do with the women, to ensure they feel they're on a level playing field.
Providing a supportive environment for women to learn the skill of golf is my top priority. I want to ensure that I am building an environment and community where women will eventually feel confident enough to say 'yes' to that golf day or enjoy an afternoon on the course with a client so they can grow themselves and that relationship to the next level.
To find out more about Skratch Women visit their website, view their events on Meetup and follow them on Instagram.