We had the pleasure of interviewing Corrine Binks; a 45-year-old avid golf from Doncaster, breast cancer survivor and all-round inspiration.
What was so clear when I was speaking to Corrine was her superpower ability to look on the bright side. To take what was a completely sh**ty situation and turn it into something that is so inspirational and so powerful. And I'm sure so helpful to anyone going through breast cancer.
Corrine's story
You might know Corrine as The Golfing Princess; her popular YouTube channel that's racked up more than 2,500 subscribers. Her vlogs cover everything from golf course reviews to playing after her second mastectomy.
Corrine was diagnosed with breast cancer in June 2020 – right in the middle of the COVID-19 crisis.
"There's never a good time to get diagnosed with cancer. But finding out and going through treatment during the pandemic was hard.
I didn't find a lump, but I knew something wasn't right. So I had it checked out and was diagnosed with breast cancer. The consultant told me my only option was a mastectomy, so three weeks later, I had my breast removed.
I was planning on having reconstructive surgery, but a change in the regulations meant I couldn't have it straight away.
A month later, my first question to the consultant was: When can I play golf again?
The recommendation was to wait three or four months. But six weeks post-surgery, I was at the golf club chipping and putting.
I used golf to track milestones in my recovery, starting with chipping and putting and working my way up from there. Eight weeks after surgery I hit my first driver and was playing a few holes just a couple of weeks after that.
There's no doubt that golf played a huge role in getting me through cancer treatment.
I hosted coffee mornings and "Saturday night live" on my YouTube channel. That sense of community and "normal" kept me going.
If I hadn't played golf, I would never have had that community or those friendships.
A second mastectomy and raising awareness
Almost a year after surgery, Corrine chose to have a second mastectomy. She made the brave decision for two reasons: for symmetry and to hopefully reduce the risk of breast cancer returning.
"Nothing can really stop breast cancer coming back," Corrine told me, "but having my other breast removed would reduce the chances."
So in 2021, Corrine had her second mastectomy.
Now fully recovered, Corrine is committed to raising awareness of breast cancer.
Over the past two years, during breast cancer awareness month, she's run successful awareness campaigns on social media, bravely showing her two mastectomy scars.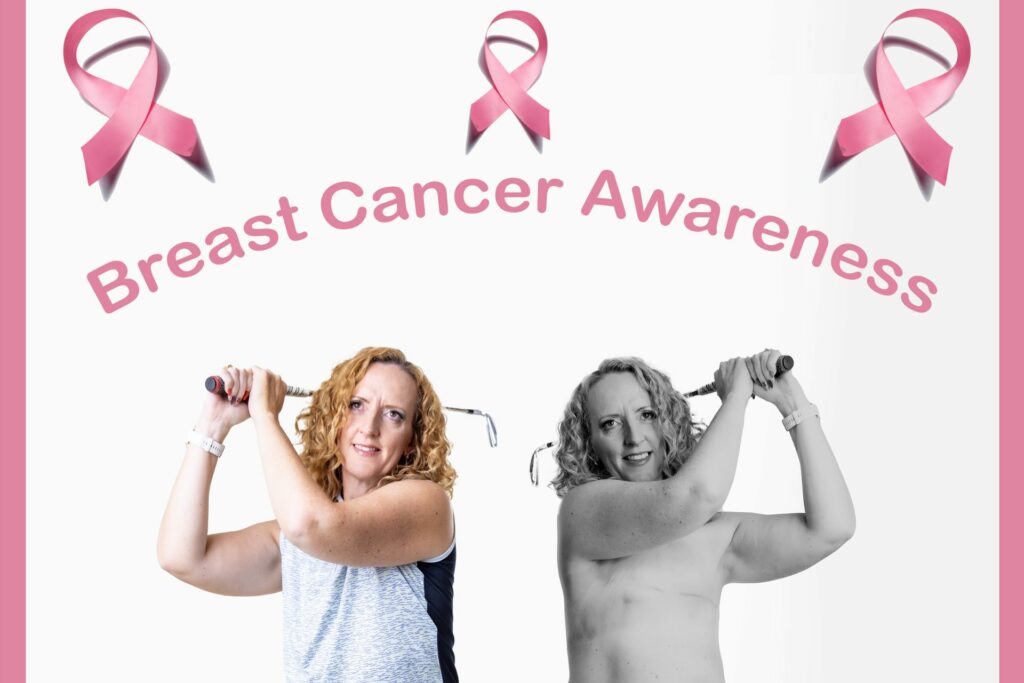 "I wanted my awareness campaign this year to focus more on life after cancer," she told me.
"Yes, it may have taken my boobs away, but it has left me with something far greater … positivity, the ability to find the good in things and people, and a real zest for life and living."
Corrine continued, "I've never been scared of getting cancer, but I was scared of finding out too late to treat it.
"Be vigilant. Know what is normal in your body, and if it's not right, get it checked out."
In a few weeks, Corrine is also taking part in a 100km charity trek in the Sahara Desert. In support of CoppaFeel!, the CoppaTrek! with Gi is a challenging, extraordinary and life-changing trek, all in the name of checking chests.
With Giovanna Fletcher at the helm, trekkers will take on Morocco's forbidding Sahara Desert.
If you'd like to support Corrine, you can make a donation on her JustGiving page.
Golf after mastectomy
This year, Corrine has definitely made the most of being back out on the golf course.
She's travelled to places like Scotland and Dubai, vlogging her way around some incredible golf courses.
And she told us that in lots of ways, her game has improved since she's been boob-free.
"Having no boobs makes it easier to turn. Even when you set up to the ball, there's nothing to stop your arms from being in the right place so I think I've got a better stance now."
If you're not a subscriber already, get following Corrine on her YouTube channel, The Golfing Princess.