Ruoning Yin becomes the second Chinese player to win on the LPGA, whilst Corey Conners wins a second Valero Texas Open ahead of The Masters
Twenty-year-old Ruoning Yin earned her first LPGA Tour victory at the DIO Implant LA Open after posting a one-under-par 70 round that was full of ups and downs. Starting the day with a two-shot lead, Yin made her first and only par of the front nine on one before filling her card with colour on holes two to 10. A birdie on two was followed by three-straight bogeys.
She turned it around right after with four-consecutive birdies that led to a front-nine 34, still two shots ahead of the nearest challenger. It wasn't until she made the turn that the Chinese golfer began to think about winning.
"I made a birdie on two, which is good. But after that I just made three bogeys in a row. Just some small mistake out there. And after five I just told myself, can't make one more bogey. I just switch a ball, and, yeah, four birdies in a row," Yin explained. "I started think about if I'm going to win or not a little bit. But after 10 and 13, I made two bogey out there and I said, no, you can't think about that no more."
After her tee shot on 10 found the right-side rough, Yin's second shot hit a tree making par almost impossible. She kept things even over the next two holes before shooting her last bogey of the day on 13, where she needed three putts to close out the hole. She hit another tree on the 14th but got a lucky bounce back onto the fairway that allowed her to make birdie.
Watch final round highlights from the DIO Implant LA Open
Throughout the round, and the entire week at Palos Verdes Golf Club, she said, it was Yin's putting that was both her doing and undoing, and keeping three-putts of the card – she had just four in four rounds – played an important part in her success.
"I think before first round I talk to my coach, said I don't know, should I trust the line or trust myself? And my coach just told me, you spend like five minutes on the green, read the line, and putt on the line. You got to trust it or you're just wasting time, yeah," she said. "I mean, for my game, I have a goal that cannot make three-putts, cannot make double bogey. After I hit the tree (on 10) I said, let's just make bogey here. Don't even think about make par."
Sitting two shots ahead of nearest chaser Georgia Hall after her birdie on 14, Yin made par on 15-17 and walked up to 18 green with just a one-shot lead after Hall closed the gap on 16. The English golfer's approach shot on 18 had the entire gallery convinced she would force a play-off for the second week in a row, but Hall was unable to sink the seven-foot putt for extra holes. Instead, Hall earned her second runner-up performance in as many events after losing in a one-hole play-off to Celine Boutier at last week's LPGA Drive On Championship.
"I was really happy just to be in this position on the weekend, especially my nine-under-par yesterday. Yeah, just really proud of myself again," said Hall, who broke the tournament scoring record during the third round with her nine-under-par 62. "Just really gutted not to at least get to another play-off. But a bogey-free round on the final day in tough conditions out there, so just on to the next one."
With her win, Yin become the second Rolex First-Time Winner of the 2023 season after Lilia Vu at the Honda LPGA Thailand, the second golfer from the People's Republic of China to win on the LPGA Tour following Shanshan Feng and the second-youngest player to win on Tour since Atthaya Thitikul won in Arkansas in 2022 at the Walmart NW Arkansas Championship
Hall's solo-second result is her third top-10 finish in four events this year. Two players finished in a tie for third, including five-time LPGA champion Hyo Joo Kim and UCLA alumna Patty Tavatanakit. Carlota Ciganda, who shot an impressive eight-under-par 64 on Saturday and five-under-par 66 on Sunday, finished tied fifth alongside Rolex Rankings World number two Nelly Korda.
First Epson Tour victory for Gigi Stoll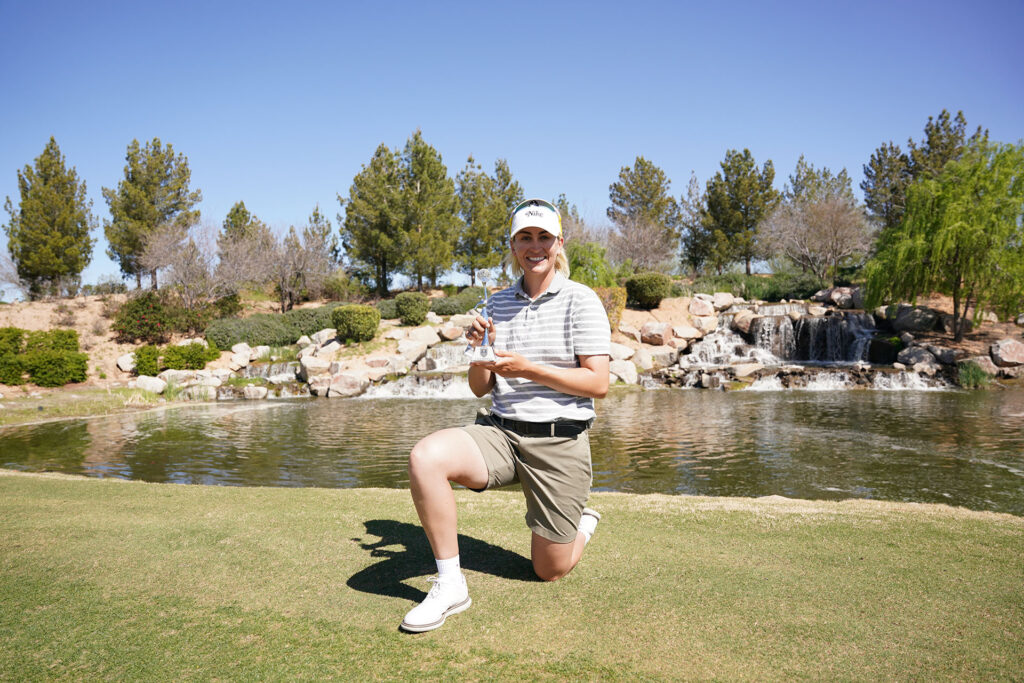 Report by Epson Tour
Former University of Arizona Wildcat, Gigi Stoll took home the Casino Del Sol Golf Classic trophy at the course she played during her collegiate career, Sewailo Golf Club.
Stoll held her second-and-third round lead to win the tournament at 14-under-par. A final-round 68 sealed the deal for the Oregon native, who secured her first Epson Tour victory on Sunday.
Throughout the week, Stoll talked about her experience at Sewailo Golf Club and said a strong front nine is the key to a good finish. The former Wildcat proved that to be true as she carded five of her seven birdies before making the turn.
"I started off really good with a birdie on the first two holes. I think that definitely helped the momentum starting the day," said Stoll. "I kept it going a little bit throughout the round and it got a little rocky, made a couple bogeys, but I never really felt out of it."
When Stoll got to 17, the pressure was on. What looked like a four-shot lead throughout a majority of the back nine diminished to a tie and possible playoff.
"I had to make a birdie on that hole to get ahead by one," said Stoll. "I pretty much almost holed out the shot; I only had a little tap in. And then I just played 18 really smart."
Coming down 18 and right before she made the winning putt, the 26-year-old took a hard look at the leaderboard. While some players try to avoid looking at all costs, Stoll often does and uses it as a reminder of what she needs to do.
"I definitely peak at the leaderboard all the time," said Stoll. "I like to know where I'm at when I'm in a tournament, no matter where I'm at. It's nice to know what I have to do. I'm the type of player that likes to perform under pressure, so I thought being in the position and knowing where I was only made me more confident in what I needed to do."
Just one shot behind Stoll at 13-under-par was Natasha Andrea Oon, who secured her second straight runner-up finish in two weeks. Oon carded seven birdies on the day and was just short on a birdie putt to close out the round and force a playoff with Stoll.
The 2023 Epson Tour rookie has made her name known on the tour early in the season and doesn't plan on losing the grip on her game anytime soon. With three weeks off, Oon will spend time with her people, working on improvements and getting ready to come back for a win.
"I just want to work harder. This tells me that I'm doing good, but I'm a very self-critical person and I know what I need to work on," said Oon. "I can't wait for the off weeks to see my coach and my people. It makes me feel really good that I can go home with a good result."
Rounding out the top five were Lindsey McCurdy and Clariss Guce sharing third place at 12-under-par and Daniela Iacobelli in solo-fifth place at 11-under-par. McCurdy and Guce both signed for a final round 66, while Iacobelli finished 2-under on the day. A total of 40 players finished the tournament at even par or better.
The Epson Tour returns on April 27 for the Copper Rock Championship in Hurricane, Utah.
Second PGA Tour victory for Conners
It was a second PGA Tour victory at the same event for Corey Conners as he won the Valero Texas Open by one shot on Sunday.
The Canadian, carded a bogey-free four-under-par final round on TPC San Antonio's Oaks Course to finish on 15-under-par, one shot ahead of American rookie Sam Stevens.
Conners began the day one shot behind 54-hole leader Patrick Rodgers. Birdies on two, six and nine, was followed by a final birdie on par-four 15th where he holed a 20 foot putt.
The 31-year-old then made par on each of the last three holes to hold off the chasing pack and claim a second PGA Tour victory, with Sam Stevens his closest challenger after a final-round 66.
American Rodgers could only manage a one-over-par final round to finish in fifth whilst rookie Stevens made a 15-foot eagle putt at the par-five eighth and added another at the driveable par-four 17th. He then failed to make a birdie at the par-five final hole to force a play-off.
Having not won since the Valero Texas Open in 2019, Conners said:
"It was definitely a battle out there today, but I trusted my ability and thought about a lot of good shots I had hit previously in the week with certain conditions. It was definitely tough out there, but I'm really happy and proud of the way I battled."
Conners already had a place in this week's Masters, so he heads straight to Augusta with a lot of confidence:
"I think regardless of the outcome today, I was going to go into next week with a lot of confidence. I've been working hard and feel like things are rounding to where I want it to be.
"But getting the win here today definitely boosts that confidence a little bit. It's a place that I love to play and I'm really looking forward to next week. It's going to be great. Obviously got lots of confidence in the game."
This week is all about The Masters and with Tiger Woods already on the property, LIV golfers en route to shake things up and a battle around Amen Corner on Sunday looming. It's set to be an entertaining week.
Which other tours would you like us to report on? Drop us an email with your request here.