From giraffes and zebras to beer cans and shirt swinging - it's been quite the week on tour. Here's our round-up...
The Ladies European Tour's (LET) season opener saw Germany's Esther Henseleit retain her Magical Kenya Ladies Open title at Vipingo Ridge. The 23-year-old finished on two-under-par, just one stroke ahead of Spain's Marta Sanz Barrio.
Commenting on her second LET victory, Henseleit said:
"I played pretty good and holed some good long putts and I kept it together.
"I was shaking over the putt on 17 and I was shaking down 18 and especially that putt. I have been struggling with the putter over the last one and a half years so it is pretty cool that I holed that one."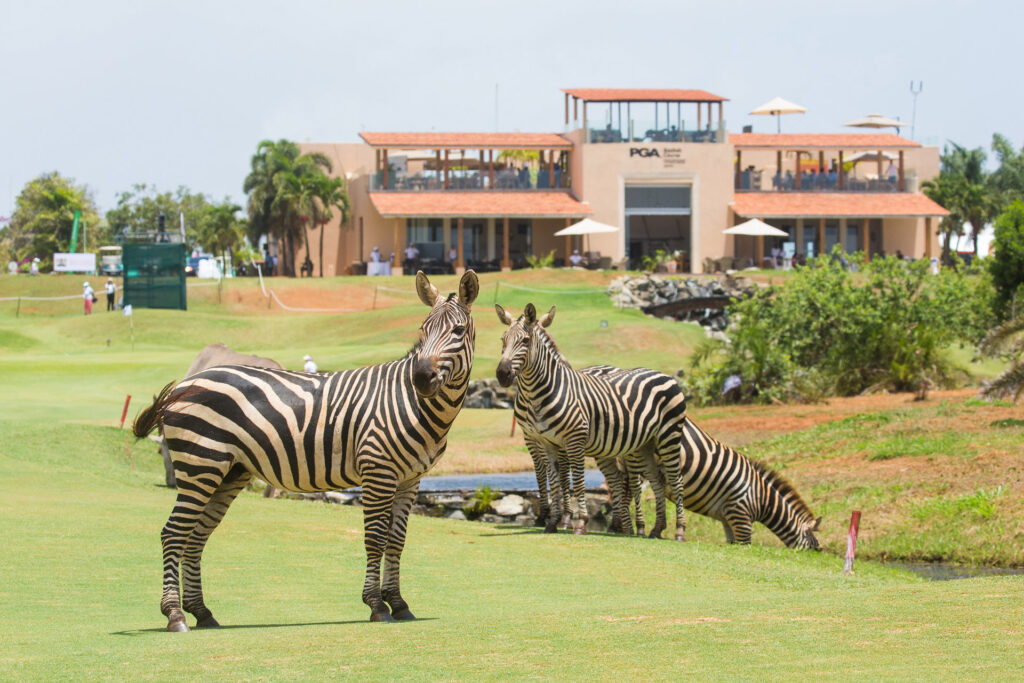 Sanz Barrio recorded her best-ever finish on the LET in second place. She said:
"I don't regret anything! I congratulate Esther because she saved a great par on 18 to make sure it wasn't a playoff and hopefully, I will give myself another opportunity to win.
"It is my best finish on the Ladies European Tour and I'm very happy with second place. I came to win and now that I have been even closer, I want to win. I'm very proud, it was the first tournament of the season, and I could not have played better."
The leader from the first three days, Linnea Ström, finished third on two-over-par, while German's Sophie Hausmann was fourth one shot further back.
Watch the final round of the LET Magical Kenya Ladies Open:
The LET returns on March 17 for the Aramco Saudi Ladies International Presented By Public Investment Fund.
Vic Open - Green wins on home soil
World Number 30, Hannah Green won her first event on home soil as she took home the women's title at the Vic Open, winning by six shots over Karis Davidson and Whitney Hillier. Although Green is a Major champion, she has never won professionally in her home country.
Watch final round highlights of the Vic Open:
The 25-year-old Australian commented on this momentous win:
"Vic Open was my first ever professional event so it definitely has special memories coming here. Lots of random memories but good memories here. It's nice to have my name on a proper trophy here."
The Vic Open is a mixed-gender event that sees the players competing on the same course, for separate trophies but equal prize money.
In the men's event Dimitrios Papadatos won his second Vic Open and with the win also secured his place at The 150th Open at St Andrews. There were three spots up for grabs at 13th Beach, with the other two places going to Ben Campbell and Matthew Griffin.
The 30-year-old Australian commented on his win and heading to Scotland:
"The Open is an added bonus. I was just trying to get the win today so that was definitely the highlight. I'll worry about The Open when it comes. To win this is outstanding."
Maiden victory for Grant in South Africa
Sweden's Linn Grant got her maiden Sunshine Ladies Tour victory in her first start of the 2022 season. The 22-year-old secured a seven-stroke victory at the Dimension Data Ladies Challenge at Fancourt.
Commenting on her victory, Grant said:
"It's my first tournament of the season. I've been at home practicing indoors in the European winter, and to come out and feel that some of the things I worked on are there is a good start. I'll play the next two events to continue preparing for the two events co-sanctioned with the Ladies European Tour – the Joburg Ladies Open and Investec South African Women's Open – in March."
The talented Swede secured both LPGA and LET tour cards at Q-School. So we're likely to see a lot more from Grant on both sides of the pond this season.
Fox goes wire-to-wire
The DP World Tour spent a second week in Ras Al Khaimah at Al Hamra Golf Club for the Ras Al Khaimah Classic. New Zealander, Ryan Fox spent all week on top, taking a six-shot lead into the final round.
A bogey on the fourth and sixth holes were the only blemishes on his card, but he looked nervy as he headed on to a five-shot win at 22-under-par from England's Ross Fisher.
Watch Fox's reaction to his second DP World Tour victory:
After his win, the 35-year-old told Sky Sports:
"Probably relief is the main (emotion). It was a bit of a struggle today. Sleeping on a six-shot lead I did not sleep very well last night and a couple of guys came at me early and I was a bit nervous.
"It was going south pretty quickly and I'm pretty happy I could turn it around and show quite a bit of mental fortitude.
"I had that awful feeling in the pit of my stomach all day but I'm very happy with how I played, a couple of great shots coming down the stretch and it was certainly nice walking up the last with my putter in my hand knowing I had five or six putts or whatever it was for it (the win)."
There is now a break on tour until the beginning of March when they head to Kenya and the Magical Kenya Open.
Scheffler wins Waste Management Phoenix Open
There were wild and crazy scenes from the 16th at the Waste Management Phoenix Open. So much so, that they mainly distracted from the fact that Scottie Scheffler secured his first PGA Tour victory on the third play-off hole against FedExCup Champion Patrick Cantlay.
Waste Management was definitely needed after not one but two holes-in-one over the weekend which saw beer cans and water bottles littering the 16th green. Sam Ryder with his on Saturday, followed by Carlos Ortiz on Sunday. The last hole-in-one was back in 2015.
There's no doubt that the Phoenix Open brings something different to the professional golf world, a much younger audience attend and the atmosphere has an air of Spring break about it. Many comments I've seen on social media say that this what golf needs, to shake off its fuddy-duddy image. But surely, golf can go wild and crazy without the need to throw drinks, chug beers and strip your shirt off. I've read this makes golf more relatable – really?
Let me know your thoughts [email protected]
Which other tours would you like us to report on? Drop us an email with your request here.