Lopez storms to third LPGA tour win, whilst emotional Wilson gets his first DP World Tour win in eight years.
Gaby Lopez shots career-low score to win third LPGA Tour title
Gaby Lopez started the final round of the Dana Open presented by Marathon four shots back of the lead in a tie for 11th at -10, and there was no other option but to go low. Lopez did exactly that, firing a Sunday 63 to tie her career-low 18-hole score to finish at -18 overall and earn her third career LPGA Tour title.
It's her first victory since the 2020 Hilton Grand Vacations Tournament of Champions, an effort for which she gives credit to her team, family and the work she's put in off and on the course, fighting through two injuries this past season.
Lopez, whose 266 is also a new 72-hole personal record for the Mexican said:
"I just felt like nothing was really clicking for me over the year. I was struggling physically, struggling mentally, and that's where the doubts and fears come from.
"You just got to keep it real and accept where you are and just got to surround yourself with great people."
Watch final round highlights from the Dana Open presented by Marathon
Lopez went bogey-free for the second time this week, opening with three birdies in her first nine holes, and notched two more on 10 and 13.
It was the final three holes that made the difference for the 28-year-old. Battling for the win alongside playing partner Megan Khang, Lopez hit a solid drive on 16 and knocked her approach to two feet for an easy birdie.
On 17, this week's Aon Risk Reward Challenge Hole, she hit a 3-wood into the bunker and almost holed it for eagle, ultimately making the birdie putt and taking the solo lead with one hole to play.
Lopez then had another bunker shot on the par-5 18th, and ultimately drained the mid-range birdie putt, giving herself the win and avoiding a potential playoff with Khang.
"I was standing over the last putt and I told myself, this is exactly what I worked for, this is exactly what I trained for. I knew I had to make it. I knew I had to make it because Megan was putting beautifully. And so I tried to be calm all day long, but sometimes excitement gets me and I couldn't hold it for the last putt."
Khang's 7-under 64 also tied her personal best, which she last shot in the first round of the Cognizant Founder's Cup this past May. Her closing birdie on 18 cemented her career-best Tour finish of solo second in Sylvania.
Caroline Masson finished in third at -16 after a final-round 68, grinding back after opening her day with double bogey on the first and a bogey on the second.
Lucy Li, who held the 36- and 54-hole lead this week for the first time on Tour in her young career, finished in a tie for fourth with Sarah Schmelzel and LPGA Tour rookie Ruoning Yin at -15.
How did Li find playing in the final group?
"It was exciting. I wasn't as nervous as I thought I would be, which was good. Just trying to play each shot at a time and did okay."
Finishing in the top 10 for the second-straight week on Tour, Li played her way into this week's Kroger Queen City Championship presented by P&G, and said she'll look to make the most of yet another opportunity on the LPGA.
"I'm really excited to play. I've heard that's going to be a good tournament. And Portland," said Li, speaking of a recent sponsor exemption she received into the AmazingCre Portland Classic. "And then finally get some rest after that."
The 2021 champion Nasa Hataoka finished tied for seventh with Frida Kinhult and Xiyu Lin at -14, with LPGA Tour winners Carlota Ciganda, Hannah Green and Leona Maguire in a tie for 10th at -13.
Next is the Kroger Queen City Championship presented by P&G at Kenwood Country Club, Cincinnati.
Mora claims maiden LET title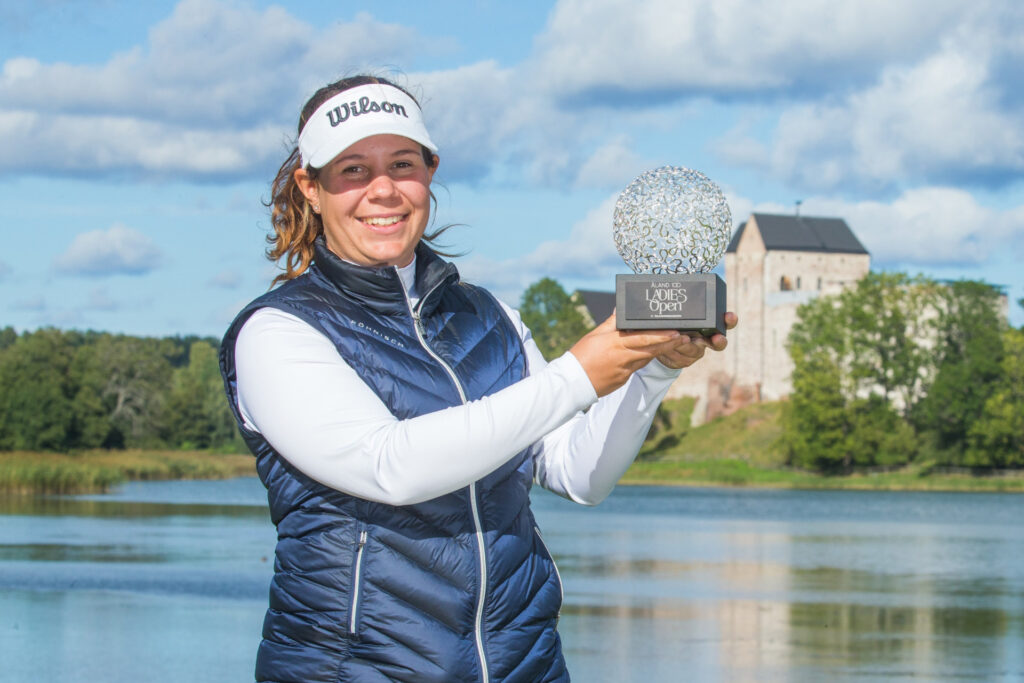 Anne-Charlotte Mora claimed a maiden Ladies European Tour victory in dramatic style, producing a fine finish to win the Åland 100 Ladies Open by Alandsbanken.
The 25-year-old from France went into Saturday's final round a stroke adrift of overnight co-leaders Ana Pelaez Trivino of Spain and Lisa Pettersson of Sweden. Pettersson took the early advantage on a beautiful morning at Alands Golf Club, but then the Austrian Emma Spitz seized the lead with a birdie on the Castle Course's sixth hole.
Mora made a huge putt for birdie on the fifth hole and then sank another on the long seventh, before giving a stroke back on the par-3 eighth hole. Although she pulled a shot back at the 10th, she dropped further strokes at the 11th and 13th.
Spitz led right up until she three-putted on the par-3 17th hole and as the young Austrian slipped, Mora was able to take full advantage, firing four birdies in her last five holes to lift the trophy.
She birdied the 14th and 15th, then took the lead by holing a six-foot birdie putt on the par-5 16th hole, before sealing the win with another birdie putt from 10 feet on the par-5 18th hole to edge Pettersson by a shot.
Watch the final round highlights from Åland 100 Ladies Open by Alandsbanken
After signing for 68 and a 54-hole total of eight-under-par, she said: "It feels really good to get my first win and I'm very happy. My putting was really good, but I wasn't thinking about the score.
"I tried to play my own game and not focus on the scores. I was really nervous on 18 and we had to wait on the tee box, so I was getting more and more stressed, but it worked out. It means a lot. I actually can't believe it."
Pettersson, who finished with a round of 70, was forced to settle for her second runner-up finish in as many weeks following her performance in last week's Skaftö Open. Pelaez Trivino finished third after a 71. Spitz, who tied for 10th on her professional debut in the Skaftö Open last week, ended in fourth place on five-under-par and is undoubtedly a star of the future.
Ursula Wikstrom, buoyed by her home crowd, made a run for the title over the closing holes but came up just short. She carded a final round of 69 to lie in a share of fifth place on four-under-par with Sweden's Sofie Bringner. Wikstrom relishes playing in Finland and is already looking forward to having another shot at her home title next year.
Chloe Williams of Wales carded a final round of 68 to end in outright seventh position on three-under-par, two strokes ahead of Finland's Linda Osala, who also shot a 68 to tie for eighth place alongside Swedish pair Caroline Hedwall and Sara Kjellker, who signed for a pair of 70s.
With her win, Mora vaulted 58 places from 74th to 16th on the Race to Costa del Sol Rankings and runner-up Pettersson climbed to 24th. Pelaez Trivino moved up from eighth to sixth position, with seven events still to be played on the 2022 Ladies European Tour.
The LET is off to Switzerland for the VP Bank Swiss Ladies Open where they'll play for probably one of the most coolest trophies in golf 🐄!
A long-awaited win for Wilson
An emotional victory for Oliver Wilson in Denmark at the Made in HimmerLand. The Englishman finished one shot ahead of Scotland's Ewen Ferguson to claim his first DP World Tour victory since the 2014 Alfred Dunhill Links.
A bogey-free 67, which included holing two big putts on the back nine, a 66-foot putt on 13 and 64-foot on 17 which saw him take the lead, meant that he finished the week on 21-under-par.
It was visible from the final putt dropping that this win meant a lot to the 41-year-old.
"I was so confident, I knew I could get the job done. Everything I've done up to this point to rebuild my game and I knew I could do it. I was so in control, and I said I wasn't going to cry. I was calm there, I almost enjoyed the last hole!
"It's pretty special, I'm so proud of myself. I've got a great team around me and there are other people who have helped me a tonne. The list goes on, everybody who knows me has been pulling me along to help figure this game out.
"I don't think I'm there yet but I feel like there's a lot ahead of me, and I'm so pleased to get win number two. I love this place, I've done well here before. My game has been trending in the right direction with my stats and my results.
"From the outside looking in, there's not a lot to shout about but there has been a lot of good stuff this year and I just haven't been able to put it all together. I missed chance after chance today and I hit it so good. I just stayed patient, I knew what this course good do, it's tricky.
"I holed two bombs on the back nine and I guess it was my day, but I feel like I deserved it. I missed a bunch of short ones, so I guess 18 years' experience gets you to hang in there and, to get it over the line, it feels good, so good."
Fourth Epson Tour victory for Iacobelli
Sunday in Pendleton, Oregon was nothing short of thrilling. Records were tied and the first Wildhorse Ladies Golf Classic champion was named. After 54-holes, Daniela Iacobelli walked away with her fourth Epson Tour victory.
"I'm in shock," said Iacobelli. "Nothing will set in for a while. I'm just going through the motions of what you need to do, so I haven't had time to go through it all in my head."
The Florida native, who usually flies solo, had a friend on the bag to help her focus on the mental side of the game. Sarah White served as Iacobelli's motivational coach, rather than helping her call the shots on the course.
"I've been in this position before," said Iacobelli. "I just told myself that I would accept whatever the outcome is. Thankfully, Sarah was on the bag. I literally credit all of today to her. I'm speechless."
Iacobelli carded five birdies and a lone eagle on the day. She made an eagle during every round of the tournament – three times in three days. She also had a good, yet eerie feeling about this tournament, which helped calm the nerves throughout the round.
"I'm convinced that when it's your time, it's your time," said Iacobelli. "The stars will always align. I said it all week, my misses were getting by. Yesterday, to myself walking down the tenth fairway, I said 'we're going to do this.' It's kind of an eerie thing when I win, I kind of know beforehand. It's just a matter of believing in myself."
Three strokes behind Iacobelli was Pavarisa Yoktuan. The Thai's final round of 10-under-par 62 moved her up the leaderboard, from 27th place to solo second. Her stellar back-nine, eight-under-par 28, also tied the Epson Tour's low 9-holes record. The last person to shoot 28 in nine holes was Sue Ginter-Brooker in the 2002 Hewlett-Packard Garden State FUTURES Summer Classic.
Laura Wearn, Grace Kim and Xiaowen Yin rounded out the top five, finishing four strokes behind Iacobelli, at 14-under. The trio shared third place. A total of 51 players finished five-under-par or better at the inaugural event.
Third LETAS title for Kouskova
Czechia's Sara Kouskova triumphed at the Elite Hotels Open securing her third win on the LET Access Series (LETAS) and a second one this season.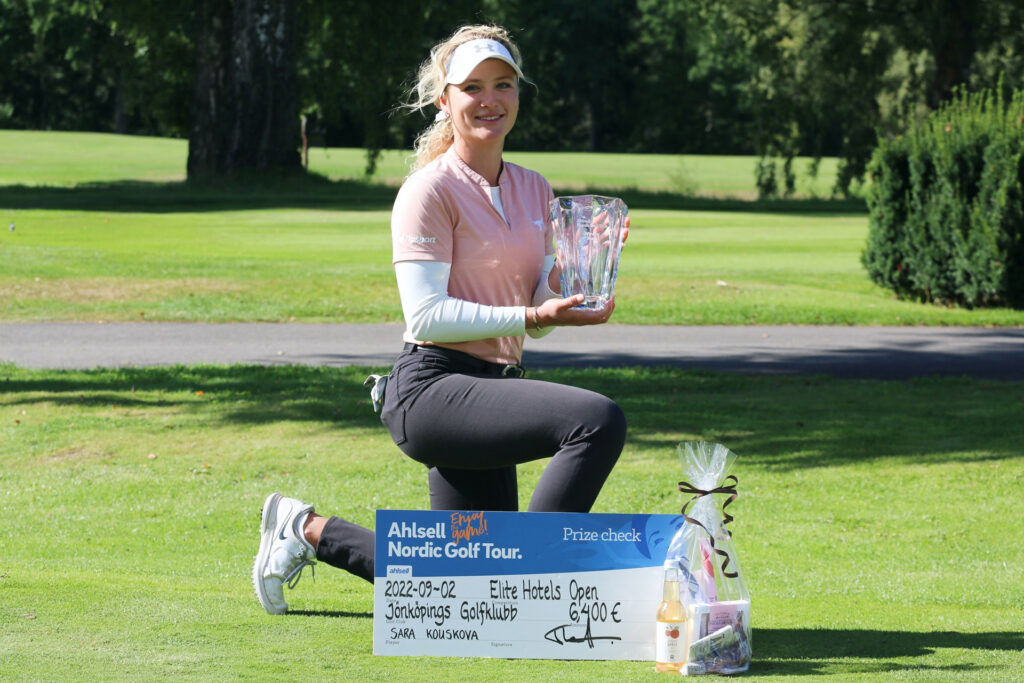 After rounds of 65 and 67 on the first two days at the Jonkopings Golfklubb, the 23-year-old champion started the third round with a three-shot lead and produced a final score of four-under-par 66 to seal another victory since turning professional this May.
It was a perfect start to round three for the Czech who opened the day with birdies on the first and third holes. Kouskova dropped one shot on the par-three eighth hole to make the turn in 34 strokes and maintain her lead at the halfway point.
"I had the same plan heading into the final round which was to hit as many greens in regulation as possible. The second plan was to remain patient throughout the whole round," said the winner.
The 2021 Amundi Czech Ladies Challenge and 2022 Santander Golf Tour Malaga champion then produced a beautiful performance on the back nine carding birdie, eagle, and birdie on holes 13 through 15 to give herself a comfortable four-shot lead with three holes remaining.
"It wasn't easy today, but I kept telling myself to stay focused and that if I stay patient, the birdies will come. I managed to hit it really close on the 13th and the eagle on 14 was just a cherry on top as I tapped in from less than a meter.
"I am glad that my plan to focus on LETAS in the second half of the season has been going well. I believe that I can keep playing great in the upcoming events and at the same time I am excited to go home now, recover and practice."
Amateur Vanessa Knecht from Switzerland has been applying pressure on Kouskova throughout the day, matching her round of the day with four-under-par 66 to finish in outright second place.
Norway's Renate Grimstad joined the podium finishing two shots back as she also carded 66 strokes in the final round and placed in outright third in her second LETAS start.
With her triumph, Kouskova reached third place on the LETAS Order of Merit with 1,632.18 points, while Germany's Chiara Noja remains in the lead with 2,012.98 points and Schmidt is second with 1,705.64 points.
The LETAS schedule sees a week off and will return for the ASGI Lavaux Ladies Open from September 14–16 in Switzerland.
Which other tours would you like us to report on? Drop us an email with your request here.