Matchplay marathon ahead of the women's second Major, plus a fourth win for Linn Grant and play-offs on the PGA and DP World Tours
Sixth LPGA Tour title for Eun-Hee Ji
After 111 holes of golf spread across three group-play and four knock-out matches, Korea's Eun-Hee Ji captured the 2022 Bank of Hope LPGA Match-Play presented by MGM Rewards, held at Shadow Creek in Las Vegas, Nev. She earned a 3-and-2 victory over Japanese rookie Ayaka Furue and at 36-years-old, became the oldest LPGA Tour winner from her home country.
Additionally, Ji became the first player since Katherine Kirk in 2017 to win the event prior to the U.S. Women's Open presented by ProMedica and clinch the final spot in the major field. Ji won the 2009 U.S. Women's Open at Saucon Valley Country Club and has played in every championship since 2008. The last U.S. Women's Open held without Ji in the field was in 2007, the last time it was held at this year's venue, Pine Needles Lodge and Golf Club.
Ji commented on her entry into the U.S. Women's Open:
"I really didn't think I'd be able to make it. It's still surreal and hasn't sunk in. I think it'll hit me once I go there next week. Hopefully, I can continue this week's momentum into next week."
Ji's opponent Furue, who earned her best finish of her LPGA Tour career, talked about the conditions on the final day, she said:
"It was definitely tough conditions out there. I was having to use my brain a lot with the wind being so strong. Just not only physically draining, but mentally draining as well."
The final match ultimately came to an end on the 16th, but Ji again left the door open for Furue. Ji's second shot flew left and nestled into the deep rough, at the top of a steep hill. Her first flop shot did not clear the rough, but her second attempt was about as perfect as she could execute, leaving the ball 10 feet away from the hole. Coming from the opposite side of the green, Furue left her birdie putt nine feet short. Using her solid putting stroke that helped her all week, Ji nailed the par putt and when Furue's par putt grazed the right edge of the cup, Ji captured the Match-Play title.
"She's a really great player, and especially her short game is really great. Afternoon round, green gets really, really fast, so even for me I couldn't make like really good distance-wise," said Ji of her opponent. "She sometimes makes little bit of problem over there, so that was rough, yeah. But it was pretty enjoy to play with her."
Late call up for Gemma Dryburgh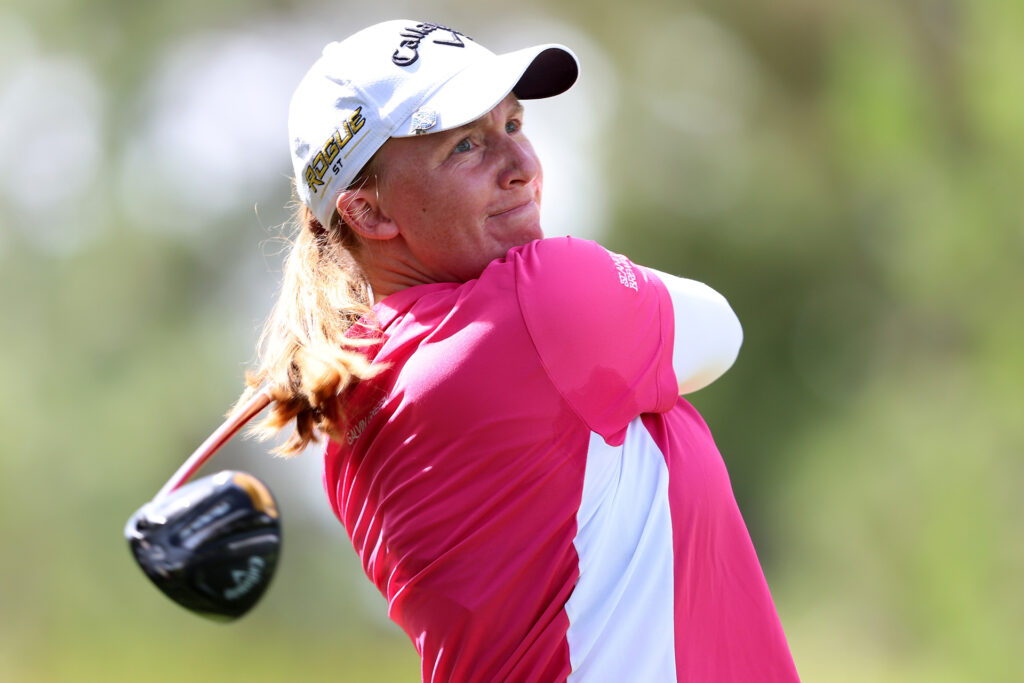 Although Ji won, the story of the week goes to Gemma Dryburgh, Women & Golf Tour Ambassador, who replaced Anna Nordqvist in the field when the Major champion withdrew late on Tuesday night. Dryburgh got through to the quarter-finals after taking down undefeated 25th seed Gaby Lopez, first beating her, 2 and 1, in 17 holes, and again in a one-hole play-off to decide who would advance to Saturday.
The 28-year-old Scot was pleased with her effort considering she came into the week at Shadow Creek with zero expectations and a "make the most of it" attitude.
"I was disappointed to lose my first match, but I knew that I still had the chance to get through," said Dryburgh. "Just won yesterday and then got it done today as well. As a reserve at the start of the week everything was a bit of a bonus, so it's amazing to get in the knock-out stages now."
It was Andrea Lee who ultimately brought Dryburgh's run to an end beating her on the 20th hole in the quarter-finals.
Talking about her week ahead of her first appearance at the U.S. Women's Open, Dryburgh told us:
"It was such a fun week. Lots of positives to take forward and especially for next week. Honestly, I'm feeling pretty tired today [Sunday] after the 42 holes yesterday but I'm sure over the next few days I'll feel raring to go for the U.S. Open.
"I'll do a few nine hole practice rounds over the next three days to give myself a chance to recover but also see the course ahead of Thursday.
"I think I can take lots of confidence from this week and the way I played. I am very excited to have my first U.S. Women's Open experience. I think it will feel bigger than any other event I've played so I can't wait for that."
An exciting week ahead as the U.S. Women's Open takes centre stage Pine Needles Lodge and Golf Club.
A fourth win of the season for Linn Grant
Linn Grant won her second LET title in five starts in 2022 after firing a final round of 67, five-under-par, on the last day of the Mithra Belgian Ladies Open. Her second title adds to the two that she had already won on the Sunshine Ladies Tour earlier in the season.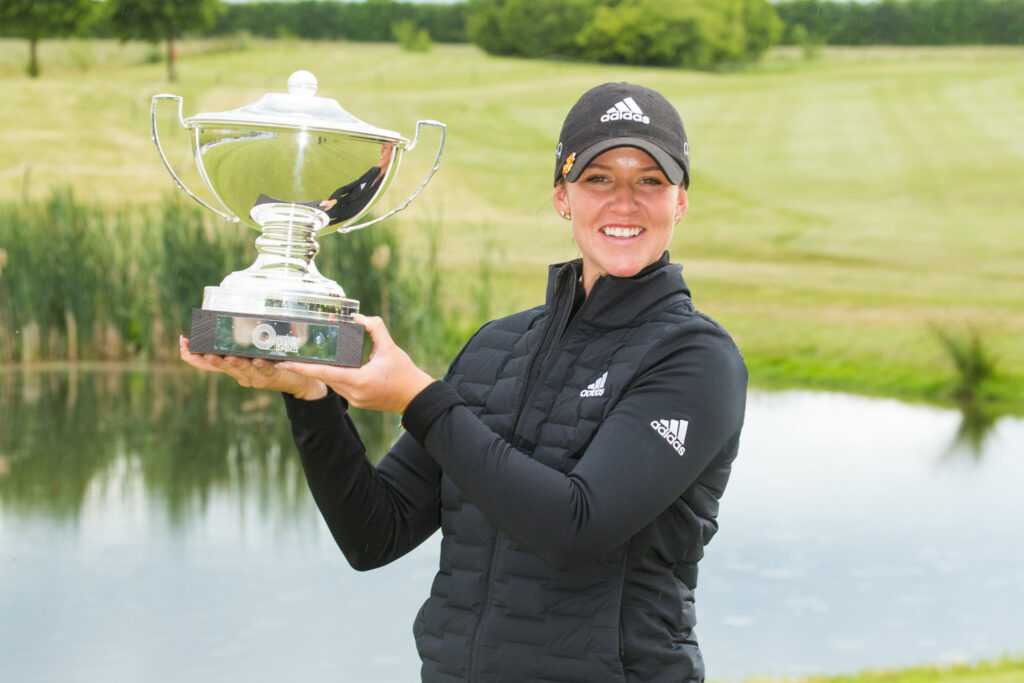 The 22-year-old, who won the Joburg Ladies Open in March, recorded rounds of 66, 68 and 67 to hold off England's Cara Gainer at Naxhelet Golf Club.
Grant maintained her lead on the front nine with birdies on three and nine, before she went toe to toe with Gainer on the back nine.
Birdies on 10 and 12, as well as a crucial eagle on the 14th put the Swede back in pole position, and a dropped shot on 16 put the duo level before Grant made a par on the last to win her second title with a total of 15-under-par.
Sweden's Grant said:
"I was playing good all day, but I felt I needed something to get me on top of the leaderboard and I knew Cara was playing so well. I was a little scared, but I managed to hole that eagle putt and make my way back in for the win.
"I was checking the leaderboard all the time just making sure everything was under control, which it wasn't! It wasn't under control, but I tried my best to keep up with her. On the last hole, I knew I just had to do my own thing.
"I think both me and Maja [Stark] and some other amateur girls had a good education before turning pro, so I'm not surprised we're doing well, but this is a good start."
It was an exceptional day for Gainer who fired a stunning 64, eight-under-par, which was the joint-best round of the week, to finish in second place.
After rolling in five birdies on her front nine, the Englishwoman applied pressure to Grant and rolled in four more birdies on holes 10 through to 14.
A dropped shot at the last proved crucial, as she ended up with a total of 14-under, but it was still Gainer's career-best round and best finish on the LET.
Maja Stark, who leads the 2022 Race to Costa del Sol, also shot a round of 64, eight-under-par, on the final day to secure a third place finish alongside Switzerland's Morgane Metraux.
Sweden's Moa Folke finished in a tie for fifth alongside Spain's Luna Sobron Galmes, after they carded rounds of 66 and 70, respectively.
Belgium's Manon De Roey fired a final round of five-under to end her home tournament in a share of seventh place with Morocco's Ines Laklalech and Argentina's Magdalena Simmermacher.
Norway's Karoline Lund had an excellent finish to the tournament, as she made a hole in one on the fourth and signed for a round of 66 (-6) to be T10 alongside England's Gabriella Cowley.
In the 2022 Race to Costa del Sol, three Swedes sit at the top of the standings with Stark still in front and she now has 1,752.50 points.
Johanna Gustavsson is second with 1,339 points and Grant moves up to third with 1,239.39 after five events. De Roey sits fourth (1,207) with Simmermacher in fifth (1,090.50), Pace in sixth (900.92) and Tiia Koivisto just behind in seventh (875.40).
England's Meghan MacLaren sits eighth in the rankings with 746.59 points, while Ana Peláez is ninth and Australia's Whitney Hiller rounds out the top ten.
Whilst most eyes will be on the U.S. Women's Open. The Ladies European Tour will be heading to Italy and the Ladies Italian Open Presented By Regione Piemonte.
Gina Kim goes wire-to-wire on Epson Tour
An even-par 73 in the final round of the Inova Mission Inn Resort & Club Championship was enough for Gina Kim to secure her first professional win on Sunday afternoon. The 2022 Epson Tour rookie finished at 11-under-par to go wire-to-wire on the El Campeón Championship Course at Mission Inn Resort and Club in Howey-in-the-Hills, Fla.
Kim, who had her mother [Sangsuk] on the bag, said:
"It definitely means the world to me. Not just because it's unexpected, but it's a testament to how much work I've put in and progress I have made as a rookie."
The Duke University alumna finds the winner's circle in just her fifth Epson Tour start. She discussed how lessons learned early in her pro career made all the difference.
"I was so impatient the first four months [after I turned pro], trying to make something crazy happen. I realized that you have to celebrate the small wins too. That's why yesterday I was happy with what I had accomplished to that point. This is the cherry on top."
Kim will celebrate by travelling to Pine Needles Lodge & Golf Club in Southern Pines, N.C., where she is an on-site alternate for the U.S. Women's Open.
Caroline Inglis (70) and Maria Fassi (73) shared second place at 9-under par for the championship, while Dani Holmqvist (69) and Amy Lee (73) finished -8 overall and in a tie for fourth to round out the top five.
There is no Epson Tour event this week.
Third PGA Tour win of the season for Sam Burns
Sam Burns came from seven shots back on the final day to force a play-off with World number one Scottie Scheffler. On the first extra hole, the par-four 18th, Burns holed a nearly 40ft putt for birdie to win the Charles Schwab Challenge. The 25-year-old winning his third PGA Tour event of the season.
The American denied his compatriot Scheffler his fifth win in 10 starts. On his victory Burns said:
"Just starting the day seven back, I figured with how tough it was going to be playing that if I went out and posted a really good number, who knows what can happen.
"Scottie has been playing unbelievable. It's just a really hard golf course with a lot of wind and crazy things happen, and fortunately, I was able to sneak into a play-off and obviously make that putt there on 18."
Talking about playing his best friend in a play-off, Burns added:
"We're probably best friends. But at the same time I can assure you, he wanted to beat me more than anybody else and I wanted to beat him more than anybody else, and it just happened to be the two of us at the end.
It's going to be a fun story that we'll get to have for the rest of our careers, and fortunately, I got the better end of it this time, but hopefully, we're at the beginning of these situations in the future."
The PGA Tour now moves to Ohio and the Memorial Tournament presented by Workday at Muirfield Village Golf Club.
Perez beats Fox in a play-off
With a three-shot lead after the 14th hole, the Dutch Open looked to belong to New Zealand's Ryan Fox but a double-bogey meant that he headed into a play-off.
Frenchman Victor Perez forced a play-off after a birdie at the last. Both players headed down 18th, three times, with neither able to take the win. It wasn't until they moved to the par-three 17th hole that the Frenchman was able to hole a long putt for birdie whilst Fox couldn't match it.
This was 29-year-old Perez's second DP World Tour victory to add to the Alfred Dunhill Links Championship in 2019. After his win Perez said:
"There's a fair amount of fortune, I've got to be honest with myself, holing all those long putts in the play-off," Perez told Sky Sports.
"It's hard to put into words because it's a long day and Ryan was flying for a while. We didn't even really think we had a chance.
"I just tried to focus on me all day - that's all I can do. I was trying keep a champion mindset and hit good shots and the chips were going to fall where they fall.
"It's almost impossible to predict what's going to happen in golf, guys come out of nowhere and win tournaments, guys take huge leads. You just have to focus on you and not look at the boards and I was just fortunate to fall on the good side today."
Although Fox will be disappointed to lose out on a second play-off, he did secure his place at the 150th Open Championship at St Andrws alongside Perez and Adrian Meronk.
On playing at this truly historic moment in golf, Fox said:
"It was one of my big goals to tick off this year. I qualified there in 2015 and absolutely loved it, and to get back for The 150th this year is a dream come true and I'm looking forward to it."
The DP World Tour is headed to Germany and the Porsche European Open.
Which other tours would you like us to report on? Drop us an email with your request here.