It was a day of two halves and, no, I'm not just talking about there being a morning and an afternoon session! Team Europe lead Team USA by two points heading into the singles matches.
Two sessions and two similar outcomes made for a thrilling second day at Inverness Club. In the morning session, Team Europe started in the way they had finished on day one, but after a strong start the leaderboard shifted to red. The same happened in the afternoon session, except it was Team USA who started strong and Team Europe who then made a comeback. The day ended with USA gaining four points to Europe's three and setting up a final day that is just too close to call.
Morning foursomes
Let's start with the stand out match of the morning Mel Reid and Leona Maguire continued to be a formidable duo for Team Europe on Sunday, taking the lead from the first hole over Nelly Korda and Ally Ewing and cruising home from there. Reid and Maguire won seven holes, including three in a row from 3-5, to earn a dominating 5-and-4 win over their American counterparts.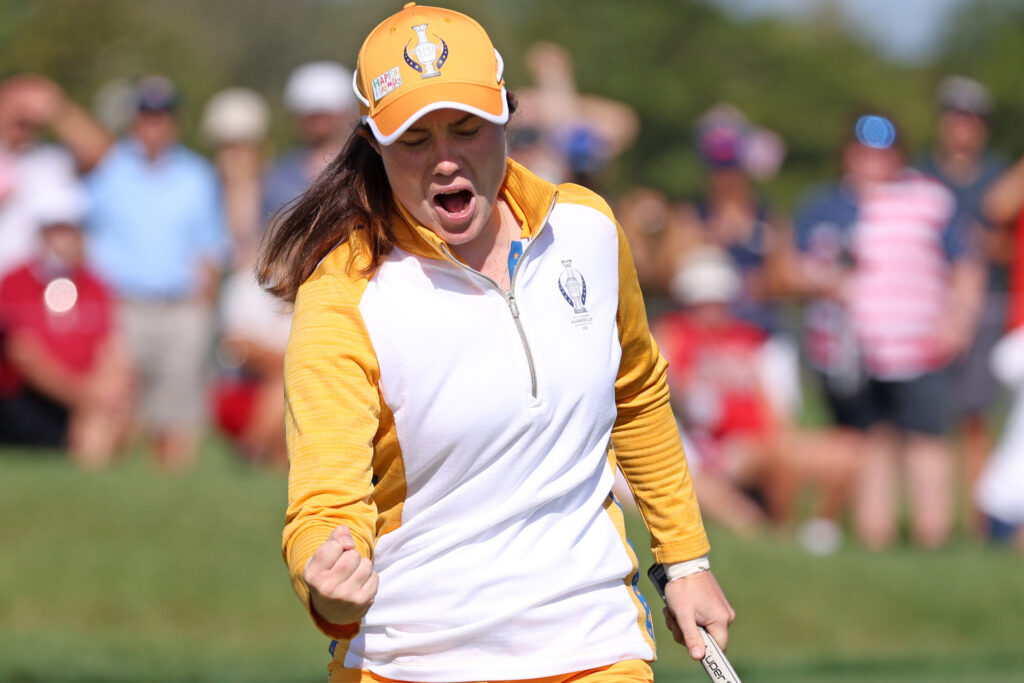 Again, Reid had nothing but praise for her playing partner, she said:
"I mean, she's a fantastic player. My role was to kind of make her feel comfortable as someone who's been on a few Solheim Cups, and just very, very impressed with her honestly. That grit and determination is second to none, and, I mean, it's been an honour honestly playing with her the last few days."
Nelly Korda has seemed out of sorts all week, even in her first match with her sister Jessica on Saturday morning. It's obviously not lost on Reid how important the wins against the world number one were:
"To take down Nelly twice is obviously a big ask and the way we did it, I'm just really proud we put some points on the board."
The crowd found their voice
As the rest of the foursomes matches came to a conclusion you could hear the change in the crowd. On Saturday they had been shocked into silence but they finally began to find their voice, with a crescendo when Lexi Thompson holed out on 17 to take the match against Hull and Pedersen.
Matilda Castren and Anna Nordqvist were a formidable European duo on Saturday, winning both matches together. But in Sunday foursomes, it was Lizette Salas and Jennifer Kupcho who came out on top with a 3-and-1 victory to cap a strong morning session by the Americans.
Like Reid, Salas was paired with a rookie but she hasn't needed to do much coaching, she said:

"Well, this one [Jennifer] here is ice cold. I don't have to tell her anything. She was reading putts for me, just all around an amazing team player these last two matches. I did what I could, and we got the job done together."
Sunday Foursomes Results - USA 3, EUROPE 1
| | | |
| --- | --- | --- |
| TEAM USA | TEAM EUROPE | SCORE |
| Kang and Ernst | Hall and Sagstrom | 1 up USA |
| Thompson and Altomare | Hull and Pedersen | 2 & 1 USA |
| Korda and Ewing | Reid and Maguire | 5 & 4 EUR |
| Salas and Kupcho | Nordqvist and Castren | 3 & 1 USA |
Afternoon fourballs
The crowd really got behind Team USA at the start of the afternoon session which really helped to keep the American team fired up after their success in the morning. Although matches looked to be mostly going USA's way, there seemed to be a shift as they headed down the back nine.
Rookies Noh and Harigae were the only pairing who were able to fight back, they had been 3-up through 10 holes but then lost three holes in a row. Sending out rookies together seemed like a bold move by Captain Pat Hurst but it was to turn out to be inspired as they posted the first point of the afternoon.
When asked about being sent out as rookies, Noh said:
"It was such a great time. I think us being rookies we were ready to come out here and win a match, and I'm so glad we did it together. Mina played so great today. Front nine she made a lot of good putts, and coming back, fighting through that stretch of losing the holes was really a test of our patience, and we really fought out. I mean, we just played really well together, and it was a lot of fun."
Putting masterclass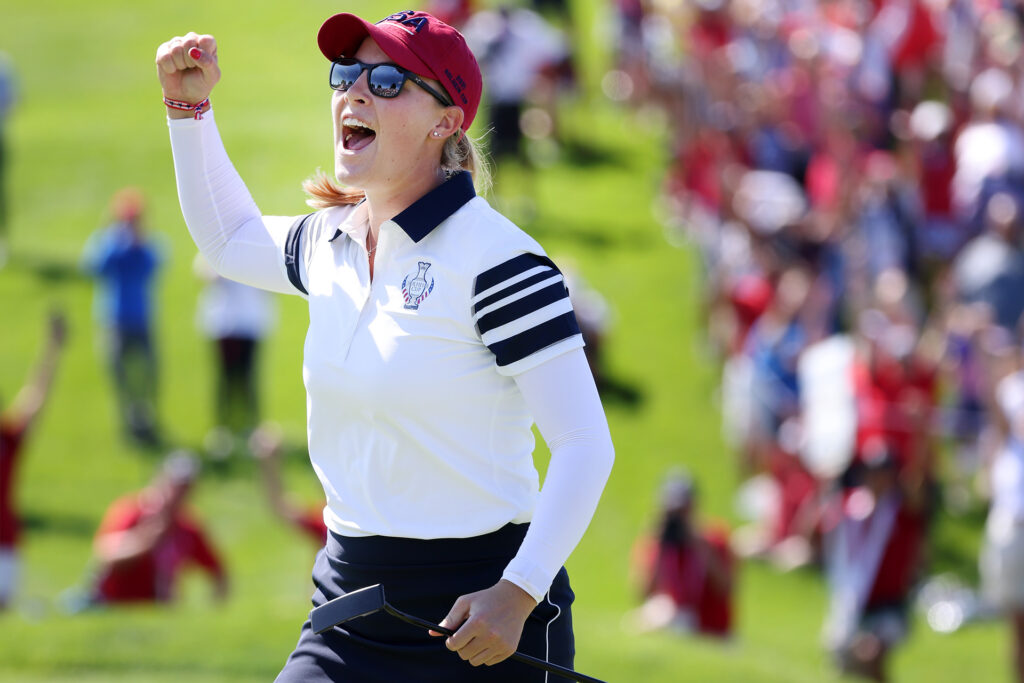 Long range putts were dropping from everywhere and it was hard to keep up with and even predict which way tha matches were going to go.
In match two, after sitting out the morning foursomes, Korda gave the Americans an early advantage by draining a 32-foot eagle putt from the first cut of rough on the second hole. Europe tied it with par on the fourth, then got in front at the par-4 seventh when Koerstz Madsen rolled in a birdie putt from 27 feet. Korda responded on the next hole where her greenside bunker shot finished inches away for a tap-in birdie.
Ciganda's putter seemed to warm up on the back nine and it was a right-to-left 40-foot birdie on 15 which gave Team Europe the lead, which they held to take the match 1-up.
Keeping calm in front of the USA crowd
Hull and Pedersen made up for their lost point in the morning foursomes match by keeping calm as opponent Kang whipped up the crowd. The first score on the board came when Ernst made a birdie on the fifth to put Team USA but Pedersen responded with a made a birdie on seven and a sensational eagle on eight to put Europe 1-up.
The Europeans extended their advantage on the par-4 11th when both players made a birdie and Pedersen drained another birdie on 12 to go 3-up. Remaing ice-cool was Hull's plan and it worked, she said:
"I was pretty chilled all the way. Emily made a great eagle on the eighth hole, and then I made two good birdies on the back nine on 10 and 11, then she birdied 12. It just gave us some good momentum."
The match was won on the 16th were Pedersen left her second shot centimetres from the hole to win the match 3-and-2.
Thrilling finale
European rookie Maguire and American rookie Kupcho put on a masterclass in a match that went all the way to the final hole. Watching them over the last two days you would not believe their rookie status.
Maguire secured the first hole whilst Salas birdied the fourth to tie it. Both Americans birdied the 6th. But just before the turn, Maguire hit her approach close for a tap in to bring it back to level.
It then seemed that Kupcho would take hold of the match making consecutive birdies to go 2-up. However Reid proved the momentum killer as she birdied the par-3 12th. The match was tied going down 17 when Kupcho chipped in off the green on 17 to take the hole after Maguire had holed a long range putt.
With half a point at stake on 18, it was Reid who showed why she is such a fearsome competitior and deserved her Captain's pick to take part in her fifth Solheim Cup:
This shot was enough to win the hole and halve the match. After, Salas heaped praise on Kupcho, she said:
"I feel like the MVP of our team is this one right here. She played, again, amazing golf today. I did my part the first like six holes, and obviously we would have wanted a full point, but Europe is a tough competitor, but she played amazing, and I'll figure my game out by tomorrow."
Maguire and Reid have turned out to be the pairing of the Solheim Cup winning 2.5 points from the matches they have played. Sunday afternoon was all about keeping patient, Maguire added:
"Just tried to stay really patient. We knew it was going to be a very different match this afternoon. We knew the girls were going to be relentless, that we just had to hang in there. We were down for most of the day, which is a position we hadn't been in the last couple days. Tried to be patient, we knew it would turn for us, and yeah, just waited for Mel to hit that clutch shot at the end!"
Sunday Fourball Results - USA 1.5, EUROPE 2.5
| | | |
| --- | --- | --- |
| TEAM USA | TEAM EUROPE | SCORE |
| Noh and Harigae | Boutier and Popov | 3 & 1 USA |
| Korda J. and Khang | Ciganda and K. Madsen | 1 up EUR |
| Kupcho and Salas | Reid and Maguire | Tied |
| Kang and Ernst | Hull and Pedersen | 4 & 2 EUR |
Monday Singles Matches - it's all to play for
Team Europe lead team USA by 2 points with a 9 v 7 advantage. So it is all to play for in the final day of competition. Here are the singles matches:
Nordqvist v Thompson
Sagstrom v Ewing
Maguire v Kupcho
Hall v N Korda
Boutier v Harigae
Madsen v Ernst
Castren v Salas
Ciganda v Altomare
Popov v Khang
Reid v Noh
Hull v J Korda
Pedersen v Kang
There's no doubt that we're most looking forward to the third match with Maguire and Kupcho going head to head. Which one is your favourite?
It's set to be a thrilling end to three fearsome days of competition and looking at how the first two days have gone, it is impossible to know which way these matches are going to go.
Watch live coverage from 4:30pm (BST) on Sky Sports Golf.