Day four of Women and Girls Golf Week is about competing. We speak to LET Access player Sharna Dutrieux as she sets out on her professional journey.
At Women & Golf we're obviously passionate about all things women's golf. When we were given the opportunity to support a rookie pro, we jumped at the chance. Sharna Dutrieux has been wearing the Women & Golf logo on her clothing this season and although a little delayed, we're pleased to finally be able to introduce her to you. Here's Sharna's golf story...
How did you get into golf?
I've always been a Daddy's girl, so when I was younger and my Dad started playing golf, I always wanted to go with him. He wanted to go and play with his friends, so my Mum bought me a plastic set when I was about seven-years-old and I would play in the garden.
That year I wrote a letter to Father Christmas and asked for a real set of golf clubs and luckily for me he delivered! That's where it really all started.
Tell us a bit more about your amateur career?
I have always been a member at Wrotham Heath in Kent and joined there when I was 12-years-old because that is when I started to become competitive. I got into the Kent U16s team and got to do a lot of training as part of the squad. Plus I started seeing my current coach when I was 14.
I was also part of the Birdie squad with England Golf until I was 17 and then made the National squad in my last year as a junior. That was in 2016, when I played in the European Team Championships and Home Internationals.
I didn't get selected for the Ladies National team but I wasn't too disappointed about that as I was happy to look to gain more experience by myself.
I am proud of my amateur career, I had a lot of top 10s and a highlight was finishing third in the Helen Holm at Royal Troon in 2019.
How did Covid impact your ability to turn pro?
Covid definitely made me have to rethink when I was going to turn pro. I thought I would have to delay it until next year. Then I was lucky to meet Marcel and Adam from Mojo Golf. At the time I was working 14-hour shifts at a pub so that I could make money to live off. But obviously working like that was impacting my ability to be competitive on the golf course.
I didn't feel comfortable to go ahead and turn pro because it was a year and a half to two years of just not playing. But, by having their support it meant that I was able to take the leap to turn pro and focus all my time on playing golf.
So my first pro event was at one of the Clutch Tour events in 2021.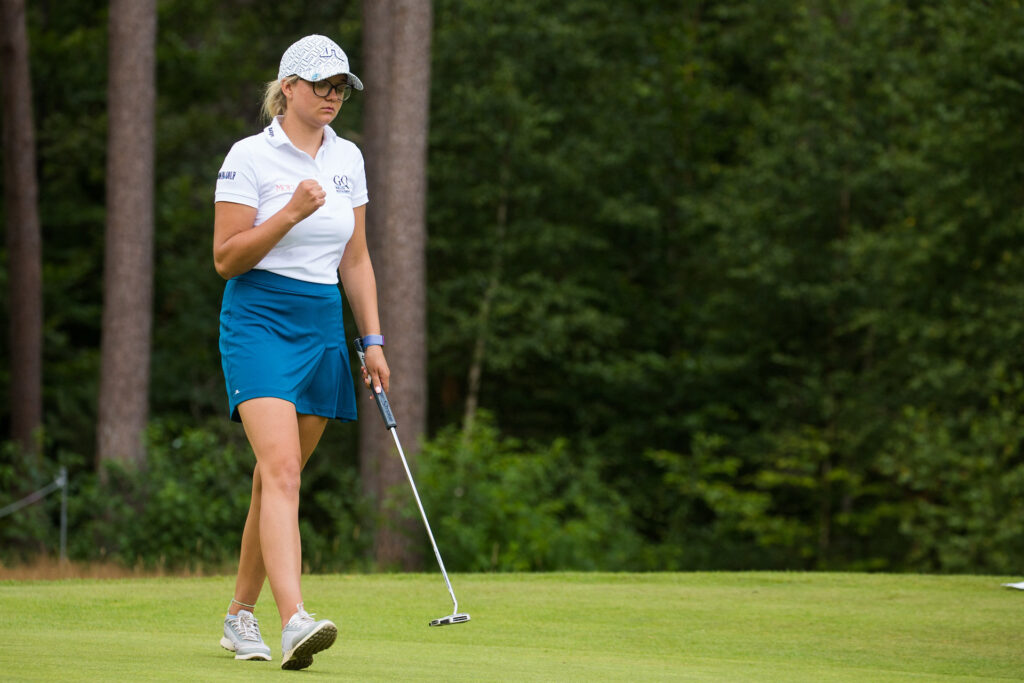 Is there any difference between playing pro and amateur events?
I think there's a little bit more pressure. I shouldn't say that, but obviously because now it's my career, my job. I've also enjoyed it because I'm now playing full-time golf. It's just amazing to be able to play golf all the time. I can just do what I want, I can go to a golf club for six, seven hours of practice. I am very grateful as Wrotham Heath have given me a complimentary membership and the members have been really supportive too.
It's also about getting used to life on the road, as a home bird I am finding that part the most difficult. The good thing about golf is you do make friends. Since Q-School, I have one that I'll see on the road a lot, so if Marcel or Adam can't make an event then I can stay with her. Golf is so social which is what makes it easier when you're away from your family and friends.
What does a regular day look like to you?
I head to the golf club in the morning, practice putting or chipping for a couple of hours, then play 18 holes and afterwards practice whatever I didn't do in the morning.
I have rest days too, where I don't even pick up a golf club which I think is a really important thing to do.
What status do you have on tour this year?
I went to LET Q-School in December. It's a pretty brutal experience where you play eight rounds plus practice rounds to get your card. I was pretty pleased to finish in 74th. That has given me good category which should mean I get five to six starts on the LET this season and full access to the LETAS events.
Before the start of the season, I entered into the Rose Ladies Series events. They were a great opportunity to gain some competitive experience and I was really pleased, overall, with how I performed. My best finish was a tie for second at Walton Heath.
As well as my second place at Walton Heath, I was really proud to make my first LET cut at the Big Green Egg Open in July. I'm really looking forward to the rest of the season.
Follow Sharna Dutrieux journey in the professional ranks - @sharnadutrieuxgolf on Instagram.