Last week Finca Cortesin announced Spanish Ladies European Tour player Nuria Iturrioz as an ambassador. Here we get an insight into the season ahead and her Solheim Cup ambitions.
Now that you are an ambassador for Finca Cortesin, is qualification for the Solheim Cup firmly on your radar?
Yes, qualification for the Solheim Cup is most certainly on my radar. I will of course try my best to make the team as playing in a Solheim Cup on Spanish soil would be a dream-come-true for me. I have always dreamt of playing in the event one day and really feel that having the backing of Finca Cortesin will take me a long way towards achieving this dream.
Over the next 18 months, I will do all I can to achieve qualification for the team automatically. All I am focused on is playing my best golf over a consistent period of time and hope that puts me in a position where I will be competing for a number of wins on both the LPGA and Ladies European Tours.
What does the season ahead look like for you?
My main goal is to play on the LPGA Tour and qualify for the Solheim Cup through this pathway. It has always been an ambition of mine to compete against the world's best golfers on the world's best courses. By competing against these players on a regular day-to-day basis, I hope it will take my game and skills to the next level and provide me with an insight into what playing in Solheim Cup might feel like.
I will also be playing in a number of events on the Ladies European Tour and hope to use this angle as another means towards qualifying in 2023.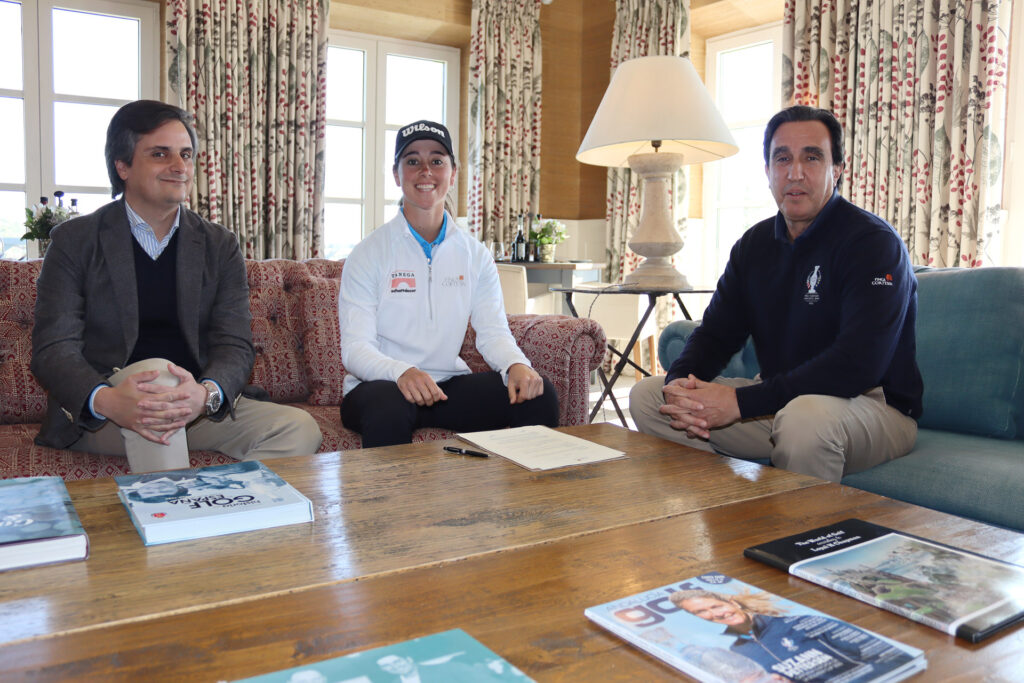 How do you think this new sponsorship with Finca can help you achieve your goals?
The facilities at Finca Cortesin are amazing. You will definitely see me there throughout the year preparing for tournaments and training during my off weeks whilst I am in Spain. I am already excited to visit the resort later this year to train and become accustomed with the course, as being able to play it multiple times ahead of the Solheim Cup will certainly be an advantage if I manage to earn selection to the team.
Having the opportunity to be sponsored by Finca Cortesin is a huge honour for me. I believe with the support of the resort I can take my game to the next level as we both have the same drive, love and passion for the game of golf. The resort's Managing Director, Vicente Rubio, has played a very big role in advocating the increase in female participation in the region and was vital in helping to bring the Solheim Cup to Spain. This makes me feel comfortable whenever I'm at the resort and makes me want to go back time and time again to enjoy the experience again.
How do you feel about the Solheim Cup being played for the first time on Spanish soil?
It is incredibly unique. As mentioned earlier, I have always dreamt of playing in the Solheim Cup one day. It is the pinnacle of the women's game and for it to be held in Spain makes it even more special. Finca Cortesin is the ideal venue to host the event as it has magnificent facilities and incredible hospitality. I know they will leave nothing unturned in their preparation and will make everyone feel very welcome and respected in what is sure to be a beautiful week in Andalucia.
I am also excited to see the event being hosted at one of Spain's most sustainability golf facilities. Climate change is a very important topic in the sport and Finca Cortesin has already implemented a number of environmental initiatives on-site, including the introduction of bee colonies and an irrigation system that operates on 100% regenerated water from the nearby village of Manilva, to help reduce their overall carbon footprint.
Most importantly though, the event provides an opportunity to grow the game of golf for women to even greater levels. Participation numbers in Spain for female amateurs has been on the increase over the last few years but I hope the event will help to inspire more women to go down to their local golf club and try the sport for the first time. They will soon realise how fun it can be and I would love to act as a role model for many of them whist here in Spain.