As part of the tournament's Power Up scheme, the Aramco Team Series has given Award-winning PGA Professional Hannah Crump new equipment to help her grow her women and girls golf groups
The Ladies European Tour's Aramco Team Series today donated a raft of new training aids to a Midlands-based golf coach who has helped bring more than 150 women and girls into the game in just two years. A feat that also saw her collect the England Golf Award for Women and Girls' Trailblazer in April.
Hannah Crump is a PGA Professional who coaches with Ignite Golf at Stonebridge Golf Club near Coventry, where she focuses on improving the abilities of female golfers of all ages. Recently her
Her classes have skyrocketed in popularity in recent years, stretching the resources she has available to her growing pack.
For that reason, the Aramco Team Series, which is being played at Centurion Club, announced Hannah as the recipient of a raft of new coaching equipment, as part of the five-leg events' Power Up initiative.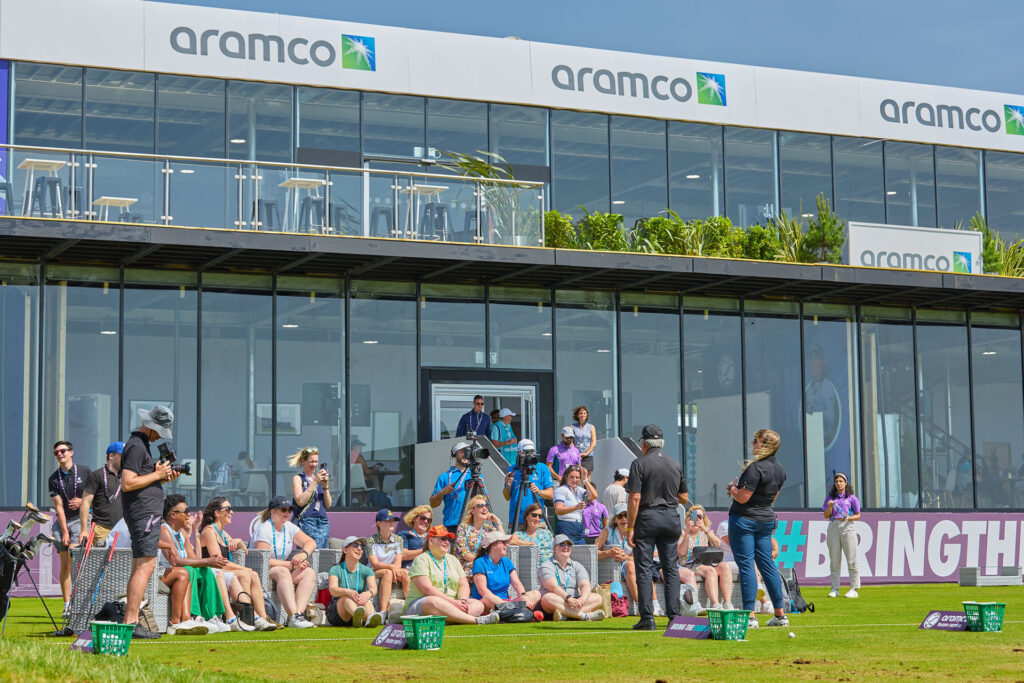 What is the Power Up scheme?
The Power Up scheme is aimed at backing projects making a difference at grassroots level for junior and female golfers, in each of the Series' host countries.
For Hannah and the team at Ignite Golf, the Aramco Team Series has donated three brand new sets of women's clubs for student use, a Flightscope Mevo+ launch monitor, further PGA coaching tuition, a year's supply of golf clothing through tournament partner Reborn, and a year's supply of Titleist practice balls.
Crump said:
"My biggest passion is introducing golf to women, and I currently have about 150 women in weekly group coaching coming along, learning – and it's great, I absolutely love it!
"I have been professional for about seven years, so I kind of at the start knew I wanted to grow the women's golf community, but I would say in the last two years numbers have absolutely accelerated. For me it's been so, so, so special to see these numbers grow and see more women getting on board.
"To receive this donation as part of the Power Up initiative is unbelievable. I am at a point where the next stage for Ignite is to grow – and I'm trying my hardest to build everything. So to be able to have this kind of support, it just means I'm going to be able to do things quicker. It means everything can to be bigger.
"At the moment, I'm capped at the equipment that I have and I'm capped at the clubs that our players can use. For me, the story is now about accelerating this even more, and now we can really do that and put so much back into the game that I love."
A special Aramco team Series golf clinic with Gary Player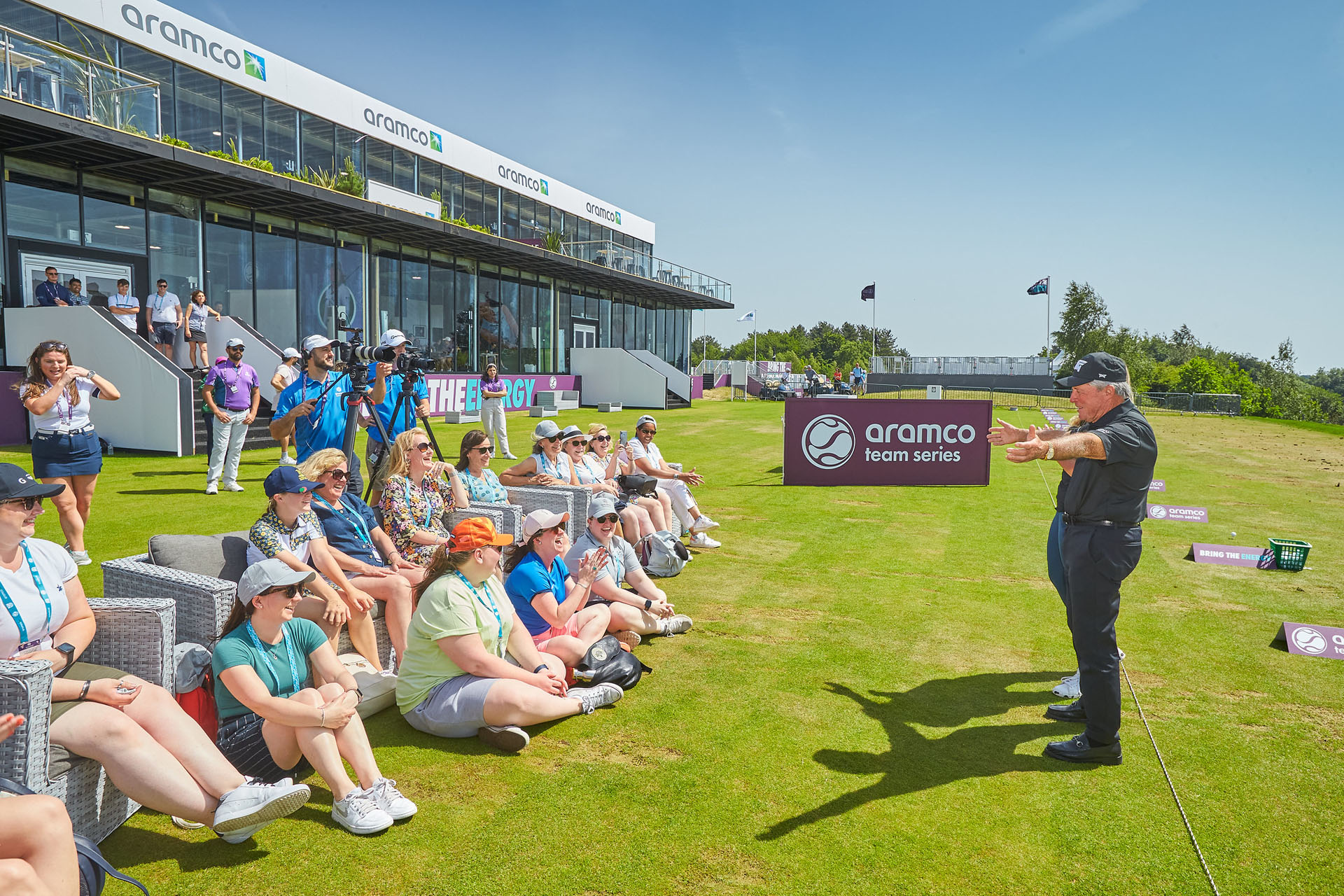 Hannah and more than 25 members of Ignite Golf's female coaching classes attended the Aramco Team Series London on Friday, where they were given an expert lesson from none other than nine-time Major-winner Gary Player.
Player gave the group swing tips before sharing some of his greatest advice and knowledge on the game.
Hannah added:
"Today has been such an amazing day. The thing about the Aramco Team Series that just drew me in was the fun element of it all, seeing the women in this environment having such a good time.
"I'm really, really grateful to have been able to give the ladies the opportunity they've had today. Most of them have never watched golf, so having the experience to see the stuff that we try and teach up close and with the best players in the world is pretty special, so they've loved it."
Talal Al-Marri, Public affairs General Manager at Aramco, said:
"Our ambition for each Aramco Team Series event is to elevate women's golf across the board. The Power Up initiative aims to provide a boost to rising stars in golf, such as players or coaches. Hannah is a rising star and an inspirational figure who is changing lives for young women through her golf coaching. We're proud to support her and be part of the journey to remove barriers to participation and find the next golfing superstars."
For more information, visit aramcoteamseries.com or follow the event on social media @aramco_series.