Here's who will be teeing it up in the Friday morning foursomes matches at the 2023 Solheim Cup
On the eve of the 2023 Solheim Cup, the wait is nearly over and we are looking forward to being there to see the first tee shot hit at 8:10am (local time) on Friday.
This year's event has the potential to be the hottest contested Solheim Cup in history with both sides fielding extremely strong teams. Team Europe may have home advantage and be coming into this week in search of a third straight win, but Team USA are no underdog.
A point that is backed up by Team USA's Lilia Vu who has won two of the five women's Majors this season:
"I wouldn't consider ourselves underdogs, but I think we can come in here with nothing to lose because there's really nothing to lose. I think we're a pretty young team, but I think we're going to come out really strong and we're going to have fun and our game will show on the course."
Megan Khang added:
"With the crowd, yes. Honestly, I think both teams are stacked very well. I know we have a few more rookies on our team, but it's going to be a good week to watch some golf."
And we can't wait. So let's see who will be teeing it up in the foursome matches on Friday morning.
Friday Foursomes
At a press conference on Thursday afternoon, team Captains Suzann Pettersen and Stacy Lewis took to the stage in the media centre to announce the pairings for the Friday Foursomes: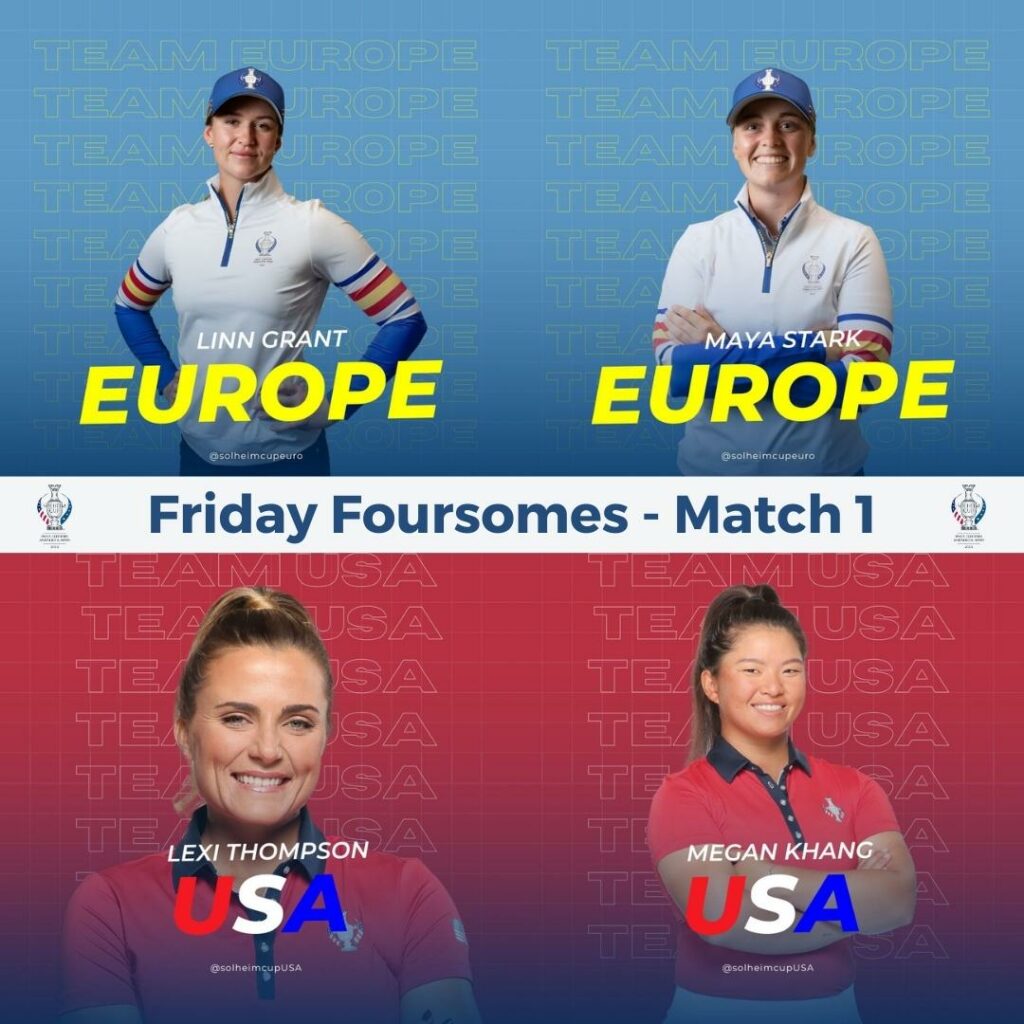 With the visiting team getting to tee off first, Lexi Thompson will have the honours, something that Captain Lewis was keen to deliver:
"I wanted Lexi to go out there and have the first tee shot. I think she deserves it."
Thompson may have been struggling with form of late but her Captain was full of praise for the way that she has been playing during practice this week.
Thompson will be joined by Megan Khang, a new pairing for Team USA and will face the formidable duo of Maja Stark and Linn Grant. The Swedish pair have been very vocal about their desire to play together, here's Linn Grant in her press conference earlier this week:
"I think we've just been letting her [Pettersen] know that we've been playing really well together and we're comfortable with each other, especially coming into a situation like this where it's new. We're going to be nervous. It's going to be a lot of pressure on our shoulders. We just said that we're comfortable together if she wanted to play us together."
So Captain Pettersen was keen to oblige: "It will be such a cool experience for them to lead off together."
Pettersen then revealed that she told her team the pairings on Monday night so that they have had plenty of time to prepare.
Danielle Kang will pair up with rookie Andrea Lee in Match two, which will see them take on another strong pairing of Celine Boutier and Georgia Hall. The European pair have won two and halved one of the three foursomes matches they have played together over the last two years.
Korda forging new partnerships
Match three features another rookie Allisen Corpuz with three time Solheim Cup player Nelly Korda. Korda is looking to build new partnerships, whilst sister Jessica is injured:
"I'm definitely sad to not have Jess here. First Solheim Cup without her. It's definitely been a little different. But I think the bigger picture, whenever I get to represent my country it's been so much fun, and I get to experience new players and bond with other players too, which is a lot of fun."
Corpuz and Korda will play a new European partnership of Leona Maguire and Anna Nordqvist. A pairing that could work very well together and one that Pettersen was keen to try out.
Another rookie out for the American team in match four with Cheyenne Knight playing with Ally Ewing against Charley Hull and Emily Kristine Pedersen. Hull and Pedersen are good friends and have good form together winning two of the three matches they have played together.
Now we know the pairings, it's all about the first tee and handling those nerves. Something that Corpuz will have to manage in match three tomorrow:
"I think hearing stories from other people about their experience on the first tee and just hearing more about what that's going to be like and just being a little more mentally prepared for that has definitely helped."
There you have it, we're all set for Friday morning! Who will take an early advantage on the driveable par 4 first hole? How will Team USA react to the home crowd? Who will be the star partnership? Who will be the villain? Can Team Europe claim the trophy for the third time? So many questions and it's really not very long now until we find out the answers.
Play will get underway at 8:10am local time. In the UK you can build up to the first match with live coverage on Sky Sport Golf and Sky Sport Main Event from 6:30am (BST)
Friday Fourballs
After a convincing 4-0 start by the USA on Friday morning. Europe have it all to do in the afternoon fourball matches.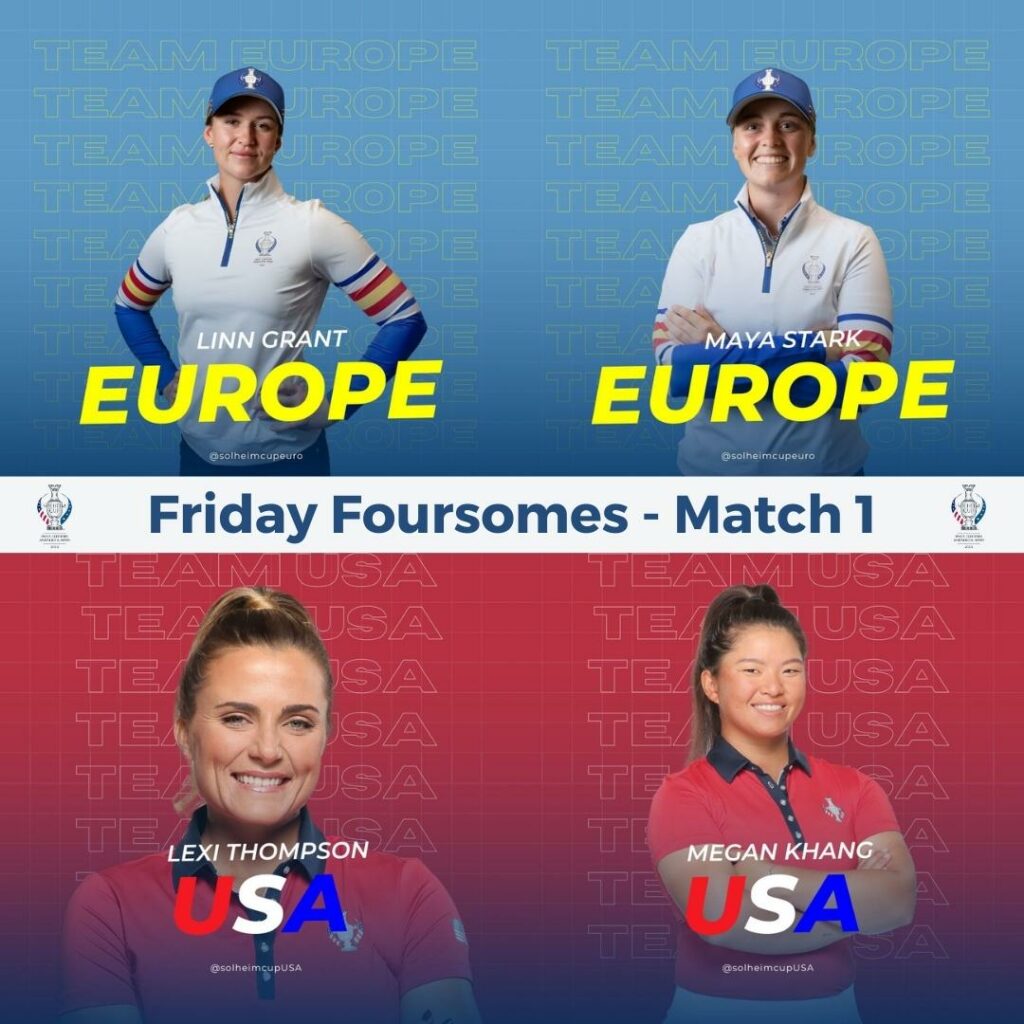 If you haven't already, take a look at our 2023 Solheim Cup preview for all you need to know about this week's event.