It's too close to call at the Trust Golf Women's Scottish Open as we head into the final day at Dundonald Links
France's Celine Boutier and New Zealand's Lydia Ko are in a share of the lead on 15-under-par after 54 holes at the Trust Golf Women's Scottish Open.
Two-time Solheim Cup winner Boutier fired a round of 67 (-5) and got off to a hot start with four birdies on her front nine.
The Frenchwoman's only dropped shot of the day came at 12, but she soon bounced back with a birdie on 14 to reach 15-under.
"It was a very solid day," said Boutier. "I started the front pretty solid and that helped me relax a little bit. The conditions were more windy and a little bit tougher, so it was really good to get a good start and I stayed very patient. I had a lot of opportunities and took advantage of some of them.
"I really like links golf and playing in windy conditions. I feel like my ball flight is pretty low, and so I feel like I never really have trouble keeping it down, which is an advantage here because the ball doesn't get affected as much. I have some good memories from Scotland too, of playing well in the past, so that's always helpful
"I think what I've learned of being in this position in the past is that really anything can happen, whether you have the lead or not. Try to not get too far ahead of yourself and focus on what you can control which is really each shot at a time."
Boutier and Ko with a one-shot lead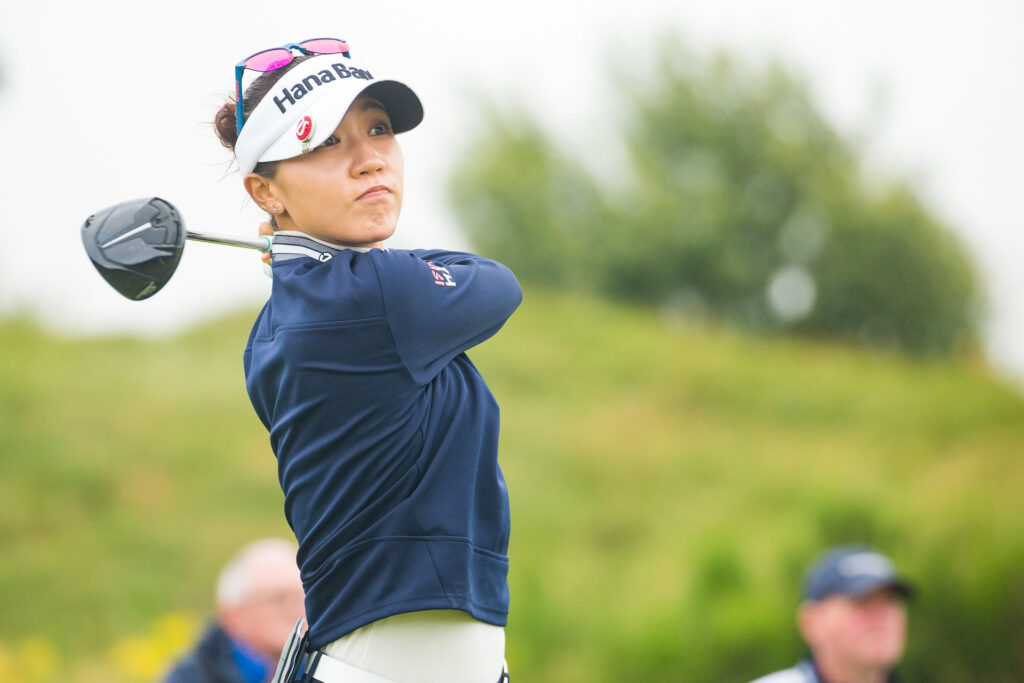 World number four Ko, who was the leader at the halfway stage, carded a round of one-under-par 71 on day three at Dundonald Links.
The six-time LET winner sandwiched a bogey between two birdies on holes two through four to make the turn in 35 (-1).
There were two more bogeys on the back nine for Ko, but she made up for it with two birdies including a lovely chip-in on 15 to draw level with Boutier.
"I think I drove it a little better than I did the last couple days," said Ko. "My irons were not as sharp, so I don't think I set myself up for as many easier 15-feet and birdie opportunities.
"On some holes today, I felt like the hole was not apparent on the green, and it is difficult to read these greens. Even Thursday and Friday, I obviously played really well but there were some putts you thought you would have holed or would have at least touched the hole
"Today, sometimes I look stupid; I've got a 12-footer and I've missed the hole by like a ball, which you hope doesn't happen often. It just shows it's not easy out there. But I think more the most part, the weather was nice, so we got pretty fortunate with that."
Watch highlights from day three of the Trust Golf Women's Scottish Open
Germany's Leonie Harm and Canada's Maude-Aimee Leblanc sit in a tie for third place just one shot behind the leaders on 14-under-par.
It was another excellent day for Harm, who produced a round of 67 (-5) with six birdies and one bogey on her scorecard.
"I really enjoyed today's round," said the 24-year-old. "It got a bit windier, so it actually was a lot more difficult than the previous two rounds and I'm very, very proud of myself that I still got a low score on my scorecard to sign off. I just really enjoy playing links golf and that was another good test today.
"It was a bit of a rough start. I had some par saves on the front nine and couldn't really quite hit it as close as I was used to the previous days. A bogey on three, which kind of put me back a little bit, but luckily, I had the ability to turn it around with good saves on seven and eight and a long birdie putt on nine. I had a great finish, and was four-under on the last five, so I'm really happy about that."
Leblanc fired the joint-best round of the day – a 66 (-6) along with China's Xi Yu Lin and Scotland's Gemma Dryburgh – to move herself into contention.
The Canadian said:
"I've been hitting the ball solid since the beginning of the week. I love playing in Scotland. I don't know what it is about it, it's a different golf course, different conditions, and I love it all here.
"It's exciting for sure. I feel pretty good with my swing right now and my putting as well. I have really good thoughts for tomorrow and just try to repeat the same thing."
Korea's Eun-Hee Ji an American Lilia Vu are T5 on 13-under-par with Thailand's Wichanee Meechai and American Cheyenne Knight one shot further back in a share of seventh place.
Four players sit in a tie for ninth place with Japanese duo Nasa Hataoka and Ayaka Furue alongside Korean pair Narin An and Hyo-Joo Kim on 11-under-par.
View the live Trust Golf Women's Scottish Open leaderboard here.
Watch live coverage of the Trust Golf Women's Scottish Open
If you live in the following areas you can watch a live feed from Dundonald Links below
Available in: Albania, Belgium, Bosnia-Herzegovina, Bulgaria, China, Croatia, Denmark, Greece, Hong Kong, Hungary, India, Italy, Japan, Kosovo, Luxembourg, Macedonia, Montenegro, Netherlands, Norway, Poland, Portugal, Romania, Russia, San Marino, Serbia, Singapore, Slovakia, Slovenia, Sweden, Taiwan, Turkey and Vatican City.
UK viewers can watch via Sky Sports Golf YouTube
View the live Trust Golf Women's Scottish Open leaderboard here.