Golf coaches across the world are honoured at U.S. Kids Golf annual presentation at the PGA Show
Evie Carter, from The Golf Centre of Coalville in Leicester, has been honoured as a Top 50 Kids Coach by U.S. Kids Golf, the world's leading organisation in developing young golfers. The Awards recognises coaches who have excelled in developing players, fostering a positive environment, and using the best available resources to help advance their students.
The Top 50 Kids Coaches of 2021 includes golf professionals from 30 U.S. states and five international countries. Each year, award recipients include coaches who work at public, private, resort and municipal golf courses.
"We are proud to recognize and celebrate the accomplishments of these coaches," says Dan Van Horn, President and Founder of U.S. Kids Golf. "Their dedication and commitment to the game, and more importantly, their students, is a great benefit to the facilities they represent, the families they serve, and especially, the young players who are starting this lifetime journey of golf."
Annual awards ceremony at the PGA Show
Since 2004, the U.S. Kids Golf Top 50 Kids Coach award, is widely recognised as the pinnacle achievement for junior golf coaches worldwide. Candidates are evaluated by a selection committee from among the Certified Coach candidates based on a variety of factors. These include innovation, creativity, retention, communications, parental engagement, organisation, and the ability to instill a passion for the game in young golfers. Award recipients will be recognised in a variety of ways including being featured in various media platforms sharing their expertise.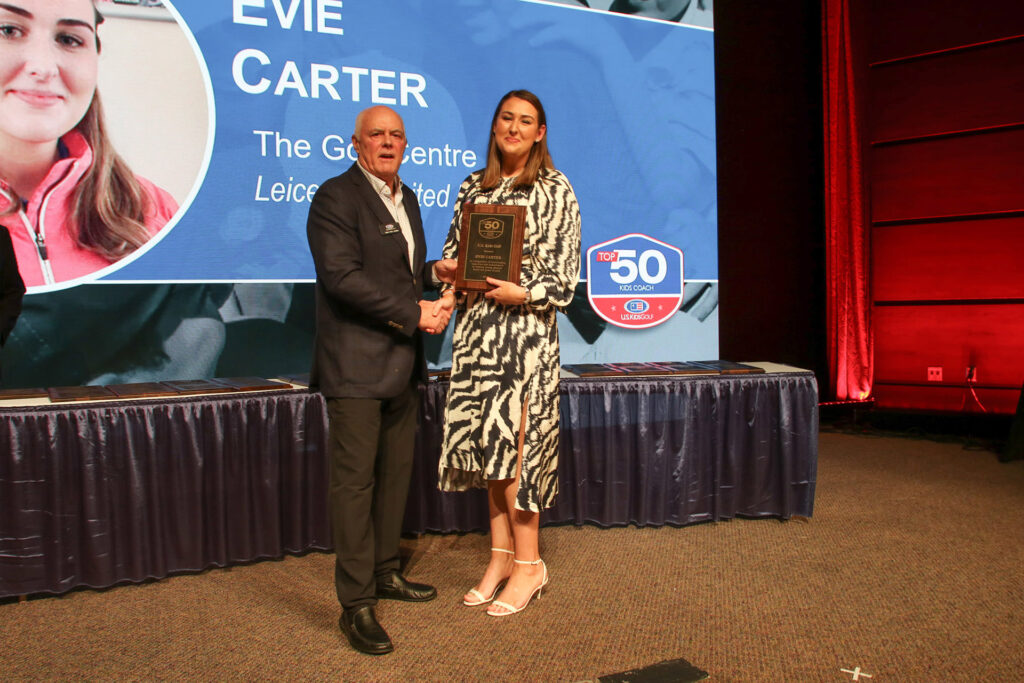 Commenting on her award, Carter said:
"Truly honoured to have been named as a U.S. Kids Top 50 golf coach. To be part of such an incredible class of junior coaches is just amazing."
Carter will be running an East Midlands tour this year - see full details here.
The award winners were announced on Wednesday, January 26, during a special presentation at the PGA Show in Orlando.
Top 50 Kids Coaches – Class of 2021 also included two other PGA Professionals from the UK and Ireland. Lee Bromley from Cardiff Golf Centre and John Byrne from Royal Tara Golf Club in Navan, Ireland.
U.S. Kids Golf Master Kids Coaches
As well as the Top 50 Kids Coaches, since 2008, U.S. Kids Golf has named Master Kids Coaches to honour instructors for their ongoing efforts in growing the game of golf among kids. These individuals have earned the distinction of Master Kids Coach by winning the Top 50 Kids Coach Award three times.
Being named a Master Kids Coach is the highest honour an instructor can receive from U.S. Kids Golf. There are 208 teachers who have received this honour, 12 of whom joined the ranks in 2021. One of those 12 was PGA Professional Tom Reid from Sunningdale Heath, who commented:
"Thank you U.S. Kids Golf for making me a Master coach. I'm feeling very proud, my U.S. Kids Golf journey started nine years ago, the best family to be a part of. I can't wait to continue to give back to our coaches and students
Due to Covid, the 2020 award winners were also in attendance and special mention must also go to UK based PGA Professional Andy Little who also became a Master Kids Coach.
For more information about U.S. Kids Golf in the UK – please visit https://uskidsgolf.co.uk/