The latest good news stories from the world of the club golfer. No achievement is too small.
From hole-in-ones to club championship victories, open days to centenaries, scroll through our good news stories from around the world.
Do you have a story to share? Drop us an email.
Walsall Golf Club Ladies Section Charity Promotion 'Calendar Girls'
22nd November
It was whilst she was enjoying a glass of champagne at her club's end of year presentation, that Stephanie Haynes, Lady Captain at Walsall Golf Club, came up with an inspired idea for her charity St Giles Hospice.
During the evening she recruited the assistance of Phao Hewitson, a fellow member and an acknowledged garden photographer plus 30 willing volunteers as models to bring her 2023 'Calendar Girls' style calendar together.
The only problem was that there were only three weeks to achieve her vision. First the volunteers, which had risen to 51, had to be organised into groups for each month. Each group was then asked for themes for their month and asked to gather props.
Suitable dates were then set with Stephanie and Phao, which proved trickier than first thought due to the weather at this time of year. Amazingly all photographs were taken and ready for production by November 14.
A fantastic effort by everyone but there was still one more challenge. Finding funding so that a print run could be done in time for Christmas. Luckily Stephanie was not phased by this and found sponsors for each page after asking fellow members at Walsall Golf Club, raising a fabulous and most generous £920.
Stephanie commented:
"We have had so much fun and laughter producing my idea and I'd like to thank all those who have been involved for their time, creativity and generosity."
Pre-orders for the calendar are now being taken – and we're pleased to hear that it's looking like a huge print run will be needed!
For more information, please feel free to contact Stephanie via Walsall Golf Club on 01922 613512
Rockport Golf Scholarship Star – Molly O'Hara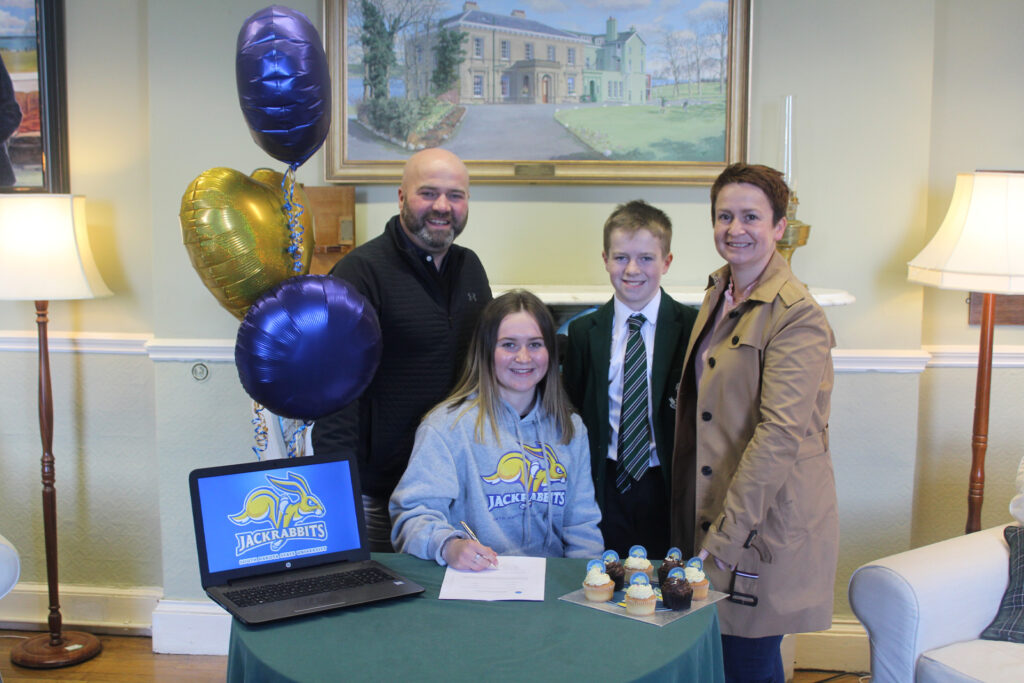 17th November
There was much excitement recently as Rockport School gathered to witness Molly O'Hara (R14), sign her agreement with South Dakota State University.
Molly, who has been playing golf from the age of 8 and is a member of the school's Rockport Golf Academy Elite Squad, will complete her A Levels and travel to USA in August 2023 to take up the prestigious scholarship.
Molly has been on Ulster panels leading to Junior Caps for Ulster and Ireland and Senior Caps for Ulster, and this achievement is testament to Molly's hard work, dedication and commitment to the sport.
Headmaster, Mr George Vance, said
"This is a truly magnificent achievement by Molly. A US golf scholarship is such an attractive option for talented student-athletes worldwide and competition for places is therefore incredibly high. Indeed, it is becoming ever more competitive year on year, given that the US college golf system produces the majority of golfers on the LPGA Tour. Molly's strong golf and academic credentials, as well her sheer determination to succeed, have contributed to this success. Great stuff."
Rockport School wish Molly all the best and look forward to following her future progress and success in the next stage of her exciting golf journey.
Naked Calendar - all for a good cause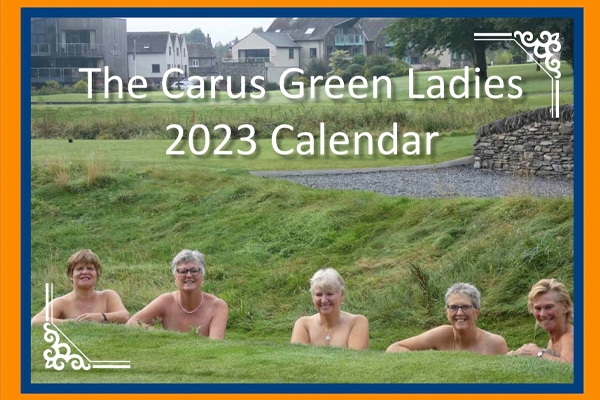 19th October
The ladies section at Carus Green Golf Club in Kendal, Cumbria, have caused quite a stir with the release of a (naked) charity calendar.
We've been told that the Lady Captain wanted to think of a way to raise as much money as possible for her chosen charity MND Association. She floated the idea amongst the Ladies Section at Carus Green Golf Club who surprisingly came straight back with a 'yes'!
During the many takes on the course and driving range the one quote that kept being heard was FUN and such a lot of laughter. The girls really embraced the job in hand in true Calendar Girl fashion!
Sue chose MND as her charity after watching, first hand, a loved one go through this dreadful disease. The money raised will help fund much needed research, improve care and provide support for people with MND, their families and carers. MND is close to the heart of some of our other Lady members who have also experienced MND within their families.
Details from Margaret Shepherd, Golf Manager, Carus Green Golf Club
Well done to everyone involved! It certainly takes some guts to be willing to pull this together. We hope you raise lots of funds for MND Association. For anyone interested in purchasing a calendar, please contact Margaret on 01539 721097.
Sundridge Park win the Kent Women's Scratch Team Final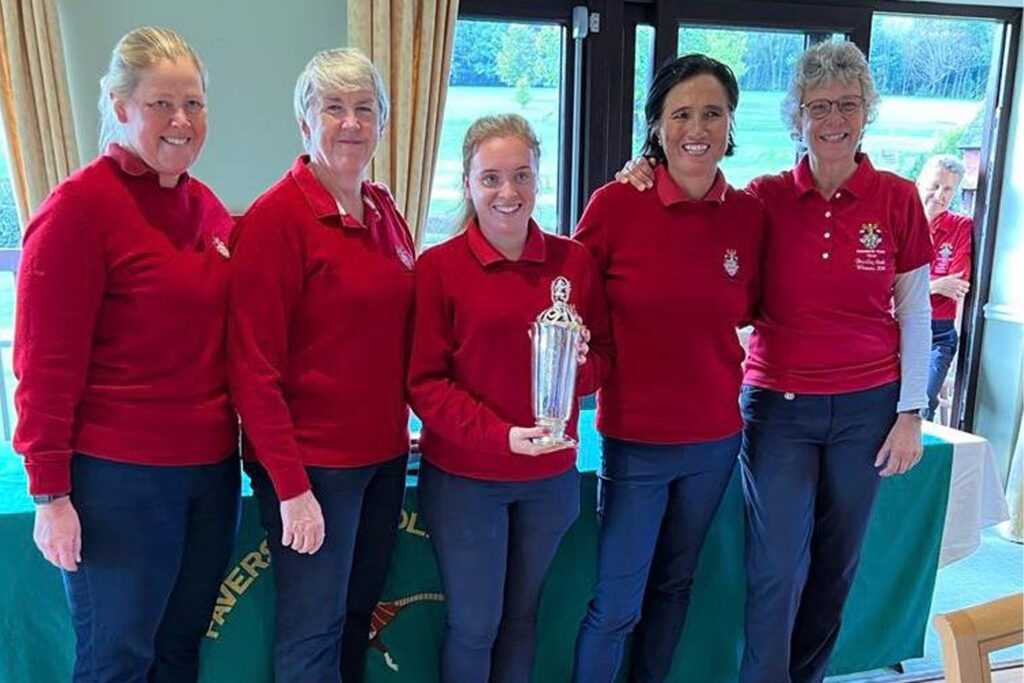 3rd October
Yesterday Sundridge Park won the Kent women's scratch team final, taking home the Bradley Cook
Trophy, after a tightly-fought match against Royal Cinque Ports. The team of five were (L-R) Lucy Speed, Ingrid Long, Nancy O'Connor (team captain), Kim Morris and Tita McCart (who is also one of the Kent Captains.)
The match was played at Faversham Golf Club.
From Jude Mackenzie (who was spectating)
Record Club Hat Trick for Ruth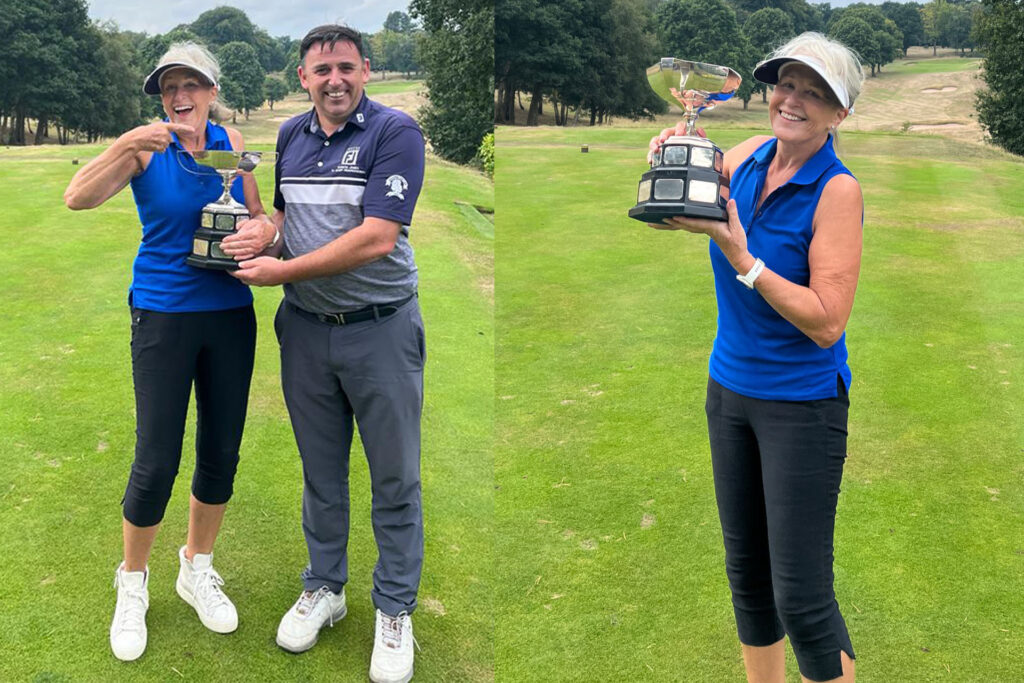 27th September
Sandiway golfer Ruth Elliott-Smith has retained the club matchplay trophy for the third consecutive year. Making her the first player in the club's 100 year history to win it, or any major trophy by any member three times in a row. She credits her success to the club's professional, Gareth Jones, who has coached her for the last three years. "I've played at Sandiway for more than 40 years but Gareth has consolidated my game and made me a more consistent player. The results speak for themselves."
Ruth who lives in Cuddington, Cheshire, beat fellow finalist Jane Burke to lift the Sheila Watson Trophy for the fifth time in her golfing career. She previously won in 2021, 2020, 2013 and 1998.
She says: "This was one of the most nerve racking matches I have ever played. I was aware I was trying for the hat-trick which added an extra edge to the challenge. To make it even tougher Jane is a fantastic player and a formidable opponent as well as one of the nicest people I know."
Ruth was congratulated by club captain Julie Shankey who followed the contest on course along with the match referee, Elizabeth Payne. She will be formally presented with her trophy at the club's trophy dinner next month.
"Sandiway is a great golf club," says Ruth, who won through five knockout rounds of the competition to take the final. "The course is playing well and the greens are good which is a tribute to the hard work of the greenkeepers who've had to contend with the worst drought since 2018."
Congratulations Ruth - a fantastic achievement and great to see that having lessons with Gareth has really paid dividends.
Not one but two holes-in-one!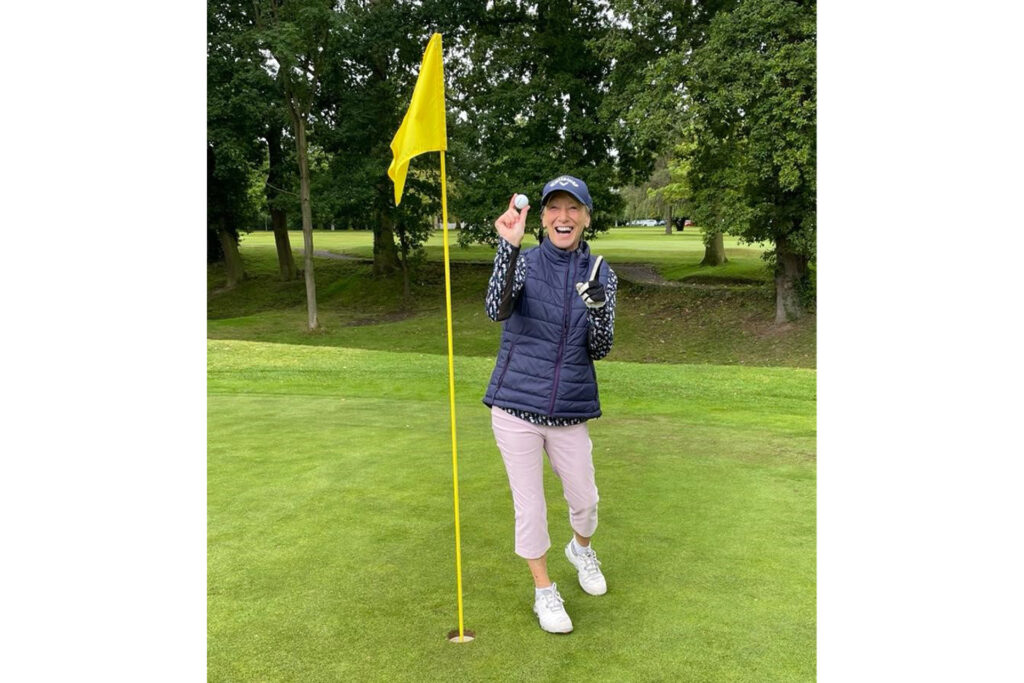 21st September
I am a member at Cheadle Golf Club in Cheshire. Our lady Vice Captain, Sue Shaw, has had two holes-in-one on our 5th hole 97 yard par 3 . The first was in a social round of golf on 3rd September. The second was on 18th September during our clubs all members day competition, which Sue then went on to win.

The photo was taken by our lady captain Jayne Warren . They are both great assets to our club.
From reader Jane Munro
I'd like to say holes-in-one are like buses, but they aren't... Quite unbelievable to get two on the same hole within 3 weeks!! Hope Sue bought a lottery ticket too!
Sharing golfing success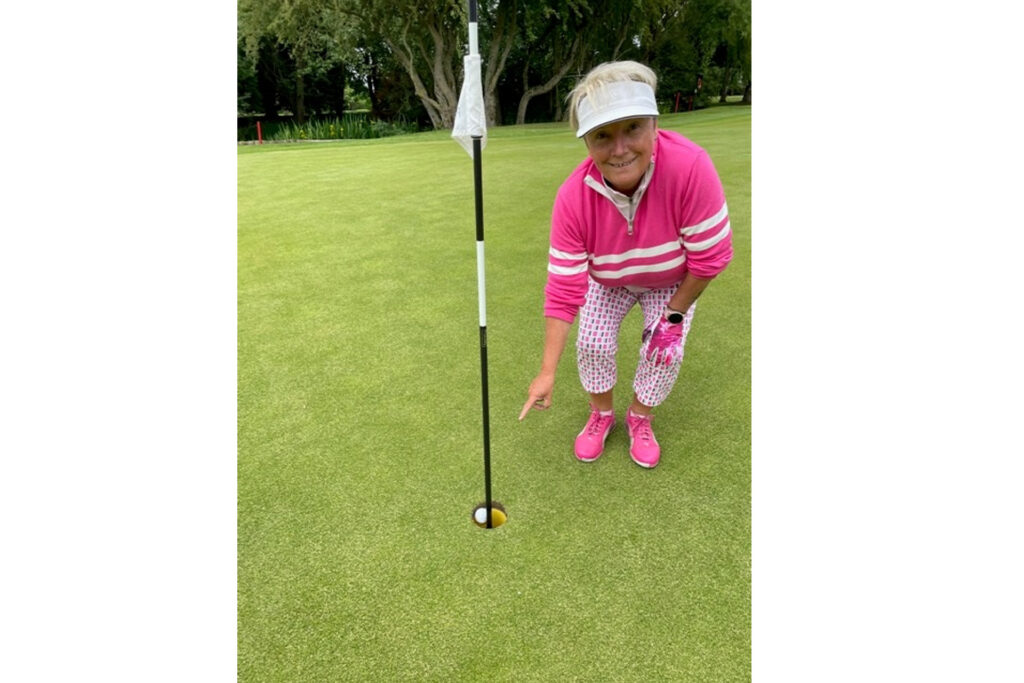 8th June
This is my first hole-in-one, which happened in a local ladies competition at Melton Mowbray Golf Club on the 1st June on the 14th hole.
I was made up as this was a great achievement during the Jubilee celebrations. I found myself running around the green shouting 'I've got my first hole in one'! People say they heard me around the course (may be not golf etiquette, but I couldn't help myself!).
At this point of the competition I had to move on and contain myself, as I was having a pretty good round as well. I managed to get in with a nett 69 round, which won the overall competition.
My dad had been poorly over the last few weeks, so I went home pleased with myself to share my photo and news. But sadly on 3rd June, we lost my dad, but glad I achieved a hole in one to share with him before he died.
Dee Hughes
Very sorry to hear of your loss Dee but so pleased that you were able to share this moment with your Dad. I also believe that the celebration was perfectly warranted - lucky if we can achieve this once in a lifetime!
Do you or one of your golfing buddies have a story to share? Please do get in touch by dropping me an email [email protected] with a brief overview and a picture. We look forward to hearing from you.