Jess Baker produced an impressive display to claim the biggest title of her career and win the 119th Women's Amateur Championship at Hunstanton.
The Englishwoman, 19, shone in the sun over the Norfolk links to achieve a 4&3 success against Sweden's Louise Rydqvist, 20, in the 36-hole Final.
"It's an amazing feeling, just incredible. I can't believe it. I'm absolutely stunned but I'm just so happy. I worked really, really hard to get here and it's just such a satisfying feeling.
"Yesterday, in particular, was an absolutely dream day. I holed everything and hit it amazing. It all came together yesterday to give me this opportunity. So, yeah, it's been a long time coming and I'm just really proud of myself. I didn't do anything special today. I just got ahead and then kept the lead. It was about the person making the least mistakes today."
Having defeated in-form duo Emilie Alba Paltrinieri and Hannah Darling yesterday, Baker continued her form to come out on top from a field of 144 players representing 24 countries this week.
A family celebration
Baker, who is member of Gosforth Park near Newcastle-upon-Tyne and attends the University of Central Florida in Orlando, became the fifth English winner of the coveted Championship in the last 13 years and celebrated with her dad, Steve, who caddied, and her mum, Louise. Having had to hole a 25-foot putt just to reach the match play stages, her triumph was even more noteworthy.
By virtue of her victory, Baker earns dream places in the AIG Women's Open, US Women's Open, The Amundi Evian Championship and, by tradition, an invitation to the Augusta National Women's Amateur Championship.
"Playing in the AIG Women's Open is something I've really wanted to do for a long time and this means I don't have to pre-qualify which is great because that was the plan next week.
"And Augusta, oh, my gosh. That's not really come to my mind yet to be honest. But it will be an incredible experience, all just great opportunities for me."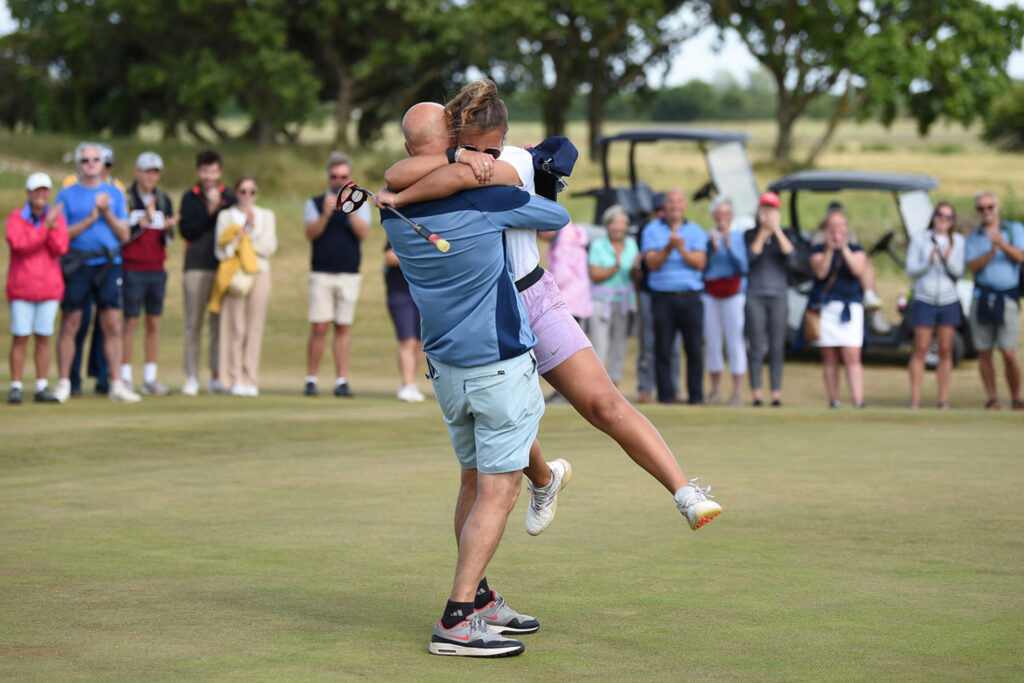 Leading three-up at lunch
Baker, ranked 518th on the World Amateur Golf Ranking (WAGR), also joins an impressive list of past winners including LPGA victor Leona Maguire and major winners Georgia Hall, Catriona Matthew and Anna Nordqvist – last year's AIG Women's Open Champion at Carnoustie.
Coached by Andy Paisley at Hexham Golf Club – the brother of Tour player, Chris – Baker won the closing four holes in-a-row to lead three up at lunch after mistakes from Rydqvist, who is ranked 143rd on WAGR.

It was a tight contest in the afternoon but after the lead was extended to five up through 28 holes, Rydqvist was unable to make a stirring comeback as Baker eclipsed her run to the quarter-finals last year.
It was a nervy start to the contest from both players in the blustery conditions and it was all square after ten holes, before Rydqvist's birdie at the 13th took her ahead.
The Swede, though, struggled from the 15th and lost four holes on the bounce after wayward approach shots led to three straight bogeys and a double bogey at the 18th when she putted back off the green.
From three down at halfway, the University of South Carolina player – who had Sweden head coach Katarina Vangdal caddying for her – needed a fast start to the afternoon session and reduced her arrears with a birdie at the 20th. A bogey from Rydqvist at the tricky 24th, played to an elevated green, saw her deficit return to three once more.
Rydqvist battled back
Baker went five ahead after more dropped shots from Rydqvist at the 26th and 28th – her fourth of the afternoon – but the Swede has shown her battling qualities all week, especially beating top-ranked countrywoman Ingrid Lindblad in the last-16.
Rydqvist won the 29th and 30th after dropped shots from Baker and suddenly she was within three holes. Baker won the 31st to go four ahead but a 22-foot birdie at the par-3 14th saw the Swede reply once more. The Newcastle native, though, held her nerve, rolling in a winning five-foot putt for birdie.
In a further honour, Hunstanton handed Baker honorary membership at the prize presentation.
Like last week's Amateur Championship at Royal Lytham & St Annes, The R&A provided live broadcast coverage of the quarter-finals, semi-finals and Final this week on The R&A's website and its YouTube channel.
View the full Women's Amateur Championship match play scoring here.
After Hunstanton held this year's event for the first time in 50 years, the 120th Women's Amateur Championship is being staged at Prince's on the Kent coast from 13-18 June 2023.